Hangar Talk – September 2023
---
August was a quiet month with not much to report, due to inclement weather and this resulted in the August club day being cancelled. Thankfully, we managed to get in a September club day. The greatest activity was the work done to establish a new strip.
---
Graduations!
Two members have successfully attained their Silver Wings since the last HT. An important milestone was achieved for two of our members, Liam Ellmers and Daniel Heazelwood, with Max W taking them for their wings test. Congratulations to Liam & Daniel.
---
Club Day – September 2
The first weekend of Spring and it didn't disappoint with a great day, light winds and a warmer sunny day. Another good turnout with 18 in attendance – Adrian H, Alan J, Fred W, George & Kerry C, Ray, Jo & Micah G, Greg R, Liam & Phil E, Mark H, Max W, MeiLin H, Mick G, Peter S, Rodney K and Vince B. It was great to see Mick G at the field now that he has semi-retired and Peter S who has returned after some eye problems. Peter had a flight with his glider and landed safely, so hopefully his eye problems are behind him.
---
Adrian H brought along a couple of electric models. The first, a nicely detailed T-28 Trojan. From a distance you would not pick it was a foam model. They are very well finished and the retractable undercarriage adds to the scale realism.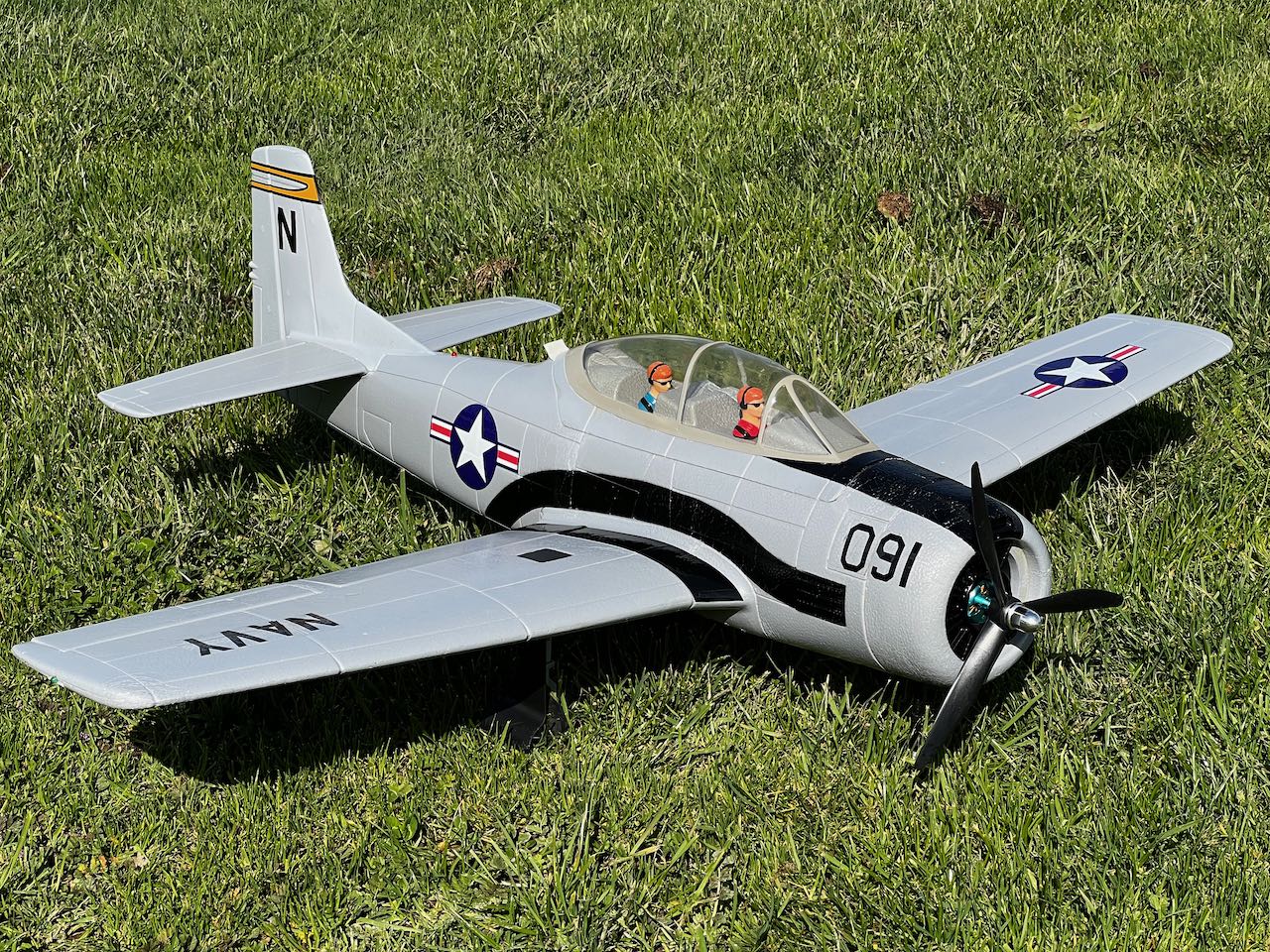 Specifications
Model: Durably T-28 "Trojan" (now discontinued)
Wingspan: 1270mm
Length: 1000mm
Wing Loading: 50g/dm2
Flying Weight: 1350g
Retracts: Servoless
Servo: 9g x 4
ESC: 30A w/BEC
Motor: 850kv Brushless Outrunner
Battery: 3s 2200mAh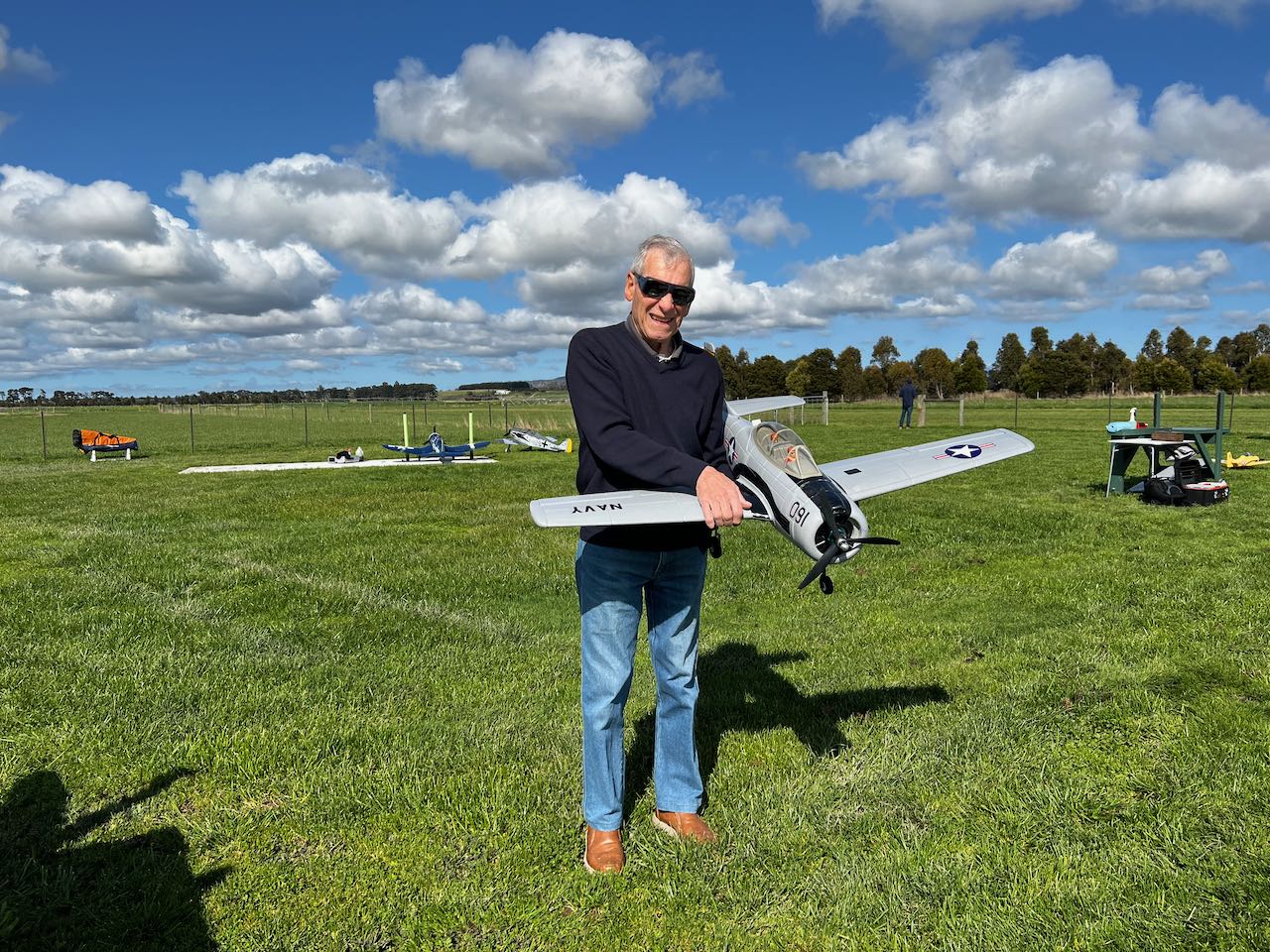 ---
The second was a very interesting glider and Adrian showed his skills by modifying a cheap "Kmart" chuck glider into an RC model. Adrian mounted a ducted fan on top of the fuselage, cut a canopy and hollowed out a space for battery and Rx, mounted a push/pull servo for the elevator and cut in ailerons and servos. After all that, the model flew very well. Here are some pictures. (click to enlarge and scroll through)
---
Fred W brought along his Merv Cameron built "Flute". "Why the name Flute, Fred?" I asked. Well Merv built it from an Aeromodelismo's Piccolo plan. This was a 667mm wingspan model. Those that knew Merv would recall that small models was not Merv's style, so upscaling it was in order! Once upscaled he could hardly call it a Piccolo (the smallest of the woodwind instruments), so the next size up was a FLUTE, hence the name! The model is scratch built and is powered by a NGC 17cc petrol engine. Fred also thinks that Merv covered the fuselage in brown paper before painting. Some pictures of Fred and his "Flute" (click to enlarge and scroll through).
---
I brought along a new model, a Multiplex "Merlin". I had set it up with throws and CG as per the manual. It was quite quick on full throttle and easy for me to lose sight of. I ended up in a bit of trouble as the model became quickly uncontrollable and took a fair whack into the turf. As the wings parted and the nose dug into the soft earth, Fred called out "it's seen its last flight I think George". Greg retrieved the model and on inspection, no damage at all, which is helped by the Mutiplex construction being made of Elapor foam and not plain styrofoam. I clipped the wings back in place, removed a bit of the mud from the spinner and decided to have another flight. Firstly I needed to adjust the throws, so I reduced the ailerons from the recommended 12mm up to 6mm and left the Expo at 40%. It might have been a little nose-heavy as I could not get all the mud out of the spinner! It was a totally different beast. Much easier to fly.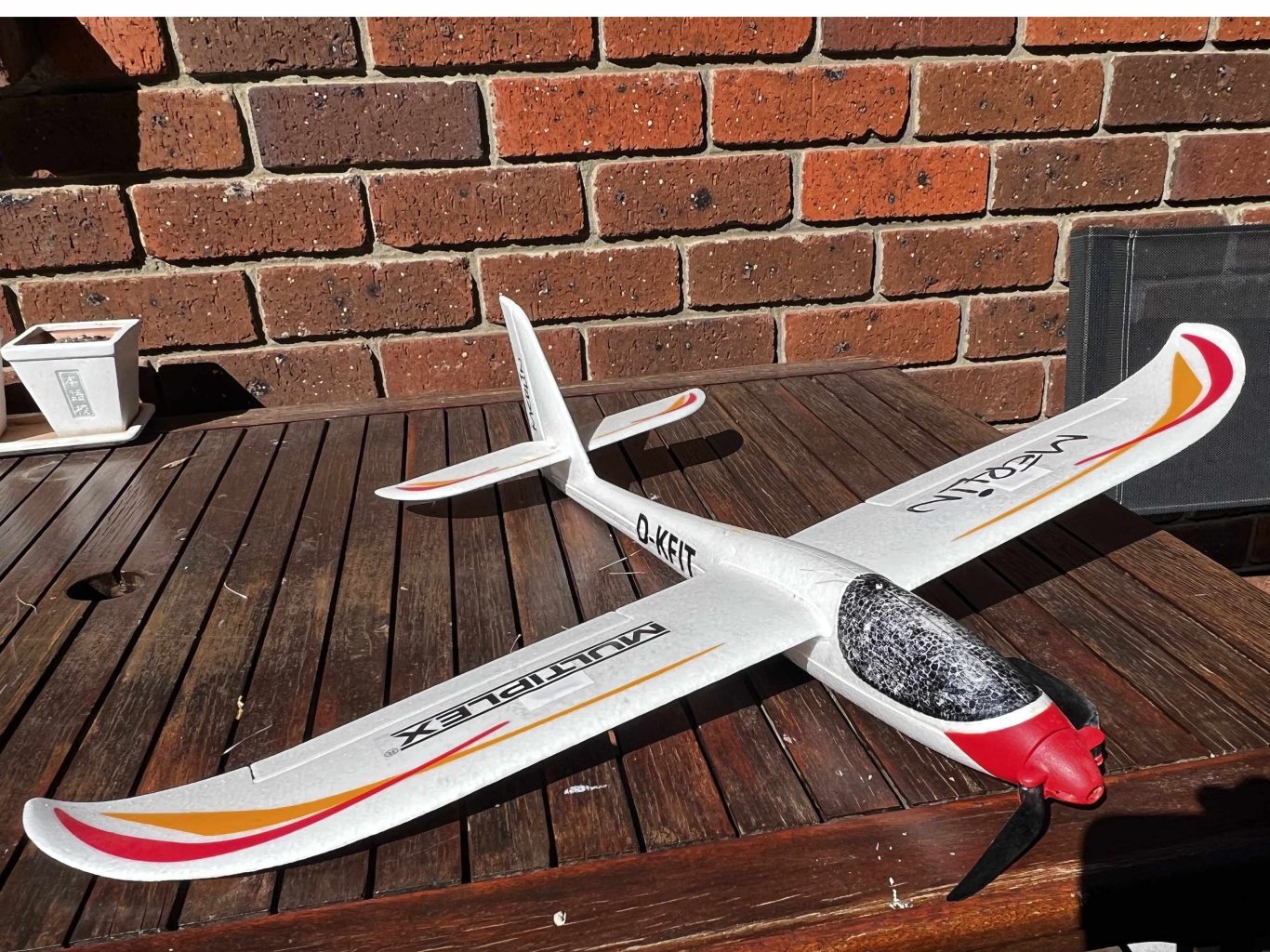 Specifications
Wingspan: 31″
Wing Area: 175 sq. In.
Wing Loading: 8.7 oz. per Sq. Ft.
Fuselage Length: 24 in.
Weight: 8.6 / 10.5 Electric

Equipment
Motor: Himax C 2212-1180 brushless motor
Motor: MULTIcont BL-20 S-BEC speed controller
Prop: 2 7" x 4" folding propeller blades or 8" x 5" folding propeller blades
Battery: 3S 500mAh
Servos: (4) MPX
---
Full Scale Visitor on Club Day
We were again greeted by the Thrush crop-duster. All models were on the ground when he arrived and he did the customary low banked circuit of the clubhouse to announce his arrival. No need for us to fly as he put on a spectacular "full scale" display, diving down over the tree tops, where he disappeared behind, drop his load over the carrots, and climb away again. It was awesome to see the skill of him flying what seemed to be just over the trees and much lower than we would probably take our models! A couple of shots, that also show what a spectacular day it was. (click to enlarge and scroll through)
---
For Sale: Partial rebuild American Eagle B-31 "Eaglet"
Mark Holman has decided he needs to make more room in his hangar and is offering for sale a Tim Sydes built scale model of an American Eagle B-31 "Eaglet". Mark has kindly offered to donate the proceeds to LMAC. Thanks Mark! Mark has provided the following information –
Originally had small glow engine.
Have made a mount for a 1100 Kv Sunny sky motor.
Fitted aluminium landing gear.
Has two servos, needs covering etc.
If anyone is interested give me a call.
Best offer donated to LMAC.
Want the space, need it gone.
Cheers Mark 0428 131 299
---
Maintenance works
Things didn't turn out as expected with the seeding the strip. The scheduled weed/grass killing spraying by their contractor didn't happen as expected. The contractor had the go ahead for our strip but not for the farm paddocks. This meant he couldn't bring the equipment to Symmons Plains for just our job. As time was running out, I had recently bought a 100L spray tank unit with a boom spray, that tows behind my mower, Mick G collected from me and with all the chemicals donated by the farm, Mick was able to give my tank it's first run. It worked well. We had to wait 2 weeks to sow the seed. However, after about 10 days, we could see some strips of grass were missed (easy to do without marking it out). So Mick collected the spray unit again and covered the remaining grass that was still alive. That meant another 2 week before seeding new grass.
After talking with the agronomist for Symmons Plains, Seona Findlay, she recommended that we sow a variety called "Barenbrug Sportsfield Blend". Her reasons were that it is lateral growing, meaning no clumping and little vertical growth. This is unlike the current pasture that is designed to grow vertically as it is a forage crop. The other bonus with Sportsfield Blend is that by growing laterally, Seona says it needs less mowing. Now that's a big bonus. We bought 100kgs of seed and thanks to support from Elders, we managed to get this at a discount.
Ron has managed to get a small seed drill and Ron will do this after work Monday or Tuesday. Symmons Plains will supply all the fertiliser we need also. Once seeded, Ron will run a heavy roller over the strip. We are indeed very lucky to have this kind of support.
---
A Message from Ireland
Some of you may know that Peter D and his wife Sue, are on a European tour. Peter sent me a message from Ireland –
Hello George..
I am in Ireland ATM and I went to the Foynes flying boat museum today. It was really interesting with a 20 minute video of the boeing 314 which had a service from Ireland to the US.
All set up and able to walk through and see how air transport was pre war. Really good.
Also able to have a go on a really good flight sim and take off and fly the big machine with 3 screens for visuals. Didn't crash either.
Here are some pictures. (click to enlarge and scroll through and descriptions are in the top left)
---
October Events – Don't forget to mark your diary!
Club Day October 7 (weather permitting)
---
From the WWW..
If you love the sound of a big radial engine (and who doesn't), this 50% Gee Bee racer with a huge Moki radial engine is incredible! The Gee Bee has a wingspan that's over 12 feet, and the 5-cylinder Moki 400cc engine swings a 38-inch propeller. The Europeans love their BIG scale models.
---
BEGINNERS TIPS
The first one is on servo installation. Below is a PDF, you can download if you wish or scroll through using the arrows on at the bottom of the page. (If the pdf does't appear on your device, click the link)
---
Here is one from FliteTest on Exponential (Expo) and Dual rates that might help some of newer pilots to understand the principles and use of Expo and Dual Rates.
---
Well that's it for another month. Hopefully you found it interesting. Leave your suggestions or feedback in the Comment section below.
Don't Forget – Put a Spark in your life and fly electric!
George