Update
It's a long time between posts; December to April. However most, if not all of the members will be aware of the reasons. I've been out of action since mid January, when we left to go on a two week cruise, only to return and enter hospital for a scheduled procedure. However, whilst the procedure itself went well, some careless transferring by the radiology staff the day before my release, resulted in a wound at the base of my spine. Being wheelchair bound, this wound has been very difficult to heal and I have spent the last 2 months trying to resolve this. Anyway we all have our troubles so I won't bore you any more with mine but I just wanted to update you with the reason for the inactivity. I'm now taking the opportunity to write this post from my bed with my laptop on my chest! I will finish this paragraph with a big thank you to those who have contacted us and offered well wishes. Particularly to those who contacted Kerry whilst I was in hospital and offered their support and to those who have either visited, called or emailed, it has been very much appreciated.
I have said it many times, this web site is a dynamic document and only through submissions from members can it be fresh and interesting for people to read. I know there are many projects going on and it does not take much to submit a couple of photographs and a bit of detail on the model to update the web site. Wouldn't you like to see some of your models on these pages?
Having said that I have received a couple of emails on some of the activity of our members and one of whom was the ever reliable Peter Daniel. Peter consistently supplies photos and details on any of the new models he and "Doc" Baldock create. Whilst we don't see either at our field very often, they are members of the club and it is nice to see what members are building. Here is what Peter had to say.
Peter Daniel's "Rascal"
Hello George,
Today I maidened a new plane. It is a 1949 design called a Rascal. She has a 104 inch span, is powered by a turnigy SK3 50/60 motor with a 6 cell battery turning out 2000 watts and the plane only weighs in at 10 lbs without battery so has masses of power to spare. I will only use 5 cells from now on though.
I asked Peter for some more detail and if it was the same as the SIG Rascal.
To answer your question , yes, I emailed Sig who sent be the plan for a 48' size Rascal but only a kit plan so it took a bit of interpretation for airfoil section etc. My son Cameron blew it up to 104" for me and it was all go from there. There are quite a few YouTube videos of the Rascal so I was able to view details from them. The kit of their 110 " model is around $1500.00 U.S. I think whereas mine came in at around $200.00 or less using some parts I already had .
She flies absolutely beautifully and I am really pleased with it.
A couple of pictures from Peter…
"Doc" Baldock's Sopwith Pup
Doc is well on the way with his huge 88 inch Sopwith Pup which he will power with a Turnigy 160 and 10 cells.
I have attached a couple of pics for your interest. I believe Doc has almost dressed the Pup over Easter so no real photos of the build . I will take a few of it when I help him set it up after flying tomorrow which looks at this stage to be a really good day. Probably get it in the air next Wednesday with pics for you of it in the air and will give you measurements and engine details then. (As usual I expect that Doc has built this model from scratch, including drawing his own plans from 3D drawings in the Jane's Book of Aircraft. – George)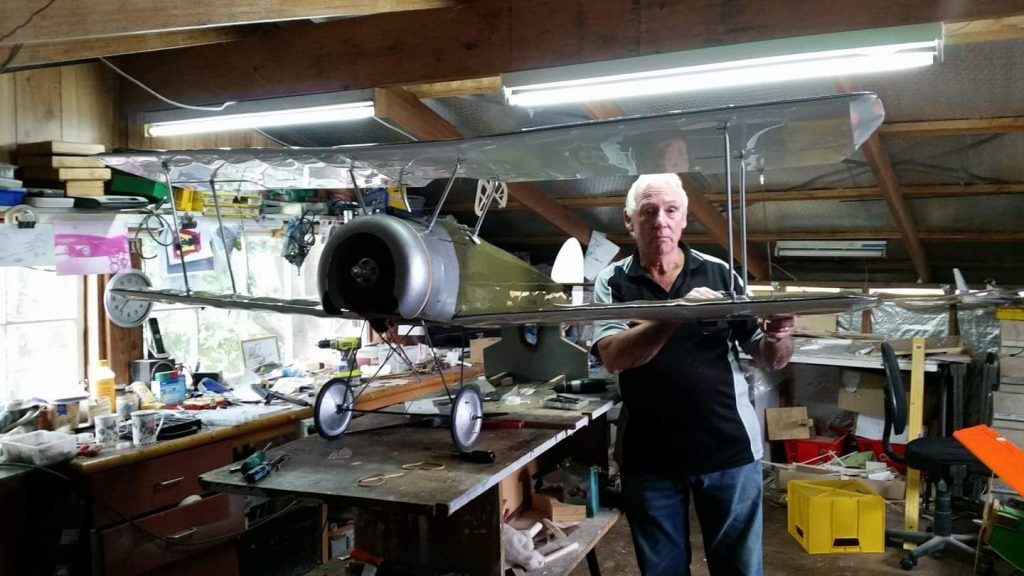 Scale Day at Phoenix – March 26
Congratulations to Kevin Hay for taking out the "Best post WWII scratch built".  Kevin and Rodney Kreutzer represented LMAC at this event. Well done to both!
Pit Fence Project
Kevin Hay was another who emailed and he kindly sent in some photos of the fence building project. Like Peter D, I can usually extricate some photos from Kevin on any of his projects but at the moment he has nothing on the building board that I am aware of. The pictures show a few of the team that were involved and proves that "many hands make light work" and that the club needs members other than just the committee to be involved. Founding member Dave Jacobs, at almost 87 years of age, showed that he could still pick up a shovel and offer some assistance! I'll transfer these photos to the previous post at some stage.
Mick Green's CG Balance Jig
Mick sent me a couple of photos of his balance jig for large scale models that he has fabricated from his own design. It certainly looks robust and eliminates the risk of the model falling off those commercial jigs like the Great Planes jig I use. If anyone is interested in building one, Mick would be happy to hear from you.
Web Site Security
I am aware that some of you can get a bit frustrated with access to the site when trying to log in. However, in nearly all the cases referred to me it is due to the member either forgetting their username, password or both. Most, if not all, browsers allow you to save your username and password (not recommended on public computers) so there should be no reason not to be able to log in. At the very least write down your username and password and jeep it handy. It's not like you are accessing your bank account if it falls into the wrong hands. I often hear secondhand that "Joe Blogs" told me they cannot access the site. The login offers options to recover passwords etc. If that fails, then simply give me a call, I will give you a new password and get you sorted. If you wondered why the security, take a look at these statistics I have to deal with. Almost 19,000 malicious attacks. There are also almost 400 user applications that have been denied, most of whom come from Russia. All designed to hack the site. So whilst access requires a couple of hoops to get through, I hope this explains why it is necessary.
Put a Spark in your life and fly electric…