Weather has again played havoc with our flying days with wind and rain interfering with our activities. However, spare a thought for our north island neighbours on farmland who would gladly take any of our "bad weather". As a result of the inclement weather there are no club day reports but here are a couple of snippets of information.
New Members
Please make welcome the following new member.
Peter Steer. Whilst a new member he is really a "renewed" member. Peter was previously a member back in 2016 and took a sabbatical to do some touring in a new car. He has now rejoined. I am sure you will all welcome Peter back to the fold.
Update on "Doc's" Albatros.
Peter Daniel has sent in some more photos and an update on "Doc" Baldock & Peter's latest project featured in last month's HT. The Albatros D.V  Here is what Peter had to say.
Wednesday, August 22, 2018
Hey there George
Today was the day…..and what a day weather wise it was….magnificent. We had 9 flyers to witness the flight or demise of the Albatros.
After a good check over her and a range check, the time had come. Bit between the teeth and away we went. Tracking was perfect, straight down the strip without any rudder correction and then lift off. She has massive power on the 20×8 prop , flying at scale speed with no more than 1/2 throttle.
She is beautiful to fly, almost too easy, which belies the size of the plane. We shared the transmitter around on the 3rd flight between myself, Max and of course Doc. Quite easy to get disoriented at a distance though with the low vertical stab, so total concentration all the time. What a great job Doc has made of her.
Some ground photos attached and will see if I can get the videos to go to you.
The videos can be seen by following these links –
And on August 29 …..
Hey there George…..
Another 3 flights today with the flight envelope being explored . Loops great and stall executed with straight forward flight and recovery. Not game to test spin as yet as there are a few write ups saying how difficult it is to recover from.
Landings a breeze.
MAAA Membership
I usually do an analysis of members and below are the numbers as at September 30, 2018. What we can see is that there is a continuing downward trend in membership nationally (-12.5%) and at all state levels there was a reduction in members. Tasmania is following the national trend, down 13.2%.
Having said that, it is pleasing to note that only one club grew it's Tasmanian membership in 2018/19 – LMAC +6.3%! That is despite the fact that we lost 3 members this year. We must be doing something right to continue to attract new members. Thanks to all the members who continue to support the club. It is also interesting to note the MAAA national revenue raised – just over $500,000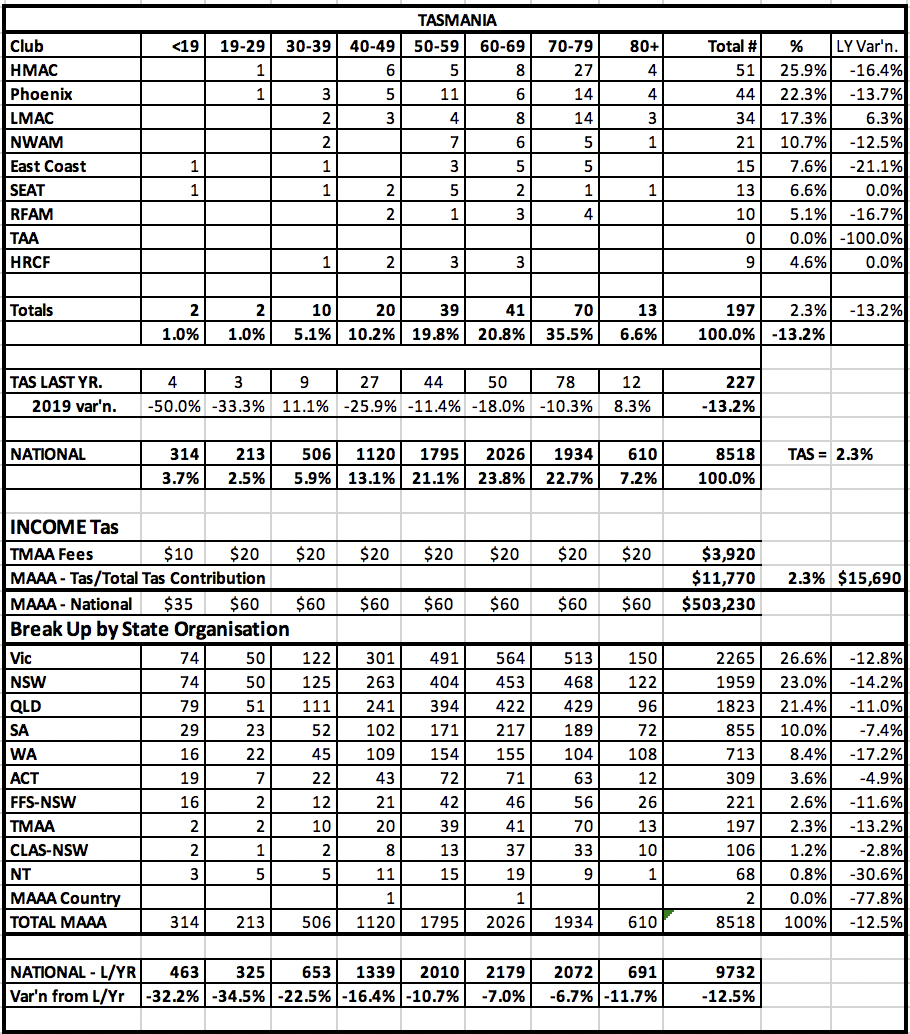 Well that's it for another month.
Put a Spark in your life and fly electric…
George