Hangar Talk – September 2022
Due to the inclement weather we have been experiencing over the last couple of months, it's another quiet period for reporting on club activities. Add to that the ground being unsuitable for wheelchair access means I haven't been at the field for a while and don't intend to be until the ground dries out fully.
---
Club Days – July and August
As reported by MeiLin, it was a foggy, cold start, but it turned out to be a successful club day, with a turn out of 15 people. A young boy and his mum also came later to spectate and enquire, Max let him have a fly of his Bixler.
The 15 brave souls were, Jacques W, Max W, Alan J, Danny N, Peter S, Russell W, Mark H, Rodney K, Kevin S, MeiLin, Vince B, Greg R, Peter D, Adrian H and David M.
Talking about the Club day & BBQ, having spent some years alongside Kerry doing the barbecue and before that Alice R doing the BBQ, it can be a difficult task to coordinate the needs for each club day. Reinforcing this is the forecast can often be incorrect. This results in the canteen coordinator in a difficult spot – "damned if you do and damned if you don't". So spare a thought for MeiLin trying to organise canteen. A recent example was in August. The scheduled Club Day was first postponed until the following weekend. The forecast was for questionable weather but went ahead as some had indicated a willingness to attend. Unfortunately for MeiLin, she made the trip to the field but then had to turn around and leave when she realised no-one else was coming due to the poor weather. The moral – don't be too critical if the club day barbecue is cancelled or postponed because of poor weather and on the day the weather turns out to be flyable. There is nothing stopping anyone flying on a cancelled club day barbecue – just understand it will be BYO lunch.
I have also kept in touch with Geoff Hays, for those that were not aware, Geoff had a stroke a couple of months ago and sadly he has now had to give up his independence and has now moved into a nursing home in Nambour Queensland. If anyone has a spare few minutes, give him a call as it will cheer him up immensely.
---
Club Day – September 3
Club Day went ahead as scheduled and there were a few who turned up for the barbecue and to have a fly. Those in attendance were, MeiLin, Jacques, Mike L, Mark H, Fred W, Danny N, Peter S, Max W, Peter D, Mick G and Kevin S and a potential new member, Damien Maloney. Weather was nice and a few dusted off some models for a flight. Pictures below are again courtesy of Mark Holman. Thanks Mark!
---
Ferris Mower in for Service
If anyone has noticed the Ferris Mower was missing, the reason is it has been in the service shop at Australian Chainsaw Products (ACP) since early July and we were still waiting for parts to have it fixed as late as September 10th! We then decided to bypass ACP and I ordered from my source on the mainland and the parts were here 4 days after ordering. The mower was ready 30 minutes after dropping off the parts to ACP. Spring is now upon us and the grass is growing quickly but consistent rain has made it difficult to mow without getting bogged! In the meantime, thanks to Max, Danny and Peter S for the mowing duties and Mark H and Peter S for transporting the mower to and from ACP. If we needed reminding about how wet the pits are, this is today (September 17)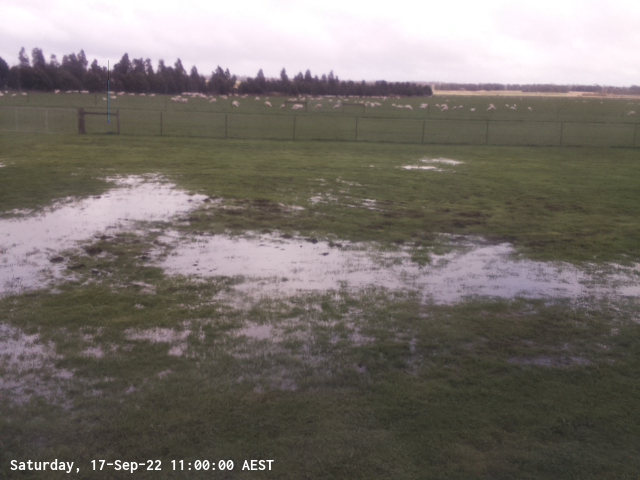 If you think that is wet in the pits, take a look at what is was like at our old site, north of where we are now.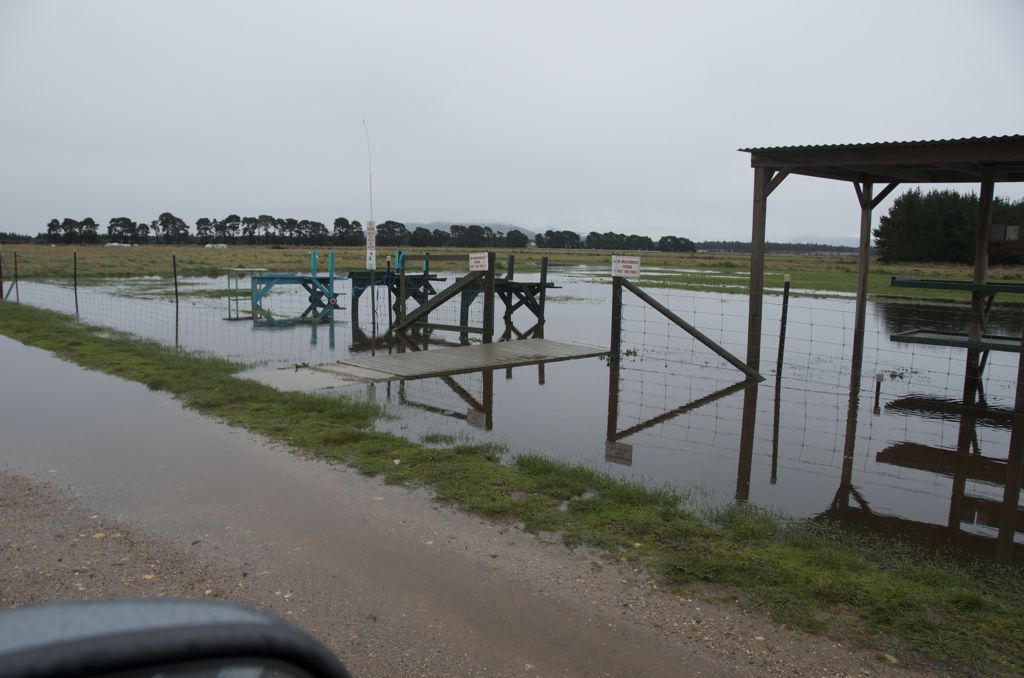 ---
Tim Sydes Collection
Some of you will recall the story in a previous Hangar Talk, where I wrote about Tim and Rosie's move to a smaller home and as a result Tim had to sell his collection of model aircraft. The models were all scratch built and mostly smaller scale models, some IC and others rubber powered. A couple of members went out to have a look but being of the older type, unfortunately for Tim, none were purchased.
Tim's friend Graeme, arranged for The Examiner to run an article on Tim's hobby and from that article, Tulloch's Auctions got in touch and wanted to put Tim's collection in an upcoming sale "Plains, Trains and Automobiles". To be truthful, I didn't hold out much hope for a big sale. How wrong I was!! Tim's collection sold for just under $4000!! It just goes to show that there may be other options to sell models, other than the regular RC sales sites. You can see the individual lots and their sell prices by following this link here. (You'll have to scroll to the bottom of the page and follow from there). Let's all wish Tim and Ros an enjoyable life in their new home.
Below are some pictures of Tim's massive collection.
---
Ceiling Height
We have lodged our initial Area Approval submission with MAAA/CASA, which involved a lot of paperwork. The submission was completed but we were asked again for some more information. This has also been supplied but we are yet to hear whether the MAAA has passed this on to CASA. As a result, please remember that we are restricted to a 400′ ceiling until that approval is granted.
---
Perimeter Fence
Work is nearing completion, with the end panels remaining to be done. These have been started and we'd expect completion during September. We can't thank Ron enough for his efforts – all carried out in his out of work hours time. The end panels will be constructed to be a "lay down" fence. The ends will have a pivoting brace that one person can operate. By removing the pin on the top of the brace at the end strainer post, the fence can rotate downwards and lie flat. Then the reverse to put the fence back up. See the picture below where the end bracket is mounted.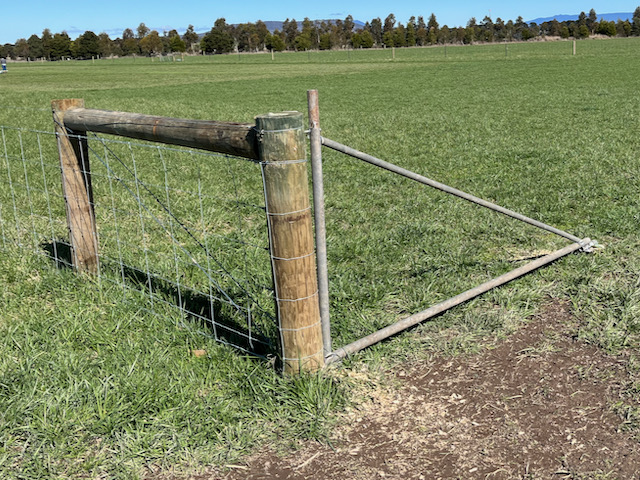 ---
Member Profile
Every month I ask for material from members to show what projects they have been working on but in recent months nothing has been forthcoming, so I thought I'd better put something in myself. I have written a separate post here. I hope that now some other members will send something in about their involvement in the hobby.
Well that's it for this month. I know I keep banging on about it, but all of you have models in your hangar, why not send me some pictures of your pride and joy, and I'll put them in HT. I am confident that most of you will already have pictures that you can send. Please….
Don't Forget – Put a Spark in your life and fly electric!
George