by George Carnie
The obvious question that could be asked when you tell someone that you are a member of a model aero club is, "how did you get involved in that?" Here's a bit of my story.
My dad was in the RAF and we travelled quite a bit after I was born. The first major move was from Scotland to Gibraltar in 1953. This was my first flight in an aircraft and I'm told it was a DC-3. With Dad being in the RAF, I had an immediate interest in aircraft, building many plastic Airfix kits during my childhood years.
Fast forward to 1980 and living in Sydney, a work colleague gave me an Aeroflyte "Invader" kit along with an OS15. This was the start of my RC journey and I joined the MAAA in that year also. However, little did I realise that the Invader was a very old kit and the club I joined, suggested I buy something a little more up to date. I also had to buy a transmitter. Off to the hobby shop and I came out with a 5 channel JR radio with the latest technology – FM! and suddenly my "free" introduction became a quite expensive start. Over $500 for the radio set, which was about 2-3 weeks wages back then.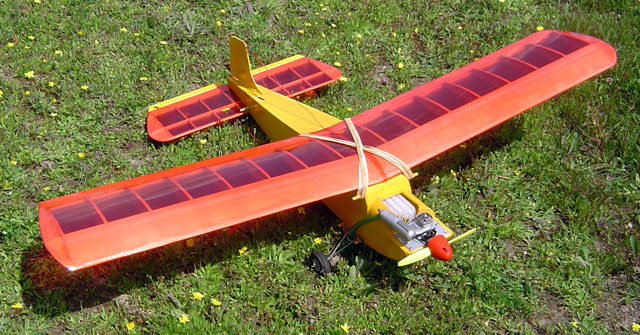 In 1981 we relocated to Tasmania and bought a home in of all places, Oatlands. Well I thought it was reasonably centrally located in Tasmania. An hour from Hobart and much the same to Launceston! It had a shop attached and this was our "sea-change" from the rat race of Sydney.
Having the shop allowed me to join the local Rotary club and when asked what I did in my spare time, I said I had just started an interest in RC aircraft. To my disbelief, the local supermarket owner (Warren Croome), clock restorer (Derek Deane) and newsagent (Athol Dove) all said "that's what we do, you should come and join us!" This was when I struck up a close friendship with my RC mentor Athol Dove. Athol was the local newsagent, electrician amongst many other talents. I then joined Hobart Model Aero Club as a "country" member.
The first thing Athol told me was to buy a decent model. So off to Garth Wilmot's shop, located in the garage at his home in Lenah Valley. I bought an Aeroflyte Hustler Mk2, the "no aileron" version and an OS35 engine. Again, the cost of this original "free gift" was turning into an expensive hobby!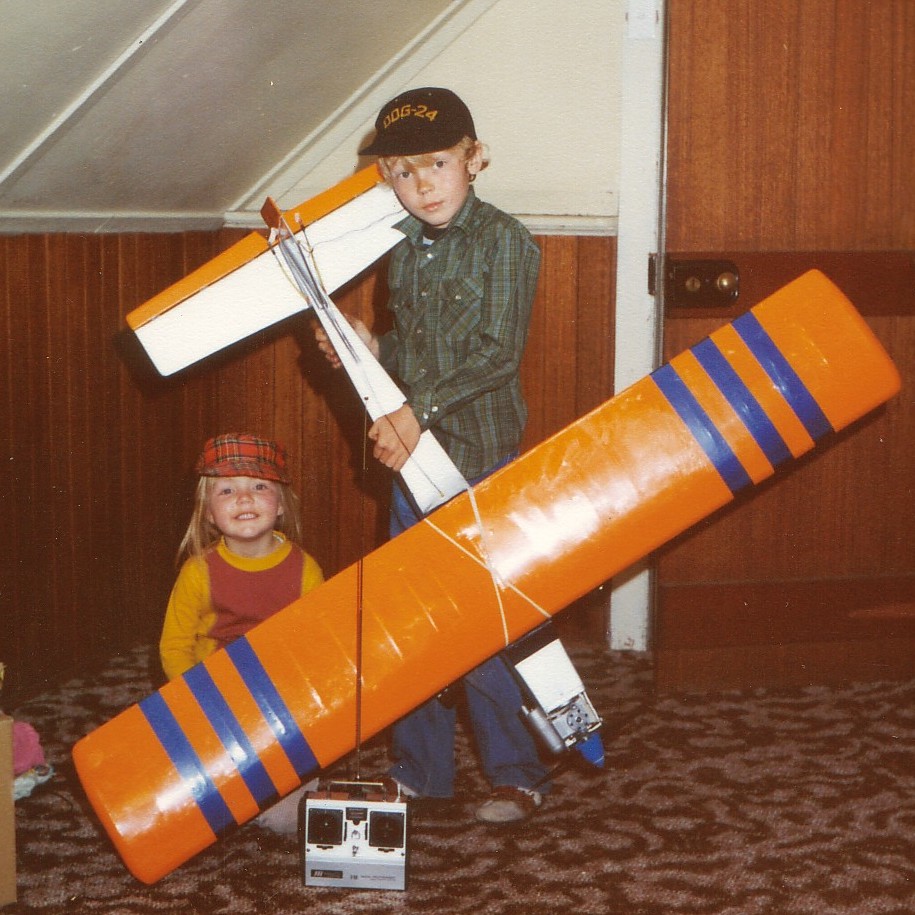 Athol taught me how to fly and being the local newsagent and electrician, he knew all the farmers and so every paddock was available to us. Due to no mown strip, we started with hand launching the Hustler. I was happy to be able to land anywhere in the paddock! I eventually upgraded the wing to an aileron version and changed the motor to an OS-40FSR. The Hustler certainly "hustled" with the motor upgrade. This is when I first met a current LMAC member, Ross Blackwell. It was actually Ross who taught Athol to fly. At the time Ross lived at Ross and we would catch up and go flying at "Cheam", a farmer/aeromodeller's property at Tunbridge.
Needing a new challenge, I decided to scratch build a Joe Bridi designed "Super Kaos". As I had the OS40, I went for the Junior version that appeared as a plan in the American magazine "Model Airplane News". Here is the article and plan I built from and without the aid of photocopiers in those days, I just scaled up the plan from the magazine. This required another visit to Garth Wilmot's to buy balsa, covering and servos etc. Being a symmetrical wing, the first thing I had to build was the wing jig. That made it easy to build the wing. You'll see a picture of it in the MAN article.
RCMSuperKaosJrbuildarticle041974

Hover your mouse over the image, then click on the arrows above to scroll through the pdf.
I covered the model with tissue and spray painted the Kaos and here I am (1982 / 30yo) with it ready for its maiden flight. We didn't have a local vinyl cutter, so the covering is lacking any decals etc.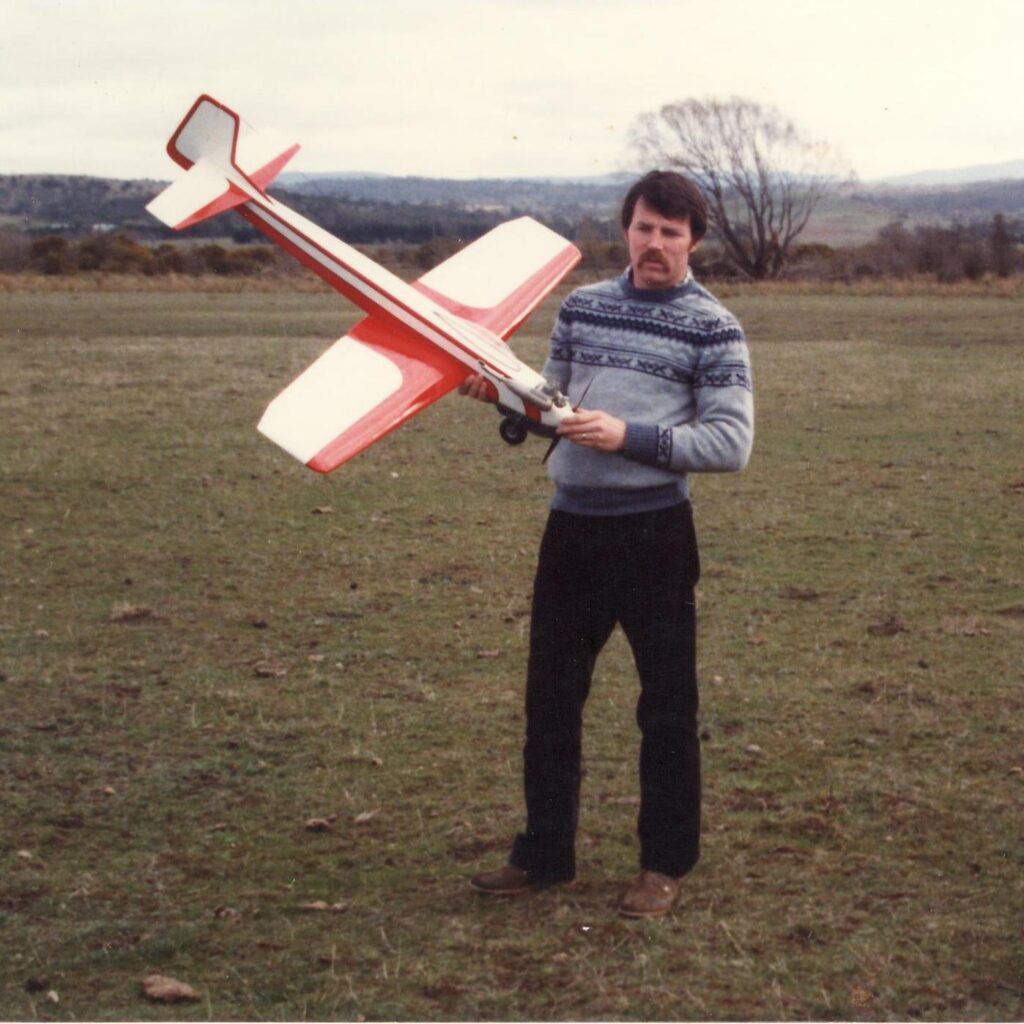 I thought I would do the right thing and I sent my radio off to Victoria to be MAAA certified. The radio came back with a nice MAAA certificate "certified to 10mHz" spacing. That was as good as it gets. However, sadly, this was the last picture of the Kaos.
Off to the field Athol, myself and the family headed for the maiden flight. My memory has faded but I am sure Athol made me do a range check and all was well. The take off was uneventful, but on the first upwind turn, as I banked the model, the Kaos was aptly named as the bank continued with no response from the sticks and chaos happened! She rolled into the ground at a reasonable speed and all that was left was the tail feathers! The cause – the MAAA tester did not tighten the screw on at the base of the internal antenna, causing it to flicker on and off depending on my hand movements. I rebuilt it, this time with Solarfilm and she flew again. I had a Super 8 movie camera and we took a video of the maiden flight of the rebuilt Kaos and some flying at "Cheam", a farm located at Tunbridge (owned by Tony Burbury). This also included another member Ross Blackwell, trying his Own Design tug plane. A glider was on the end of the tow rope and I recall a successful flight. You'll see that the filming is nothing like what we can do with our phones today!
After joining LMAC in 1994, I flew a few models but not the Kaos as by this time I was in a wheelchair and had decided that electric was the best option for me. In 2015 I was looking for a new project and thought I would convert the Kaos to electric. I had to cut the oil soaked nose off, cut a hatch in the top to make battery changing easy and rig up a new method of operating the steerable nose wheel. I also had to find an electric motor that should emulate the 40FSR. I decided on the following setup
Here are some pictures of the rebuild
Whilst the model has been ready to fly for some time, it remains in the workshop waiting for me to get some regular flying in before I maiden it. In the past couple of years I've only managed a couple of visits to the field due to weather or health. Anyway, I get a lot of pleasure out of spending time in the workshop and building.
Next time I'll give a rundown of what models I have in the hangar. Now that I've committed to writing about what I've been doing, who is next?