Hangar Talk – December 2022
Well here we are, nearly another year gone, where did all the time go? It certainly wasn't a great year for flying – unrelenting rain and wind certainly limited the club day activities. Having said that, we at least finished the year on a high, with a pretty good turnout for the Christmas Lunch.
---
Christmas Lunch and Fun Fly
A reasonable day weatherise but the wind was still relatively strong and was reflected in a windsock that was stretched out and parallel to the ground for most of the day. At least it was blowing straight down the strip, north to south. We had quite a good turnout of members and a few visitors joined us for the day also. It was nice to see some familiar faces again, given I haven't been able to get to the field for a while. Those present were, Mark H, Greg R, Fred W, Alan J, Rusty W, Chris J, George & Kerry, Jacques W, Danny & Cheryl N, Liam & Phil E, Kevin S, Richard C, Vince B, Hayward B, Dave & Tony J, Kevin H and Mick G. We also had 3 visitors – Phil and Denise Wilson from Nunumara, who brought along their grandson Angus who is interested in our hobby and hopefully a potential new member. Denise contacted me some weeks ago via the website, with the intent of visiting on a club day. Weather meant that November didn't happen and so they were looking forward to visiting on the Christmas lunch day.
It was nice to see Denise write in the visitor book "very informative and a fun day" and her husband Phil wrote "Thanks for you hospitality". Lunch was again a terrific spread and the club thanked Kerry for her efforts.
There were quite a few that flew on the day, some of whom, due to my absence I hadn't seen for a while. Rodney was there with a Hangar 9 model "The Beast".
Overview of The "Beast":
What do you get when one of RC's greatest 3D pilots collaborates with one of full-scale aviation's greatest aircraft designers? The Beast™ – a giant-scale biplane with monoplane-like flight characteristics that blurs the line between 3D and precision aerobatic performance, and more than lives up to its name.
The full-scale Beast is the brainchild of renowned aircraft restoration expert, Kevin Kimball, who actually collaborated with 3D champ and Hangar 9 product developer Quique Somenzini on its design. The brute power of its 410 hp engine combined with the finesse of its neck-snapping 370 degree/second roll rate make it one of the most formidable aerobatic planes ever created. Drawing on his experience with the design of the full-scale Beast, Quique created this licensed 100cc reproduction for Hangar 9. He did so with the full cooperation of Mr. Kimball as well as Bryan Jensen, the Beast's pilot and owner, and Mirco Pecorari who designed the full-scale plane's trim scheme. At the heart of the model's design is a rigid, lightweight airframe that features thinner wings for better top speed and agility.
Here is Rodney's description of the specifications for the model –
Rodney's Beast in flight (apologies for the video quality. It was shot from our clubhouse using my iPhone).
---
Christmas Lunch Pictures
Whilst I took the first 7 pictures, the rest AND the majority of the pictures below are again courtesy of Mark Holman. Thanks Mark! (Click on the first image and scroll through the gallery)
New Member
Last month I mentioned our new member, Liam Ellmers. Liam brought along a foam glider but he didn't have the battery for it. Max loaned him a 3s 1300mAh battery pack and Danny volunteered to put it up for him. As I mentioned previously, the wind was quite brisk and as soon as Danny launched the glider, it went straight into a loop and constantly climbing and falling as Danny wrestled with the sticks to get it under control! It was very entertaining for the onlookers, not so for Danny. He eventually got it under control and, despite his heart rate rapidly rising, brought the model back safely. The model was clearly tail heavy. Whilst Liam had, with the assistance of Peter Daniel flown the model, it wasn't until the committee meeting that Peter advised that the model uses an 1800mAh battery and with that it is balanced at the correct CG. These are the finer details that Liam will learn as he continues in the hobby.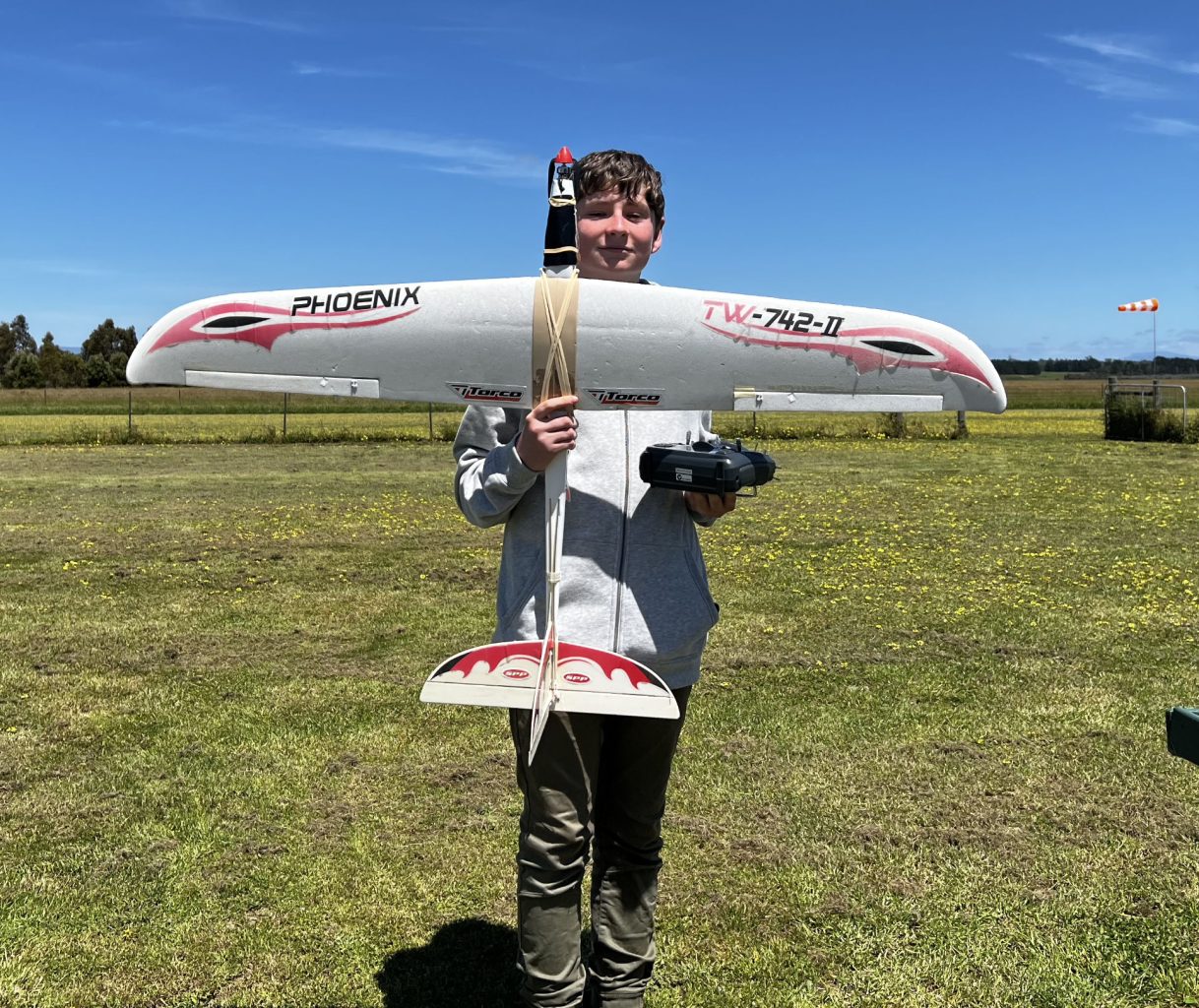 ---
Ceiling Height
We are still waiting for an update on the status of our application for Area Approval. It has passed the MAAA's approval twice but CASA has had more questions. We thought that approval would be imminent. However, at the beginning of December we followed up again, only to learn that again CASA have asked for further information. The questions were not clear to the MAAA safety officer and he has replied to CASA seeking clarification on their questions. We replied advising that the 400′ height limit has severely curtailed our ability to run any large events, especially in this being the 75th anniversary of the MAAA. Hopefully this will be resolved by the end of January.
---
Mark's engine collection
Mark has again contributed some material for this month's HT. Firstly, he has sent in some images of some engines he has. This is what Mark had to say.
Hi George,
2 pics attached of engines from the 10cc control line days.
1 My brothers old Tempest 10 cc mk11 glow engine ( made in Aust ) by Hearns Hobbies around 1946/47
2 is an American Hornet 10 cc, 1947/48
Both engines won the control line championships in those years.
I am still trying to find the 3rd engine, a Dooling 10cc, no luck at this stage.
Cheers Mark
The motors – American Hornet (L), American Hornet (M), Tempest (R).
---
For Sale $225 – Piper Cub by Mark Holman
Mark is offering up for sale a Piper Cub. This Cub has the following specifications –
Model: Piper Cub
Motor: 50-60 Motor
100 amp ESC
Props: 17×10 & 17x8E prop new
Battery: 6S battery
Wingspan: 2300 mm
No Receiver
Kavan pump up tyres
---
Club Site Improvements
The committee is continuing its efforts to make improvements for members at our field. The pit area during the wetter months has often be a subject of discussion (or is that derision?), due to the very muddy pit area, with members often commenting that they were a foot taller in the winter months due to the build up of mud on their shoes! Those who were at the AGM in June, would recall that President Mick outlined a proposal to install a footpath from the clubhouse out to the pilot box. I for one will welcome the project, as these days I have some trouble negotiating the pits even when the ground is solid!
Work is planned to commence in January and the members are indebted to Mark Holman who has volunteered his time and his equipment, including his mini excavator. This is obviously not a job for one person and the committee would like to see any members who have experience in constructing boxing and concreting or general labouring, to make themselves available to help. A request for help will be put out closer to the time when we envisage starting the project. In the meantime, if you're at the field and see Mark, let him know you are prepared to help, talk to a committee member or drop me a line. We don't need a lot of people, but a few extra hands will help.
---
Defibrillator
In June this year the committee applied for a grant for a defibrillator to be sited at our clubhouse. We have been waiting some time as the applications closed in August. This week (Dec 21), we received advice as follows –
Good morning,
I am sending this email to provide a status update in relation to your AED application(s) through Community AED Fund. All outstanding information required to inform the assessment of applications has been supplied and I am pleased to advise that assessment is now complete.
The Assessment Panel has submitted the application outcomes for ratification by the Departmental Secretary and then the Minister for Health. Once ratification is complete, all applicants will receive formal advice on the success, or otherwise, of their application. Given the time of year, I anticipate this will occur in early/mid-January. Thank you for your patience while this process is being finalised.
Season's greetings – I wish you a safe and healthy festive period.
With Kind Regards,
Manager Community First Responders and Volunteers Ambulance Tasmania
Whilst we hope we are successful, a lot depends on the accessibility for the general public. Symmons Plains Raceway has one and we know that the Roaring Forties Aeromodellers were successful in obtain an AED. (thanks to Mike Rutledge who told me about the grant)
---
From the Web…..
Just take a listen to this RC Focke Wulf Fw 190. Powered by a Moki 250cc engine, it sounds remarkably like the full-size, especially at low passes. This engine, when tuned just right, is always a head-turner. This build has a wingspan of 103 inches, weighs 51 pounds and is dressed up in a terrific paint job. Worth the watch!
Focke Wulf 190 piloted by Andrea Morbin during the pilot meeting at Timmersdorf (Austria)
Model data:
---
Last Hangar Talk I showed you some giant indoor models. Well take a look at this GIANT scale Concorde.
The scale of this RC jet is truly "mega" — 33 feet long, a 13-foot wingspan, and a weight of 328 pounds! And to get this big boy off the ground, it's powered by four(!) Jetcat P300 Pro turbines. Watch the video to see the very realistic flight characteristics in action!
Technical data:
Scale 1/6
Span: 4 m / 13 ft. Length: 10 m / 33 ft.
Height: 1.85 m / 6.1 ft.
Weight: 149 Kg / 328.5 pounds
Turbine: 4x JetCat P300 Pro
Fuel Tanks Capacity: 4×6 liters / 5.8 Gallons (UK)
Gears: Pneumatic
Radio: PowerBox CORE
Receiver: PowerBox PBR-26D
Servos: 18x HACKER TD2612S
Lights: UNILIGHT
Air Tank: 30 liters
The fuselage and wings is made of carbon fiber sandwich
Kit: Self made 1 year computer construction planning 2 years of building
TURBINE: https://www.jetcat.de/…/kategorien/…
No mention of the cost!!
---
Well that's it for another month. Don't forget to send in some pictures of your latest project or what you have stored in your hangar.
Don't Forget – Put a Spark in your life and fly electric!
George