Vale – Merv Cameron, Aged 78
It has been a while since the last Hangar Talk but sadly in that time we have lost a long term member in Merv Cameron. Merv eventually succumbed to his lengthy battle with his ill health and will be sadly missed. Merv was a stalwart of the club, serving on the committee for many years during which time he was a past vice-president. He also did his fair share of club duties, mowing the strip on a regular basis, which he did even when his health was not the best.
Merv spent many years in the hobby as his AUS no 91 will attest to. No kits for Merv either. It was scratch built for almost, if not, every model he ever flew. He was a master craftsman not only in balsa but any wood, metal machining, vacuum forming, covering and fibreglass too. I recall saying to him that I was trying to find a small spinner but couldn't find one anywhere. Next visit he arrived at my home with a beautiful aluminium spinner of the precise size, turned on his lathe and threaded . So good was he, the likes of which we will never see again, as those skills sadly have gone with him. I visited his workshop many times in past years and marvelled at how precise his work was. No need for any filler in joints that Merv cut. Everything was perfectly aligned. The proof was in the finished product. With monotonous regularity he would build a model, take it to the field and all you heard was "need a couple of clicks of trim" only to hear later "no need, I took them out again". He truly was the builder's builder, respected by many of his peers for the quality of his workmanship. Anything from a crafted wooden Kenworth truck for his boys to a half scale Pitts biplane. There was nothing that appeared to be beyond his skills. Della, his daughter, recalled at Merv's funeral that he would often had chocolates to share. This brought back memories too. Merv would regularly visit us at home, returning the egg carton that Kerry had given him the previous week that contained a dozen of our free range eggs. On return, Kerry would open the "empty" carton, only to find a bar of her favourite chocolate. Merv always liked to look after his "girlfriends".
If anyone else has any past anecdotes, feel free to leave a comment. RIP Merv. Below is a collection of photographs I took or collected over the years.
New Members
Whilst a couple of members have decided not to rejoin this year, a warm welcome to 4 new members this month.  –
Mei-Lin Ho – Mei-Lin won't be new to most of us as she has been a regular at the field with Vince Burling. Mei-Lin has now taken the step from "visitor" flyer to a full member and given her ability, her wings will be gained very shortly. Mei-Lin is not the first female pilot member we have had but it's nice to see a lady join the flightline.
Keran Crozier – We haven't seen Keran yet but welcome to the club. Keran is a friend of a new but past member in Russell Walker. 
Bill Warboys – Bill has been a visitor in recent months and has now joined the club. Welcome Bill!
Chris Jones – Chris was previously an Associate member of the club but has now transferred as a full member. I look forward to catching up when the weather warms a little and the field is a bit more wheelchair friendly!
No Flying but plenty of weather updates.
I know most will be disappointed by the latest weather but at least Geoff is keeping everybody up to date with the weather and it's impact on the field. As he reported in his last committee report, the committee intends spending money on some upgrades to the grounds that hopefully will improve conditions for future winter flying. Whilst it is always a bit depressing with rain and wind, spare a thought for our mainland farmers who would take every bit of extra rainfall we have. Not to mention the RC flyers in the northern hemisphere who never go flying in the winter because it's too cold and snowing! We don't have it too bad after all.
Another "Doc" creation.
Peter Daniel has sent in some photos and an update on "Doc" Baldock & Peter's latest project (I'm looking for more contributors please?). This model is another WWI creation – an Albatros D.V (yes, only 1 "s"). This was a German biplane built in 1917. From the tail feathers it looks like the D variant. Here are some comments from Peter;
Hi George,
July 12 – Doc and I have been working on a new project over the past few months and it is progressing well.
The plane is an Albatros with an 88 inch span. I have attached a couple of early pics of it . We have scale spinner and wheels from the States and Doc has made a really good dummy set of rocker valves etc., which will sit on top of the fuselage.
Will update you as we get further into the project over the winter. Currently setting up the rigging wires.
For those that are not aware of how "Doc" gets his plans, here is what he does –
Looks up his trusty reference book, "Jane's Fighting Aircraft of World War I"
Draws a plan from the 3D drawings to whatever scale size he wants (he likes them big).
Here is the Albatros picture where he drew the plan from.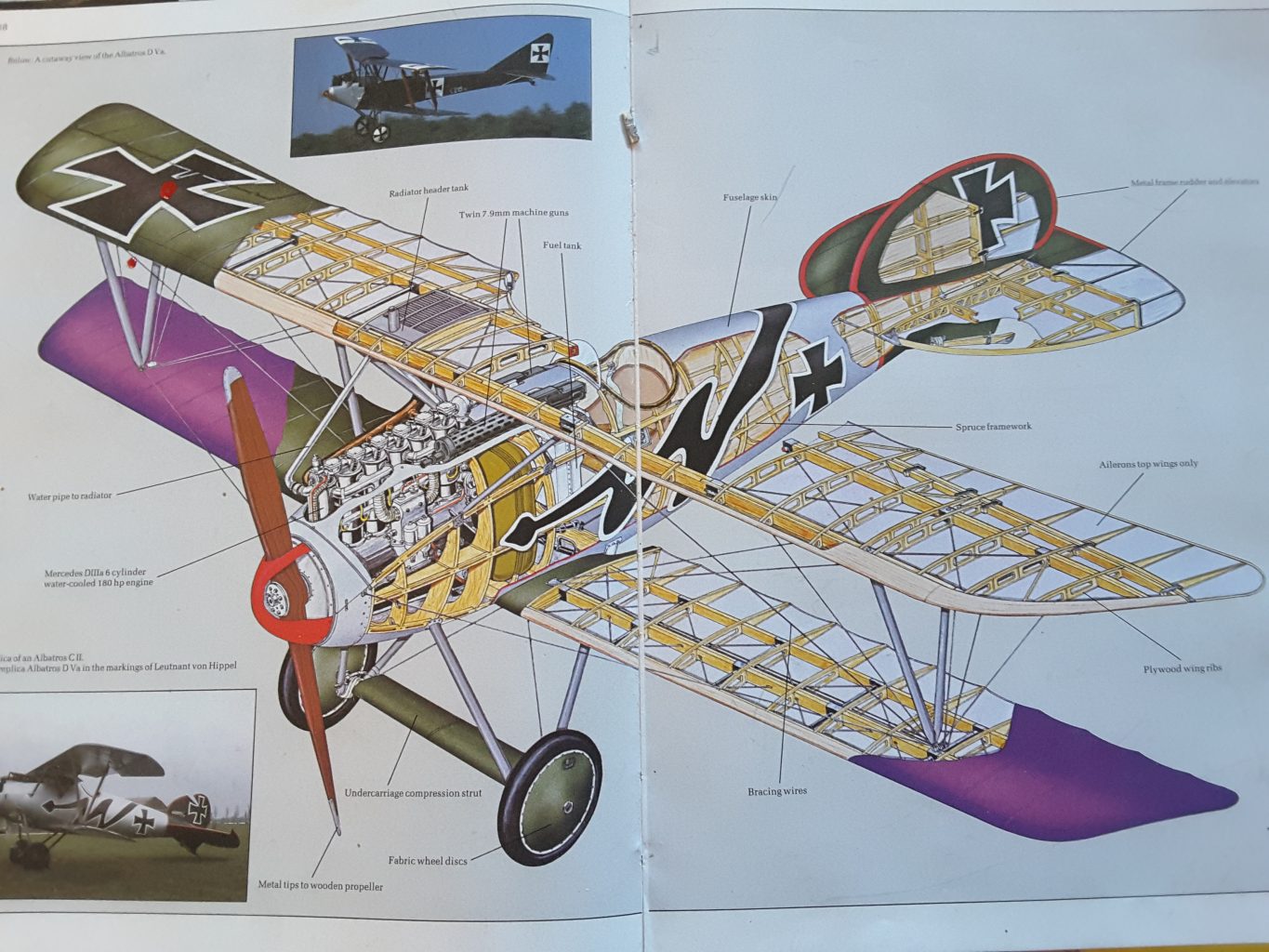 Here are a few pictures of the early construction (I'm sure you know where everything is in your workshop "Doc")

July 21 –  I will take some more photos next Wednesday as she has progressed quite a bit since then. The Boomerang has flown successfully quite a number of times now but she is quite difficult to stop nosing over after she slows down on landing even though the c of g is exactly correct and after the incident we had when Doc unbeknown to me moved it back a bit and she became totally uncontrollable and suffered a bit of damage. After repairs you would not know though. It is brilliant in the air though. The Pup is absolutely great to fly and is my favourite plane of Docs to fly, 3 point landings every time.
August 20 – We hope to maiden the Albatros on wednesday , weather permitting. Hopefully get some in air pics, but will certainly get some on ground prior to the flight and forward them to you.
Here are the statistics of the model –
Wingspan: 88″ (2.2m+)
Motor: Turnigy g 160 (This is the equivalent of a 160 glow engine)
Battery: 10 cells (2×5000mh)
Prop: 20×10 prop. Produces massive power, almost frightening at full noise.
"Doc" is another example of our very clever builders who can build the most magnificent models from scratch. Great job "Doc" & Peter. Below are the latest pictures on the building board. I am sure all will agree, it's a great looking model.  
Tim's Story
Attending our AGM was Tim and Ros Sydes. I've known Tim for about 35 years. It was Tim who actually got me interested in joining a club in the North when I relocated to Launceston. Tim was the chiller supervisor at Blue Ribbon Meat Products and would come to my office every day with details of the smallstock (lamb/mutton) chillers and we would start up a chat about "what do you have on for the weekend". To which he replied "I'm going flying". In those days it was Logan Field. Back then, I never found the time to go flying (seems a familiar story today I know). Tim always presented as a great personality and a very reliable employee! One day he encouraged me to take a partly built (read never finished) Corsair to Evandale for the Railex display. There I met a few guys from LMAC. I had previously tried to join another club but they were averse to members in wheelchairs but Tim pointed me in the right direction. Thanks Tim.
Now back to the AGM. At the AGM Ros presented me with a photocopy of an article from a medical publication that featured a story on Tim and I'm happy to reprint here. So if you get up in the morning thinking you're going to have a bad day, take some inspiration from how Tim gets on with life.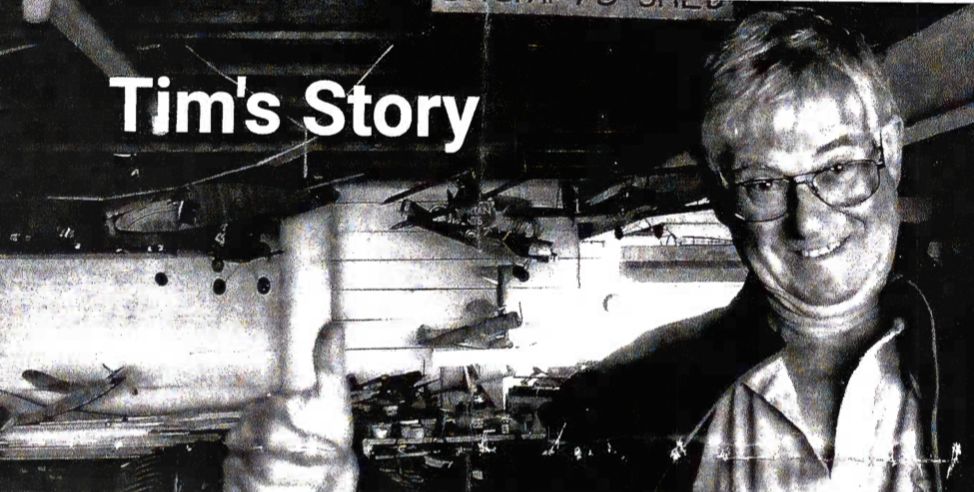 I'm Tim Sydes, 72yo, and live in Launceston, Tasmania. I was diagnosed with Parkinsons in 2012. When I wasn't responding as I should to the medication, my doctor suspected I had Progressive Supranuclear Palsy and this was confirmed by my neurologist in Hobart three years ago.
I've had a completely absorbing hobby since 1956. In my garage/hangar, are 70 model planes, many are radio controlled which I built. I believe the cognitive function needed in my hobby is beneficial for keeping PSP at bay and ensuring my relaxation.
I rise early, walk our jack russell, Reggie for 15 minutes each morning. I have good days and bad but we go if at all possible, weather permitting, as part of our routine. I mow our lawns, trim the edges and grow a vegie garden. I help with household chores. I have enrolled for ukulele classes through the School for Seniors. My wife and I go to Tai Chi weekly. I indulge in a beer and a glass of wine with meals. We are recording my memoirs including early days in the 50s at my family's Coles Bay holiday home.
I keep up to date with news via T\/, listening to radio and reading newspapers and books. I enjoy music and playing records and CDs. My family's background was in radio so I'm following in their footsteps.
In March 2017 I bought a Vielight helmet from Canada I wear for 20 minutes a day. Afterwards, I always feel like my thoughts are less cloudy. This as yet, not officially recognised device appears to have slowed down the progression of my PSP. I have found I speak more clearly, move more easily and my general state of mind is more positive. I continue to take my medication. My ultimate goal is to be able to walk backwards!
I believe you live with this serious condition, rather than let it dictate to you. I focus on what I can do, rather than dwell on what I can't. Of course, everyone is different and how they progress is individual but if you keep busy and active you feel you have more control.
Anyway, all the best to everyone. You are not alone.
Tim Sydes
Well done Tim. I can relate to some of your story and good on you for sharing this with everyone.
Well that's it for another month.
Put a Spark in your life and fly electric…
George