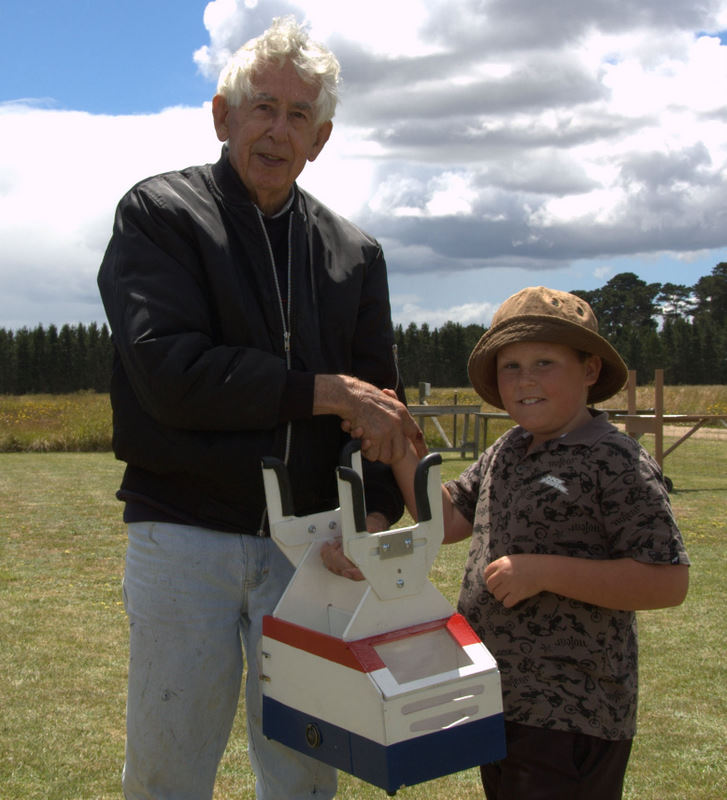 Without any exaggeration, this was one of the best Christmas days we have had in a long time. The weather, whilst windy, was generally flyable for the Tomboys, the attendance was outstanding and friendship and fun was the order of the day. The theme was very much a family day and this was borne out by the large attendance – almost 50 people and it was very satisfying to see a large turnout of youngsters. We've said it many times – this hobby will die if we don't encourage the youth to take it up. So it was very encouraging to see so many kids there.
In addition to our own members, the boys from Hobart made the journey North. We are very appreciative of their support! Thanks to Tony, Will, Gavin and Peter for making the trip to join us.
The theme for the day was a Tomboy/Fun Fly day however the major attraction was the lolly drop! !!  President Kevin Hay satisfied the masses of youngsters flying many "sorties" with his T20. Kerry C had organized a bag of mini "chuppa chups" and some prizes that were kindly donated by Tiger Models (many thanks again Dwayne and the boys!). A number of "chuppa chups" were labelled with "Winner" and the lucky finder brought their winning lolly to collect their prize from "Santa" Fred W. A special prize was awarded to our Junior member Jackson Oliver (Terry P's grandson). The prize was a new flight box built and kindly donated by Dave Jacobs who had the pleasure of handing the prize to Jackson. So from our oldest member Dave who is 80 to our youngest who is 8 is a remarkable event! The look on Jackson's face was priceless – I think all his Christmases had come at once. A great gesture to give encouragement to our youngest member. It must have worked as he came second in the diesel Tomboy event – what an outstanding effort Jackson!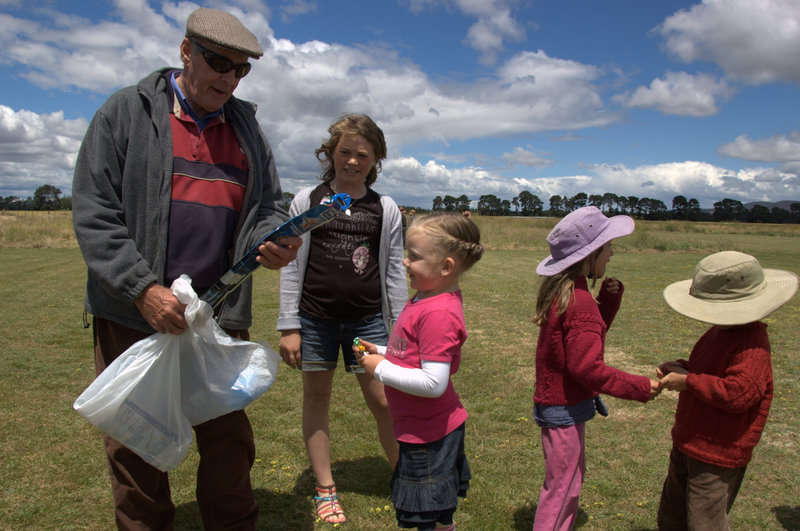 Will Deal did his usual stellar job as CD in the Tomboy and was ably assisted by our newest member, John Moody. Will reported on the event as follows. –
A rather windy day did not deter the Tomboy mob from having a great day out
at the Christmas BBQ on the 18th December. For the first time we were able
to have both electric & diesel in separate groups. Bad luck for both Geoff
Hays & Gavin Hallam who unfortunately had gear problems and were unable to
start. Three new models appeared on the day – Jacques Wakae with very smart
electric Tomboy, Greg Robertson with a sparkling electric Sportster and Tony
Gray also debuted a new white Cardinal model. Not too sure on your colour
choice Tony!
With new member John Moody helping officiate we decided on an 8.00 min max
for the day with a deduction of points for over 8.00 min flights. We also
allocated points for landing on the cut strip. Two rounds were flown before
lunch, however due to increasing winds we called it a day at this point. It was decided
to have the best single score from the two rounds flown to count for the day's results.
Merv Cameron was unlikely to escape the reporting of his first round flight
as he had an "out of paddock" experience after attempting to fly a model
other than his own. A long Walk for Bill Hellinga to retrieve Merv's model at least worked
up an appetite for the magnificent Christmas lunch.  Jacques also had a problem with the
strengthening northerly wind in the second round with his electric Tomboy
not making it back to the landing strip. Three models landing within a single second of each
other in the second round and certainly kept the timekeepers on their toes.
Dave Jacobs had his model sorted by the second round and was up there with the best.
Terry Pearson decided not to compete but to give his grandson Jackson Oliver a helping hand on the day.
Check those results, Jackson is on his way – watch out hot shots the new lads are arriving!
Electric Results: 1st George Carnie 2nd Greg Robertson 3rd Owen Cameron
Diesel Results: 1st Peter Allen 2nd Jackson Oliver 3rd Anthony Gray
Yet another top "Tomboy" day! Many thanks to John for helping with the
timing.
Merry Christmas to all – look forward to more Tomboy fun in 2011
Will 
Lunch was a lavish affair with food aplenty! Plenty of barbecued meat, salads, hot boiled potatoes etc followed by fruit salads and Christmas cakes washed down by a cool soft drink or tea/coffee. There was plenty of praise for the spread that was put on. You wouldn't get a better 3 course meal for $5 anywhere.
Many thanks to Kerry for co-ordinating and all the girls for their assistance, without their help it would not have happened.
The day was not all joy as we saw the demise of Greg R's recent acquisition, a lovely electric powered Pilatus PC9. Unfortunately the model was on a turnaround manoeuvre and went into a spin from which it could not be recovered. Greg was philosophical about it and vowed to return with another new model soon. Tony Grey flew an ex Greg R pattern ship an "Adrenaline 90". It too was not without drama as shortly into the flight the canopy was seen floating down to earth. Anthony Grey kept a keen eye on its landing and was fortunate to find it in the long grass.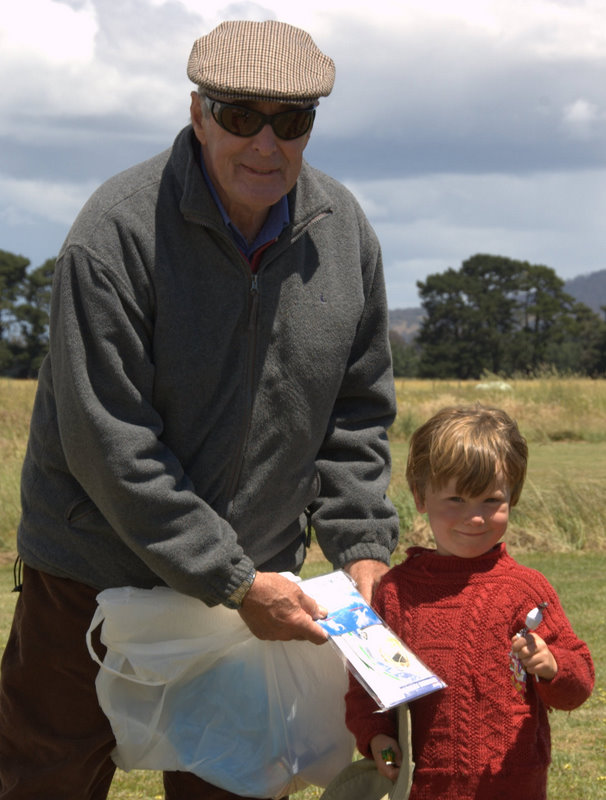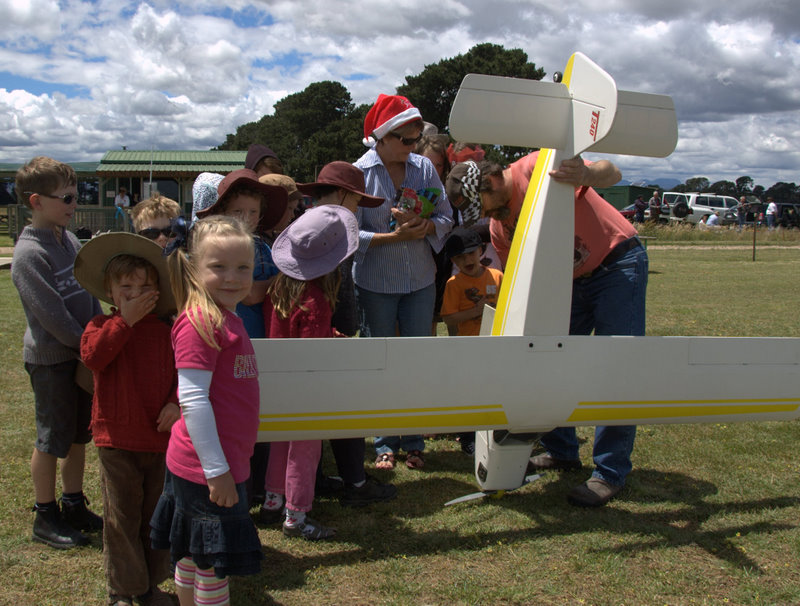 The Christmas raffle was won by John Moody with 2nd going to "Dave the Builder". Thanks to all who bought tickets and supported our club. Let's all look forward to a safe, healthy and prosperous New Year. Our club continues to grow in membership with another 2 members (which should be ratified at our next meeting) so it augers well for 2011 to be another good one.
George.