Due to inclement weather (can we write a report here in Tasmania without mentioning the weather – it doesn't appear so!), the scheduled Thermal / LEG Glider event was postponed from the 19th to the 26th of February when fortunately, the weather was a "little" more kind. The rain had gone but the wind gradually increased throughout the day.
Whilst the weather was more favourable, the "gods" were still not looking after us. First problem was the winch – the first of the Club winches was brought out, only to find that the last user had left the line in a condition that resembled a "birds nest"! However some persistence by Max Wiggins, ably assisted by Ian Campbell saw the tangle unravelled and rewound on the spool as it should have been last time. Whoever left it like that must remember that Club property is member property and should be looked after as if it was your own. Next the elastic brake restraining strap was found to have perished and fortunately the 2nd club brake strap was intact and the brake was repaired. With the winch now operational we were ready to go – or so we thought. The Club's brand new deep cycle battery was brought to the winch line and found to be near flat! (Task = delegate someone responsible to ensure no repeat). Greg R brought his to the line to get things under way.
THERMAL GLIDER
Only 4 entrants this time; Kevin H had a prior fishing commitment (hope you caught plenty Kevin!) and Richard Cooper had almost but not quite got his Gentle Lady repaired. So the entrants were, Greg R, (Own Design) Dave J (Own Design), Terry P (Algebra courtesy of DJ) and George C (Silent Dream).
The competition got under way and it was decided, due to LEG commitments) to fly 6 minute durations. The first round scores were George C 3m34s (13.8m from the spot), followed by Terry P 3m02s (zero landing) and then Greg R 2m28s (zero landing). Sadly Dave J had a launch problem and his OD veered heavily on launch and crashed. Dave suspected a warped wing. Bad luck Dave. Showing the usual sportsmanship and despite Terry P's offer, Dave insisted Terry continue to fly Dave's back up glider, the Algebra.
The second round got under way and Greg had decided to try a smaller wing on his glider to gain better penetration as it was windy and thermals were not massive. This made a difference (nice to have spare wings Greg!). Greg managed a 5m33s flight and landed 9m from the spot. Terry P was next and achieved a time of 2m42s. Lastly was George C and I was lucky enough to find a few thermals and managed a maximum score 6m00s and a spot landing,  This brought proceedings to an end with the final results 1st George C, 2nd Greg R and 3rd Terry P.
LIMITED ELECTRIC GLIDER (LEG)
7 entrants for the LEG event, which was a good turnout. It could have been more but we couldn't coax Max W or Doug C to enter with their Hobby King "AXN Floater" http://www.hobbyking.com/hobbyking/store/uh_viewItem.asp?idProduct=8359 Whilst they don't look as though they would be competitive, the climb rate and thermalling ability was quite impressive for such an inexpensive model.
The first round was very tight and eventually won by Ian Campbell 301pts, followed by Greg R 300pts, Terry P 299pts, George C 298pts, Jacques W 293pts, Geoff H 205pts and Dave J 148pts.
The second round was again tight at the top, won by Greg R 314pts, followed by George C 313pts, Ian C 303pts, Jacques W 296pts, Geoff H 258pts, Terry P 236pts and Dave J 135pts. (Dave struggled as he was using his backup brushed motor Spirit and with the windy conditions just did not have the climb rate he needed and decided to retire at this point).
The final round of the day was after lunch and the wind had not eased. This was a bit eventful for George C as during his climb the prop and spinner decided to part company with the model and a frantic eye was kept on the glider and the spinner/prop as it pirouetted to the ground. Fortunately keen eyes watched where it fell and with the ground support of Merv Cameron, Jackson Oliver was able to locate the prop. Thanks Jackson! Losing the prop meant finding thermals and staying in them was vital. In the end the round was won by Ian C 310pts, followed by Greg R 305pts, Terry P 294pts, Jacques W 289pts, George C 284pts and Geoff H 276pts.
After dropping the worst score for each competitor, the final places were 1st Ian C, 2nd Greg R and 3rd George C.
Interestingly, the average components for all 3 rounds were the key to the result. Motor Time, Landing Points and Overall Time Deviation. I've prepared a table to highlight these –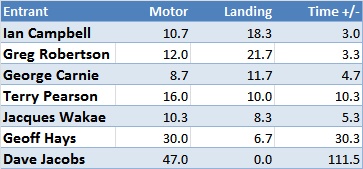 What can we glean from these results given that Ian C was the winner?
The shortest average motor run time was George with 8.7 secs, followed by JW on 10.3 and then Ian C on 10.7sec

The best landing was Greg with an average of 21.7 points (25 maximum), followed by Ian C on 18.3 and the George on 11.7

The closest to the 5 minute maximum time was Ian with 3.0 secs followed by Greg on 3.3 sec and then George on 4.7 sec.
Importantly Ian was 3rd in motor time, second in landing and first in closest to the time limit. He won because he was consistently in the top 3 for all facets. Obviously there are other factors that influence the final result i.e. whether the combination of these factors resulted in a win in the round and the dropping of the worst round. In past years I ran the Australian Electric Flight Association's Postal LEG competition which included pilots from as far as Scotland and evident, in order to win was the need for closest to the 5 minute time limit and the best landing score. The shortest motor time is not that important if you can't hit the spot! Until next time – don't be frightened to compete it's all a bit of fun and you'll be a better pilot as a result.
George
Final "Normalized" scores were as follows –