Background
LMAC have operated on the Symmons Plains property since 1993. This was courtesy of the Youl family who were the owners at the time. In 2011 the property was sold to Ingleby Farms and our future was uncertain as it was clear our site was going to be in the path of a centre pivot irrigator. Luckily the new owner's Australasian manager, Stephen Creese allowed us an area to which we could move to. We first relocated to our new site in 2012 and the strip was part of a paddock that had been drilled for forage grasses. Great for stock food but not for a model aircraft runway. This coupled with many invasive weeds, such as capeweed, meant a runway that was uneven and difficult for smaller models to taxi on. After multiple years of deliberating about resurfacing the strip, 2023 was the year we would start.
With best intentions, we had hoped that the strip reseeding would have been completed by the end of August, when late winter rains were expected. However, as we rely on the farm for their support, unfortunately the projected timeframes did not eventuate due to their busy schedule. This has meant regular daily watering and Ron has again assisted us by moving the sprinklers throughout the day. We must be grateful for their support whenever they can fit us in.
NOTE: If anyone decides to go to the field and fly, you will need to move the sprinklers and hoses off the strip and return them when they have finished. If they were operating and the ground looks like it is wet, please move them to a new area and turn them on again when you leave. Please let me know (0418 134 672) so I can inform Ron that you have visited and moved the sprinklers. A word of caution – please take care walking on the wet ground as it is like clay and will stick to your boots!
To assist in keeping members informed, I have put together a blog of the progress. The most recent is at the top.
---
Friday, November 24 – Grass is growing well and Ron intends to fertilise the strip with Urea today, in preparation (hopefully) for rain on Saturday and Sunday. Rodney mowed the strip again today and we will progressively mow by taking ⅓ off each time so it is ready for the Christmas lunch on December 9.
---
Friday, November 10 – On advice from Seona, we needed to spray the strip for broadleaf weeds. This is what Seona advised –
"Hi George,
Grass growing well, some broadleaf weeds including capeweed, erodium, hogweed and clover.
Did you want a broadleaf rec?"
Seona then gave us a recommendation for spraying those weeds –
"Agritone 750@ 1.3L/ha plus
Kamba 750 @ 185mls/ha plus
Lontrel advance @ 40mls/ha plus
Li700 @ 100mls/100L of water.
I have given it per Ha with 100L of water to be used per Ha.
Please calculate this for your area which is less than a Ha."
Ron again stepped in and supplied the necessary chemicals and Mark Holman kindly put his hand up to do the spraying, which was done today. Rodney took another video to show the progress. We expect to mow in 7 days to encourage more lateral growth.
---
Thursday, November 2 – The grass is growing well and Ron advised he was going to spread another load of DAP fertiliser. Hopefully some more rain over the later weekend and next week to wash that in. Seona will inspect the strip on Monday to check progress and give any further advice necessary.
---
Friday, October 27 – Rodney was at the field today and spent some time watering and moving the sprinklers. Rodney also flew a model and his thoughts were that the strip was a lot better and smoother in the majority of places and as the grass is finer, it does not have the "bounce" that was there as was the case when models with smaller wheels traversed the previous clumps of grass. Rodney also took a short video of the strip. It will take a bit of time for the grass to spread from the drilled rows, but it is coming along nicely. The strip will be rolled again once the grass establishes more.
---
Sunday, October 22 – I had a call from Ron this morning, asking if I was coming down to mow the strip! Overnight we had 17.3mm of rain and the grass has shot up!. Ron told me a fact that I was not aware of. Because the rainfall was during a thunderstorm, the rain would contain more nitrates and this would give the grass a boost. To add a little bit of trivia and to quote BBC Science –
Air is 78 per cent nitrogen, and plants need it to grow. Nitrogen gas is chemically very stable because it is made from two atoms that form strong bonds with one another. Breaking these bonds requires lots of energy before they can react. Lightning can provide this energy, breaking the bonds and leaving the free nitrogen atoms to combine with oxygen in the atmosphere. The resulting compounds are called nitrates, which dissolve in rainwater more readily than nitrogen gas. Most plants cannot use nitrogen gas but they can use nitrates. Because of this, thunderstorm rain is particularly good for fertilising plants.
Ron also mentioned that during this week he will spread another 100kg's of fertiliser over the strip to really give it a kick along. He will roll the strip again as soon as he can.
---
Tuesday, October 17 – We were concerned as to how we would manage laying slug pellets on the ground to deal with the issue referred to yesterday. Pellets cost around $7kg and we needed 10kg's for our area. Ron and the farm came to the fore again and spread 10kg's over the area. This meant no watering for 2-3 days.
---
Monday, October 16 – Following Mark's comment on the capeweed in the pits. Mick again collected my spray tank and he and Mark set about spraying the pits using Kamba 750 with the Activator. Mick's comment on looking at the strip – "Strip looks a million bucks. Will be a massive improvement."
Some pictures of the action (You'll see that Ron has also slashed the long grass inside the strip area!) –
Seona Findlay, the agronomist checked out progress on the strip. This is what she had to say.
Hi George,
Just had a look at the airstrip for you and it's germinating well in rows but there is some slug activity. I mentioned it to Ron and I think he may be able to get some pellets out for you. Might be best to chat to him. Try not to irrigate for 2-3 days after pellet application. So have it well watered up pre-application and then good watering again 3 days after application.
Seona
---
Friday, October 13 – Daniel Heazelwood sent me a text asking if it was okay to use the strip. Daniel went down and had a flight and commented afterwards "the strip looked great and very flat, the wait will be worth it!".
As advised in an earlier email, the committee deemed it okay for anyone to use the strip during this time. If anyone does attend, we ask them to turn the sprinklers off and move the hoses and sprinklers off the strip and return them when finished flying and turn them back on again. If that happens, send me a text or call so I can let Ron know, so he doesn't make an unnecessary trip to the strip to move the sprinklers. If anyone stays at the field for any length of time, we are watering at the rate of 1 hour in each area. If you can, move the sprinkler again as this may take some pressure off Ron having to be there all the time, especially at the weekend.
---
Saturday, October 8 – Mark Holman volunteered to go down to the field and mow the pits, move the sprinklers and do a general tidy up. It was a long day for Mark, who spent from early morning to mid afternoon, getting everything done. He was back again on Tuesday doing more. Mark had the pit area looking great but commented on the need to get rid of the capeweed in the pits.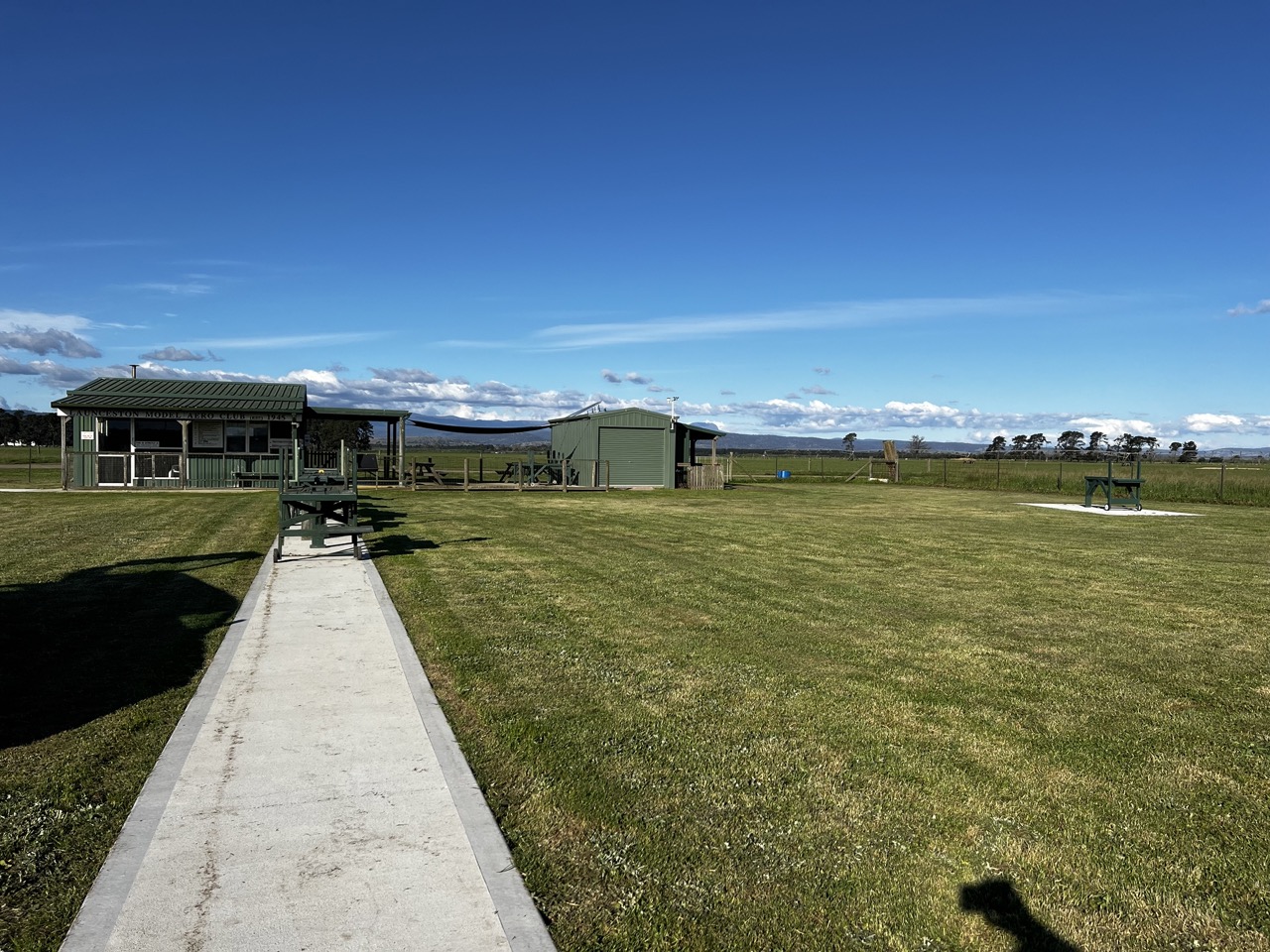 ---
Tuesday, October 10 – It was evident that one sprinkler was not doing the job. Ron tried to source a travelling sprinkler but to no avail. Ron said he would hook up a temporary 40mm line from the stock trough in an effort to get more pressure. He and Mark installed that at the northern end of the pits. The club purchased another sprinkler to run off the existing 25mm line. We now had 2 irrigators running. However, the wind continued to hamper the water distribution, but there was nothing we could do about that.
---
Saturday, October 7 – Due to a lack of numbers and to give the seed the best start, it was decided to cancel Club Day. However, members are allowed to still fly off the strip if they wished. Individuals presenting to fly would not be the same as a having a club day and many more accessing the strip.
---
Wednesday, October 4 – Max and Danny went to the field and set up the hoses and sprinkler.
---
Monday, October 2 – After work, Ron spread 100kg's of fertiliser and rolled the strip with a heavy roller and as luck would have it, we had almost 7mm of rain overnight. The club purchased suitable ¾" hoses and borrowed my Toro Monsoon irrigator to water the strip.
---
Sunday, October 1 – Elsdon not only loaned their seed drill but also their tractor and driver and the seeding was completed.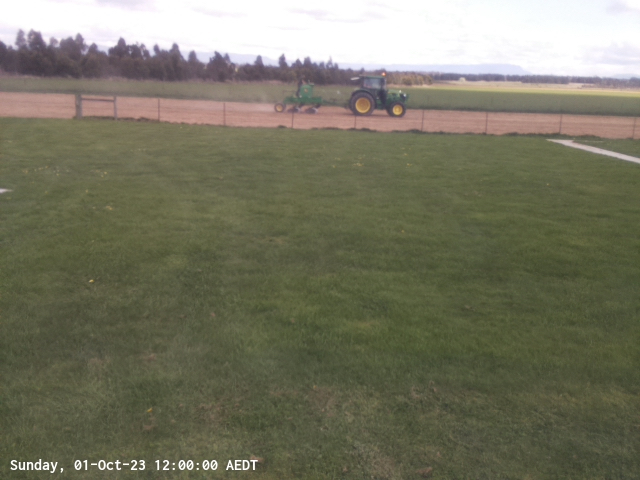 ---
Friday, September 29 – Seona had looked at the strip and advised that we should respray with Roundup to kill any reemerging weeds. This was acceptable as long as it was at least 6 hours before seeding. Mick picked up the sprayer and resprayed the same day.
---
Wednesday, September 27 – Ron had sourced a suitable drill from Elsdon farm and would sow at the weekend. The drill was only 11′ wide and would be ideal as it could not only sow parallel to the strip, but could also do a crosshatch pattern to avoid fixed rows of seed.
---
Wednesday, September 20 – On advice from Seona (agronomist), it was recommended to sow "Barenbrug Sportsfield Blend" seed. This had to be at the ration of approximately 25g per square metre. Our strip is approximately 4500m2, meaning around 100kgs of seed! We were able to negotiate a good price for the seed through Elders at $8.00/kg. Ron suggested given the drier conditions, that the seed should be drilled.
---
Monday, September 18 – Mick collected my seed hopper and he and Danny met at the field to seed the strip. It turns out that the seed offered was too old and may not germinate and there was nowhere near enough to cover the strip. As it turned out it was too windy. Another delay.
---
Friday, September 15 – Ron advised that they had some seed left over from the homestead and we could have it. It was decided to use my seed hopper and for the club to seed early next week.
---
Thursday, September 7 – Mick was again available to spray the missed areas. Unfortunately, this meant another 10-14 days before seeding could occur.
---
Saturday, August 26 – Ron called in at home and delivered the necessary chemicals (Another sign of the support from the owners) and the advice from Seona the agronomist as to the herbicide ratios. See below.
HerbicideRatios

Mick, collected the chemicals today and sprayed the strip. It later became evident that some sections of the strip had been missed, which is easy to do without any markings as to where the spray had reached.
---
Friday, August 25 – Spray tank arrived and Mick Green volunteered to collect from me and spray the strip ASAP.
---
Monday, August 14 – No sign of the contractor being available. Rather than continue to delay, I ordered a 100 litre spray tank that I could use on my property.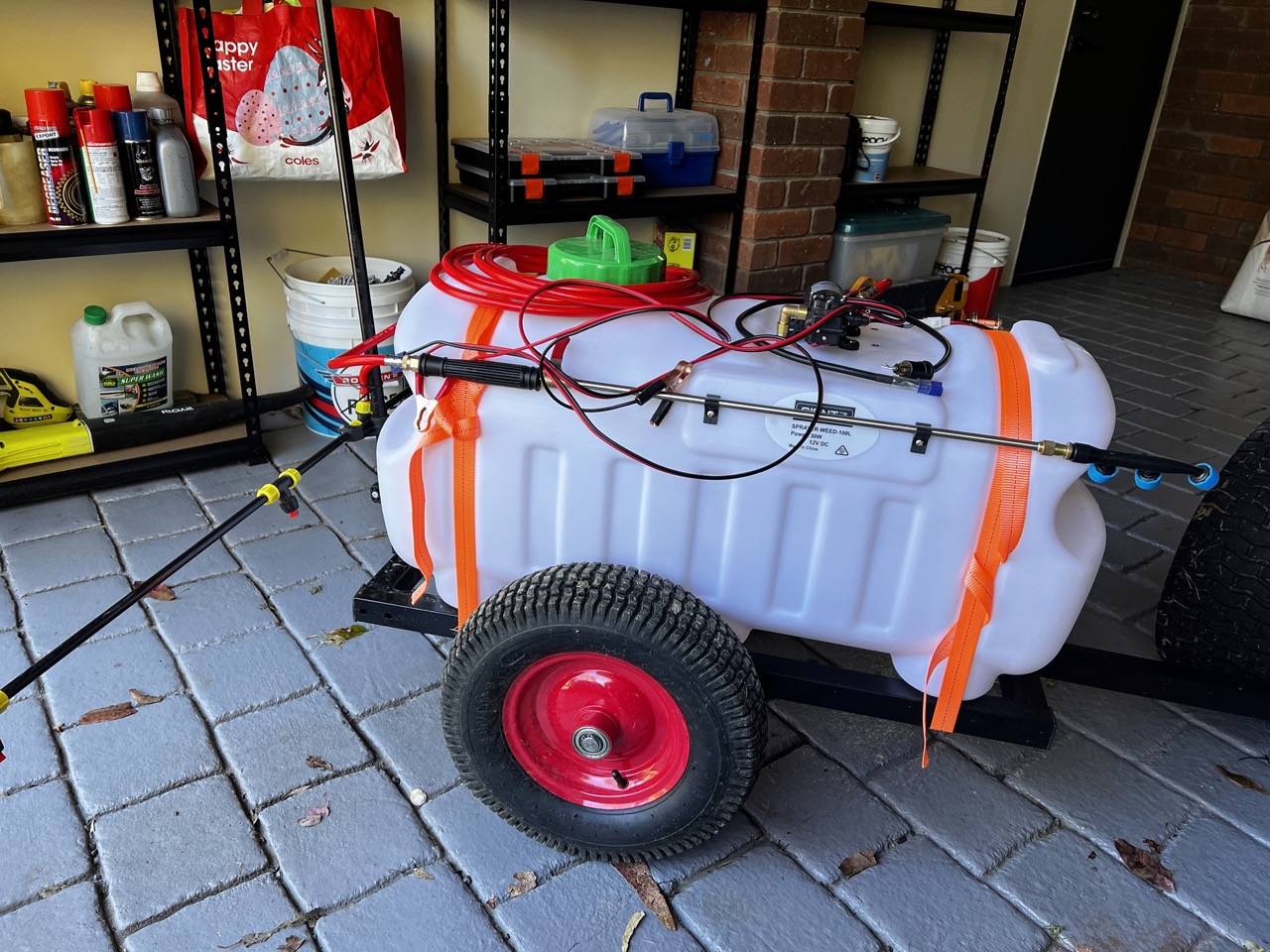 ---
Monday, August 7 – The contractor had the requisition to spray our strip but not their paddocks. This meant a delay on spraying the strip.
---
Saturday, July 29 – Ron advised that the farm contractor was scheduled to spray some paddocks and was going to spray our strip to kill all the existing vegetation. Seeding of the strip would occur 14 days after the spray.
---