How lucky are we here in Tasmania! We had about 3 months of a lockdown with what we thought were difficult but necessary restrictions on our normal day to day life. Spare a thought now for our Victorian neighbours. Having said that, a lot of the people I speak to say let's not open our borders too soon.
I'll open this blog with a request for members to send me material for posting on the website. Since March I've spent a total of just over 2 weeks in hospital in 2 separate events and a long time recovering from the cause. This, along with COVID has meant I haven't been able to visit the field and catch up with members to extract information that I can use on the website. I know a number of you must have have had a COVID project that you've been working on or completed, bought a new model or gear or been to the field in that time. Like any publication, the website relies on "reporters" supplying "news".
It doesn't matter how little you can add nor that you don't want to write an article (although anyone is more than welcome to have their own blog page), Just send me some photos and a couple of words for description and I'll do my best to turn it into something that will interest readers. Come on, I know you can do it.
---
MAAA FAI Licences
You should all have received your receipt, new licences and MAAA membership sticker last week. I am not sure why the long delay, probably COVID? I did not include a club card this year as previously this was of some use in obtaining a discount from local hobby shops but as we know, those days are gone.
---
AGM
Before I get onto what has been happening, don't forget the AGM on Monday, September 14 (7:30pm) at the Kings Meadows Community Health Centre, 22 McHugh St, Kings Meadows. Due to COVID restrictions, make sure you let Geoff know if you are coming as the limit is 21 people attending.
---
Working Bee – Saturday, September 5
What a great day that emphasised the importance of club participation. A note went out to all members seeking their attendance at Club day with flying as not a priority but to lend a hand to improve the facilities at our club site. The first job was to do something about the boggy areas e.g. outside the machinery shed, around the western side of the barbecue area, where the flight tables normally sit. To make a start, 5 metres of road base was delivered on site and had to be barrowed from the carpark to the boggy spots.
We have 33 members (1 Social in Hobart). Of the remaining 32, 10 responded in the affirmative. Initially, this appeared a disappointing response, however in many cases understandable due to the age demographic of our membership, which by the way averages just over 69 – The oldest 90 (congratulations Dave J) and the youngest 40, who had her birthday last month (congratulations Meilin!). The thought of shovelling 5 meters of gravel would no doubt be too onerous for some of our older members! The final turnout however, was much better than anticipated.
Firstly, a message came through that one of our newer members, Mark Holman who wondered if we would have any use for a small excavator? He didn't have to ask twice. I said to Mark, "Fantastic! at the very least it can be used to replace the backbreaking job of loading the wheelbarrows."
The morning came and as usual, first man on the job was Rodney Kreutzer who took the opportunity to get some early flights in before the "tools" arrived. Next was Mark at around 8:15 with his excavator in tow. He calls it his "toy" but it was a machine for everyone else. I didn't get there until just after 9 and then the numbers started to arrive. (Apologies for not advising a start time)
Ultimately, we had the following helpers (in the order of the image below) –
our newest member Danny McColl, Peter Steer, Alan Johnson, Mark Holman, Rodney Kreutzer, Russell Walker, Kevin Hay, Danny Nelson, Max Wiggins, Mike Hope. (not shown Kerry Carnie, Richard Cooper and yours truly but I can't claim to have lifted a shovel!)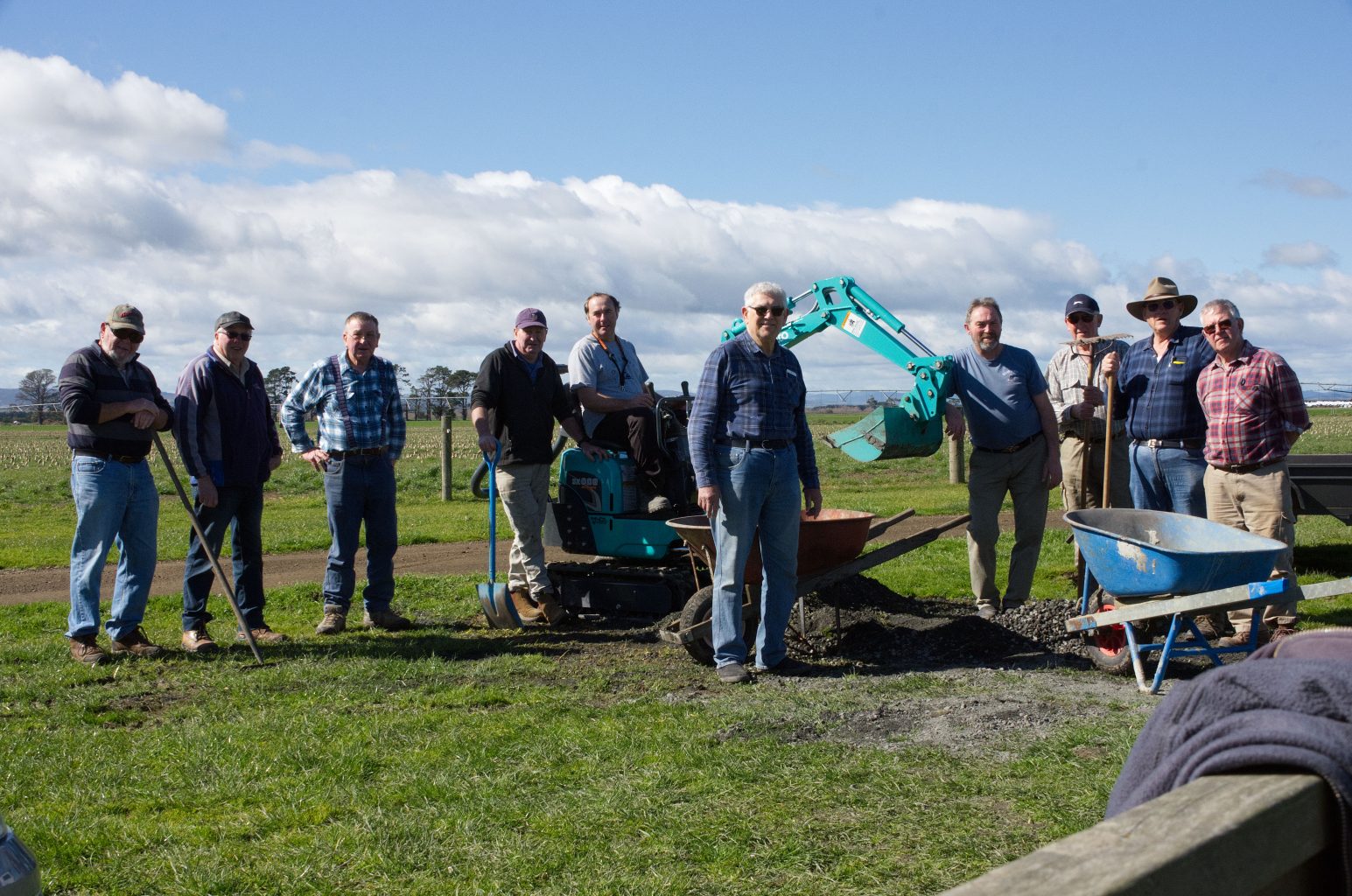 What a difference the excavator made – a couple of scoops and the barrows were loaded. No backbreaking shovelling! As Mark said "Backhoe before Backache".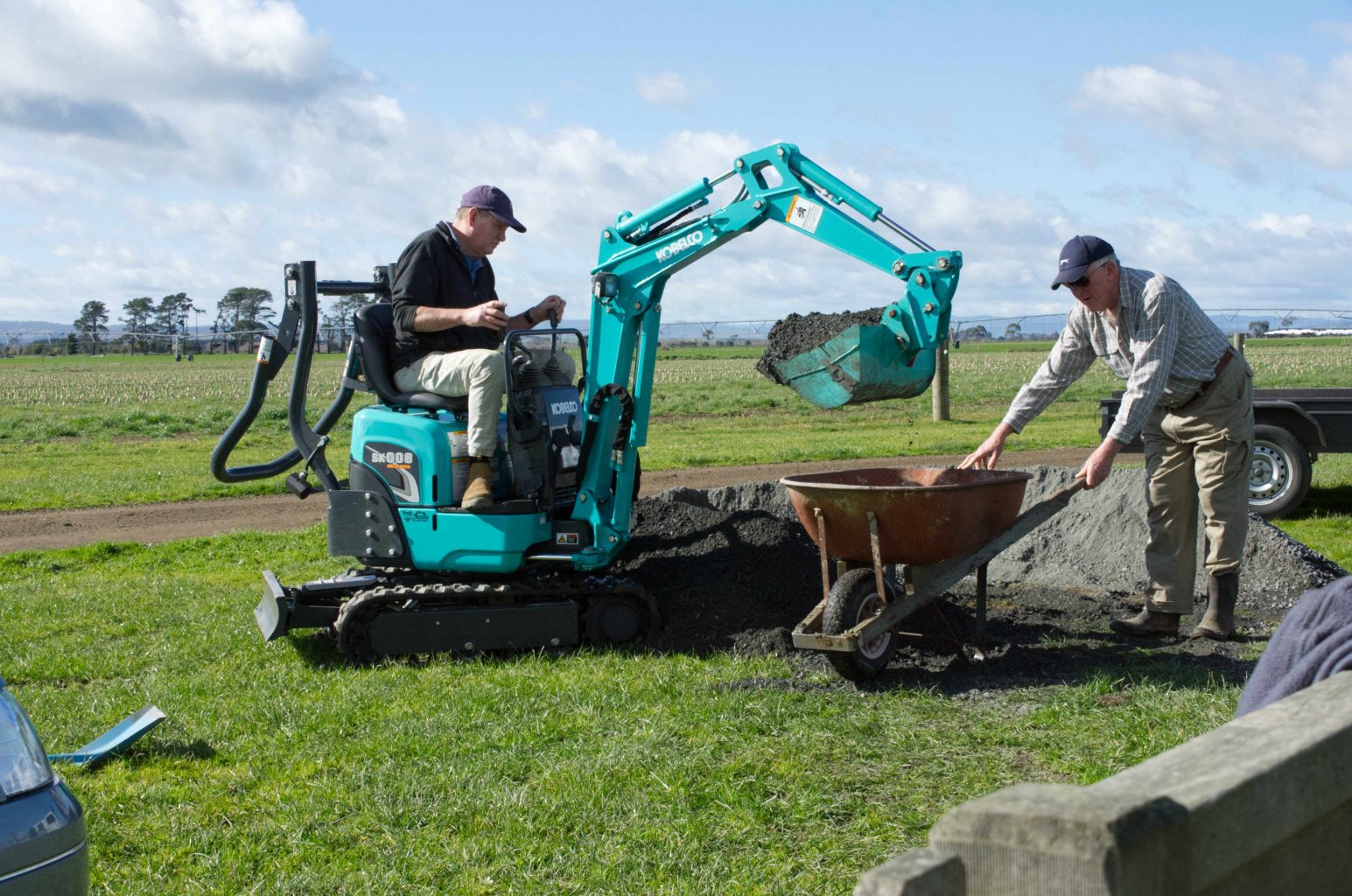 By 11:30 the work was done. A great effort that would not have been possible in that timeframe, without the excavator. Mark was generous enough to let others play with his "toy" and Rodney climbed on board to have a go.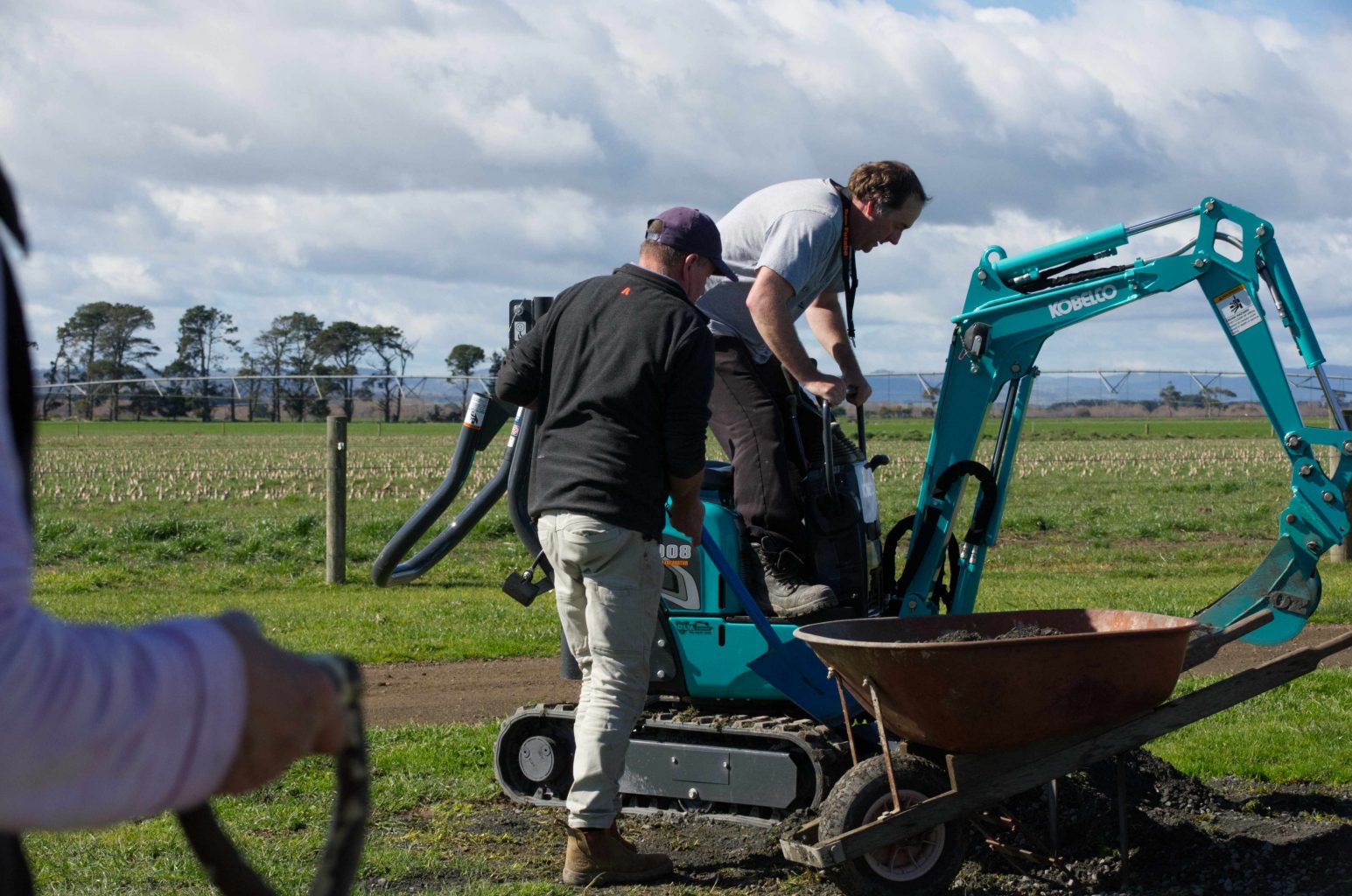 Geoff arrived later with the very welcome barbecue supplies and cooked up the lunch which was a complimentary reward for those that assisted in the working bee. The club is very grateful to all the workers, especially Mark who had already planned a job for Saturday but deserted his plumber to help us out. Many thanks Mark and all!
Whilst most were active doing the heavy work, there was still the clubhouse. Enter Russell and Kerry who cleaned up the clubhouse. Everything was pulled into the centre of the clubhouse so a thorough clean could take place. If you think something is missing, Kerry took the curtains and tea towels home to be washed. Kerry was so impressed with Russell's work, she wanted to take him home!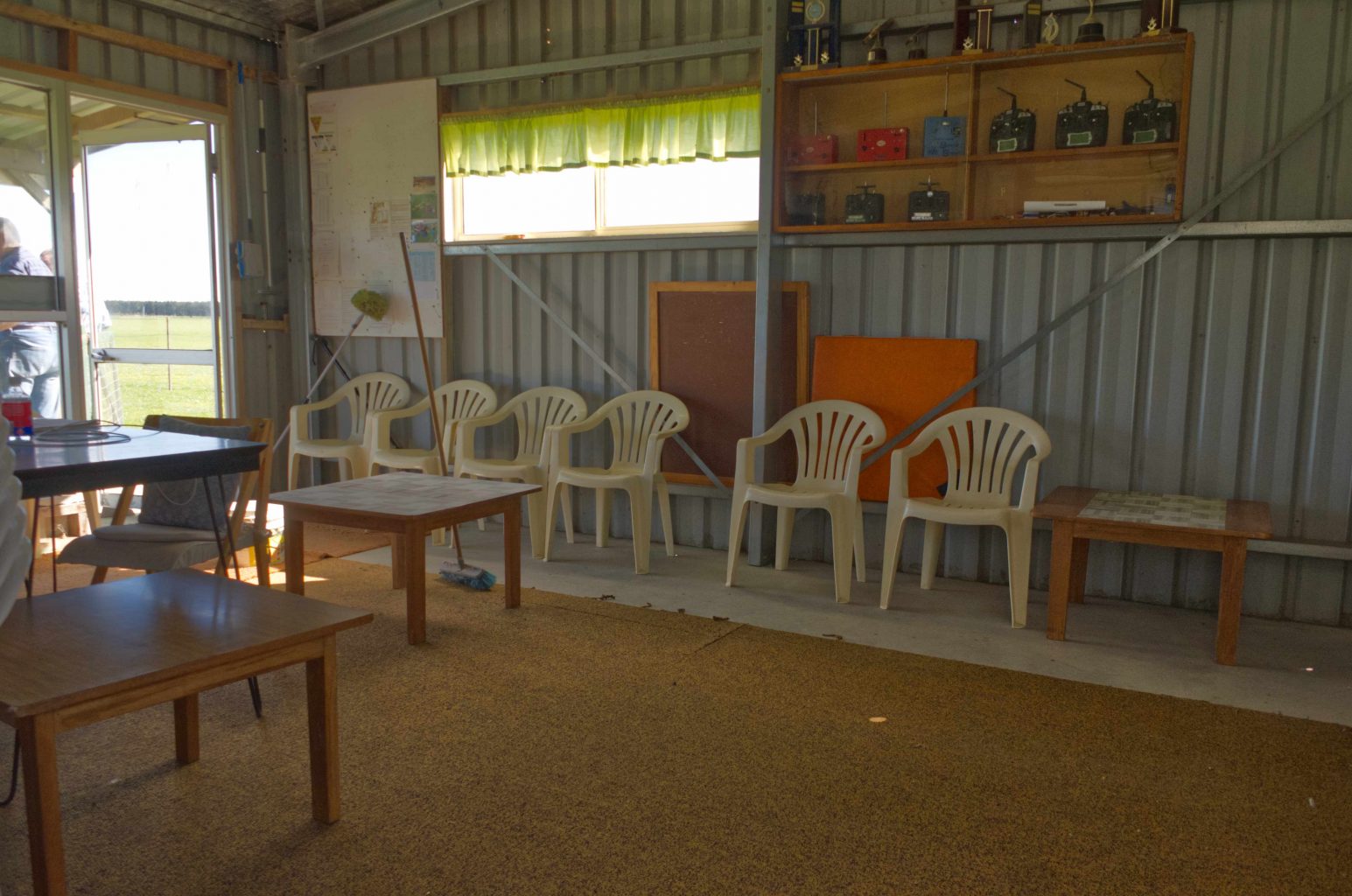 As discussed in recent emails, the committee wants all members to participate in maintaining the club. Some do it by being on committee and other related "off-site" activities but we still need all members to remember this is their club and without volunteers, the club would fall apart. If we get volunteers, we avoid the roster system where all members will have a task to do. Saturday proved we have a number of willing workers.
One of the regular tasks is mowing and since Geoff's retirement we needed some willing workers. We already had three volunteers in Mike Hope, Russell Walker and Keran Crozier but on Saturday we added another in Rodney Kreutzer, who was eager to have a go.
The first step was some induction for two of the volunteers, Russell and Rodney. Mike H showed them the ropes and set them on their way. Russell tried the Ferris first in the pits and then jumped on the Craftsman for a trial on that. You couldn't wipe the smile off Rodney's face as he headed down the strip on the Ferris.
Finally and because it was a spectacular day, a couple of guys got their models out. Rodney emerged again with his Hangar 9 "Beast" and Peter Steer with his Bixler.
The turnout and to achieve what we did in a couple of hours was a testament to what can be done with a few hands on deck.
A few other images from the day…
---
What's next?
Much was discussed on Saturday and as outlined in the email on Wednesday, there is a plan going forward. Eliminating or minimising the boggy areas was first. There is more to do but we will wait until the ground dries out more so we can get some equipment in to assist. Also we want to do the same on the strip but this will have to wait until Autumn to ensure any seeding will survive.
Another project was discussed and that is to extend the concrete path to the flight line. This has been raised many times before but now we will act on this subject to committee approval and if agreed, it will commence as soon as possible when conditions suit.
---
"Doc" Baldock
I received an email from a past member James Dwyer. James now resides in Hobart –
My mother forwarded me the obituary notice the other day for the passing of Doc and I looked at the LMAC website to see mention of Doc.
I was only just thinking about Doc the other week and the time I spent flying with him. I haven't flown a model plane since the 90's but recently have wanted to get back into it – I wrote to HMAC to see when they will take members again and I'm keen to build a 1/4 scale model from scratch (most probably a PA-25 which is a common sailplane tow aircraft).
My first exposure to Doc was on TasTV's Saturday Morning Fun show – one of the two available TV channels in Launceston that could entertain kids of a morning on the weekend so that parents could sleep in. He'd just scratch built a scale (one-quarter I recollect) Fokker D.VIII and the show did a kids style interview and presentation on his work and flying – probably a five minute thing. I took great notice at the time because I was already interested in model aircraft (as an idea) and had spent some time drawing out how I could gut my electric model car and repurpose that to control a model aircraft. I spent quite a bit of time explaining that concept to my young mate Sam. We would have been in grade 4 or 5 – I'd guess it would have been 1990.
It just so happened a month or so later that me and my mate Sam and a couple others were rollerblading around Trevallyn on Bain Terrace when a guy emerged from his workshop and asked if one of us with the smallest hands could come and give him some help. Sam obliged and disappeared for what seemed quite some time, such that we were worried something sinister may have occurred (my mother's warnings about strangers and lollies came to mind…). Sam eventually emerged only to inform me that this guy had a workshop full of model aircraft and had needed his assistance reaching a hard to get at place to install something or other – probably a nut or bolt on the back of a firewall etc. I was rather disappointed to have missed out on the whole experience so we went back together to have a chat.
Doc was only too happy to explain in detail his collection of aircraft and I instantly recognised his Fokker D.8 and discussed his Saturday Morning Fun show fame. He showed us through all of his construction techniques and the large collection of research he had done to build the Fokker (which he designed and built from photos and technical drawings he was able to acquire on the original aircraft – some of it I believe he had to make up as details were not complete on that particular Fokker). He also showed us some of his other work including his own design of fiberglass sports aircraft and talked through making plugs, then moulds and finally constructing and joining fibreglass fuselages. He called it a Barracuda and he said he wanted to use to fuse upside down as a sea-plane and call that a Barracuta. I believe his "brother" Peter had one of Doc's Barracudas. It was glass fuse and foam/balsa-veneer wings. I also requested a full brief on foam core hot wire cutting and went away with a full comprehension of that construction technique and the workings of the required technology as well as where I could lay hands on nichrome wire. In retrospect most of the foundations of what I now understand to be construction techniques of model and full-sized aircraft came from that day of rollerblading.
Needless to say that wasn't the last Doc saw of me (and my mate Sam). It also was the beginning of what wouldn't be the last that my parents heard of Doc and model aircraft. They eventually yielded and supplied me with an OS .25, Futaba 4ch radio and a 25 sized ARF model. Doc taught me to fly (3 mistakes high) and I spent many a weekend travelling to the field with Doc. Doc also introduced me to sailplanes (slope and thermal). He gave me a kit plan for a Gentle Lady 2m glider which he highly recommended and I scratch built one from timber stocks I bought from Birchalls after interpolating all the parts that would have normally come pre-cut. Years later I ended up maintaining and cross-country piloting full-size sailplanes – an interest and set of skills that again in retrospect found inception with Doc.
Doc was a generous and interesting guy and I couldn't have been more fortunate to have met him and have him invest his time into helping me for which I will always be thankful. It is people that you meet through life like Doc that help build and define who you are, how you think and what ultimately you can achieve.
The other key person that I spent a lot of time with from LMAC was Jack Atkins. I spent many an afternoon after school building and repairing aircraft in Jack's workshop and we would load them up into Jack's van and take them flying on the weekend. He was another great human being.
I would have flown with LMAC for 5 or 6 years until I moved to Hobart to study and I haven't flown a model plane since.
I recollect a build 6 LMAC members did for a Hobart club (probably HMAC) seaplane fly-in at Craigborne dam. We production line built 6 seaplanes and then all went to Craigborne to fly them. My father still has my seaplane in his shed – I'm not sure what number it was, but it's on the vertical stab. Its last flight was on that day at Craigborne. They were all built at Peter Waddle's place in Evandale during a series of evenings. I recollect the following people participated:
-Peter Waddle
-Doc
-Jack Atkins
-Bruce (worked for Doc – and designed and cut all the vinyl graphics for the aircraft at work)
-Me (James Dwyer)
-6th person escapes me. May have been Kevin or perhaps Max Wiggins – I know that Max came down to Craigborne for the day.
Time goes fast…
Feel free to repost/publish my contact to your members.
Best,
James.
[email protected]
What a great story I'm sure you'll all agree and a reinforcement of the generous character Doc was.
---
Instructors
As registrar, it is my responsibility to check which of our members who have instructor ratings are available to "instruct". Understandably, members have their own lives to get on with and social flying time can be limited due to weather etc. As a result of our ageing membership, we are now down to 2 "available" instructors. One on Mode 1 and one capable of flying both (hard to believe as I struggle with one mode but Max is a very capable flyer and taught me early on).
What is important is that the MAAA does not limit instruction to instructors. Any capable wings rated flyer can instruct the basics. However, an instructor is required to assess the trainee for their wings. If you introduce a new member and feel capable and your trainee is willing, then offer yourself to assist. I have seen many do it in the past. By doing this we take the pressure off our instructors.
---
That's it for this month, hopefully we will have some better days to look forward to and from my point of view, drier so I can have access to the flight line. Don't forget to send in your photos and notes of those COVID projects you have been secretly working on.
Don't Forget – Put a Spark in your life and fly electric!
George