Apologies for the long gap between posts, but it's difficult to put together a post if I'm not at the field and there is nothing coming from members. As you all know, I've repeatedly asked for images, anecdotes or any other material that members might have to fill the post and let members know that we are all active. Just bought a new piece of kit? Send me a picture and with your assistance, I'll do my best to add some descriptive text.
Christmas Lunch & Fun Fly
Yes, it's that time of year again. I don't know about anyone else but so far 2021 seems to have gone in a flash. The Christmas lunch will be held on Saturday, December 11. (Note: no club day on the 4th). Go to this page here to enter your attendance or otherwise. It is important to register even if you are not attending, as at least we will know you have seen the post. Kerry will organise the lunch as in previous years. If anyone wants to help or contribute, don't hesitate to contact her.
We all know this year has been pretty challenging for flying at the field, so let's get as many members and their family to attend and show their support. Note: Registration closes on Friday, December 3.
---
Car Park Improvements
Anyone who has visited the field of late will have noticed the gravel that was spread in the car park area. Believe it or not, there is almost 100 tonnes of gravel in the car park and required some heavy machinery to get it laid and spread. It would have been impossible for us to do it any other way. It's not finished yet as there is still some material to go in-between the fence and the new gravel. However, at least no-one should get bogged now. The committee is determined to continue to improve access as best we can to provide members with year-round flying, weather permitting. Some days might require gumboots and a hand launch but heck, at least we don't need snowshoes on our feet or skis on our models to fly in the winter as they do in the northern hemisphere! A short video of the equipment used that I compiled. (Thanks to Danny Nelson for a couple of the clips).
---
Weather Station Update
The weather station has been up and running now for about 2 months. I have had some good feedback and hopefully now members are well informed of what to expect when they get to the field. The images also tell us if there are any sheep present! I did hear a comment that the LMAC weather station reports more wind than reported on commercial stations. The reason is ours is reporting the wind at our field and due to the vast open area we fly at, the wind can be significantly more than reported elsewhere.
In the last report I mentioned that if you had a smartphone, you could install the WSView app to give you current conditions at the field without having to navigate the website where you find more detailed information. However, the guide I gave you was incorrect. What I told you was what I had to do to set up a new weather station on the app. Here is the correct process –
Once installed on your device –

Select the 3 bars on the top left of the screen.
Then select "Manage Wunderground"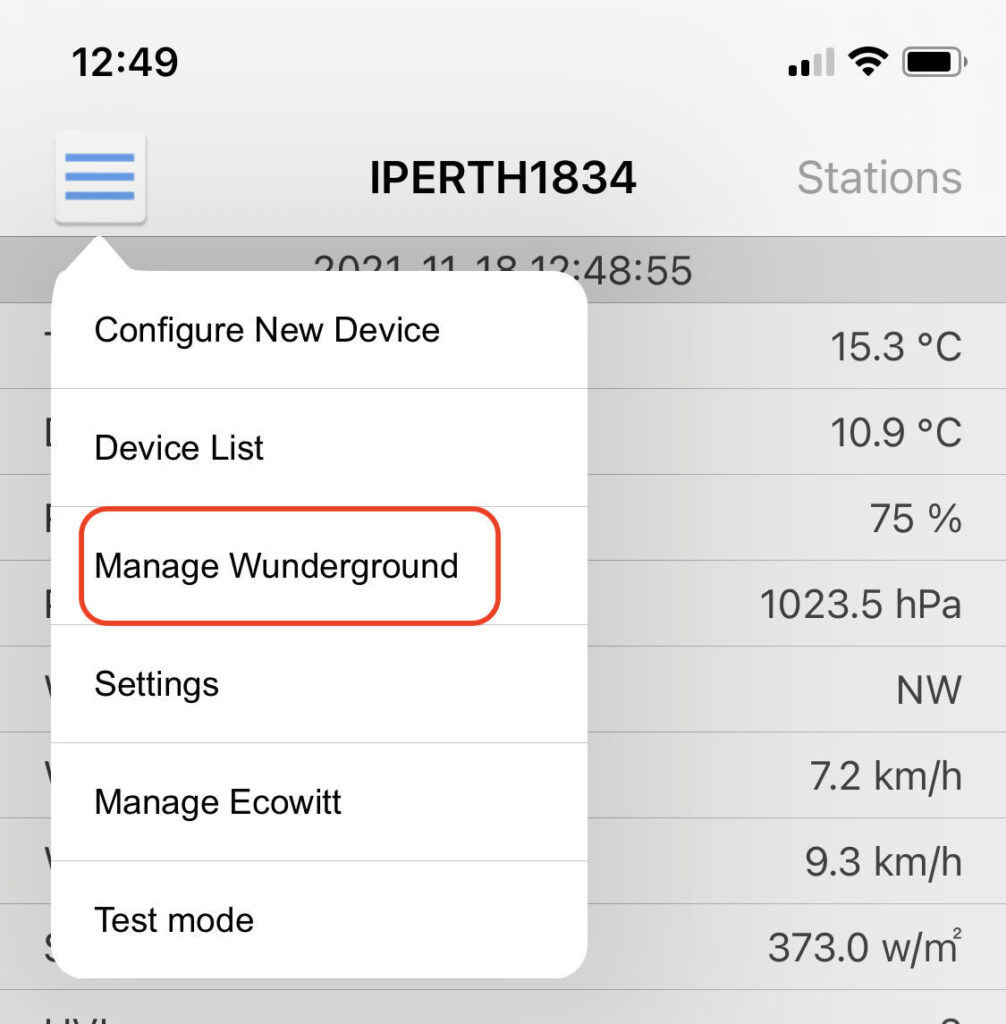 Next you will see the following screen then select "Add"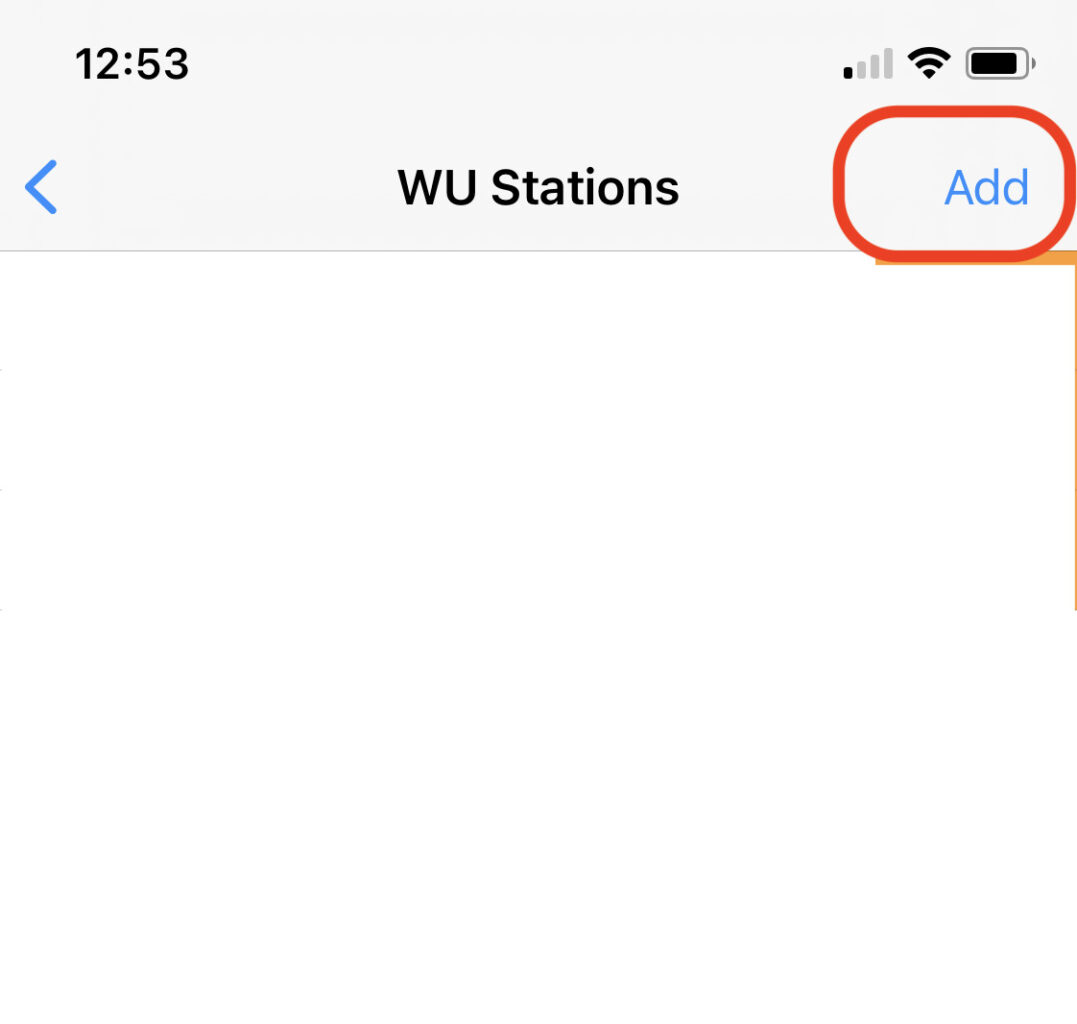 Lastly, the next screen will ask for a StationID – Enter IPERTH1834, then click "Add Station ID". When you get the "Success" message, go back using the "<" symbol at the top of the screen. You can select the station from the main screen, top right "Stations".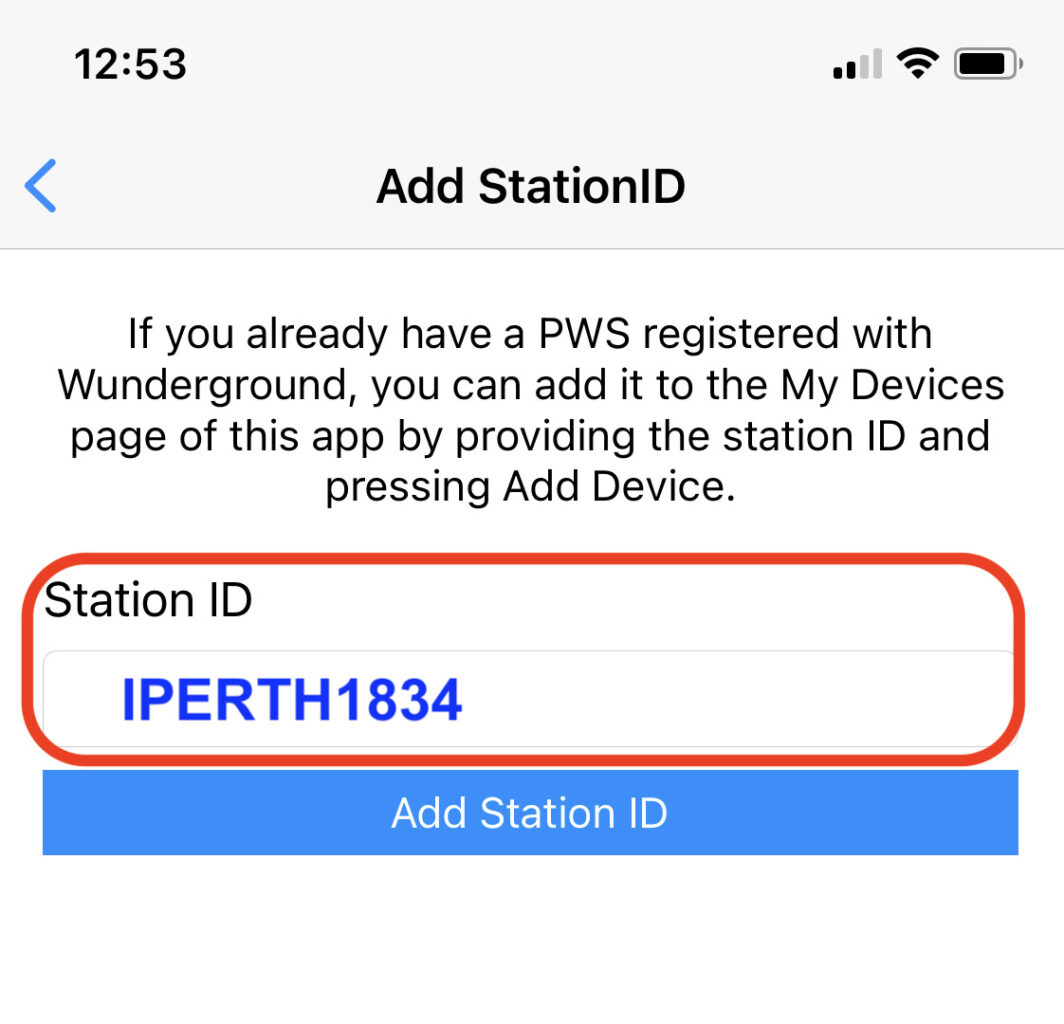 You should then see this screen if all was done correctly. Keep this app on your home page of your device and you will have up to date weather at the field.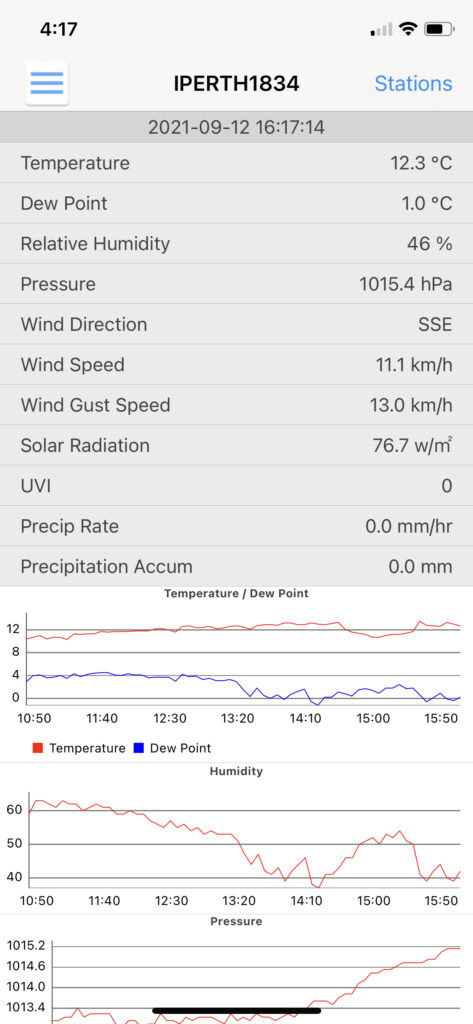 Should you have trouble, don't hesitate to call me or drop me an email/message.
---
Perimeter Fence
I expect many of you will wondering about why there has been no progress on the perimeter fence. Ron, the farm manager, has set aside a number of days when he was going to drive the stay posts etc. This was mainly going to be a Sunday job for him. However, despite those best laid plans, Ron has either been thwarted by bad weather or additional commitments on farm (he has had a lot of work to do with the dairy calves you might have seen in other paddocks). The fence will be built and certainly before Autumn, when we intend to do some remedial work on the strip. We'll just have to be patient. At least whilst the fence is not there, you can check out the airfield images before you head off to the field. Doing so will forewarn you of any sheep that might be a hindrance.
Talking about airfield images, I noticed this one on November 19 at 9am. It showed an aircraft in a rather precarious position. I hope there was someone behind it holding it up and that the image was not of it landing nose first!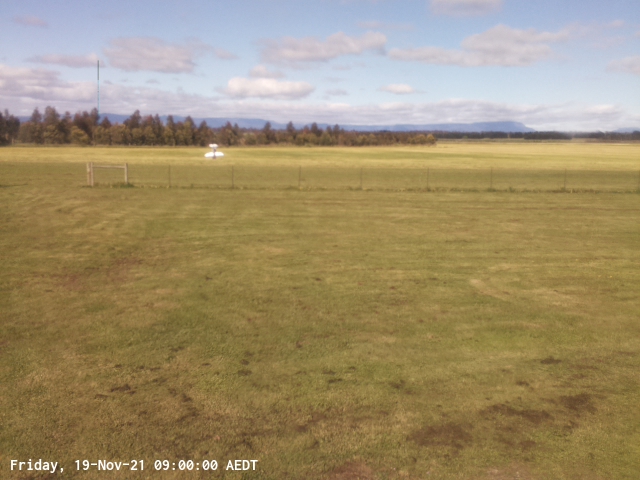 ---
Mowing & General Maintenance
Max is keen to see if anyone is interested in joining the mowing teams as a regular participant. Some may recall in years gone by that there were up to 3 teams on a mowing roster. There was Geoff and Merv, Greg & George, Geoff & Terry, Geoff & Mike and lately Max & Danny and Russell & Keiran. It would be good to get a structure in place that has teams organised on a rotational basis as we used to do. This avoids someone mowing one day and another group going down the next day only to find it has been mowed. All done in good faith of course.
If you would like to for a team or be part of a team, contact Max and put your name down. It would be good to have at least one member of a team familiar with operating a ride-on mower. Once Max has a list of names, he can allocate them to a roster. If we get a few teams together, it might only mean each team has to mow once a month. Currently mowing is done on a Thursday or Friday weather permitting, so that the field is ready for the weekend, but if you are only available on the weekend, don't let that stop you as it is possible for the early birds to mow on a Saturday morning before most get to the field.
The clubhouse is an area we shouldn't neglect either. Max and others have made sure rodent baits are kept charged etc. It is everyone's responsibility to keep the clubhouse and surrounds clean and tidy so if you see something that needs to be done, don't hesitate have a go. Some clubs have a compulsory work roster for all members, if we can get enough volunteers, we can avoid doing that but if necessary, we might have to revert to that rather than a small few doing all the work. Please volunteer if you can find the time to help or on that next visit to the clubhouse in between flights, do a bit of housework in the clubhouse. "Many hands make light work".
---
From the World Wide Web….
Over recent years we have seen the demise of many model aircraft magazines. All as the result of the ever expanding internet. Well some time ago I received an email from Model Airplane News (many of you will remember the American magazine). The email contained a link to subscribe to their online magazine however, when I viewed this link, there quite a few interesting links that did not require a subscription, Check it out here
Each month they have a featured video and this month was about wing repair. Here is part one of the video below.
---
Well that's it for this month but please give some thought to sending me some images or comments to include in the next HT. Nearly everyone carries a smartphone with a camera these days, so there is no excuse for taking a few snaps next time you are at the field or when you are putting together your latest purchase in the workshop.
Don't Forget – Put a Spark in your life and fly electric!
George