The weather has improved considerably and it has certainly warmed up. We're already slapping on the sunscreen and it's not Summer yet!
Annual Dinner – November 6
We held our annual dinner at the Penny Royal Restaurant and from all accounts everyone enjoyed the night and the venue. I heard plenty of accolades regarding the food, "delicious", "steak was so tender" and there was no shortage of food, evidenced by the many cries of "I can't eat anymore". Kevin Swiggs sent this comment –
"Hi George,
Thanks to you and the team for a great dinner last night. We may have to do it again!
Cheers, Kevin"
The only disappointment – I got so caught up in all the conversations that my camera remained on the floor! That is the first time in all the years I have done that. Oh well, from Kevin Swiggs' comment we may not wait 12 months for the next one!
---
Club Day – November 7
A relatively small turnout for club day as our day did clash with the RFAM Jack Tonks Memorial Day that attracted a couple of our members to travel down south. Nevertheless, present were Mike Hope, Rodney Kreutzer, Alan Johnson, Chris Jones, Richard Cooper, Russell Walker, Geoff Hays and myself and Kerry. In addition we had a visitor, Phil Elliott who has requested to become a new member.
The wind was bit tricky as there were booming thermals passing through due to the warm/hot day and the fact that the nearby centre pivot paddocks had been ploughed. The ploughed fields can generate a lot of thermal activity as the rough ground presents more surface area to absorb heat from sunlight. I flew my Easy Glider and it was not long before I was forcing a rapid descent due to the strong thermal activity.
So strong were some of the thermals that a number of "Whirly Winds" were created and created havoc in the pits as they came through, throwing a few models around, including mine. My Easy Glider was thrown up in the air and landed upside down breaking the tail fin and cutting short my day's flying. Richard Cooper's suffered a similar fate, with the wings from his glider being picked up and flying through the clubhouse gate opening only to have the gate slam shut on the wing! Fortunately, being foam no real damage was sustained.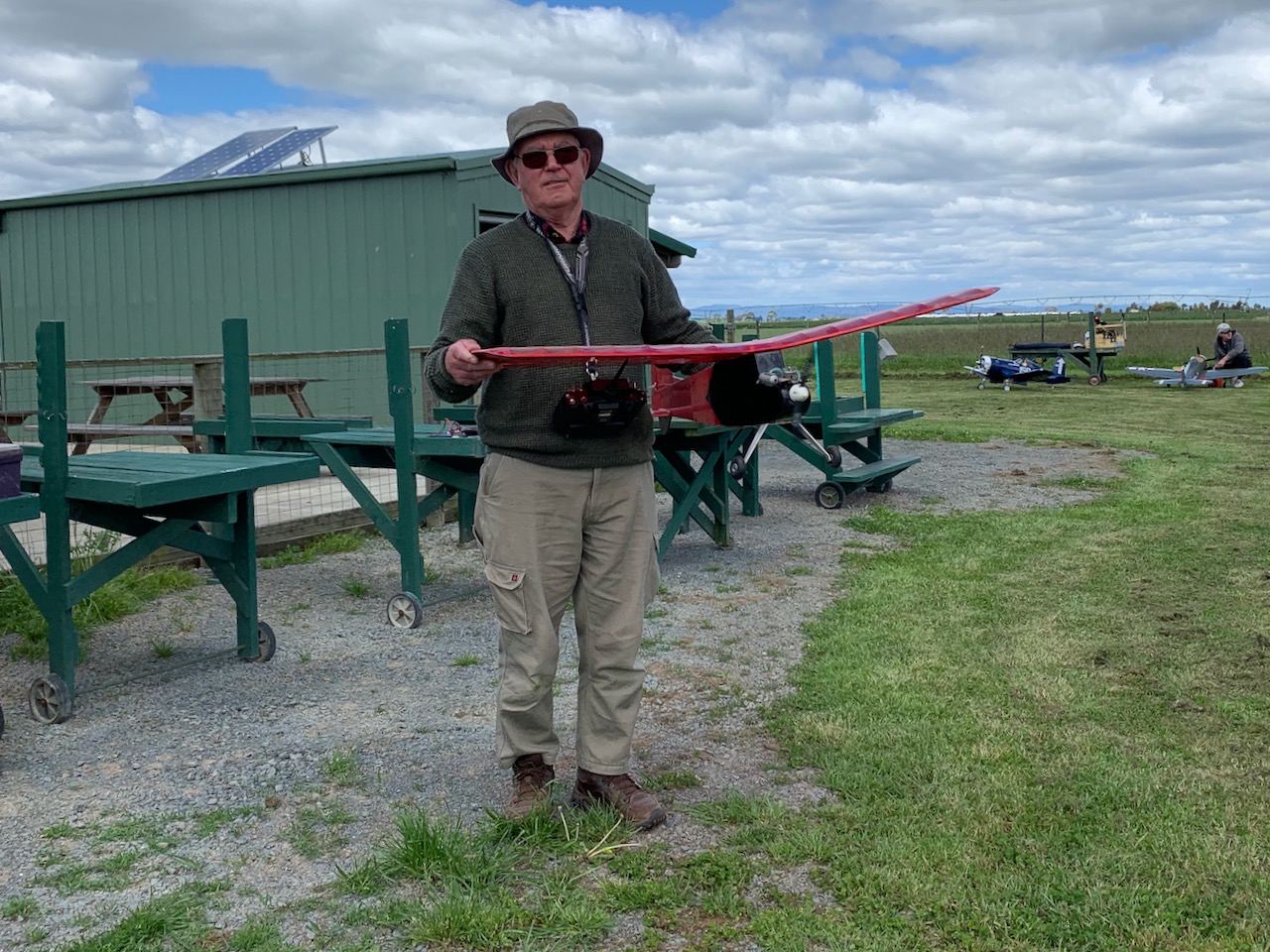 ---
Rodney Kreutzer brought 2 from his warbirds collection – the Vought Corsair and the Thunderbolt. Rodney says the Corsair can be a bit of a handful at times but the Thunderbolt flies like it is on rails. Both sound great in the air and fly very scale like.
The Corsair has an 86″ wingspan and is fitted with a Saito™ FG-84R3 petrol engine, a Biela Propeller 22×12″, Robart electric retracts, scale gear doors, Futaba radio gear, including onboard telemetry, SBus and servos.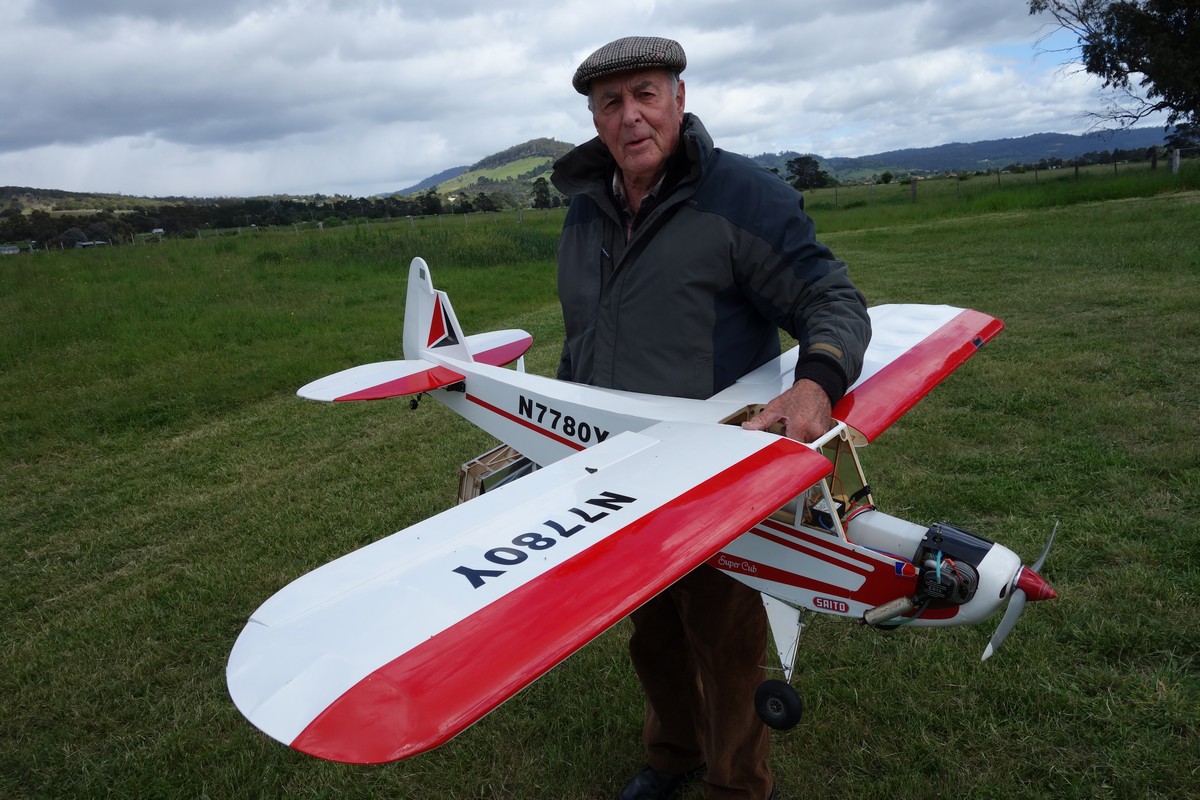 Some more pictures from Club Day.
---
Geoff's Last Day of Official Duties
November Club Day also signified the last day that our long serving past president, secretary, maintenance man, cook and general hand would carry out any duties in an official capacity. I thought it important to say a few words on behalf of the committee and members.
Whilst Geoff would be the first to agree that not everyone sees eye to eye with what committee members do, none can doubt the commitment and dedication to our club that Geoff has given over what must be close to 40 years. No matter the weather, Geoff would turn up to the field to either mow, or if it was too wet to mow, he'd give a general report on the state of the field and pits. Like Alice and Kerry in the past, Geoff too carried out the club day barbecue duties. In addition, he has diligently carried out the secretarial duties over many years. Committee can sometimes be a thankless task and Geoff is to be commended for his contribution over many years.
Geoff is now preparing for his next venture, where he will relocate in the new year to Queensland to be with his children and grandchildren. I am sure you will all share with me in wishing Geoff a safe journey and to enjoy his remaining years in Queensland with his family.
Below are those that attended on Club Day and wished Geoff a fond farewell and thanked him for his contribution.
Here are a couple of pictures of Geoff from many years ago –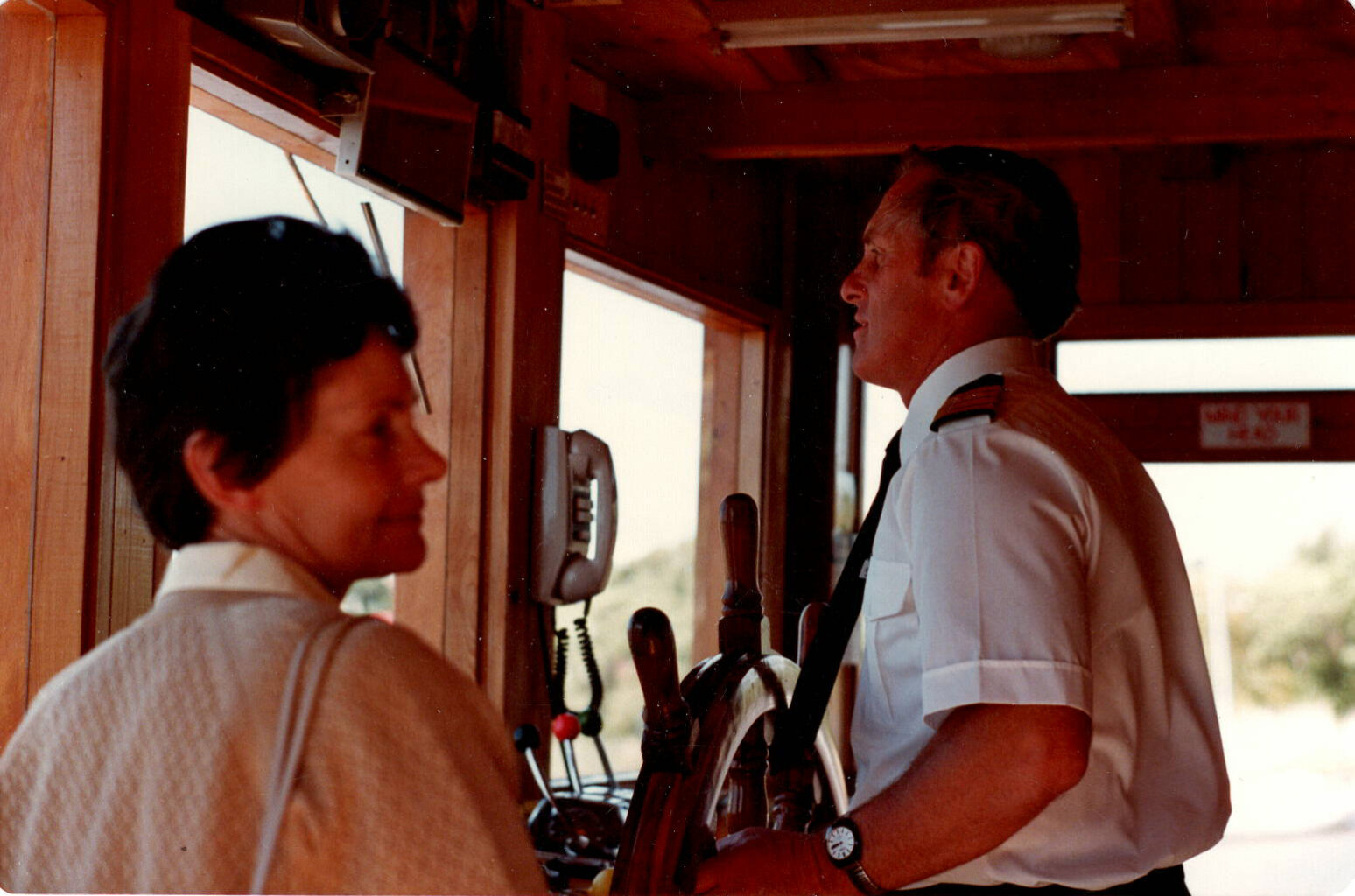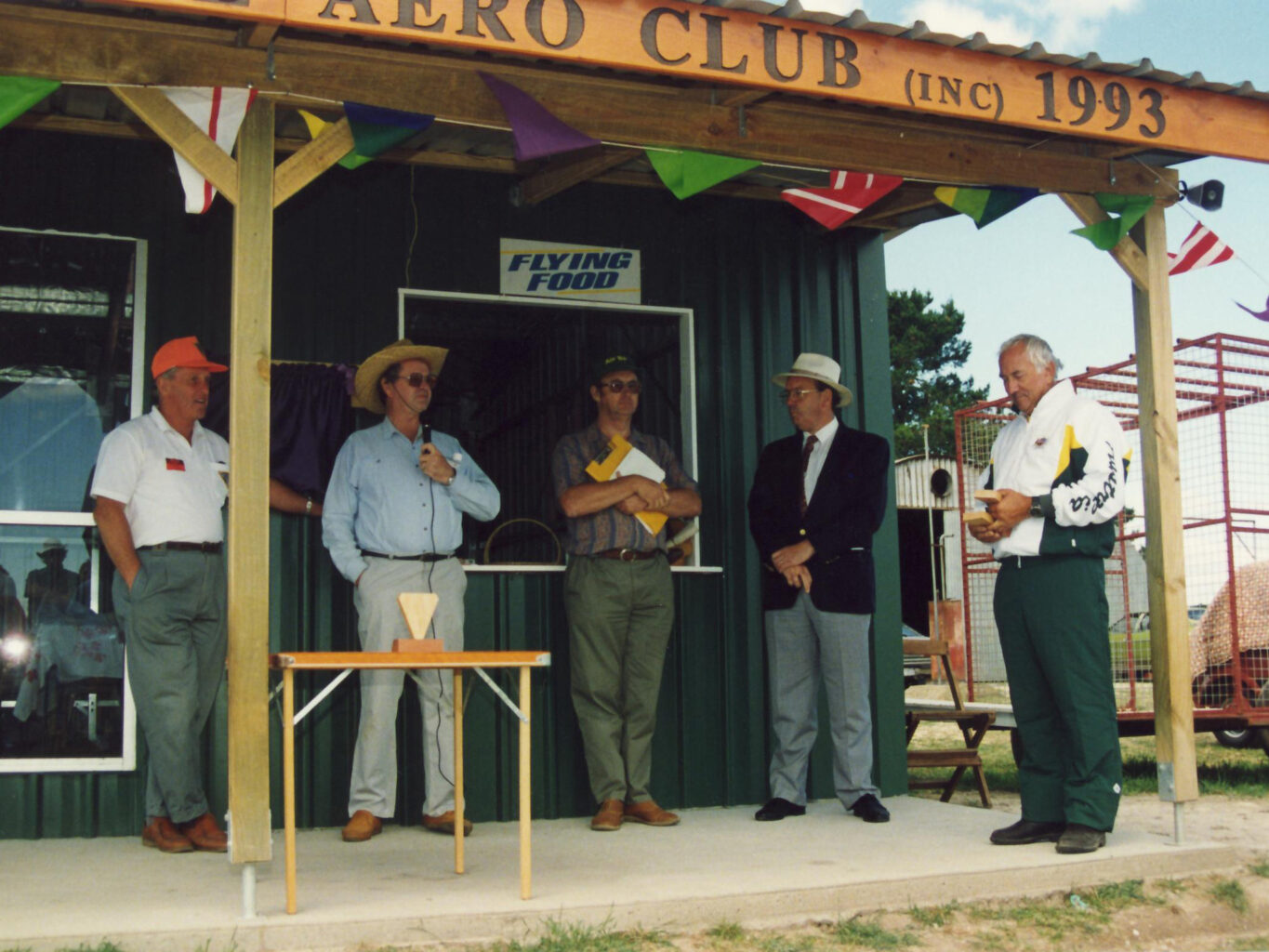 ---
New Member
As mentioned in the Club Day section above, we had a visitor who thought he'd call in and see what the facilities were like and meet a few of the members. Phil Elliott is his name and in his own words he was impressed by the facilities but more by the friendly nature of the people he met. So much so that he filled in a membership form and applied for membership. Conveniently the next committee meeting was on Monday, November 9 and his membership was duly approved by the committee. Phil is already active on the forum posting some links to servos etc. Check them out. Welcome to the club Phil.
Mick Green's Shorts SC7 "Skyvan"
Mick has another project on the go. Some may recall a previous article in February 2018 (see here). Well this project is still proceeding (somewhat slowly as there have been many others in-between) and Mick has provided a progress report –
"An update for your hangar talk. The Skyvan now has windows fitted to both sides of the fuselage and last weekend the windscreen was finally glued in place. It's only take 5 years to get to this point. Hopefully it will be a much shorter timeframe to complete and get flying."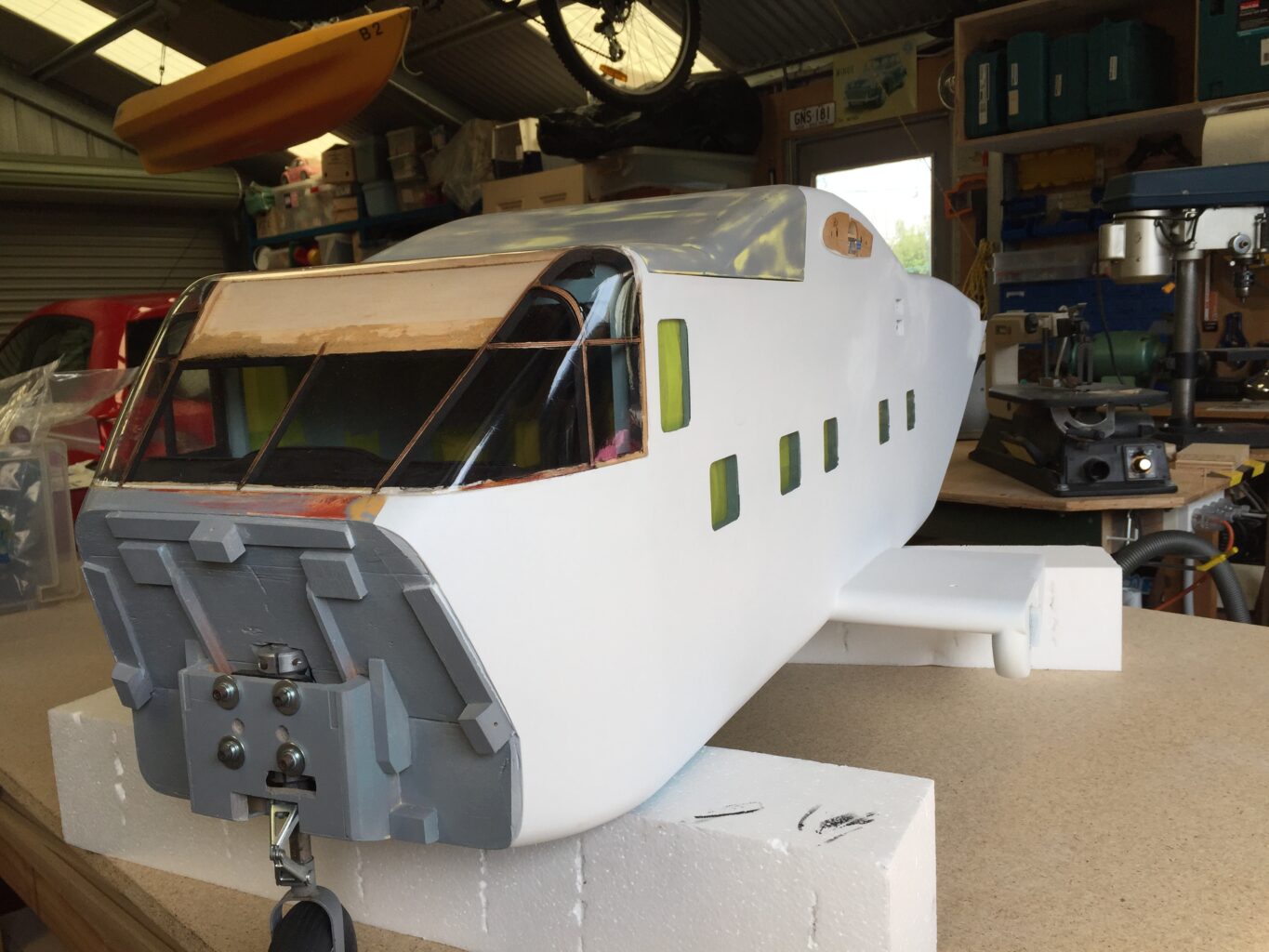 ---
Kevin Hay's Models
Kevin has provided some pictures of some models he has recently refurbished and these are below –
The first is a Hangar 9 "Inversa 62" and Kevin commented –
"Hi George, the model that Greg owned is an Inversa 62 built by hangar9 with a wingspan 2235 and has MT70 cc flat twin two stroke fitted up to that is a neat two into one header with a canister coupled up to it and it performs really well."
The second is one acquired from Merv Cameron's collection and is a "Playboy Stitts" –
"The other plane is one that Merv scratch built. It is called a Playboy Stitts has a wingspan of 2300 the engine is a Tartan 44cc flat twin two stroke also flies very nice. The exhaust is two header pipes fitted with DLE silences also the engine has been converted from glow to CDI ignition and now runs pump gas."
Greg Robertson's rebuild of an Excel 10
Some may have wondered what Greg Robertson's been up to given we haven't seen him at the field for a while. Well he sent some evidence that he is still alive and building. This time a rebuild of an 18yo OD glider called an "Excel10" (the 10th iteration of the original plan).
---
From the World Wide Web….
This month I thought I'd add a couple of things I found on the web. They are of an RC pilot Gernot Bruckmann, who demonstrates "size does not matter". One is of Gernot flying in the indoor competitions in Europe and the other is of him flying a 1:1.5 scale Fokker DR1 Triplane.
The Fokker Dr.I (Dreidecker / Triplane) was a World War I fighter aircraft built by Fokker-Flugzeugwerke. The Dr.I saw widespread service in the spring of 1918. It became famous as the aircraft in which Manfred von Richthofen gained his last 19 victories, and in which he was killed on 21 April 1918.
Gernot Bruckmann made this plane with these parameters:
Technical details:
scale: 1:1,5
wingspan: 4,8 m
length: 4,1 m
weight: 88 kg
Equipment:
RC components: transmitter Jeti DC-24 carbon line, CentralBox 400 + CentralBox 200
motor: radial 7-cylinder Fiala motor 800 ccm
propeller: Fiala propellers 1,5 m diameter
The second is Gerard flying in the World Indoor Championships last year.
---
That's it for this month and thank you to Kevin & Mick for their submissions – it all helps.
Don't Forget – Put a Spark in your life and fly electric!
George