Hangar Talk – May 2023
Whilst winter is nearly upon us, we've had some cracking autumn days! Fresh in the morning but some nice days with little wind and that has allowed a few good flying days.
---
Club Day – May 6
A terrific day – very little wind and an almost cloudless sky. The sun was low in the north and this proved a bit of a challenge if you made your landing approach from the north-north east. We had a reasonable turnout, with 17 in attendance. Not surprising considering the great weather! Those there were, Alan J, Daniel H, Fred W, Kevin H, George & Kerry C, Ray, Micah & Jo Green, Phil & Liam Ellmers, Mark H, Meilin H, Mike H Rodney K, Vince B and a visitor in Nara T.
Unfortunately there were a couple of mishaps. Russell found the fence with his yellow Vagabond. Kevin was flying his recently acquired P51 Mustang that he bought from Rodney. A few nice circuits and then "just one more landing and take off". As the model took off for the second time and climbed away, the dreaded silence as the engine stopped! Kevin did his best to land in another paddock, but was obscured by the trees as it descended. Kevin and Rodney retrieved the model and at a distance looked unharmed. However due to the rough ground in the paddock, some damage to the undercarriage was suffered. (I hear Kevin had it repaired that afternoon!)
A lot of us an are familiar with the well known attribute of a Piper Cub – "ground loops"! Mark H brought along his Piper Cub that he had bought in the Lewis Davies auction. Mark had flown this in its previous electric powered form. Being a former motorcycle racer, he missed the smell of methanol, so he converted the Cub to IC. This was to be its maiden IC flight. Mark had Mike H take the model out to the flight line and then the fun started! See the video below –
Now we can all have a laugh at the ground loops but I for one can attest to the same experience. I hated my Cub! About 10 or more years ago, I had such difficulty taking off with it that Kevin H suggested I come and have a fly in the paddock behind his home. I did quite a few practice run ups on his runway and then finally lined up straight down the strip and managed to take off. Not being familiar with the surrounds, when I saw these trees in front of me. I then banked to the left and then more trees! The more I banked left, the more trees I saw. The model was now getting towards and behind my left shoulder. I called to Kevin "turn me.. turn me" and again, "turn me.. turn me". Next thing CRASH, BANG and the model crashed into his brick barbecue! Kevin thought I was calling out to the model to turn, when in fact I wanted him to turn my wheelchair so I could keep the model in sight. We then went to examine the remains and I was glad to see the barbecue was unharmed and the model was in bits. I was very happy to see the back of my Piper Cub!!
Back to Club Day. Our soon to be new members, Ray and Micah Green arrived with their recent acquisitions, the first being the Apprentice that they purchased from Julian Scott in Hobart. Fortunately, Mark Holman has quite a bit of experience with Spektrum and the Apprentice and walked Ray and Micah through the initial set up sequences for the SAFE technology. Mark then flew their model and handed the sticks to both Ray and Micah. This was I think their first try on their Tx and both seemed to handle the model quite well. Mark commented that there seemed to be a lack of full power with the model and as it had a Turnigy ESC in it, Mark felt that may have been the issue. Mark then took up his E-Flite T-28 Trojan and passed the sticks to Ray and Micah for them to try out. Thanks to Mark for being there to help our new members.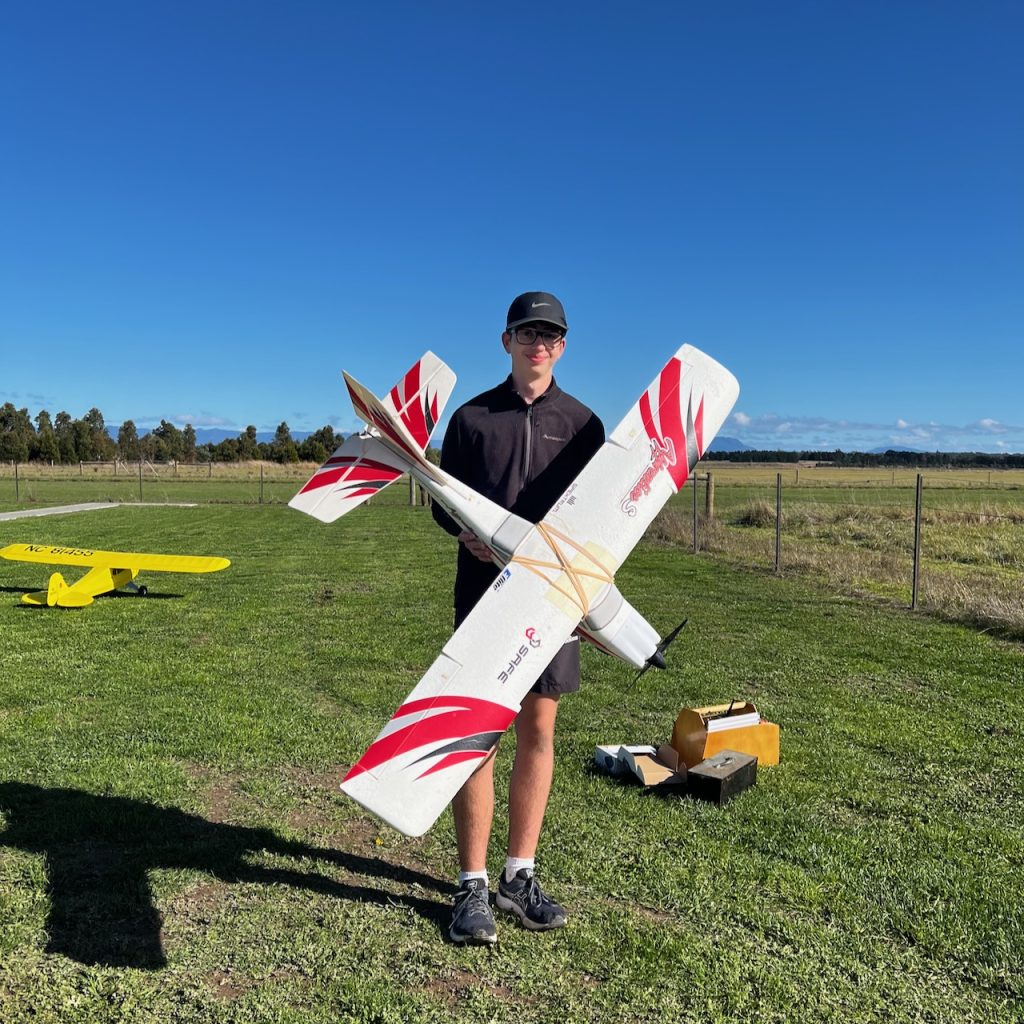 Liam Ellmers and his father Phillip arrived with their glider and again being Mode 1, were looking for some initial assistance. With our usual mode 1 helpers absent and Mark tied up with Ray, Micah & Daniel, our regular visitor, Nara Tatemsapya stepped up to launch the model for Liam. It would appear that Liam only needs a hand launch helper for his glider now as he accomplished the take off and landing with ease. Thank you to Nara for his assistance.
It seems that most of our members are Mode 1 and our new members, Ray, Micah and Daniel Heazlewood are also Mode 1. We all know that learning to fly comes quicker if you practice regularly, so if you are Mode 1 and feel comfortable in flying someone else's model, reach out to our new members if there is none of the regulars like Mark there to help. On that subject, I would like to prepare a list of our members and their modes, so when the renewals are due, I will include some questions regarding what mode and whether you are able to offer assistance to new members.
I took down my Vladimir Models "Organic". I bought this 20 years ago and I have flown this model many times over the years (last time in 2010 if I recall) but up until last month, I had never got around to replacing the 36mHz Multiplex receiver with the new Frsky 2.4gHz Rx. I installed a Frsky G-XR8 2.4gHz receiver. This receiver has a built in variometer that gives altitude and vertical speed.
I had bench tested everything after the upgrade and arrived at the field eager to launch the model and see if I could still find thermals. Mike Hope carried the model out to the flight line, I armed the motor and then – nothing! I was sure I had tested everything. Back to my flight table and dismantled the nose cone, checked the wiring and all seemed okay, but still no motor.
When I returned home I pulled everything apart and discovered that the arming switch I had made to avoid dismantling the nose to connect the battery had a crack in the solder joint. This meant I had an intermittent fault. Thank goodness it failed at the flight line as if I had launched, there was a good chance the connection would fail in flight and I would lose the RF connection and all control. A disaster waiting to happen.
Some stats on the Organic
Manufacturer – Vladimir's Models – Kyiv, Ukraine (Cost $A1450)
Wingspan: 2.0m
Weight: 1.5kg
Motor – Hacker B40-5L Carbon with a 4.4:1 gearbox (Cost in 2003, $A452)
Motor Specs: 6025 rpm/volt. (nominal voltage say 8v = 48,000rpm but geared to say 12,000rpm)
ESC – Schultze 18-97F (Cost €263 or about $A450)
Propeller: Aeronaut Cam Carbon 14×9.5″
Battery – Originally NiCd 7 cells (all matched resistance cells) but now I'm using a LiPo 2S 3300mAh
Given the great weather we have been having, Saturday May 13 also proved to be a beautiful day. Armed with the Organic now fully repaired and tested, we headed off to the field. It was pleasing to see a few members there again. Max, Mark, MeiLin, Daniel H, Russell, Rodney & Kevin H. This time Max launched the Organic for me and a nice climb out and a 23 minute flight searching for thermals before I landed. I was pretty rusty and did not recall how quickly the crow braking would slow the model down. It pulled up very quickly and as a result I landed well outside the 30m zone that we would target in a competition. More practice!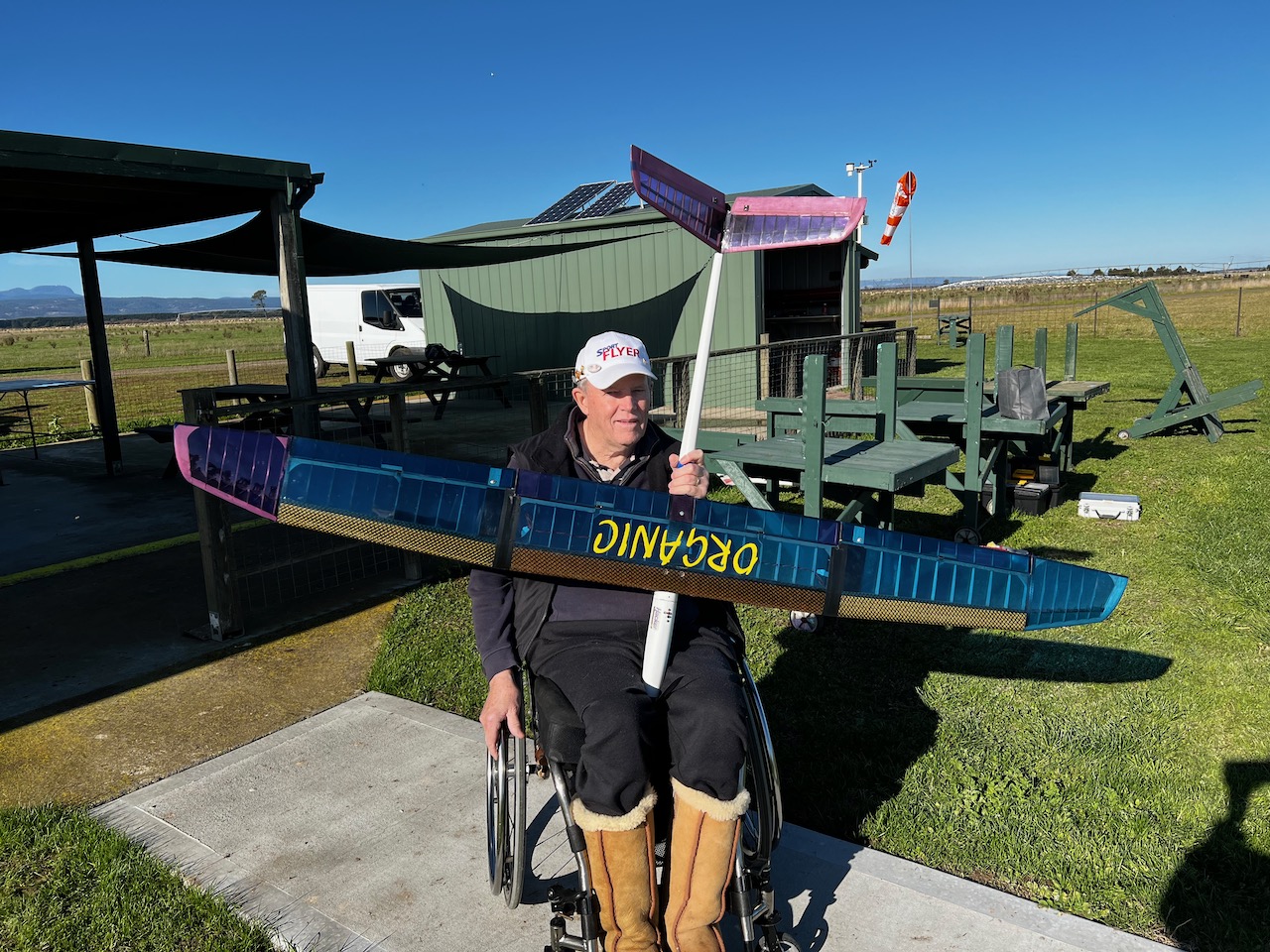 ---
Daniel Heazlewood brought out his newly acquired T-28 Trojan and flew that with some initial help from Mark H. Daniel was very happy with his flight and landed the model safely. The Trojan with the Spectrum SAFE technology flew like it was on rails and was one of 3 brought to the field on the day.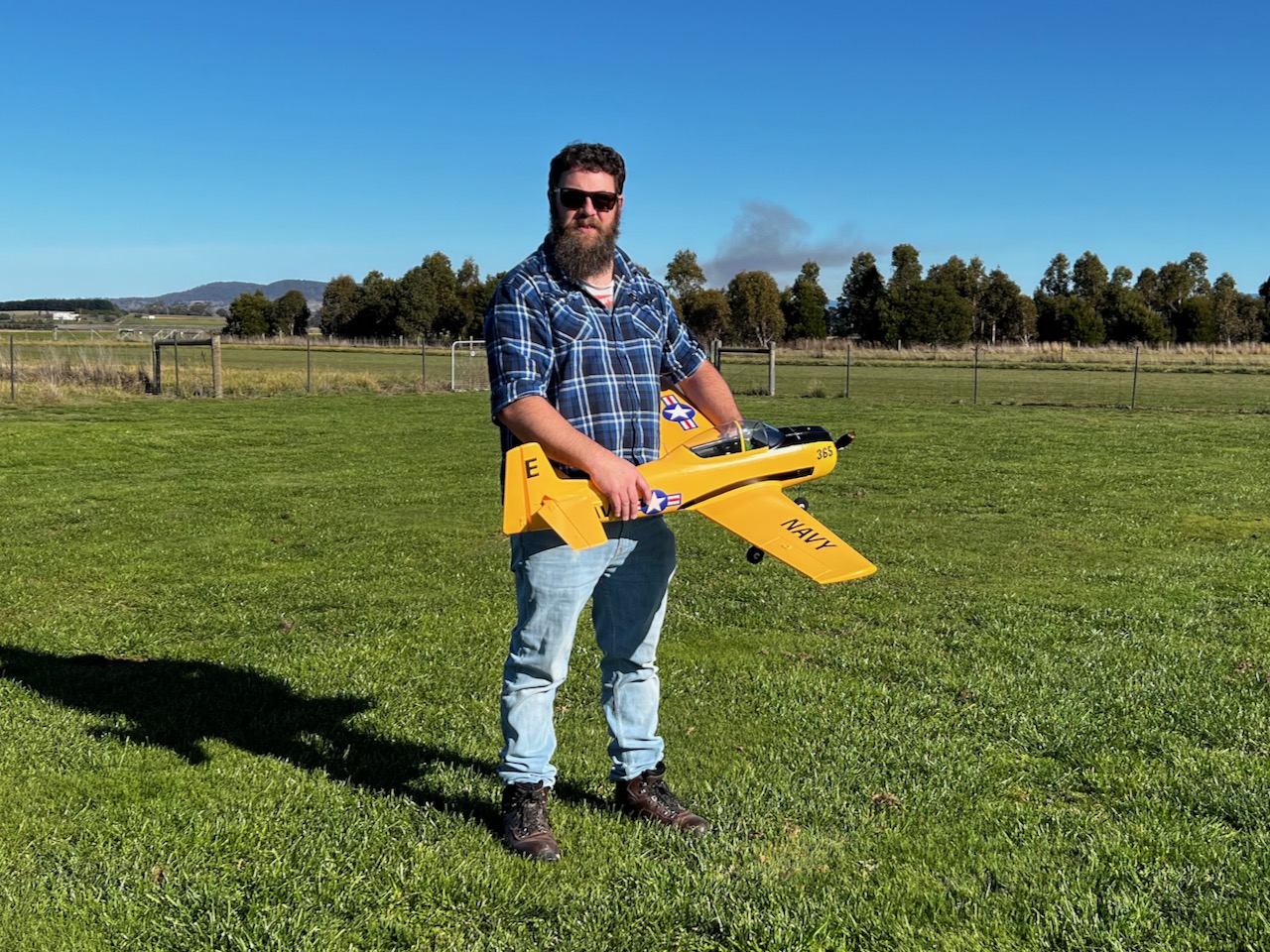 ---
Lastly a bit of fun. If you were not there on Club Day, you missed out on some funny footage of a Piper Cub that had some terrible control surface servos installed. No fault of Mark's as these were as installed when he bought it. This is all tongue in cheek and a bit of a laugh to hopefully brighten your day!
---
FOR SALE
Regrettably, I am selling the Draco I bought from Mark Holman on Club day, earlier this month. Don't get me wrong, I loved the model but in hindsight it is not a practical model for me. It is just too big! Details of the sale can be found here
---
Defibrillator
Still waiting for the defibrillator…….
---
June Events – Don't forget to mark your diary!
June 3 – Club Day (Weather permitting)
June 5 – AGM @ Kings Meadows Health Centre. Positions up for re-election

Vice President- currently held by MeiLin Ho
Secretary – currently held by Mick Green
Treasurer – currently held by George Carnie
Committee position – currently held by Max Wiggins
---
From the WWW..
Well, you don't see this everyday. The Zeppelin Staaken R.VI was a four-engine German biplane strategic bomber from World War I. This 1/4-scale model has a massive 34-foot wingspan and weighs almost 300 pounds!
Check out this video filmed at the ProWing event in Germany this past April.
---
BEGINNERS TIPS
Here is the 6th video in the series I mentioned last month.
Next Month – Episode 6 Power Systems
---
Well that's it for another month. Don't forget to send in some pictures of your latest project or what you have stored in your hangar.
Don't Forget – Put a Spark in your life and fly electric!
George