Hangar Talk – June 2023
"Winter is coming" as they say in Game of Thrones but no, it's here now! I don't know about anyone else, but I am certainly feeling the cold now. My sheepskin boots are a prerequisite when visiting the field on any winters' day. A few things to talk about this month, there could be more but as always, I am looking for input from you, the members if you want to see more diverse articles in Hangar Talk. I hear anecdotally that there are members working on new projects, new radios etc. Why not share your thoughts and experiences?
---
Membership Renewal
Membership renewals are due no later than June 30. This is especially true for those that intend to fly on club day, July 1. There has been a good response so far, with over 50% of members renewing already. Please register your renewal via the website portal here. You must be logged in to access the renewal form. Why is it important to renew via the website? By doing so, you ensure that all your relevant information is up to date, especially for the MAAA to contact you with news etc. It also important for me so that I ensure your privacy requirements are up to date. This year we have also attached a question on what Mode you fly and whether you are willing to offer any assistance to new members. This of course is not obligatory, but it helps to know who can give new members some guidance. You don't have to be an instructor to do this. It might be general advice on transmitters, radio set up and not necessarily test flying someone's model. That is a personal choice. If you are not renewing, and we hope that is not the case, please register through the form and we will know not to keep reminding you about membership.
---
Club Day – June 3
A cracking winter's day! Despite being the first weekend for winter 2023, it was a perfect day for flying. Another great day where members came out in force – 20 in total. Those there were, Daniel H, Danny N, Fred W, George & Kerry C, Hayward B, Ray, Micah & Jo Green, Greg R, Kevin S, Phil & Liam Ellmers, Mark H, Max W, Meilin H, Peter D, Rodney K, Vince B and another visit from Nara T.
Fortunately a reasonably uneventful day as far as crashes go. Only one hard landing came when Peter D test flew Micha & Ray Green's Radian Pro. All seemed well until we heard a loud noise and the model then had a rather heavy landing about 100m west of the strip. All 3 headed off to retrieve the model. The nose had broken off and half a prop was missing. On closer inspection, this recently acquired 2nd hand model had evidence that the prop had been broken before and someone had tried to repair it by gluing the prop blade back on to the prop hub. Crazy and very dangerous! Peter D took the model home and has since repaired it for Ray & Micah – and it has a new prop!
New member Daniel Heazlewood flew his E-Flite Trojan and was not happy with his first flight but a second flight felt more comfortable. Regular flying is the key Daniel, especially when learning. With Mark H's help, you'll have your wings in no time. Equally, Hayward B and his E-Flite Apprentice had some good flights and he too can't be far away from his wings. Talking about Apprentice's, I think I counted at least 4 there on the day. It seems the E-Flite/Spektrum SAFE technology has newcomers hooked on a great model to learn on. A bit like training wheels on a pushbike! If it works and saves any crashes when learning, it's going to be a good thing to build confidence.
---
Rodney brought out another of his fabulous warbirds. A B-17 "Flying Fortress". Powered by 4 Saito FG-11 (10.9cc) gas engines. This is an ARF kit from Advanced Scale Models He flew it so scale like you would be hard pressed to tell that it wasn't the real thing.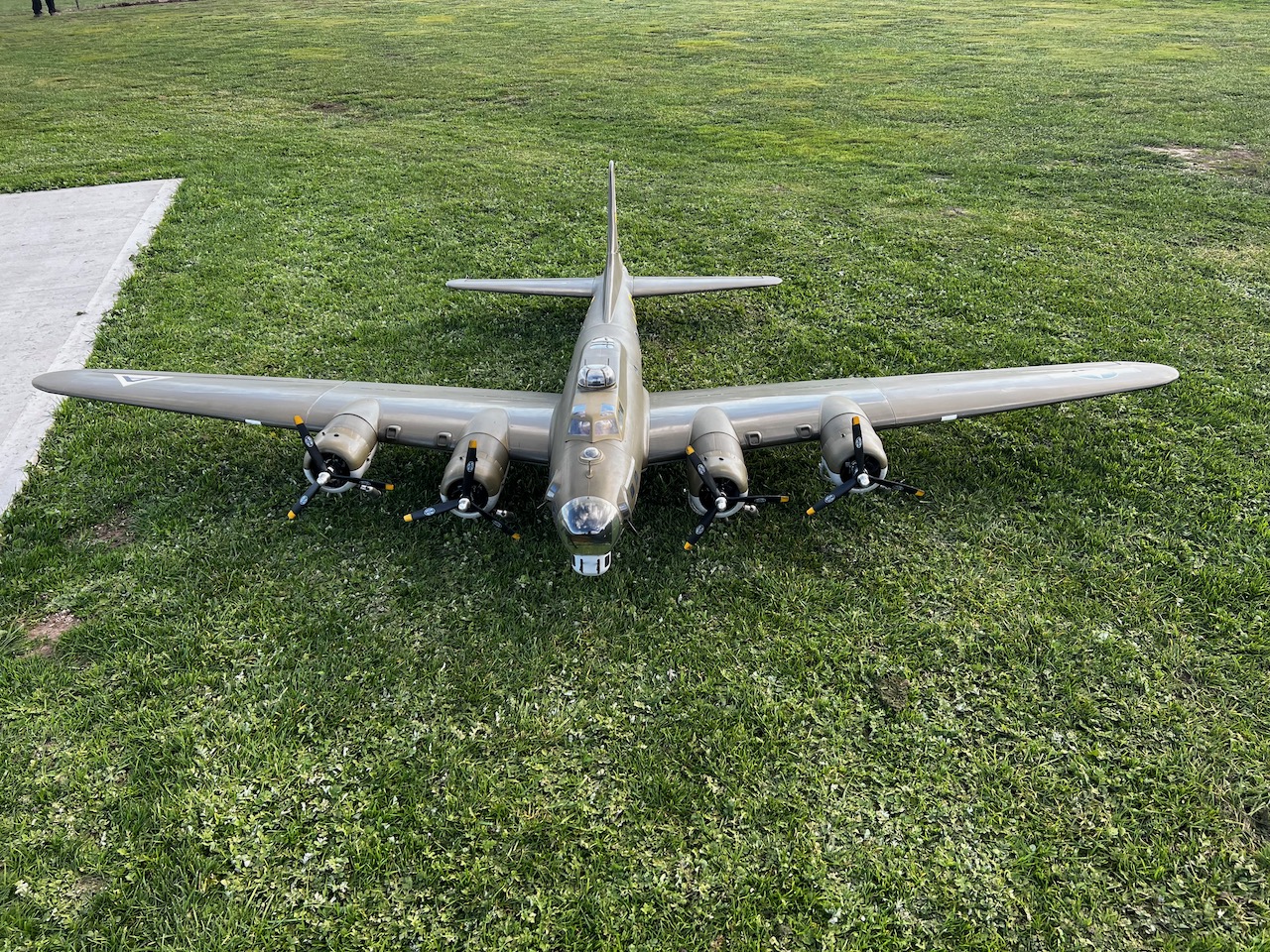 ---
Vince brought along his "Yak-54" (THUNDER TIGER 35% TOC Performance Series). This model is powered by a 112cc DLA boxer engine. The motor had quite a bit of "punch" and I'm sure could be heard as far away as Launceston!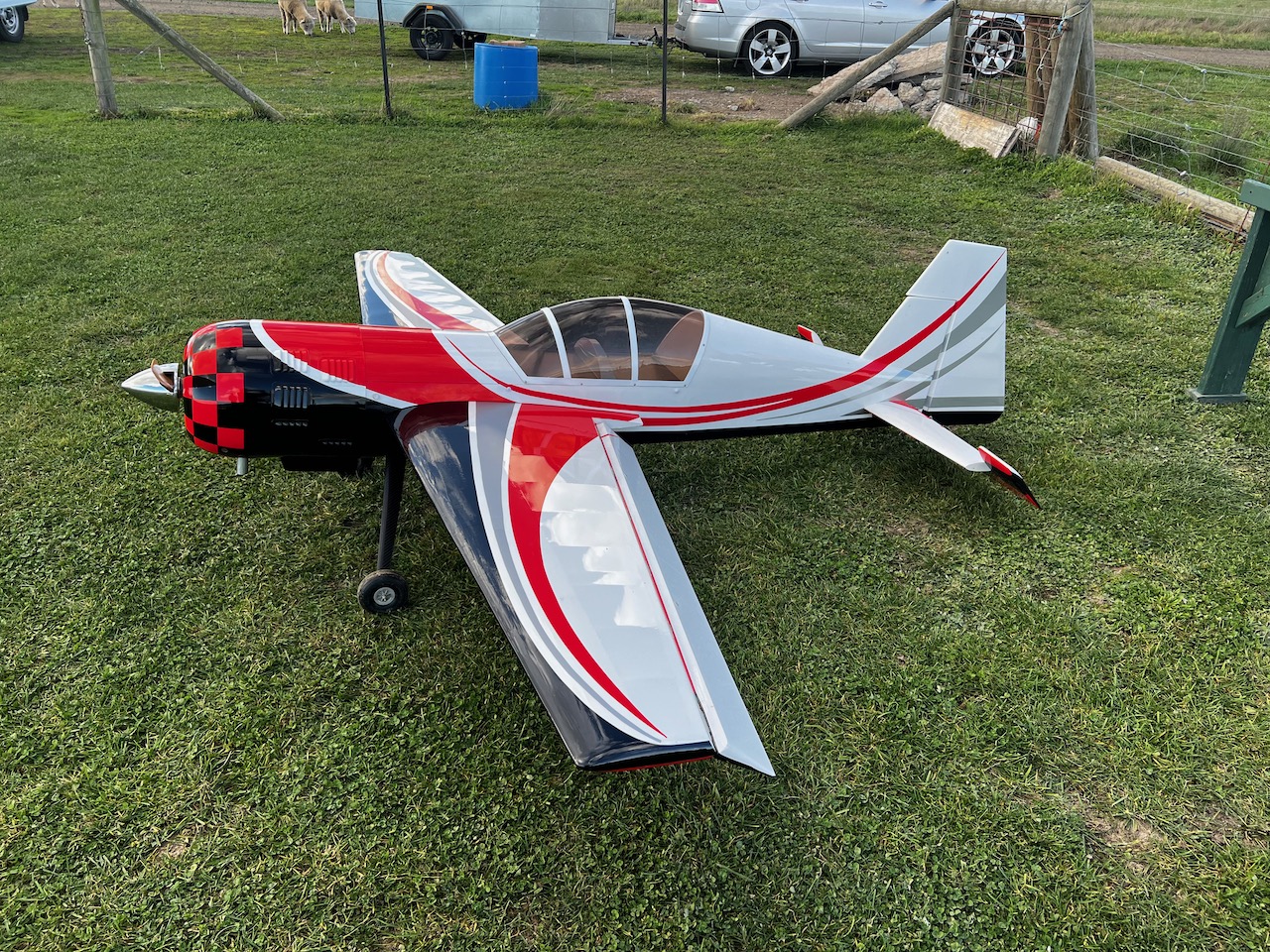 ---
Here are some shots from the day. Thanks to Mark H for all the inflight images.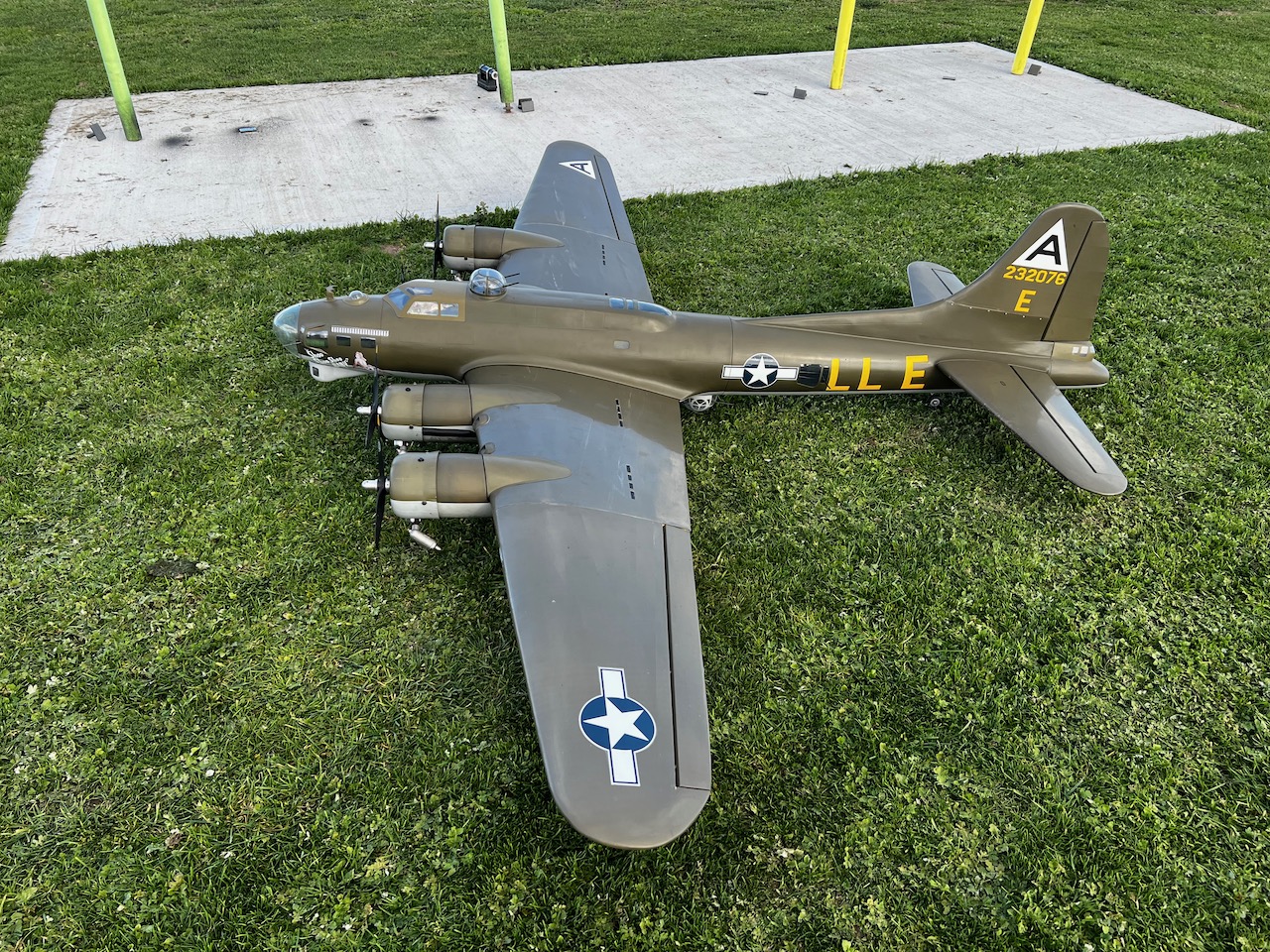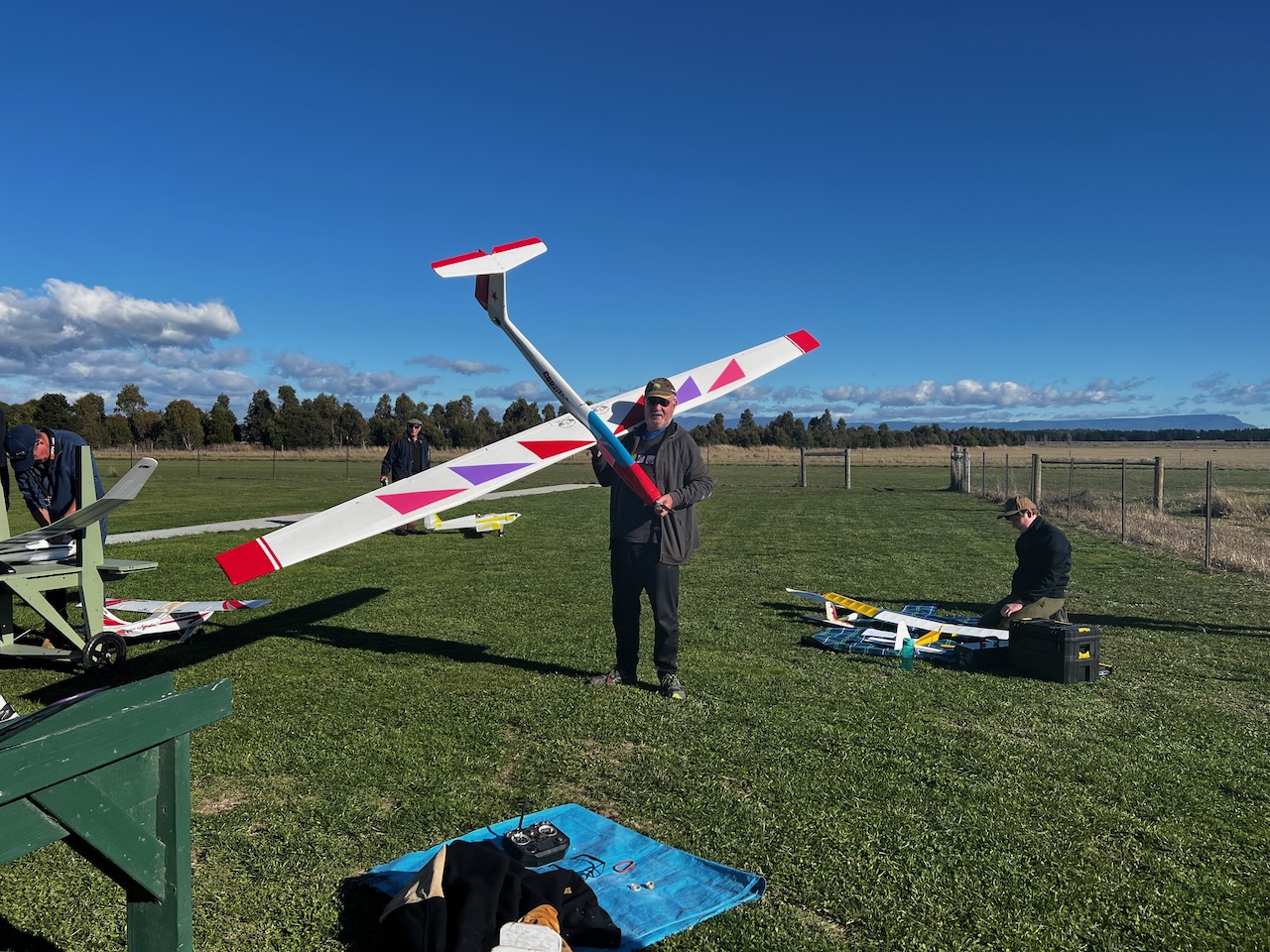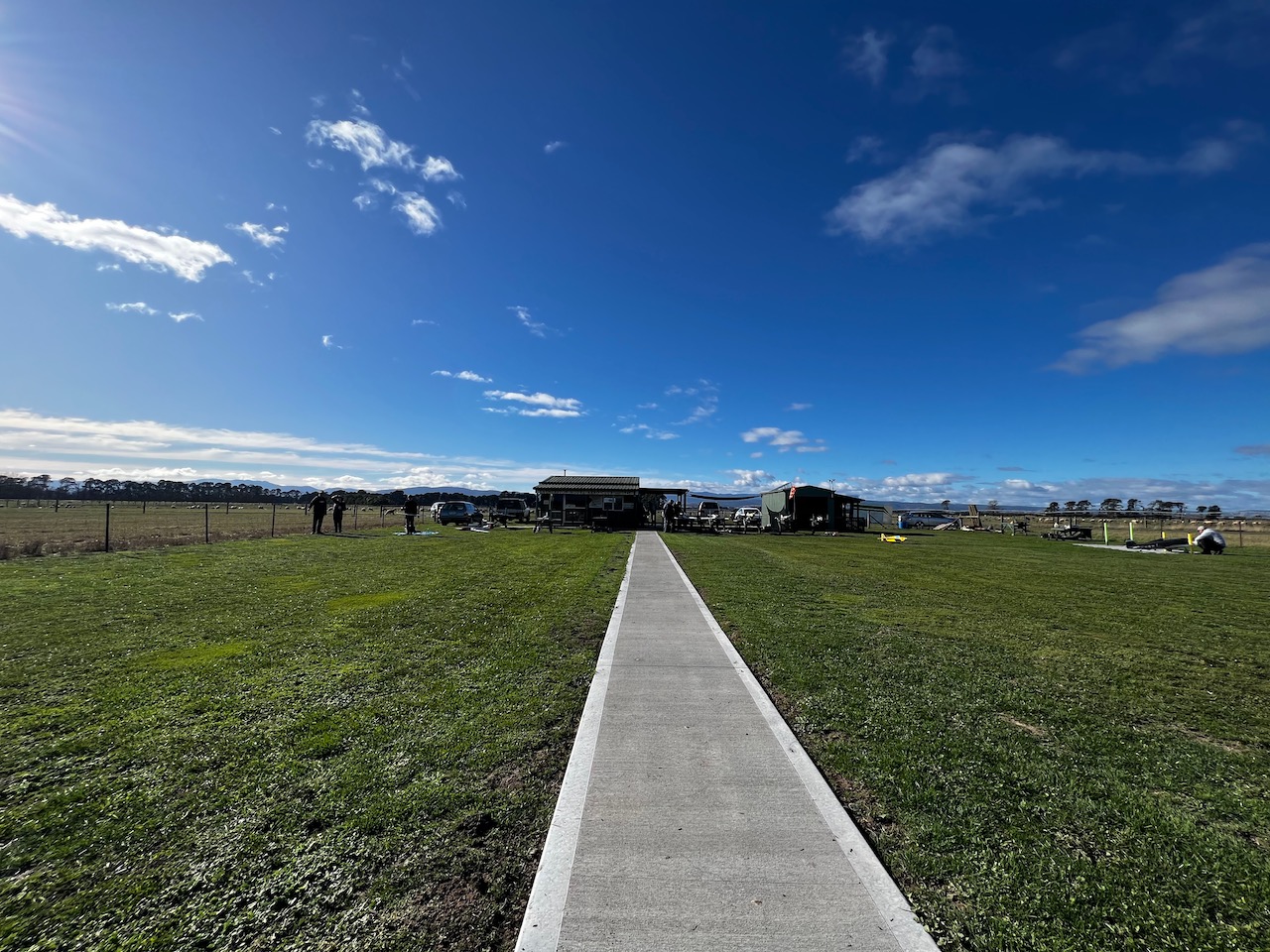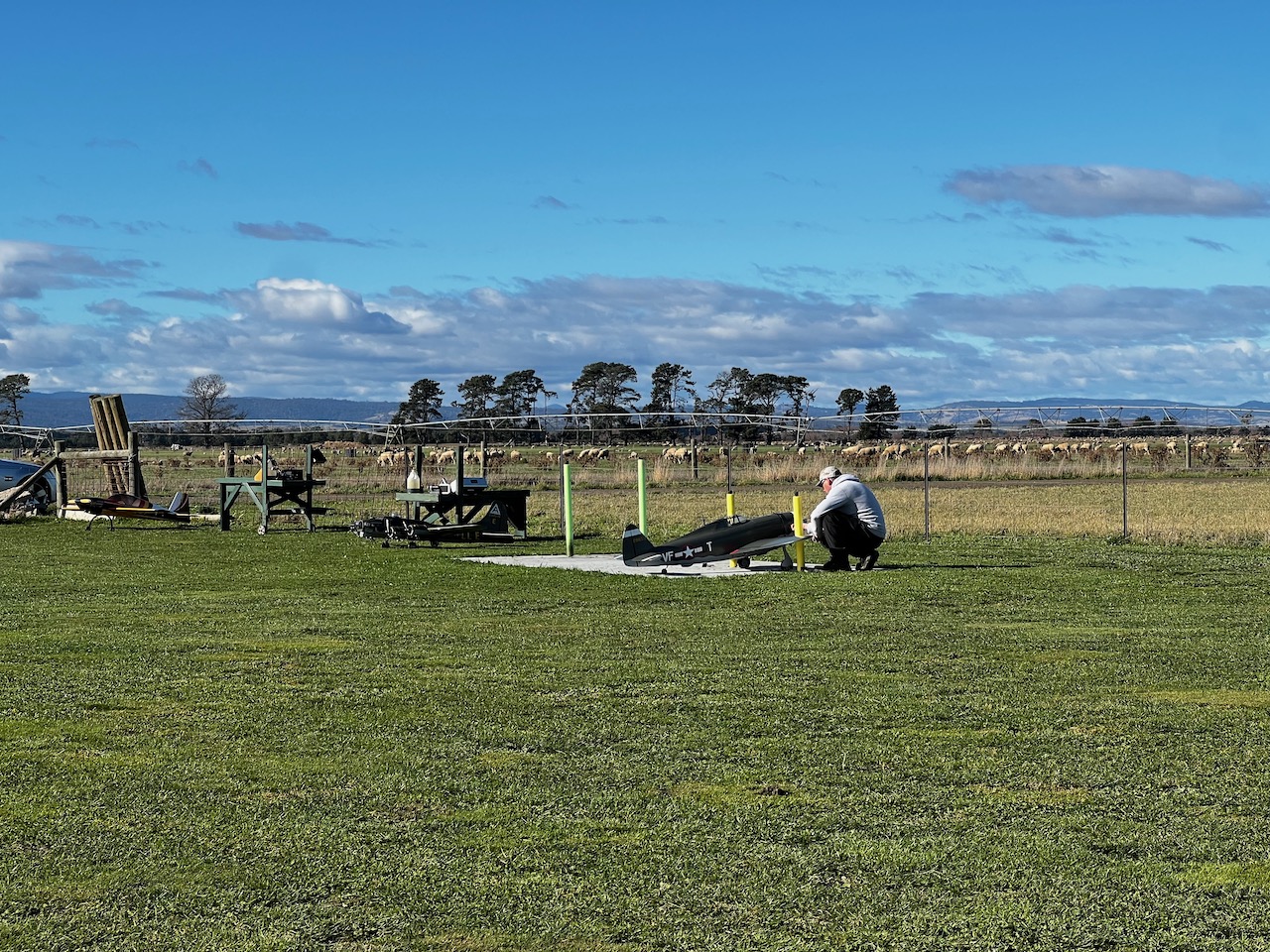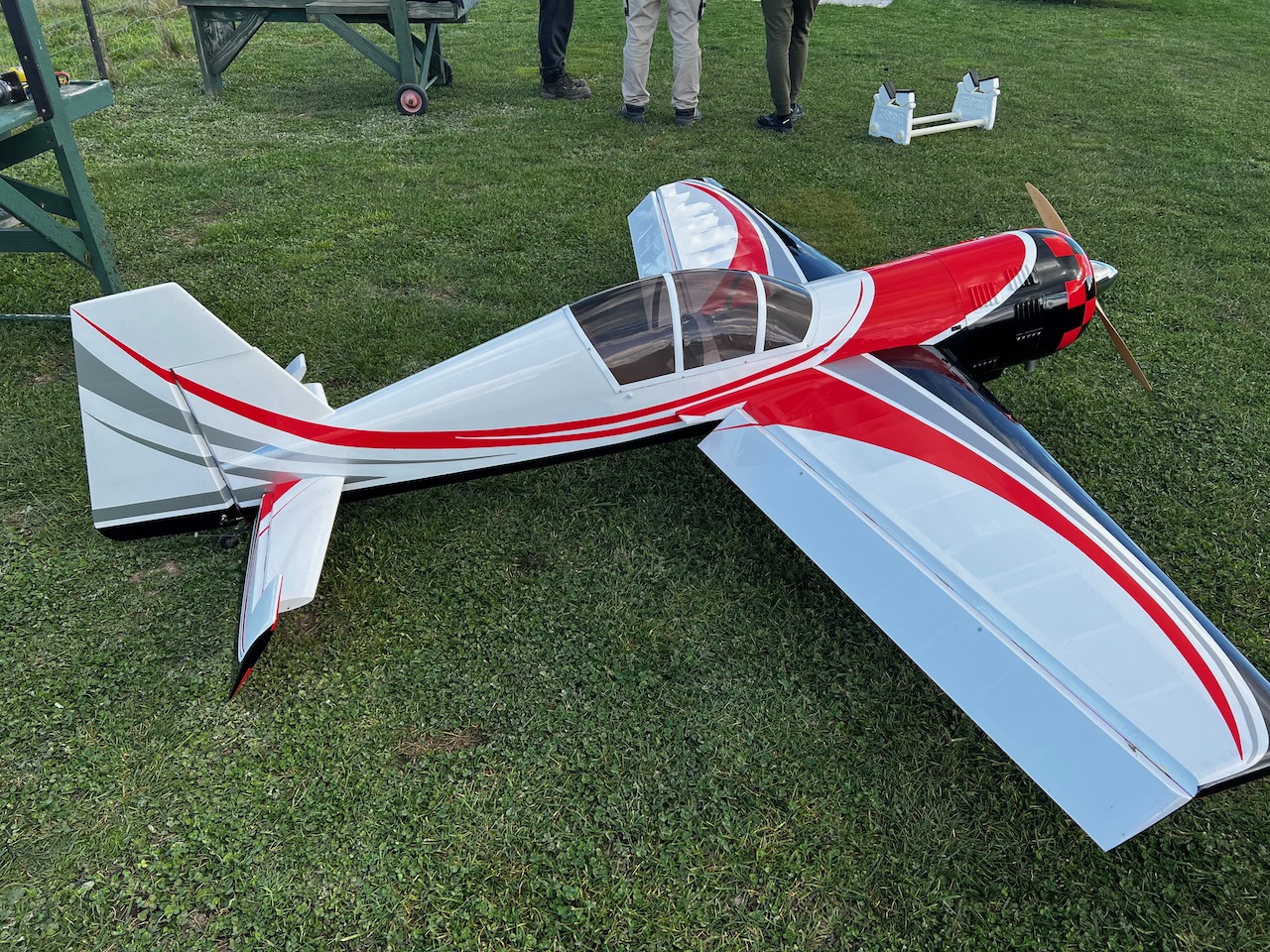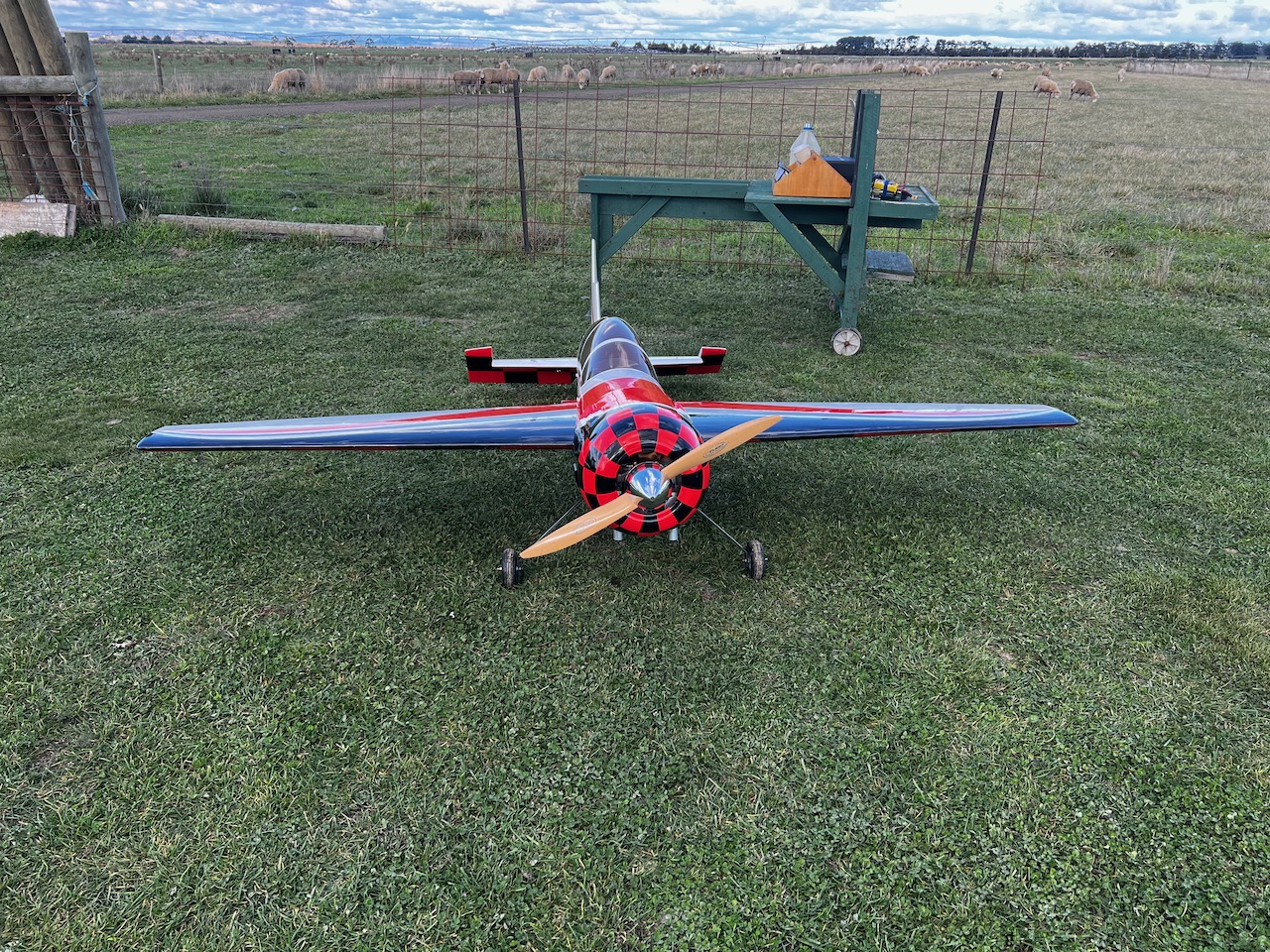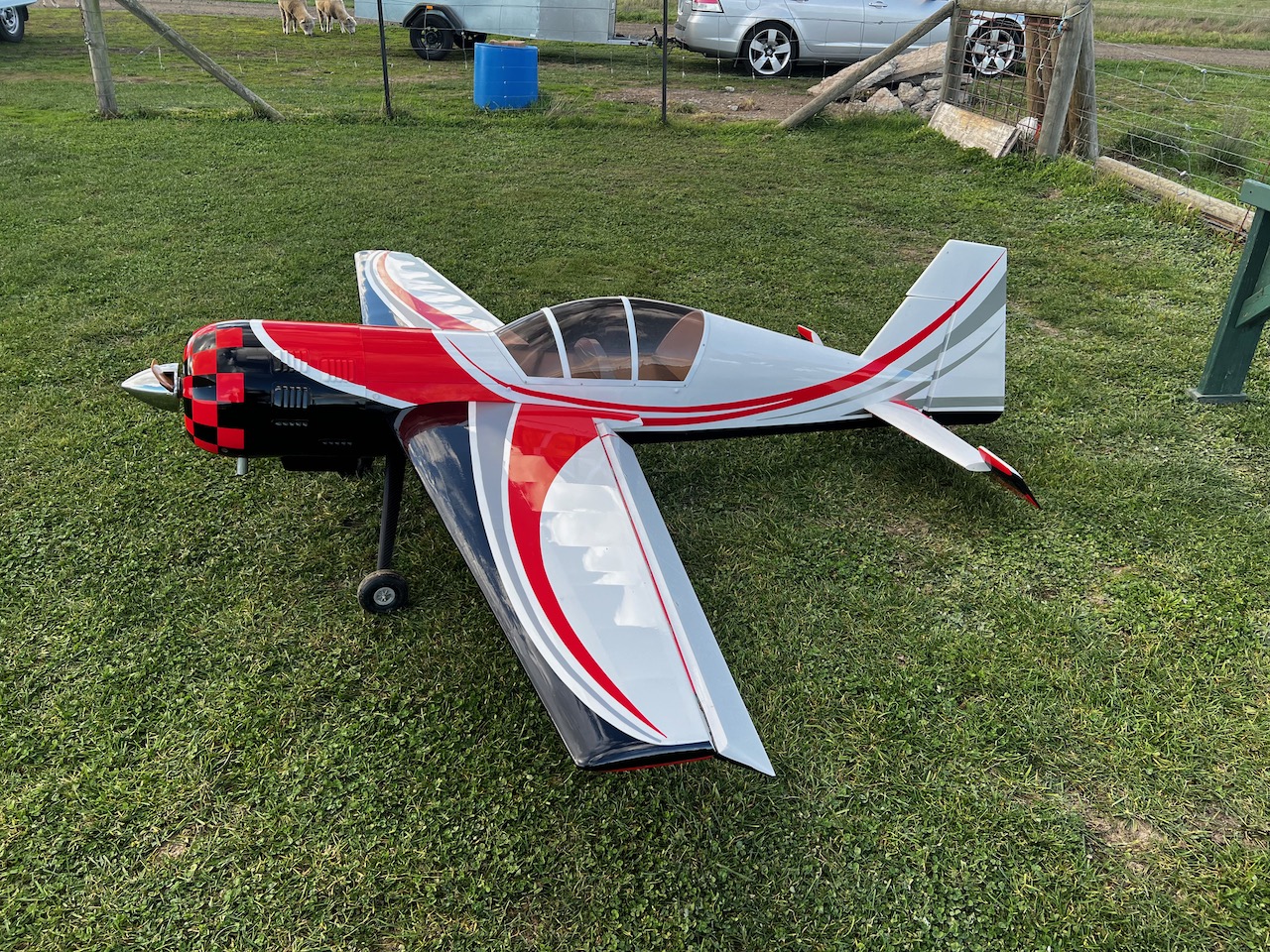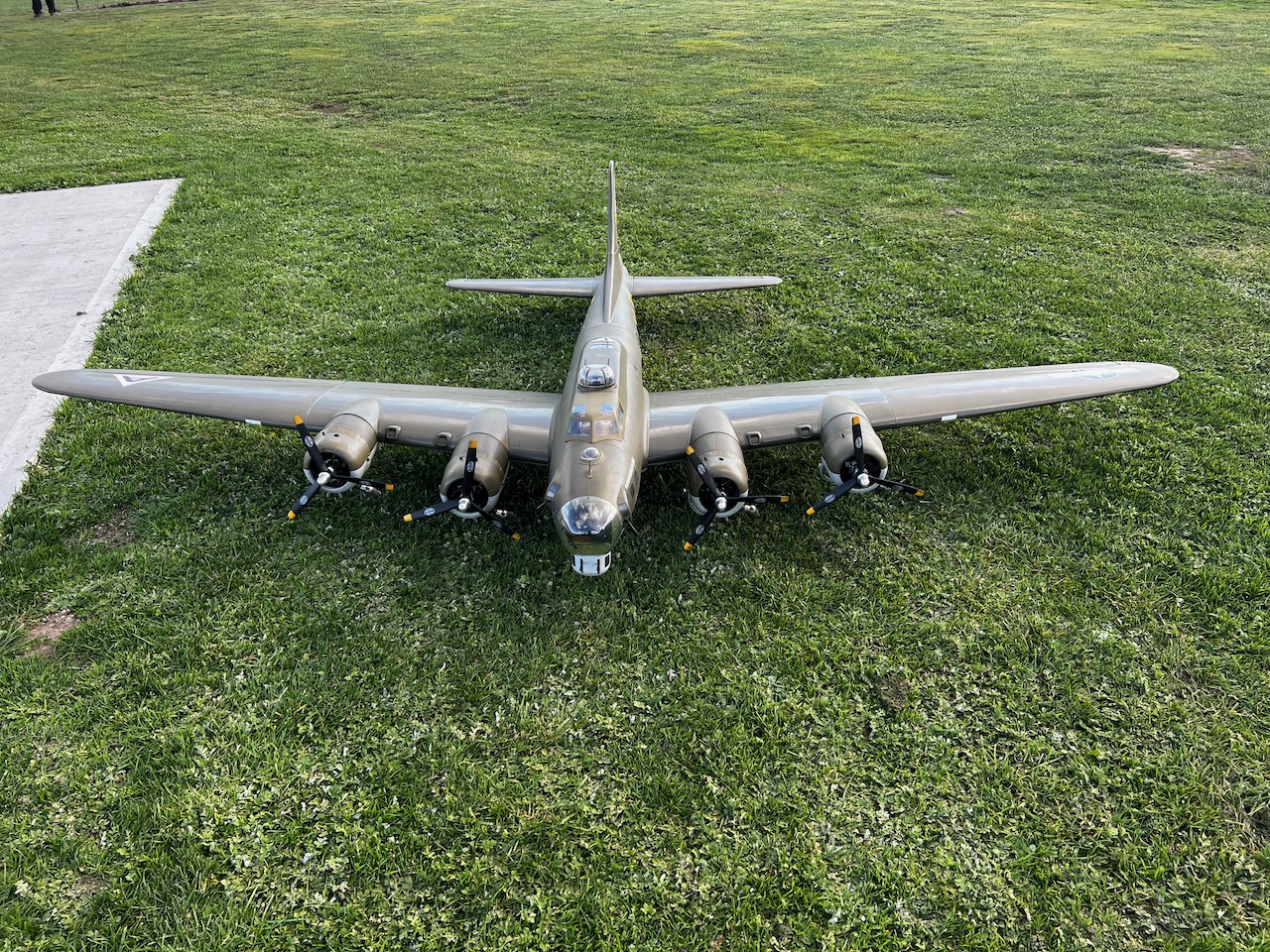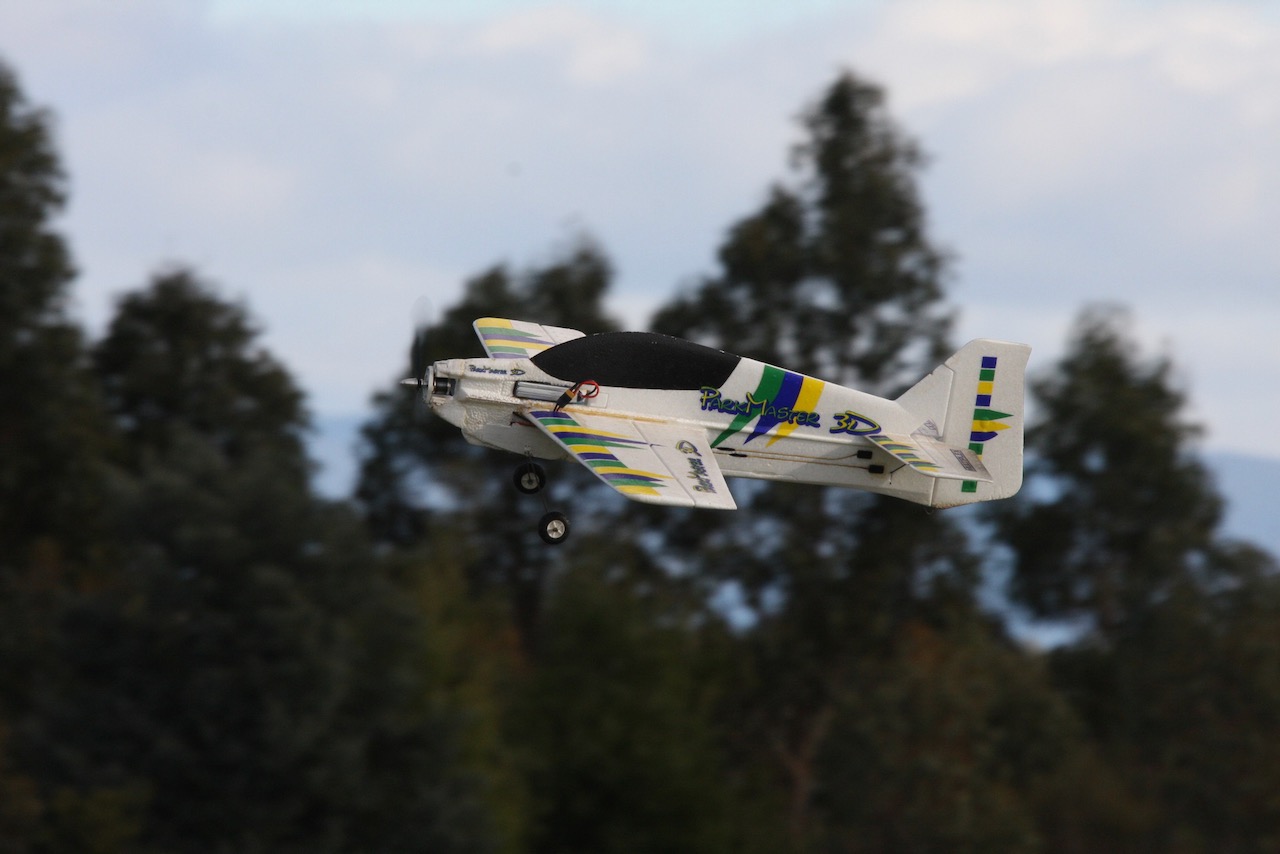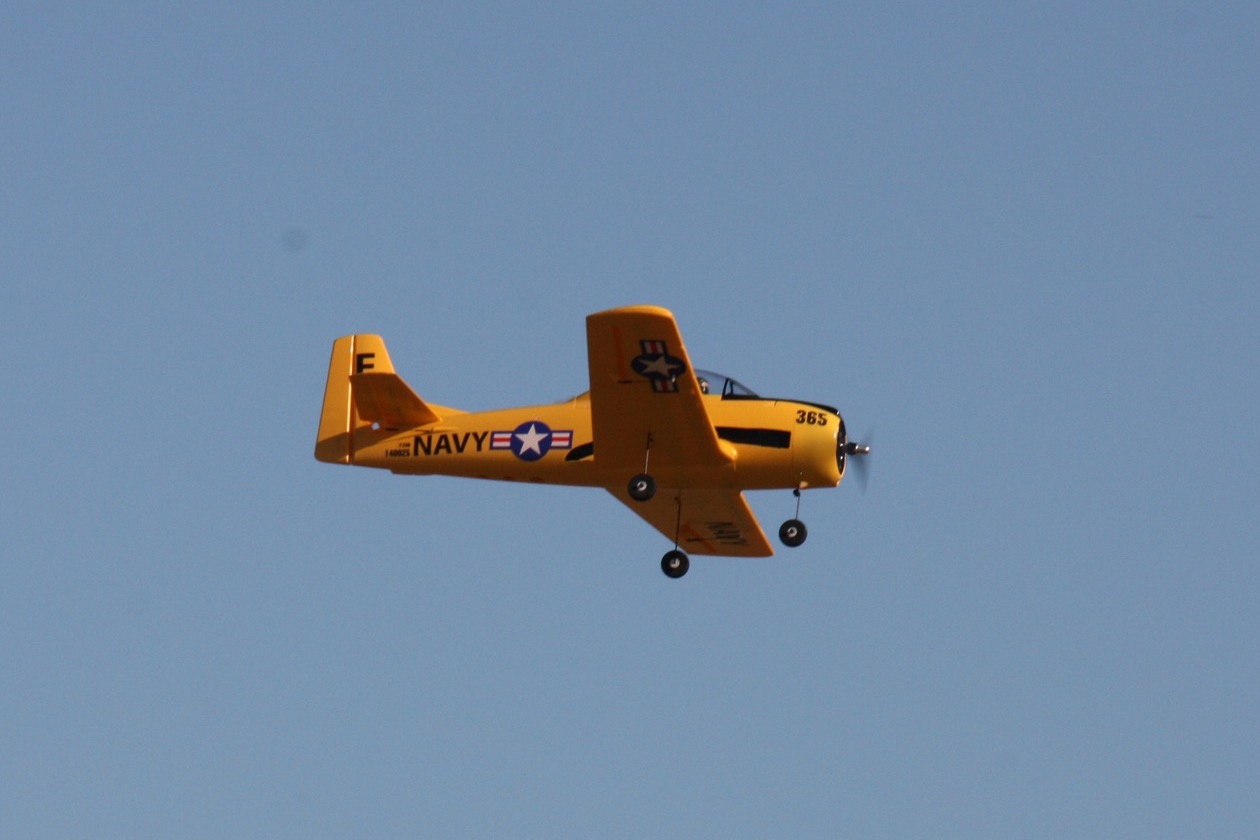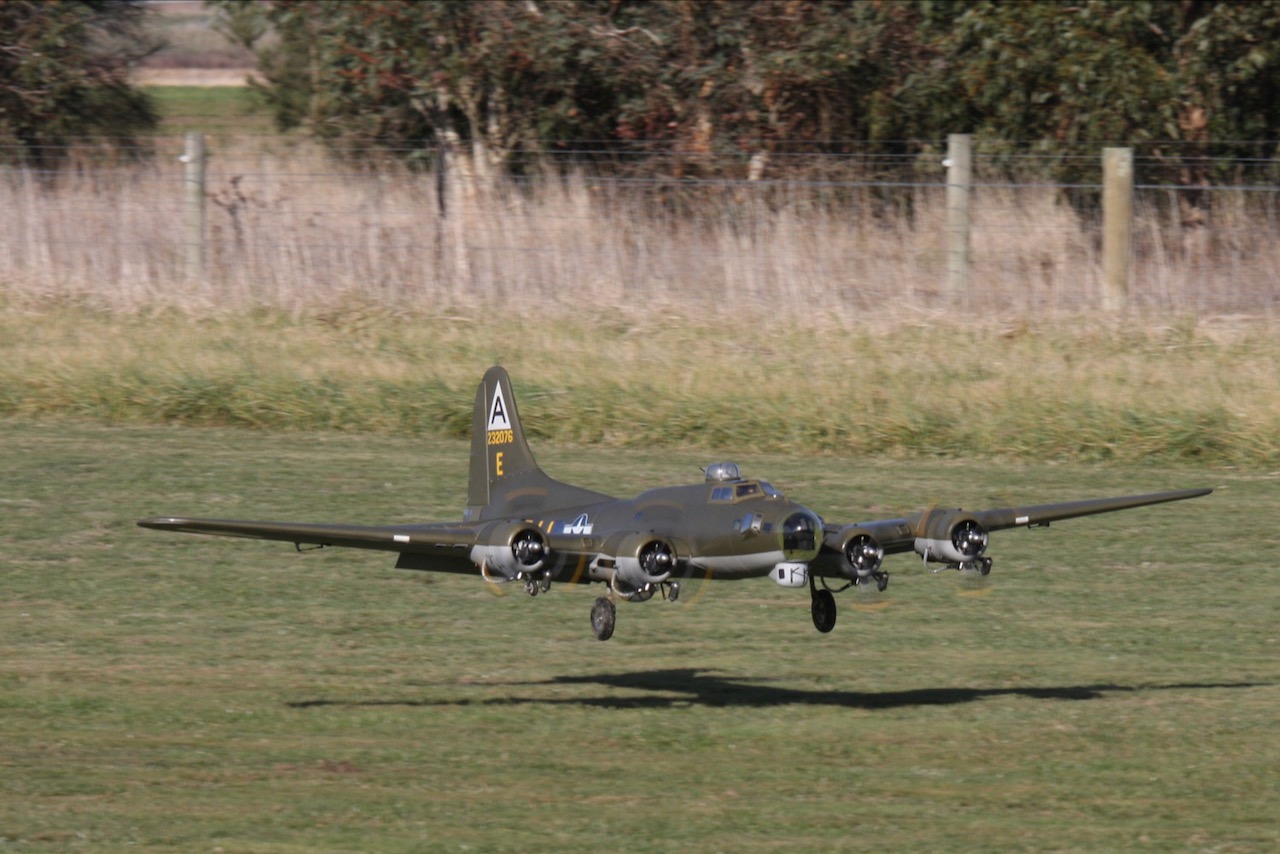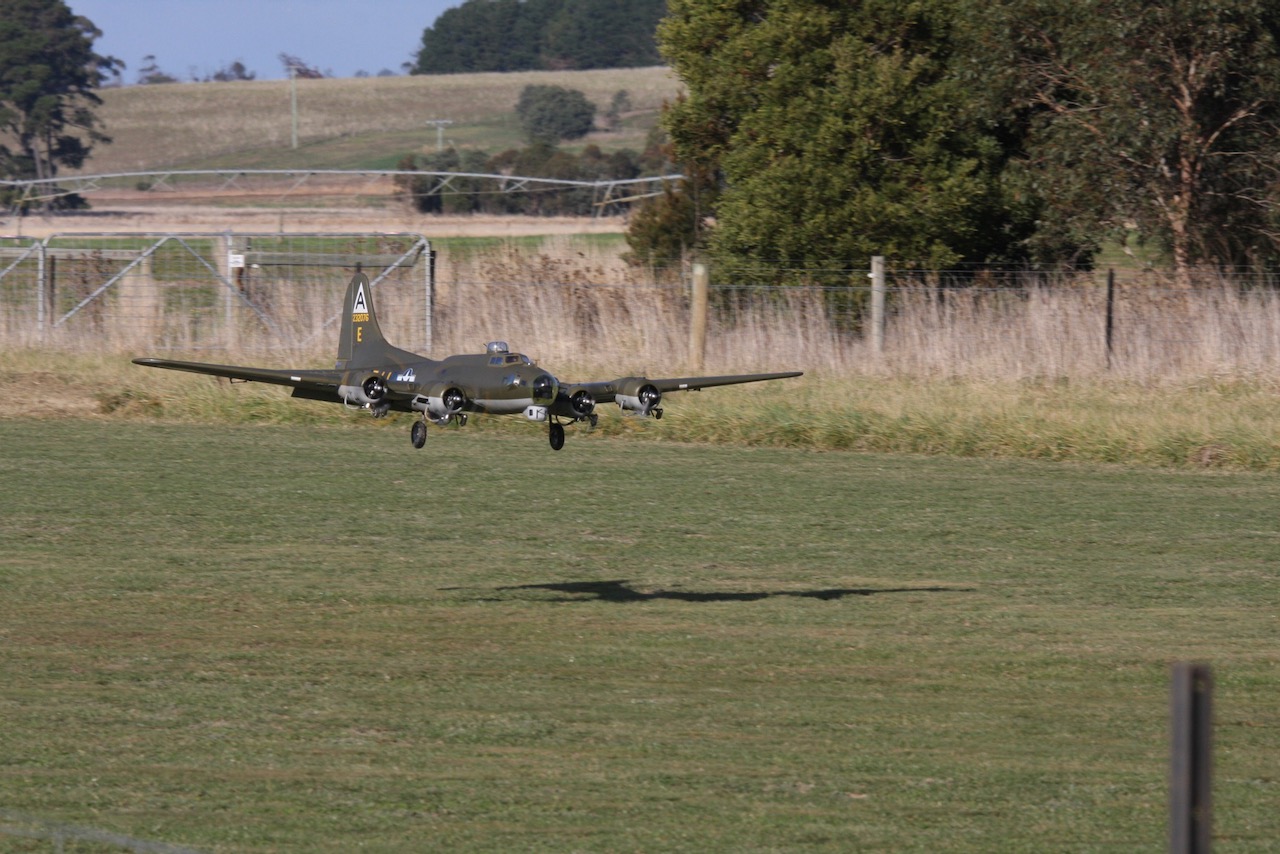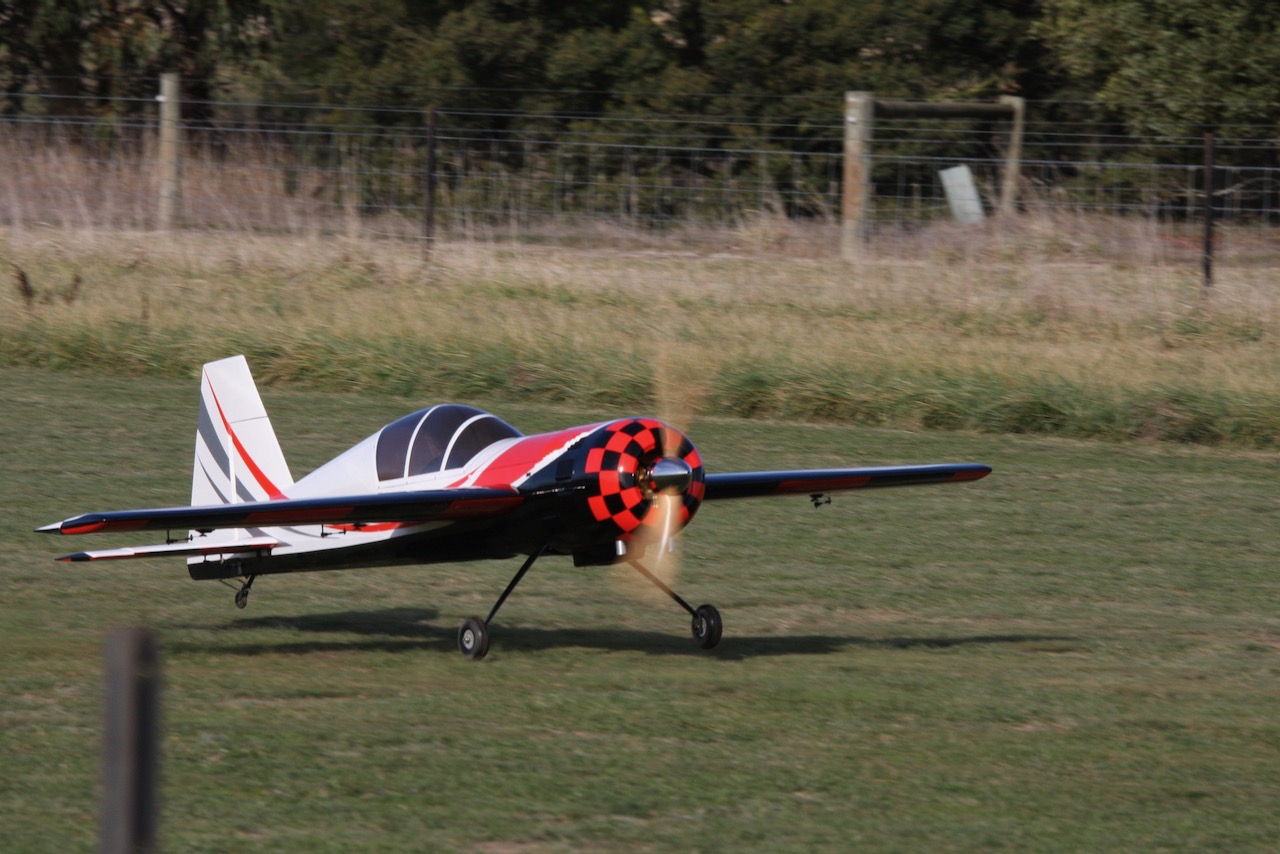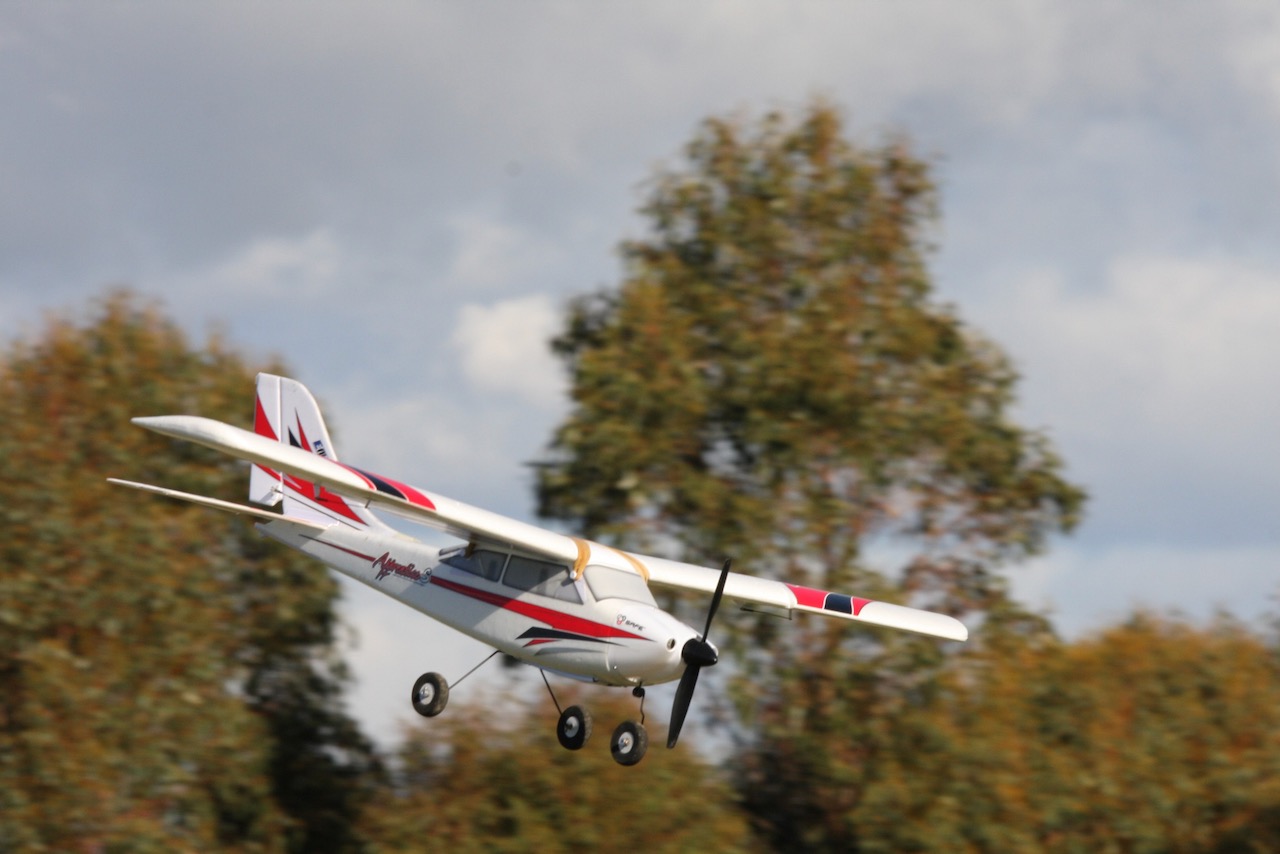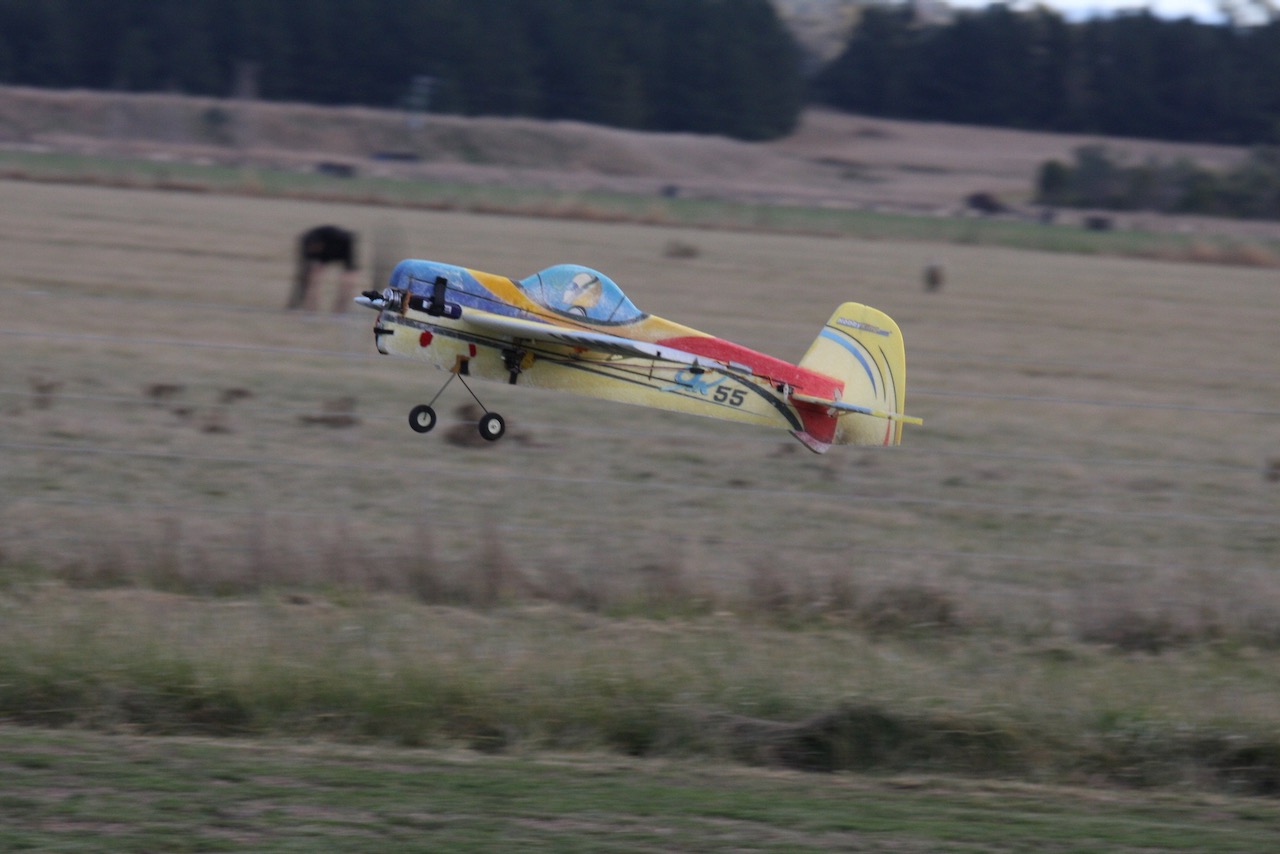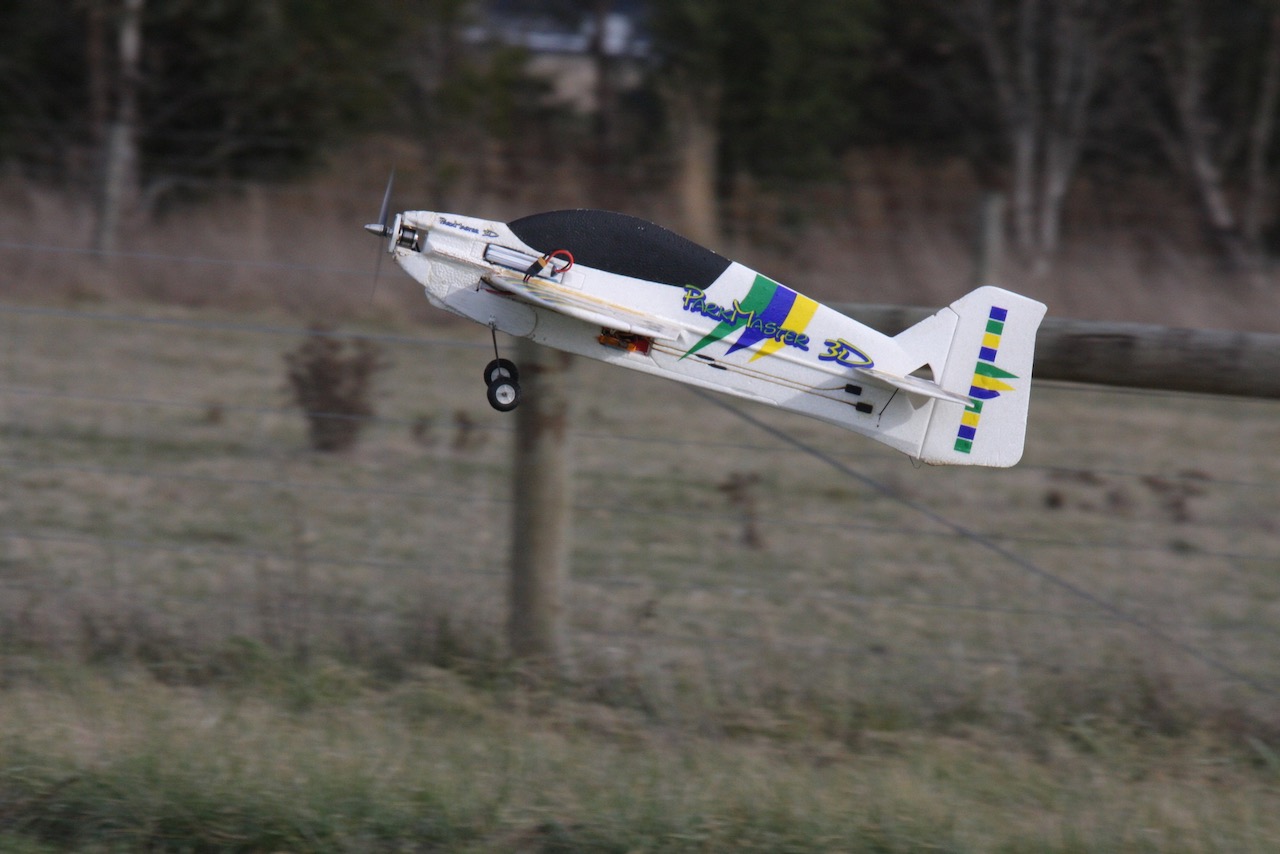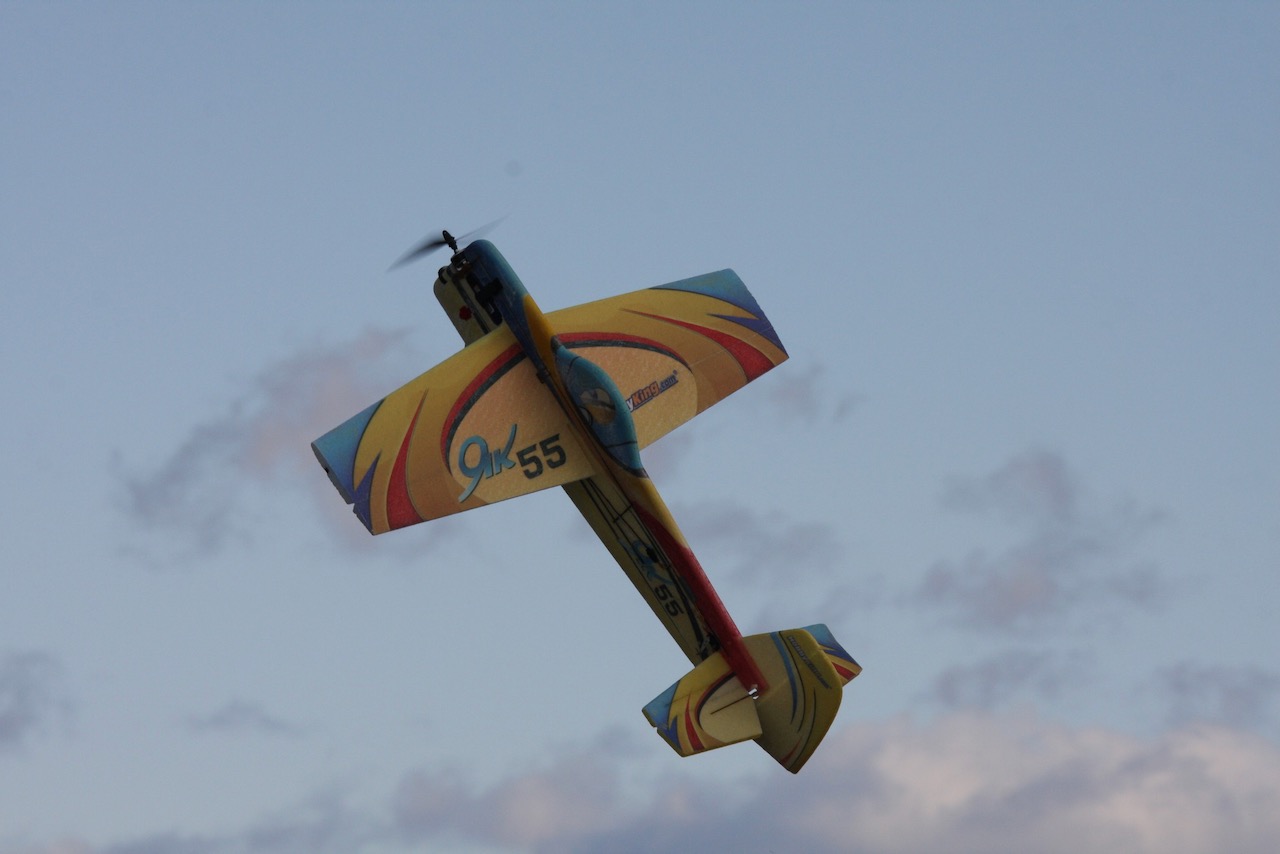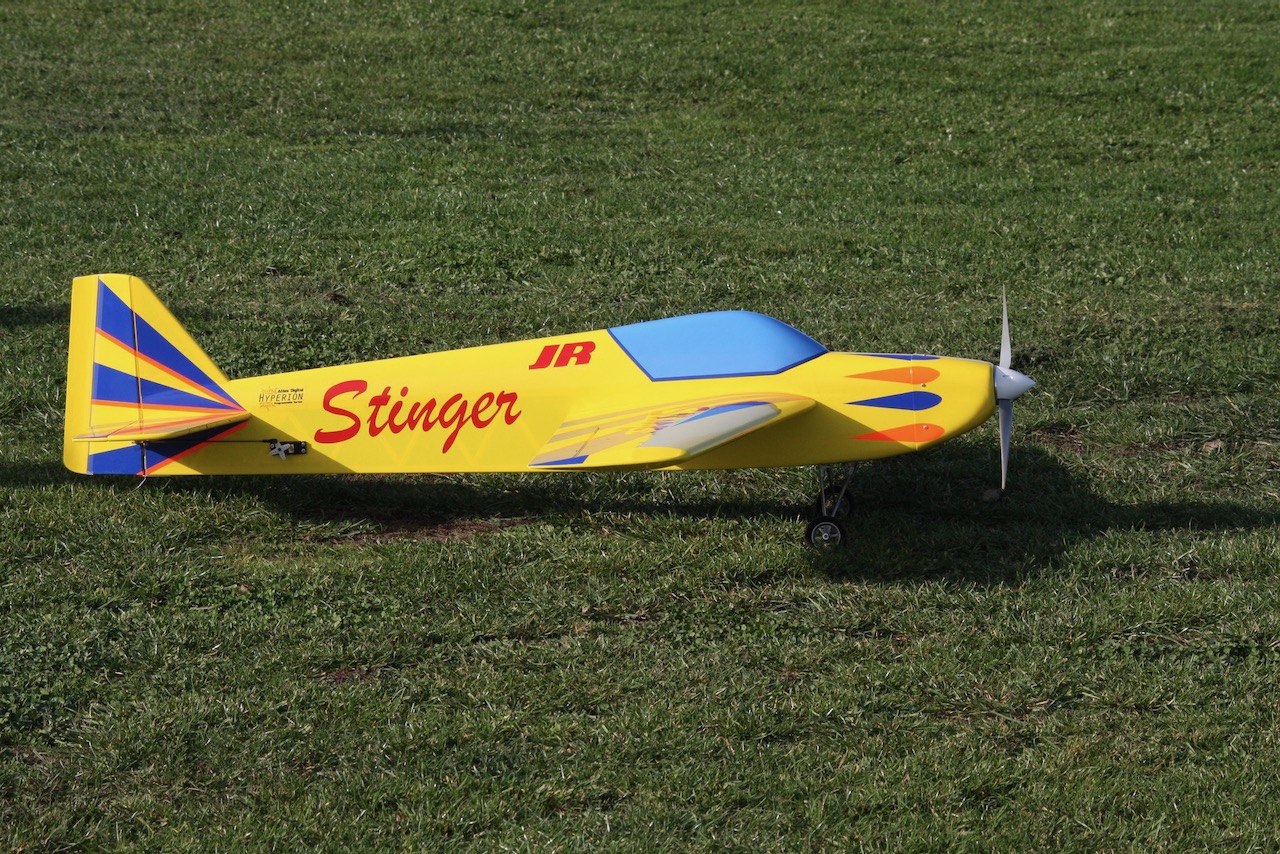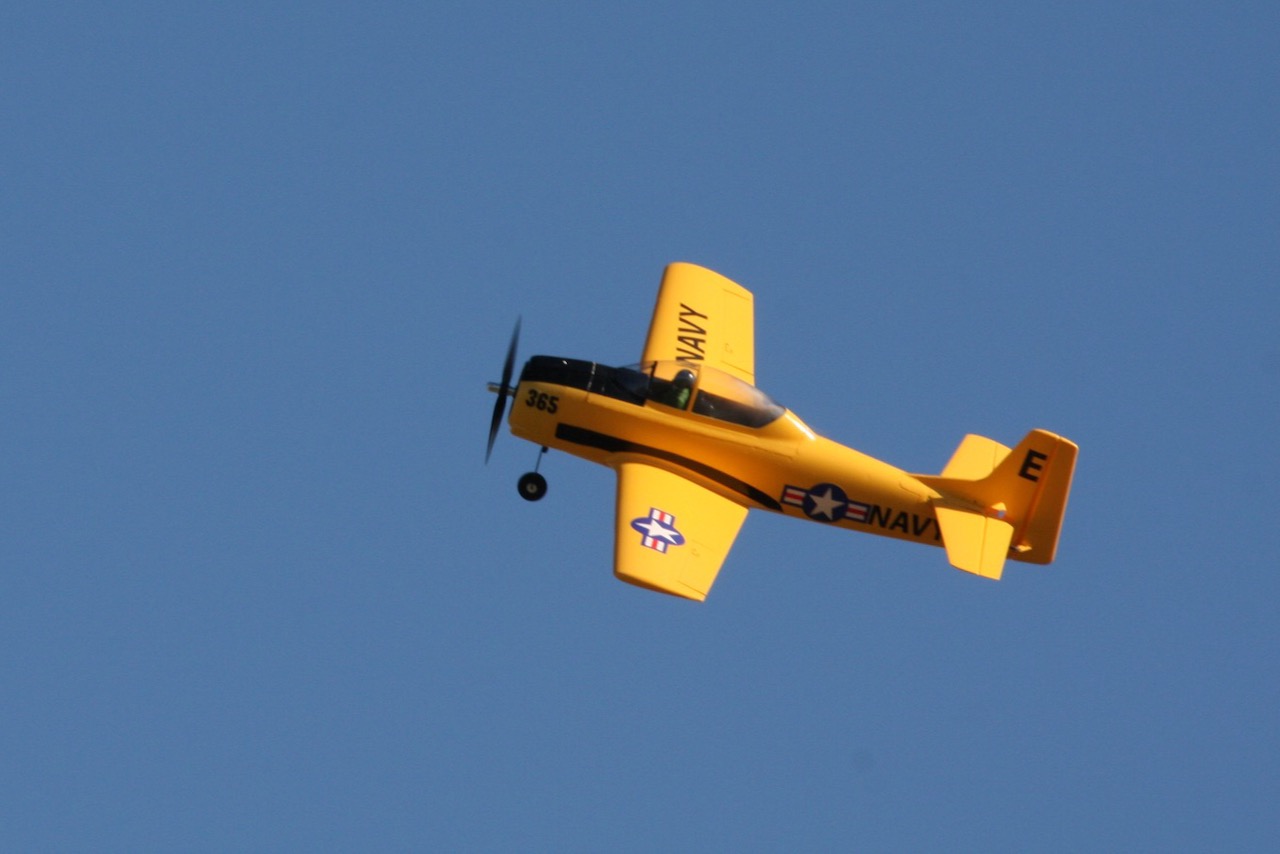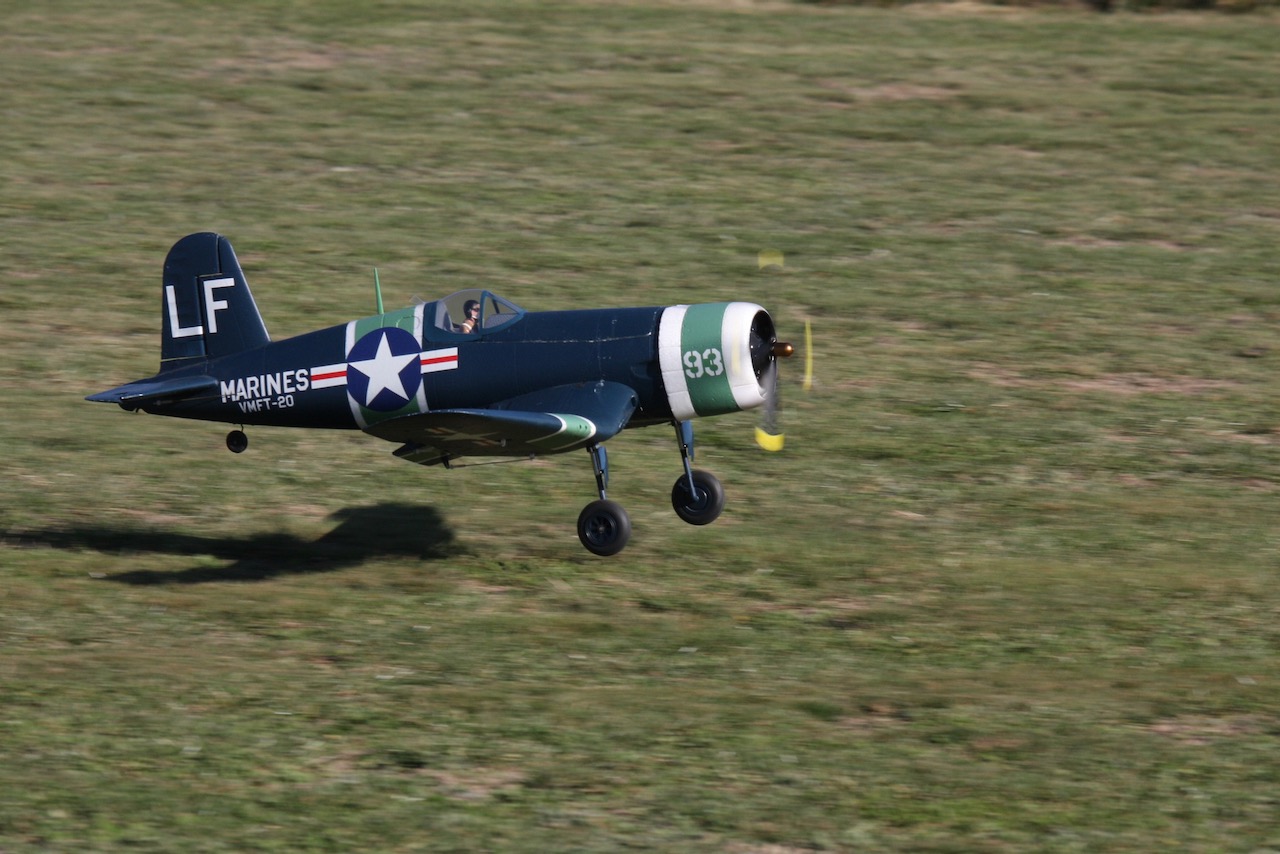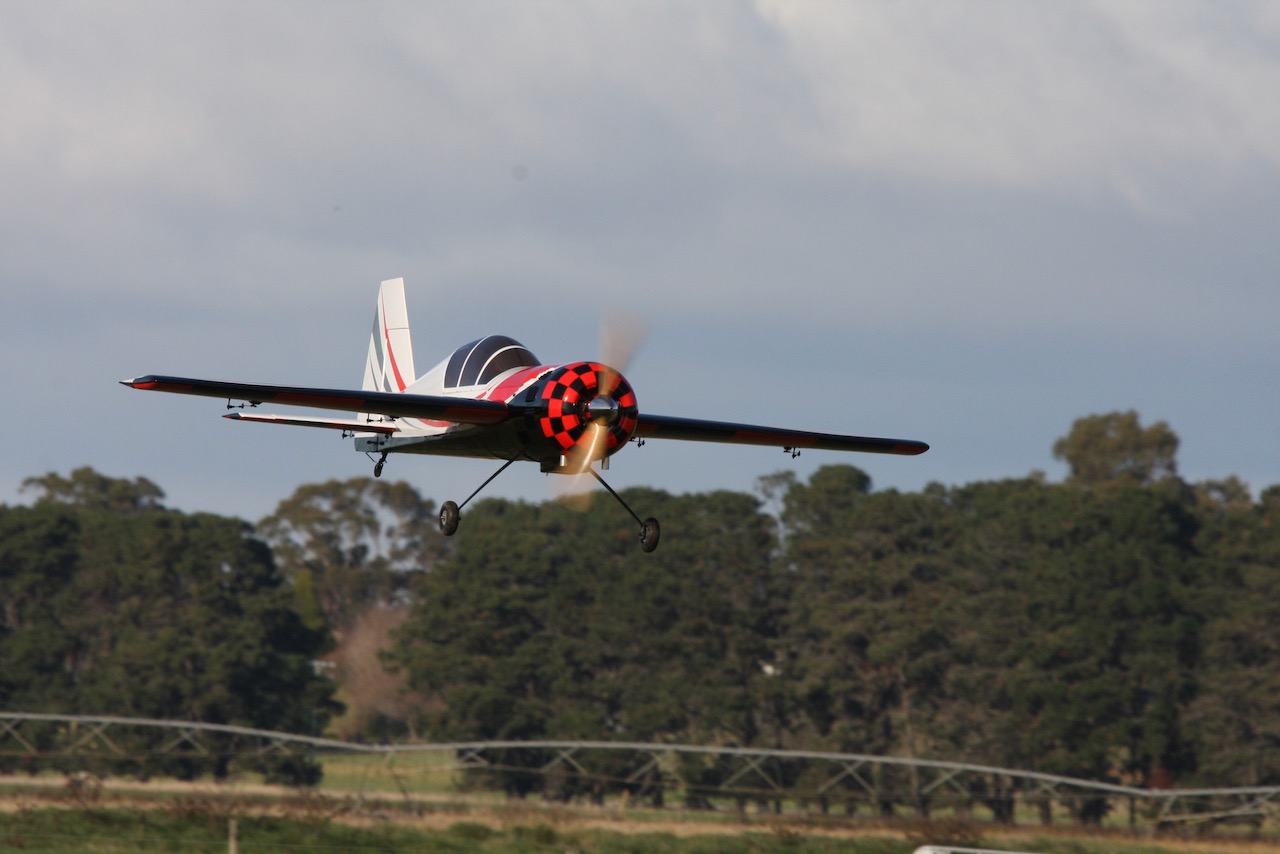 ---
If you missed out on seeing the B-17 and hearing the sound of those four engines, here is a short video I took with my iPhone.
---
New Members
Please give a warm welcome (back) to Nara Tatemsapya. Nara has joined as an associate member and was previously a member of LMAC in 2008 and earlier. Nara has paid us many visits over the last year or so and it is very pleasing to see him take up Associate membership with us. Nara is an accomplished flier and has demonstrated during his visits a willingness to assist new members whenever he can. A great asset to any club and we're very happy to have him join us.
---
AGM
The AGM was held on Monday, June 5 as previously advised by President Mick G. in his email dated June 11. It was unfortunate to have only 4 non-committee members in attendance, no doubt the cold nights present a challenge for some. For those that could not attend, the various reports presented are available to members on the website. You will only see this after logging in and following the menu lists under [Member Area/Committee Reports, Rules etc.]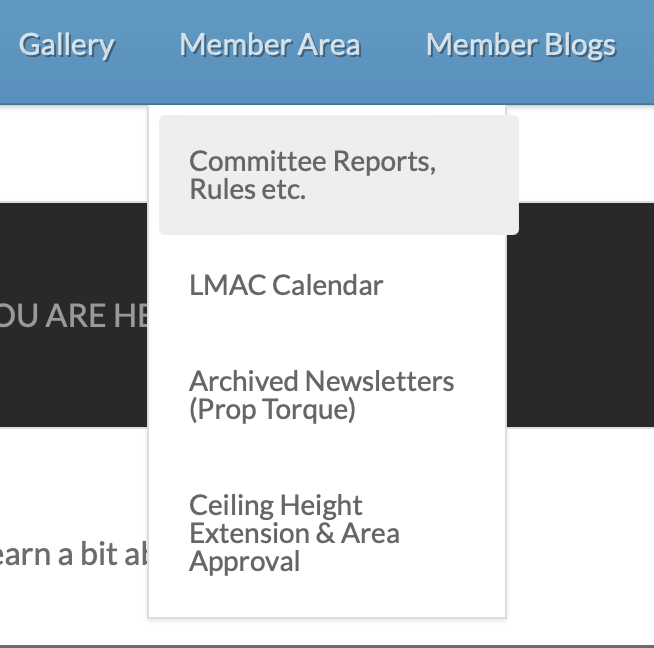 ---
Maintenance works
Over the coming weeks, and months more work will be carried out to improve areas of our site.
Week commencing June 19, farm manager Ron will be repairing potholes in the driveways and he will utilise some of the material at the access gate entrances to the pits that we know become boggy during wet winter months.
In late August, Ron and the farm agronomist will seed and roll the strip. There is a potential that we may lose or have limited access to the strip for a couple of weeks while they do that. It will be well worth it if we can have some drought hardy lawn seed planted to replace the existing capeweed tufts. Capweed will be sprayed about a week to 10 days before the strip will be seeded.
---
Defibrillator

– is here and installed!!

The defibrillator finally arrived and Mick G collected and installed it yesterday. The next step is ensuring everyone knows how to use it. Ambulance Tasmania have provided a link to assist –

Complete the online training package available from the following link: Training Course
---
Mowing Teams Wanted
We are still looking for volunteers to do the mowing. As advised previously, Max and Danny are retiring after a 2 year stint and now deserve a well earned rest. If no-one comes forward, it may well be something that will need to be done on a Saturday morning before flying. No matter what, the mowers have their own peculiarities and Max and Danny have kindly offered to provide some basic training on the quirks of these mowers. The intention is to do this on Saturday, June 24 (weather permitting). Please make yourself available if you can assist. Contact Max or Danny for any information.
---
July Events – Don't forget to mark your diary!
July 1 – Club Day (Weather permitting but the forecast does not look promising)
---
Is CASA registration of our model aircraft coming?
Some of you may be aware that in the USA, model aircraft defined as "drones" by FAA, are required to be registered, in a similar way to full size aircraft. The AMA (US equivalent of our MAAA), fought to have members of the AMA except from the requirement, and apply only to those operating outside the guidance of a community-based organization or flying for commercial purposes. They failed in that application and now individuals, whether members of a model aircraft association or not, must apply for registration. They need only apply for registration as an individual and apply the registration to the external surface of every model they fly.
I was then concerned to receive an email from AMAS, an alternative body to the MAAA (by the way, I am not a member of AMAS), that stated the following extract from CASA;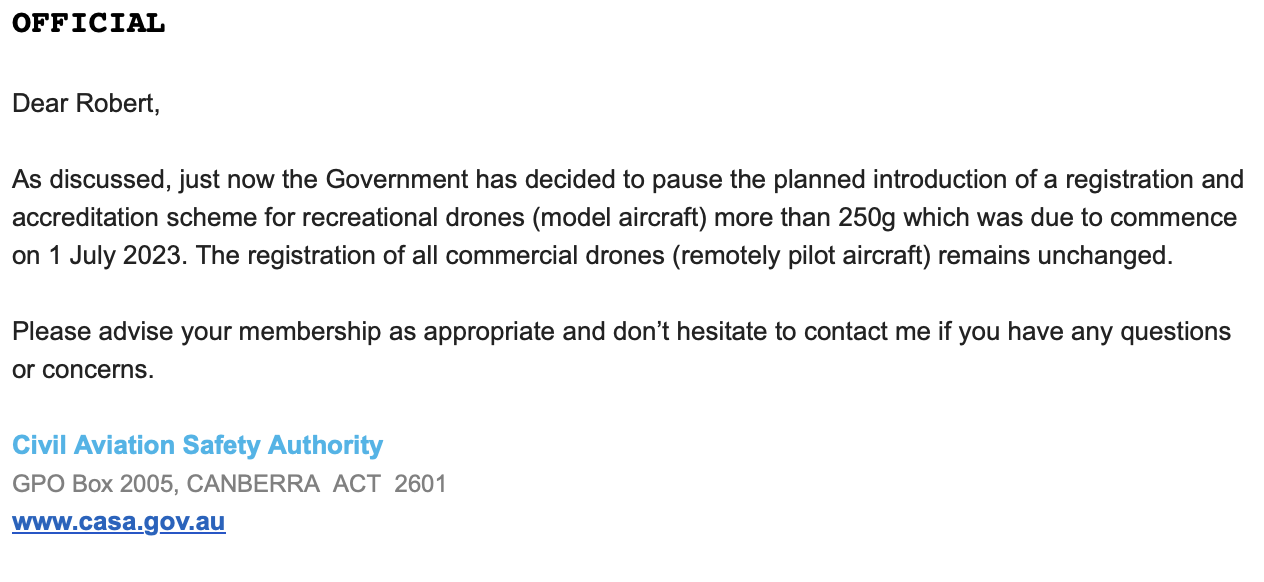 Whilst the advice states that any planned registration scheme has been "paused", it would appear that it is on CASA's agenda. I found this article here on CASA's site, regarding discussion on proposed amendments to the RPA (remotely piloted aircraft) registration scheme. Importantly for us as MAAA members, in that paper it states –
Some respondents were unaware that registration and accreditation requirements would not apply to owners and operators of model aircraft (drones) operating from approved model aircraft sites, managed by model aircraft associations.
The question that arises from this is "what happens if I fly in my local park?". It would appear that if registration is legislated in the future, you may be required to register your model aircraft with CASA. Let's hope that is not the case.
---
From the WWW..
Another example of some of the huge models flying in Europe, and especially in Germany.
Here is a 1 / 3.3 scale B-25 Mitchell bomber Specifications are –
Building time: 5½ Years
Owner: Roland Sabatschus, Michael Sabatschus, Daniel Sabatschus
Model: B-25 Mitchell "Apache Princess"
Scale: 1/3.3
Wingspan: 6m / 20ft.
Lenght: 4,87m / 16ft.
Weight: 148,2 kg / 326pound
Motor: 2x 400cc Moki 5 Cyl. Radial
Event: ProWing 2023, Bad Sassendorf, Germany
---
Peter Daniel sent me this clip showing some people are extremely brave or maybe insane? (Thanks Peter!)
---
BEGINNERS TIPS
Here is the 6th video in the series I mentioned last month. I am sure even some the more seasoned flyers might pick up a few tips from this one.
Next Month – Episode 7 Batteries & Safety
---
Well that's it for another month. Don't forget to send in some pictures of your latest project or what you have stored in your hangar.
Don't Forget – Put a Spark in your life and fly electric!
George