Hangar Talk – February 2022
I hope this Hangar Talk finds everyone COVID free and enjoying as normal a life as they can in this ever changing world we live in. As if COVID wasn't enough, who would have thought that the potential use of nuclear weapons would be in the headlines today? Thank goodness we live in a place as far away from conflict as we are. Let's talk about aeromodelling but at the same time, spare a thought for those families and especially children being attacked by a rogue state as big as Russia.
---
Club Day – February 5
Not a bad turnout with about 12 + a mainland visitor who flew also. The weather was perfect. It was a shame not more turned up. Everyone has busy lives these days and COVID may have some still hesitant and limiting their travel. Danny, who normally attends most club days, took the precautionary approach and stayed away as he had just arrived back from the mainland.
This month I was able to get to the field for club day and this has given me the material to be a bit more expansive in what I normally post. I have also added a few videos that give a better feeling of what the members are flying and hopefully encourage members to make an effort to get to the club, especially on club days.
I did observe that members were doing there best to maintain COVID awareness by limiting numbers in the clubhouse and socially distancing whilst eating. Thanks to Kerry for stepping in to cook as Meilin had to work. Nevertheless Meilin still managed to get out to the field between work schedules. Meilin never misses any opportunity to get to the field!
Lastly, I've added some videos of models flown at the field. The videos were taken with my phone camera and who would have thought that this was possible 20 years ago? I am using an iPhone 13 Pro. The camera on this model has 3 lenses; a standard 26mm, a wide-angle 13mm and a telephoto 78mm. Video has 60fps (frames per second). I opted for the 256GB model. Whilst a fully dedicated movie camera would be better, I can carry this in my pocket!
---
Photos from the field – some I took and some Mark H took (thanks Mark)
Click on the first image to enlarge and skip through the album.
---
Mark Holman's "Wilga"
Mark brought along an impressive new model. An E-Flite Wilga modelled on the renowned bush plane – the significantly modified Wilga named "Draco". The model has some wonderful scale detail, designed and built under licence from the owner of the full size airplane, Mike Patey.
A few pictures of Mark's model –
Specifications for the model are –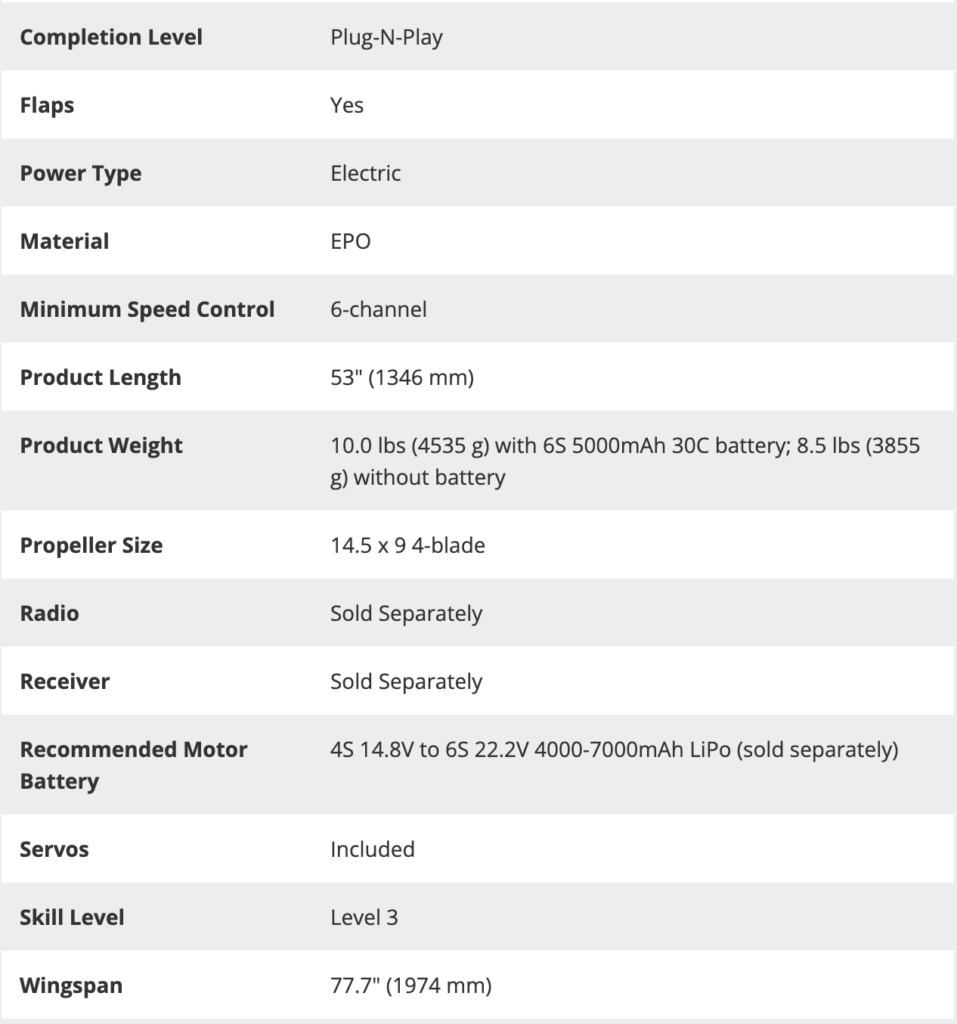 A short video of the maiden. Understandably Mark flew it quite high, so I had to cut short the in-flight shots. (I was using my iPhone 13 Pro to take the video).
You can find some video and details on the journey of the full size plane to the Horizon Hobbies model. here and the video below shows the full size aircraft in action.
---
Rodney Kreutzer's Topflight B-25 "Mitchell" Bomber
Rodney brought along the latest addition to his hangar of warplanes, this time a Topflite "Giant Edition" B-25 Mitchell. This model is no longer stocked.However, Rod bought it about 5 years ago and for his COVID "lockdown" project, he decided to put it together and fly it. We're glad he did as it is quite spectacular in the air. Especially with the sound of the two 3 cylinder radials in full flight.
Specifications are –
Scale: 1/9
Wingspan – 2255mm
Weight – Approx 11kgs
Power – 2 x FG-19R3 3-Cylinder Gas Radial Engine
Propellors – 13×8 3 blades
Many scale details including, gear door sequencing, Robart electric retracts,
Dual Futaba 2.4g receiver 3ch SBus HV + redundancy Rx and Telemetry.
Some images of the B-25
Another short video, this time of the B-25's maiden flight and a textbook landing "Always.." says Rodney!
---
Vince Burling's Ripmax "Wot-4 Xtreme ARF"
Vince's Ripmax Wot-4, was another model flown that I managed to get some video of. He really had the model tearing up the sky and finished up with perfect landing. Specifications for the model are below and Vince has powered his with a CRRC-Pro 50CC Gasoline Engines FM01-304G, the details of which you can find here.

---
Perimeter Fence
Work is in progress but unfortunately Ron's wife contracted COVID and he has been self-isolating. I am pleased to say both are doing well. Ron will run the wire for us and again we are indebted to his generosity as he does all of this work in his spare time after work hours.
---
Flying A Plane Through Tunnels: World First
Dario Costa is 41yo and hails from Bologna, Italy. He became the first person to fly a plane through a tunnel, taking off in one tunnel and flying his race airplane into and out of the second at 250kph to set several world records and enter aviation history.
He is a professional Italian Red Bull Air Race competitor, stunt pilot, aerial acrobat, flight instructor and whilst he had been dreaming of attempting this for years, he knew it would be a complicated challenge.. Homologated by the Guinness Book of Records, this world record was set on Saturday, September 4, 2021, near Istanbul, Turkey, on a closed highway. Shortly before 7:00 (local time), in a first tunnel, the pilot accelerates. The plane takes off and the first strange moment comes, coming out of the first tunnel where the aircraft is exposed to the side wind. The plane then entered the second tunnel, almost 2 km long. At 250 kph, the plane is only one metre from the ground, and its wings are less than 4 metres from the walls. No errors are allowed. The accuracy must be surgical.
(The actual flight starts at around 6:40)
---
Well that's it for this month. I know I keep banging on about it, but all of you have models in your hangar, why not send me some pictures of your pride and joy, and I'll put them in HT. I am confident that most of you will already have pictures that you can send. Please….
Don't Forget – Put a Spark in your life and fly electric!
George