Here we are again nearing the end of another month and with the exception of club day on February 4, there was very little activity due to the ongoing windy days.
I was hoping for some promised material on member projects but we'll have to wait for another day.
In response to my request for some material on the past club history, two members came forward and they are my usual goto people, Peter Daniel and Dave Jacobs. They provided some photographs that may jog some members memory. If you do have some anecdotes from the past, write a comment on the page  and I'll look to include them in a special article on the club history. Dave Jacobs gave us some history on the founding of the club in 1945 (read it here) but it would be good to include a history of the movements of the club over the years before the stories are lost forever.
Club Day – February 4
As we are all aware the weather gods have not been very kind to us. This is the worst year I can remember for wind (no I don't have a gastric problem). Without fail, weekend after weekend, the wind picks up and whilst it is flyable for some models, it is not enjoyable. It was with some trepidation as the February club day approached and all eyes were on the weather forecast. 
It was looking okay so a text went out to see who was likely to attend. There was a great response – 20 in all. It was easier to count who wasn't there. Almost a record for a normal club day. To cap it off the wind largely stayed away. 
Mike H had organised the food for the barbecue, Alice took the orders (normally the other way round Alice) Kerry cooked and Mei Lin stepped in to assist as well. Thanks to the girls for their efforts again.
Flying was a mixed bag of small models, with the exception of Vince who brought along his Piper Cub. There were a couple of Tomboy's, a few foamies, a scanner and some mixed sports models. Most were probably apprehensive about the weather so arrived with something that was easy to transport and pack away if conditions were unfavourable. Some didn't even get a model out, preferring instead to catch up with friends and discuss what had happened since the last time we all got together. Mei Lin showed that she is ready for her Silver Wings with some nice flying. However she does not like company and as other flyers took to the skies around her, the cries of "Vince come quickly!!" were heard ringing out from the flight line. No need to panic, she managed quite well before Vince took over and brought the model home.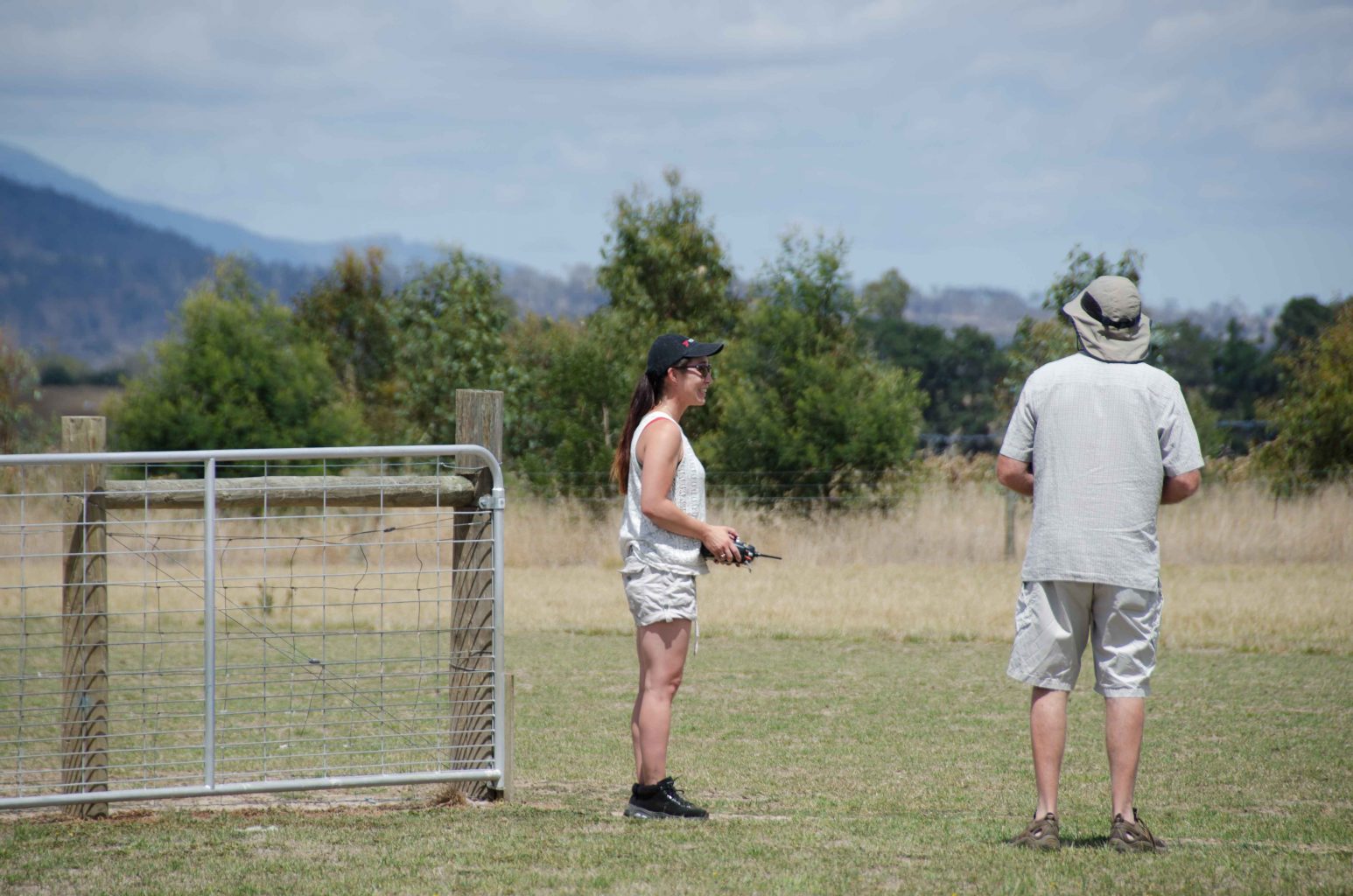 Mei Lin getting a little nervous as others take to the sky around her.
It was a while since I had flown. This was the second time in over 12 months and the last was in November for the RFDS day. I thought I'd give my Multiplex Merlin a flight. Jacques launched it for me and it is quite a slippery model. It was at a distance in no time and Jacques was calling out "I've lost it… I can't see where it is". Then Kerry in my other ear "bring it back… you're too far away". I thought I was flying it? But they were right it was very slippery and hard to see as there was little contrast with the sky. I brought it safely back within Jacques eyesight and nerves were a little more settled. No problem with mine but Jacques and Kerry felt better although Kerry wanted it landed straight away as her nerves could not handle any more. Much to her relief, I did as I was told.
The only casualty that I saw was Alan Johnson's glider, which was floating about and then ended up in a spiral that he couldn't get out of (Alan said he has difficulty as the model is only Rudder and Elevator). As a result a loud "crack" could be heard and the main spar gave way and the model made its way to terra firma in 3 pieces and a few more after it hit the ground. Alan advised he had a couple more of the same model at home. He's wasn't sure if he could do anything about strengthening the main spars due to access. I'd be somewhat apprehensive about any future flights…
Vince brought along a new model "Jive". An aerobatic model designed for wild manoeuvres as the big control surfaces suggest. Vince has a penchant for buying a model, having a few flights, then offering up for sale. Sometimes at a bargain. Just ask Bill Hellinga. Kevin Hay had a "test drive" and said it was very lively on the sticks.
Here are a few photos from the day.
STOP PRESS: Mick Green has just submitted the promised article! Thanks Mick, I'll post separately.
 Put a Spark in your life and fly electric…
George