There is not a lot to write about this month given this seems to be the longest continuous windy period in summer that I can recall. The only news was the Christmas lunch and then the flying was only for the brave (or foolish).
New Members
We'd like to welcome another new member to the club –
Jackson Oliver – as a Junior member. Jackson is a past member and the grandson of Terry Pearson.  Welcome back Jackson.
Christmas Lunch – December 9
When Kerry and myself arrived at the field just after 10am, we could have been excused for thinking we had arrived on the wrong day. From a distance the site was empty. As we got closer there were 2 cars in the car park. However, it was Tony & Elaine Gray and Mike Rutledge and Peter Allen from Roaring Forties Aero Modellers (RFAM). They both thought the event may have been cancelled and they missed a notice. I reassured them we had the food and there were quite a few coming but obviously the wind had kept them away for a bit longer than usual.
As written earlier, there was only limited flying on the day but than that's not what the Christmas get-together is all about. It is about catching up with likeminded friends, sharing some anecdotes from the past year and enjoying some Christmas fare. Whilst the numbers from our club were a little disappointing, we again were fortunate to have our friends from the Roaring Forties Aero Modellers join us and bolster the numbers. Many thanks to Mike R, Tony S, Tony & Elaine G, Peter A and Will D for making the effort to come and support us. RFAM have been great supporters of our club (as we were of their's especially during their formative years) and it is always great to see that camaraderie prevail even at this time of the year when social calendars are full. It was a shame that more of our members were not able to make it. Thank you to those who took the time to respond and put in their apologies. It was nice to receive this email from RFAM after the event.
Just a note to thank all LMAC members for providing such a magnificent lunch and a day of fellowship last Saturday. Our group has enjoyed a close friendship with LMAC for many years now and we always look forward to getting together. Please pass on our appreciation to Kerry for the superb lunch, it was absolutely fantastic. Wishing you all a very happy and safe Christmas and we will catch up again in 2018!
Here's a photo of the RFAM crew.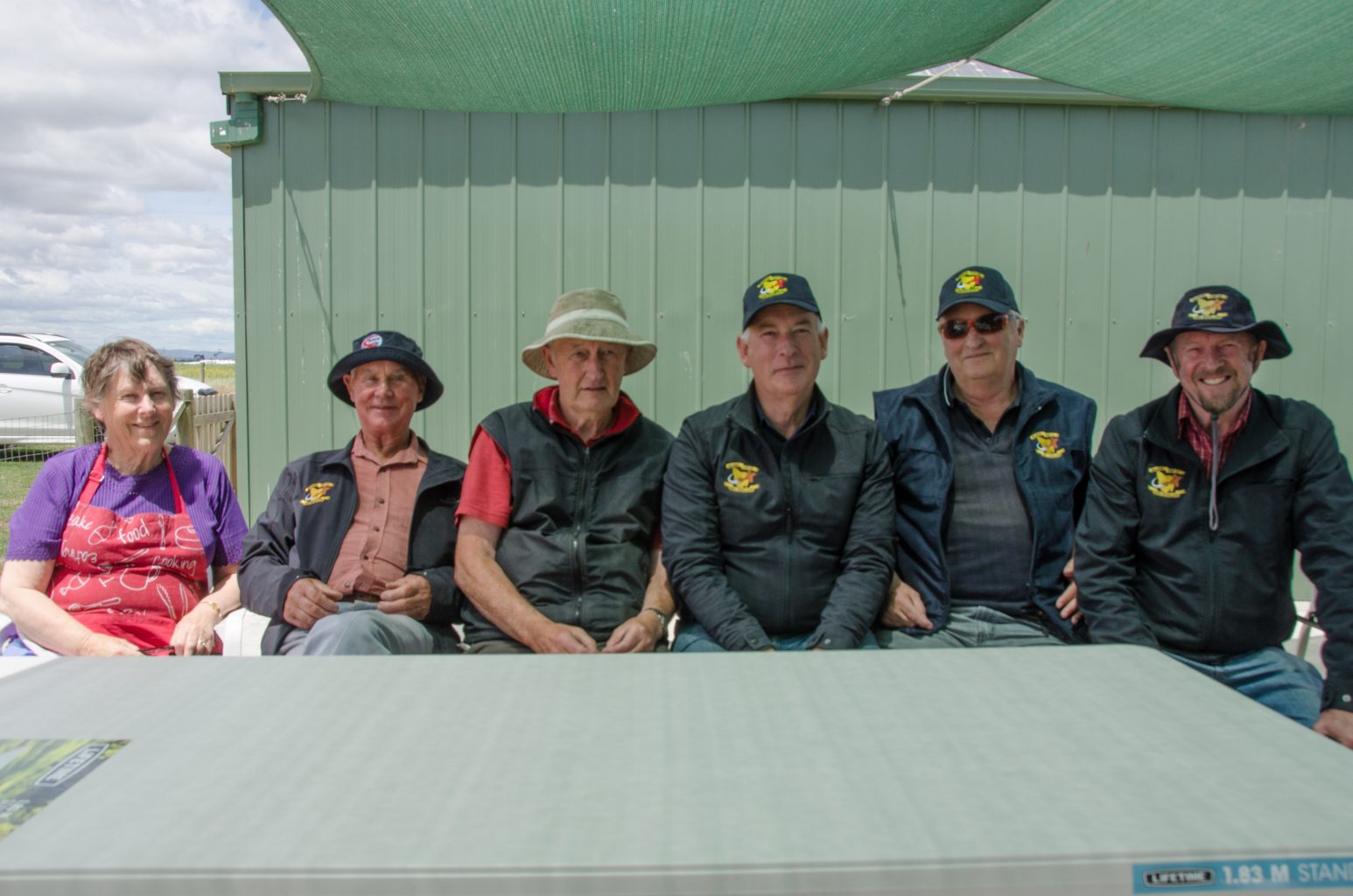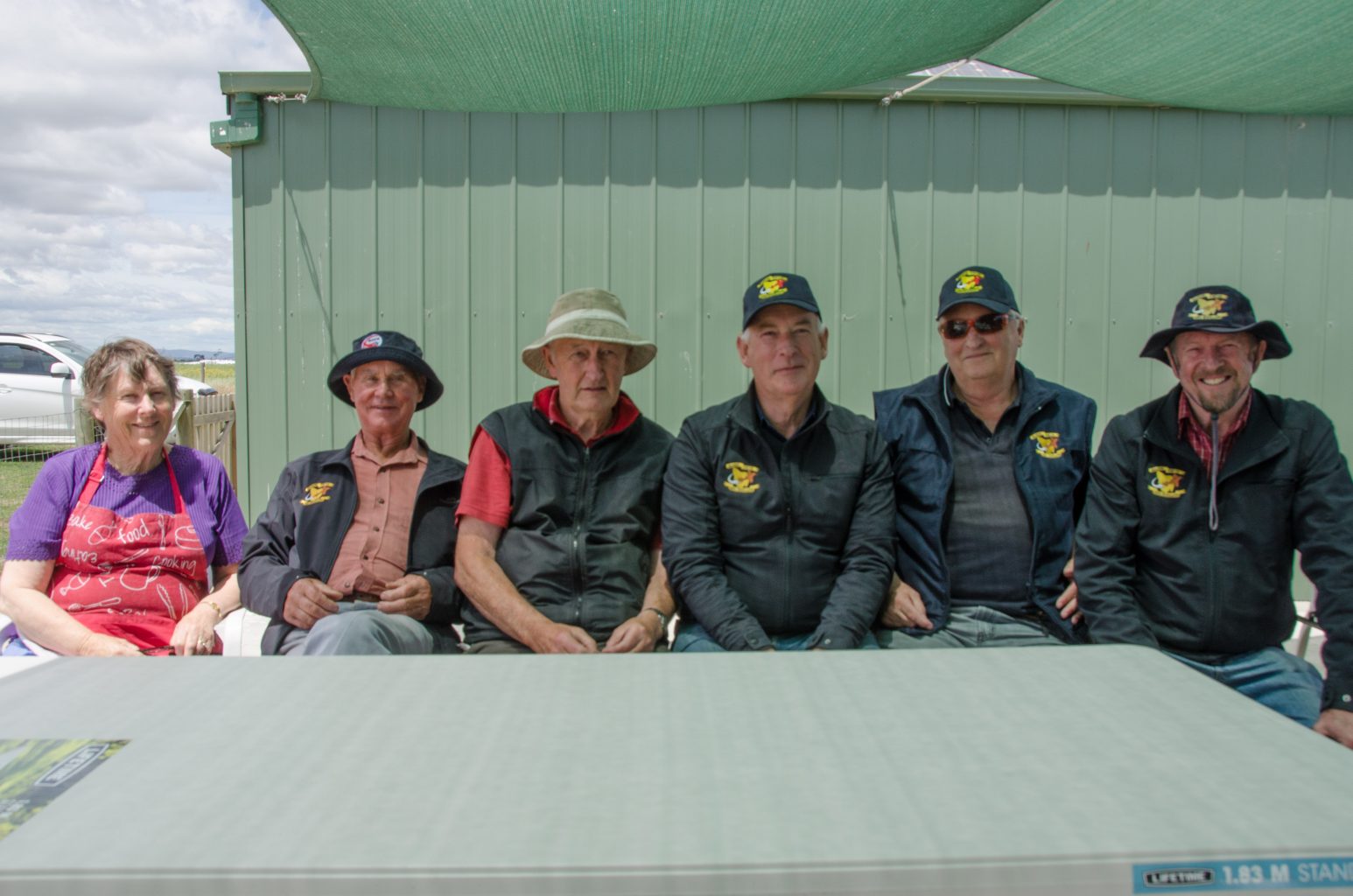 RFAM (L-R) Elaine & Tony G, Peter A, Tony S, Will D and Mike R
The lunch was a fantastic spread of the usual Christmas fare. If you weren't there this is what was on the menu – cabanossi and cheese savouries, ham on the bone, chicken, honeyed chicken wings (courtesy of Fred's own honey), potato bakes, coleslaw, potato salad, rice salad, beetroot, pineapple and bread rolls for main. Dessert was pavlova, pudding, custard and ice cream. All this for $15pp! Thanks to Kerry for putting it together. Thanks also to Fred & Gloria for their donation of the plum pudding, custard and ice cream desserts, to Kerry for her donation of some door prizes and food also. Thanks to Gloria, Mei Lin and Elaine G for all their help on the day. With Mike Hope at another function, Mick Green as vice president stood in and thanked all for their attendance and support. Kevin Hay was a late withdrawal due to some dodgy Chinese the day before (should have saved your hunger for Saturday Kev!) Tony and Elaine Gray's son Anthony and his children also attended and were a welcome boost to the coffers.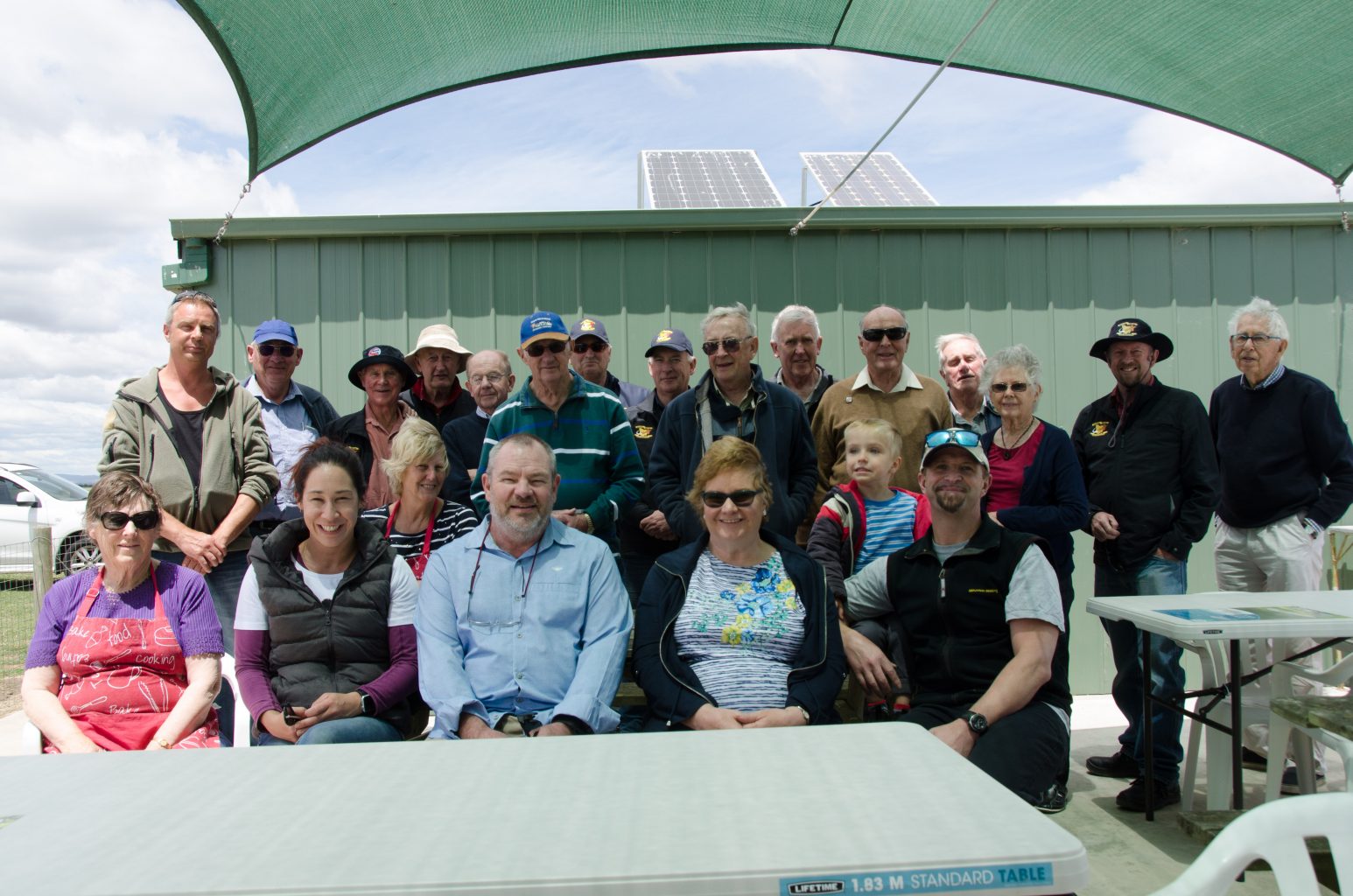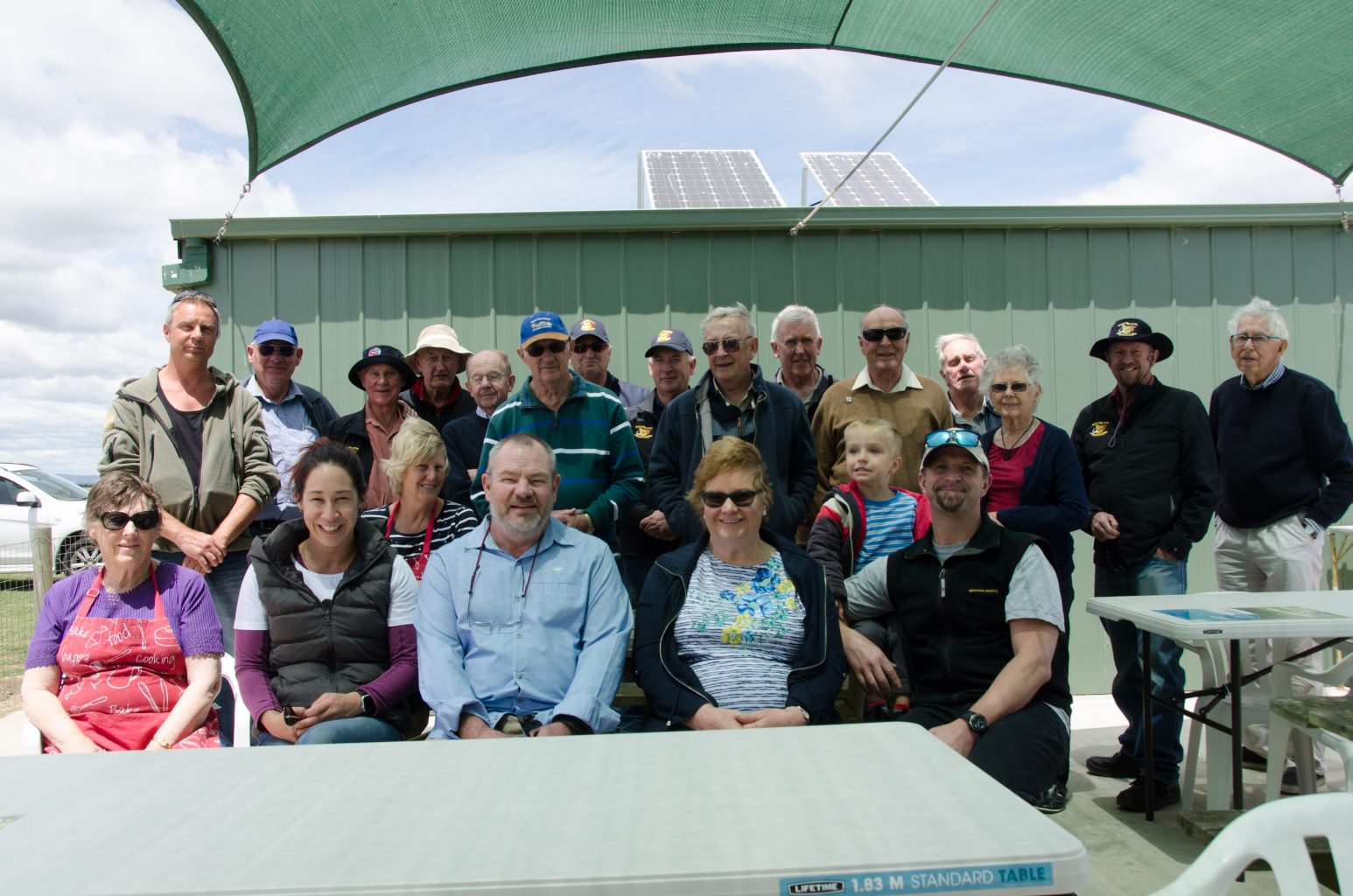 The attendees (photographer is missing :)) Back row – Vince, Max, Tony, Peter, Brian, Kevin, Will, Tony S, Richard, Danny, Fred, Geoff, Gloria, Mike and Dave. Front row – Elaine, Mei Lin, Kerry, Mick, Cheryl, Martin and Andrew. (Photographer George)
Whilst the wind limited the amount of flying to those who were brave enough or had models able to withstand the elements, it was a great get-together. Typically, the first to take on the wind, were a couple of the RFAM boys, Mike R and Peter A. This was followed by our own Richard Cooper who did very well with his Zagi Wing and MPX Easy Star both powered by brushed Speed 400's or similar! The wing struggled to gain penetration and at one point looked like he might have a long walk south to retrieve it but Richard skilfully managed to bring it home.
Peter Allen returns after successfully battling the wind.
Mike Rutledge was another to brave the elements.
The picture below has quite a bit of significance. Our sign has been updated to reference the year in which the club was founded; 1945. The member in the picture, Dave Jacobs, was at the meeting organised by Fred Stephens in 1945 and is still a member today some 72 years on. Looking good Dave and Pat will be pleased you have  a big smile in this photograph.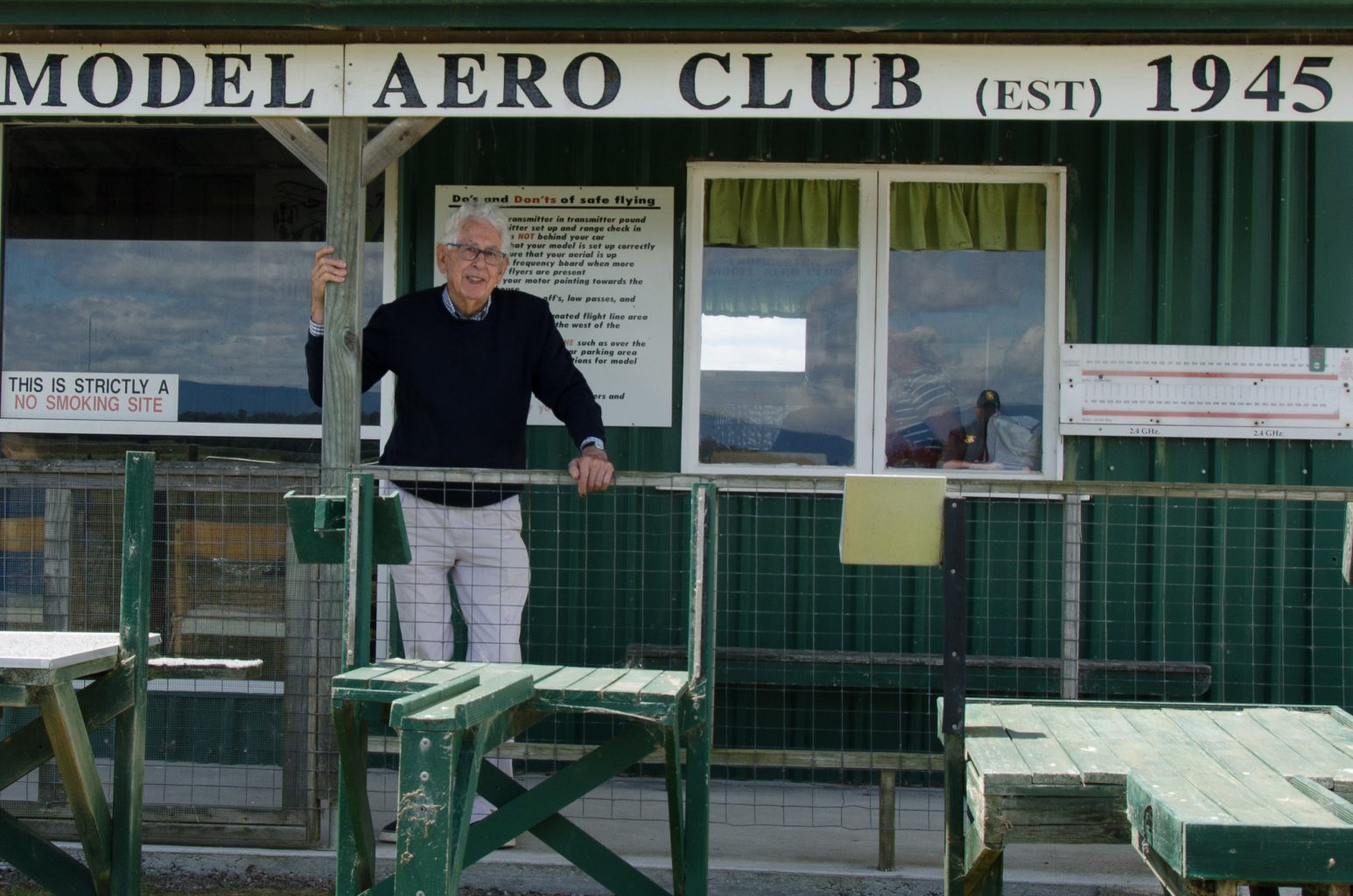 After a bit of interrogation, one member has promised to supply photos of his recent build projects. I hope to feature these in the New Year. (I won't forget Mick)
 Put a Spark in your life and fly electric…
George