Club Day – Saturday, April 13
(Apologies for the delay in putting this together)
There were a few disappointed when the club day was postponed and this is understandable when people plan their weekend or have work rosters to deal with but spare a thought for those that have to make the decision. No one wants to cancel club day as it is our secondary source of revenue after membership fees and an opportunity for members to get together and share in some banter and throw in a bit of flying too. 
Geoff does a great job organising for the club day and it is reluctantly that he seeks counsel from the committee if weather forecasts or other factors mean that club day should be postponed or worse, cancelled. The committee, not one individual, make the call as to whether club day is postponed or cancelled. There were mitigating factors in the decision to postpone the club day on the 6th.
The weather forecast was unfavourable (PFL postponed their Scale Day due to the forecast.) Whilst the weather turned out okay, due to catering, a call has to be made the day before.
The Supercars were running on the same weekend. The club has always endeavoured to reschedule when the V8 races are on. This is really the main reason for a postponement as there are a number of reasons not to fly when the Supercars are running –

Traffic – it has always been hazardous with the amount of traffic going in and out of the racetrack. This has been made worse with the barriers that now force us to drive south and do a U-turn at the Symmons Plains racetrack. This would be difficult or impossible with traffic going in and out of the track.
Helicopters – there is often a number of low flying helicopters flying in and out of the track, making flying RC models a hazardous exercise.
RC interference – There has been much speculation over the years that the radio traffic at the racetrack has caused interference and loss of control of our models in the past. Whilst we are now nearly all on 2.4gHz, there is still a belief that interference can occur if the volume of radio traffic is significant so why risk it.
Given the above it was prudent, even if the forecast was favourable, to postpone club day. It may well be that the committee will now consider putting in place a permanent change of flying days if the Supercars are racing.
As it turned out, Club Day on the 13th was reasonably well attended and the weather was excellent. In all, 14 attended.  Ros & Tim, Rodney K, Kevin S, Max W, Mick G, George & Kerry, Chris J, Bill W, Peter S, Geoff H, Alan J and Kieran C. Unfortunately some of our other regulars didn't attend due to work or other commitments. However in Greg R's case, in the past couple of weeks he has been recuperating after having undergone yet again, emergency surgery after another colonoscopy resulted in a perforated bowel. This is the second time in as many procedures. No wonder the poor bloke gets nervous when he goes for what should be just a routine examination procedure. I have again recommended he change his specialist. After talking to him, I have no doubt he won't be visiting the same one again. All the best for a speedy recovery Greg. 
Rodney Kreutzer arrived again with a couple of large scale models from his WWII squadron; This time a Focke-Wulf Fw-190 and a P51 Mustang – both ARF's and very well finished. Some images and details –
P51 Mustang
Manufactured by: Phoenix Models
Wingspan: 2200mm
Engine: DLE 55RA rear exhaust
Propeller: Biela 4 blade 19×8
Air Retracts
Weight: 11kgs (approx.)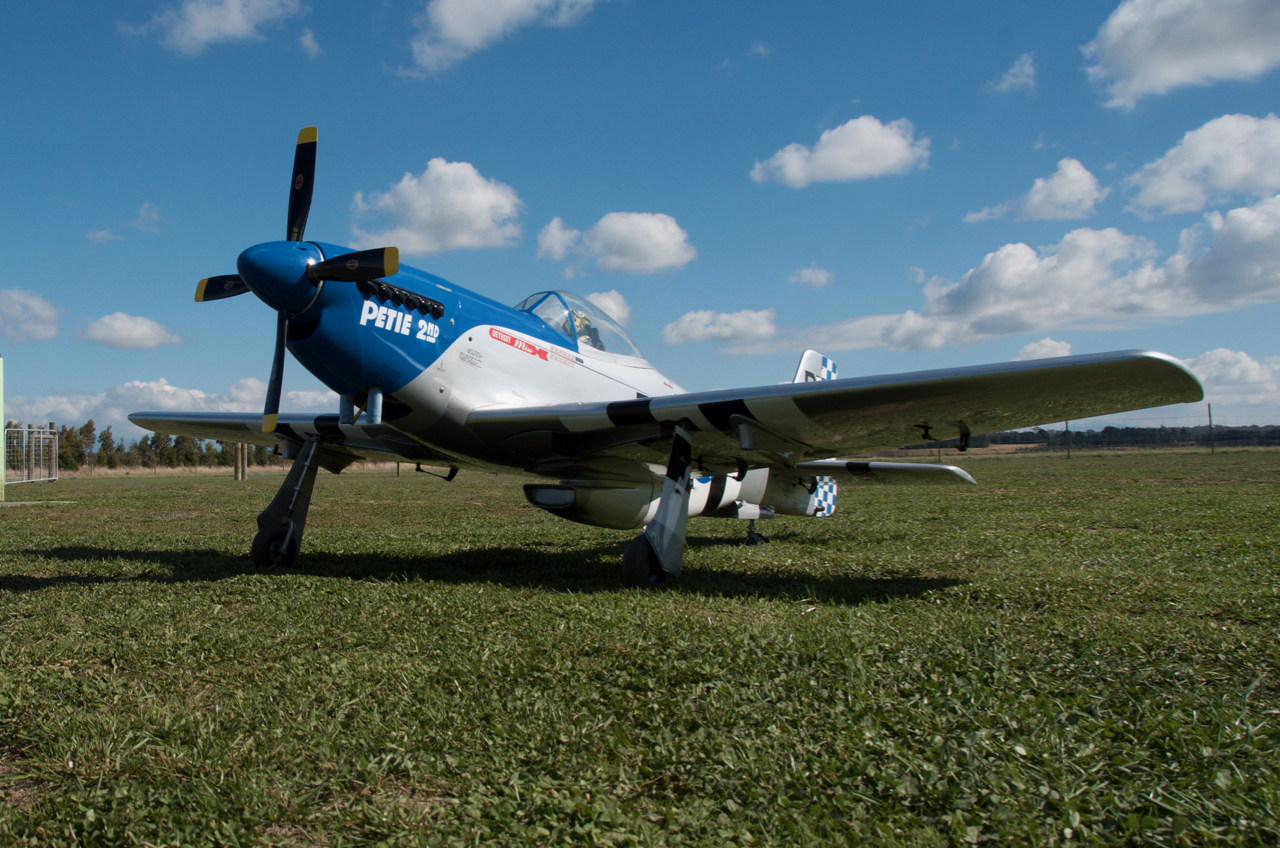 Focke Wulf Fw-190
Manufactured by: TopFlite
Wingspan: 2160mm
Engine: Saito FG90R3 Petrol
Propeller: Biela 3 blade 22×12
Robart Electric retracts
Weight: 12.8kgs (approx.)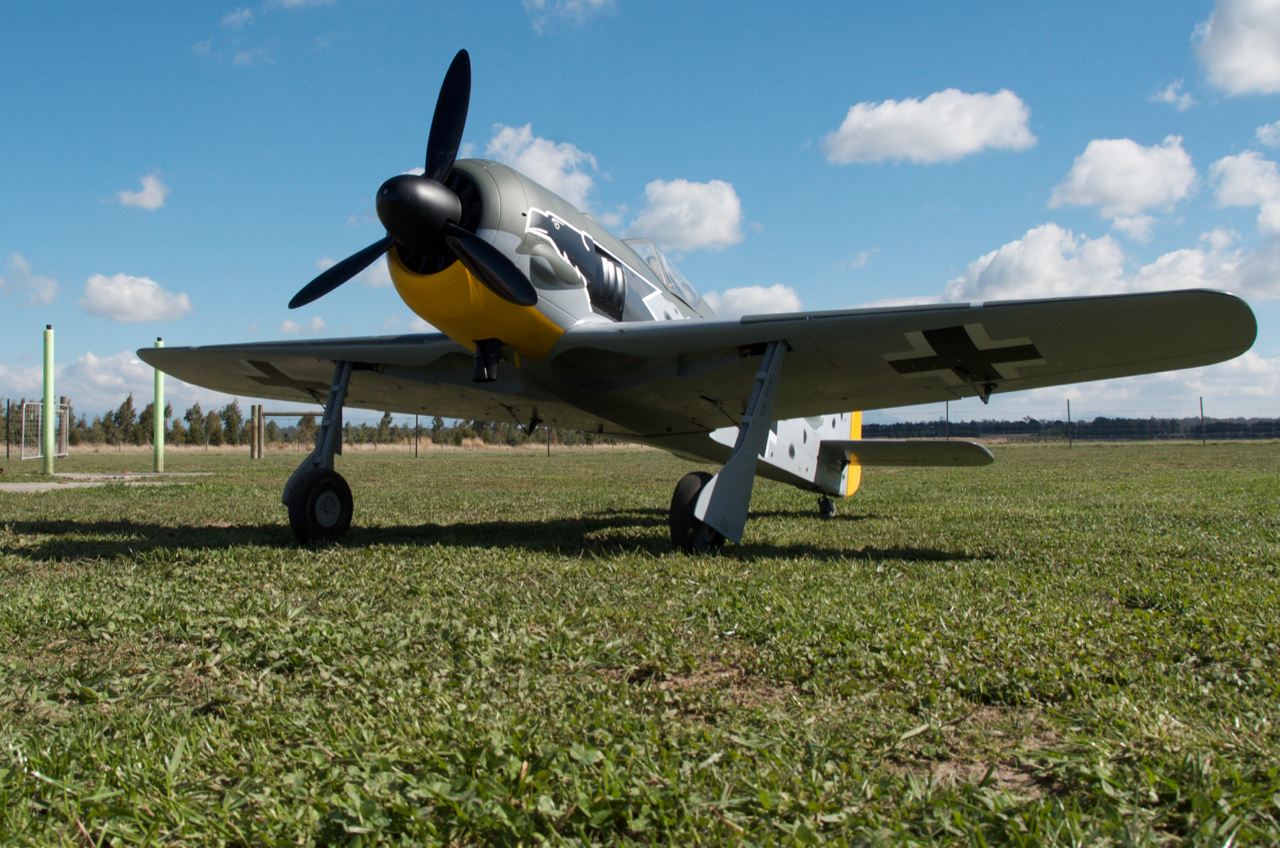 Of the two models, Rodney said this "The Fw-190 flies likes it is on rails. It has plenty of power and tracks really well. The Mustang seems to fly with a greater angle of attack, the breeze tends to push it around a bit and on landing has a tendency to balloon in the breeze."
Unfortunately I didn't arrive early enough to see the Focke-Wulf fly but Rodney did put the Mustang in the air so I could get a few shots of it. 
Some more pictures from the day are below.
There are times when someone sends you some material and you file it away and forget. This is one instance. Peter Daniel and Doc Baldock sent me some images of their own design "hotliner". I filed it away in my "Task" list and came across it the other day. So here are a few words from Peter and some images.
Hello George.
Just for your info, probably not of much interest for the club, but Doc and I have been developing a new powered aerobatic glider.
Powered by turnigy xp 35.46/4 1100kv outrunner
3 cell 2650mha battery
60 amp esc
Weight around 3lbs with battery in.
W.span 67 inches
Length 46 inches.
We have built 4 now, and I have enclosed photos of 3.
Go like greased lightening and handle as if on rails.
We have built several prototypes in reaching what we believe to be the final design.
Performance in unlimited vertical .
Pete Armstrong runs a 4 cell (900watts) in his and it has unbelievable performance but had a slight mishap with it on Wednesday, absolutely flat out and had elevator flutter due to too light an elevator control rod, but all back together now and looking good.
Lastly, we had our May Club day on the 4th (special day if you are a Star Wars fan) and it was reasonably well represented. Some regulars missing but there were others who we hadn't seen for a while; Ray Lloyd, David McGee (who I met for the first time) and Danny Nelson, who had a welcome bit of relief from his grand parenting duties. Good to see you guys. Whilst we welcomed some back after a break, we won't see Chris J for a while as he takes his wife and van on a trip from Tasmania, to WA and then across to the East Coast and eventually back to Tassie in September. Safe travels Chris. Thanks again to Geoff for organising the barbecues. The day wasn't without drama; Kieran Crozier and Andrew Dewater suffered losses but will go home and review what went wrong. The weather was quite pleasant early but if you were late arriving, the wind had strengthened and the air was markedly cooler – time to pack up and go home. Well that's it for another month.
Put a Spark in your life and fly electric…
George