Peter Daniel & "Doc" Baldock are building again!
The latest projects of Peter Daniel & "Doc" Baldock. No sooner has one build been finished and another is on the board. In this article, Peter has updated us on a Vickers F.B 5 "Gunbus", maidened in March.  They have another on the board now, a Fokker Trimotor (aka the "Southern Cross") which will feature in a later article.
Vickers F.B 5 "Gunbus"
In December Peter Daniel emailed me about a new build that he and "Doc" had started. Sticking with Doc's tradition of building scale models of World War 1 aircraft, the new project is a Vickers F.B 5 "Gunbus". I have to admit to having a soft spot for these aircraft, there is something about the pioneers of these days. An emerging technology that was yet to be proven as a viable means of transport or warfare and pilots who must have been very brave or just foolhardy. Probably a combination of both.
Here is a bit about the aircraft (courtesy Wikipedia) –
Vickers began experimenting with the concept of an armed warplane designed to destroy other aircraft in 1912. The first resulting aircraft was the "Destroyer" (later designated Vickers E.F.B.1) which was shown at the Olympia Aero Show in February 1913, but crashed on its maiden flight. This aircraft was of the "Farman" pusher layout, to avoid the problem of firing through a tractor propeller, and was armed with a single belt-fed Vickers gun. The E.F.B.1 was the first in a line of Vickers' "Experimental Fighting Biplanes", of which the F.B.5 was the most famous – and the first to be built in quantity.
The Vickers F.B.5 (Fighting Biplane 5) (known as the "Gunbus") was a British two-seat pusher military biplane of the First World War. Armed with a single .303 in (7.7 mm) Lewis Gun operated by the observer in the front of the nacelle, it was the first aircraft purpose-built for air-to-air combat to see service, making it the world's first operational fighter aircraft.
The scale model is of course scratch built and the statistics are –
Wingspan – 80″
Power – NTM 50/50 motor
ESC – 80A
Battery – 5s 5000mAh
Flight Time – 6½ minutes (15% remaining)
Here is a picture on the building board.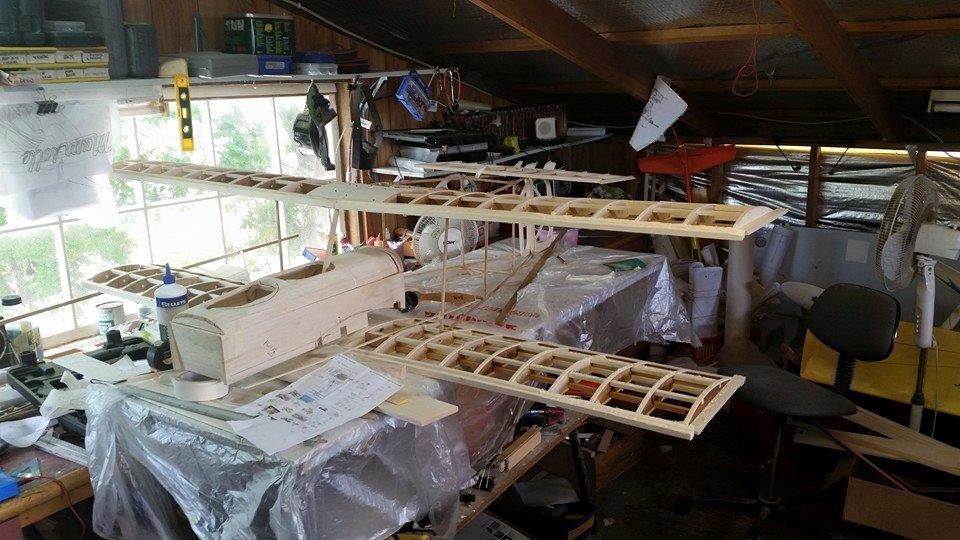 March 2 2016 – The Maiden Flight.
Today I received an email from Peter and it reads…
Hi George,
Today we maiden flew Doc's new Vickers F.B 5 "Gunbus".  To be absolutely honest I was a bit dubious about it's first flight as it seems to be just sticks and wire but after an initial ground run to see how she tracks we went for it. The result was magnificent and she lifted away beautifully and was absolutely realistic in the air. Very stable and responded to commands very well. Landing was a breeze as I was able to slow her down remarkably and with judicious applications of power she touched down as lightly as a feather. A lot of yahooing came from the onlookers on touchdown.
Update March 14
A few more pics of Doc's Vickers Gunbus flying last week . Four flights last Wednesday without incident, actually it is very stable and is quite easy to fly contry to what you would think from looking at the design.
Regards
Peter Daniel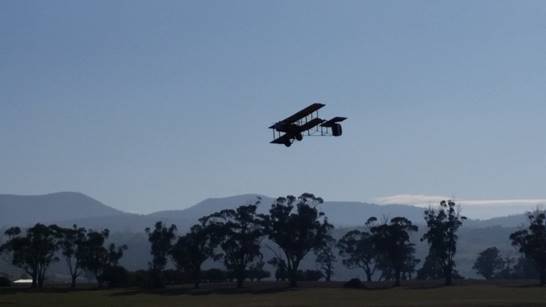 Vickers in Flight – Looks like a WW1 silhouette!
Thanks Peter and "Doc" for sharing the build. Whilst we don't see you at Symmons Plains very often, let's hope that when we next have a Scale Day, we can have the pleasure of seeing some of your craft on the day. Our Scale Days will be low key and an event where we can enjoy the sight of some miniature aircraft, not just models.
Some more pictures from Peter –