Hangar Talk – April 2023
I'm a bit late this month but we finally got there. What an exciting month April was for the club. It started with the completion of the concrete paths and starting slab, followed by the first open invitation in a number of years, where we welcomed other clubs to attend our Fun Fly Day on April 1 and concluding with our Annual Dinner on April 21.
---
Fun Fly Invitation day

– April 1

What a great day this was. The weather gods looked after us for once. Our club was well represented and we were very pleased to welcome some old friends from the North West Aero Modellers and some new friends from the East Coast Radio Control Flyers. Personally, it was great to catch up with Derril Kaye who, along with others from NWAM, were regular visitors to LMAC. The ECRC Flyers, headed by their president Alan Butler were also a very friendly bunch, who were so excited for the visit and by the end of the day were looking forward to the next one. PFL were represented by Wen Nermut who stayed briefly, Nara Tatemsapya and Tony Hogan and his wife, who along with their grandson stayed for lunch. It was also good to see Life Member, Dave Jacobs and his son Tony. Dave is 93 in May and due to giving up his car, finds it difficult to get about these days, so he was very happy to be there and was impressed by the attendance and the models on display.

The flyers from the other clubs brought along a wide variety of models and were very complimentary about our facilities and the welcome they received. We were also joined by some potential new members who had made contact through the website.

Lastly, a big thank you to my wife Kerry. Kerry was asked to cater for the day and the club was looking for something special given the likelihood of a large number of visitors. Kerry didn't disappoint, providing a feast for everyone to enjoy. Roast chicken, salads, pasta, sausages and more, finished if with a seasonal Easter bun! In total we had 40 people attend the Fun Fly and this will now be an annual event at the very least!
---
New Members
As mentioned above, the Fun Fly brought more than the visitors from other clubs, we were also fortunate to have 3 others join us. In early February I received an email via the website, from Jo Green and she asked if she could bring along her son, Micah who had expressed a desire to get into aero modelling. Due to weather and dates not matching up, the first time they came to the club was the Fun Fly day. Jo was joined by her husband Ray and Micah. We soon realised it is a small world, especially here in Tasmania as the Green family were members of the Fun Runs here in Launceston and were well known to Peter Daniel. They engaged with quite a few of our members and I am sure gleaned quite a bit of advice on how to get started. I mentioned to Jo that a southern contact had a number of models for sale, including an E-Flite Apprentice, which would be a great model to learn on, especially with its SAFE technology. With the information in hand, Jo and Ray headed off to Allens Rivulet, about 25 minutes south of Hobart. It was a successful trip it seems, they bought most, if not all of the models that Julian had for sale!
Our other new member, Daniel Heazlewood had visited us a few times and decided it was time to join. I'm not sure what models, if any, Daniel has but we're looking forward to seeing our new members join us over the coming months.
As a result of their visit to the club, we have 3 prospective new members. I say prospective because it would be unfair to sign them up for < 3 months but pay 6 months fees to the TMAA/MAAA. They have submitted their membership applications and we will have another junior (Micah Green) and 2 adults (Ray Green and Daniel Heazlewood) from July 1. I am sure we will all make them feel welcome and give them all the support we can.
---
Mark Holman was busy with his camera and took some great shots, so if you weren't there, these pictures show what you missed out on.
Shots from our very successful Fun Fly day
---
Annual Dinner
Friday, April 21 was the night of our annual dinner. Previously held in late winter/early spring, it was decided to move it to the first half of the year to distance it from the Christmas events. It was another great night at Steve's Grill. Whilst numbers were down on last year, which we thought may have been due to school holidays or possibly an extended long weekend due to Anzac Day on Tuesday? It didn't really matter, the group seemed to have a great night. I found my meal and Kerry's were very enjoyable and by todays standards, reasonable value. If the chicken parmigiana serving was anything to go by, Max would not have to eat the next day (or two)! All of the food and drink servings were interspersed with lots of laughter and banter. These events are great for members and their partners to socialise with others. After all, whilst we are an aero modelling club, we are also a social club, where families are always welcome to join us.
Unlike previous years, last year I didn't manage to get any more than a couple of photos. It was difficult for me to get around the tables, so I thought I'd hand my iPhone over to everyone for them to take a snap of the people sitting opposite. This brought on more laughter as those unfamiliar with the iPhone grappled with the controls. Quite a few photos with fingers showing over the lens, but not enough that a bit of editing didn't fix. Here are the photos from the night. A big thanks to my fellow photographers who helped out. We'll do it all again next time!
---
For Sale
---
World Models Super Sport 40R
Contact Mark on 0428 131 299
Wingspan: 1440 mm
Weight: 5.5 lbs
New 46 size, 380 KV motor, flown once,
Spektrum Avian smart esc,
Spektrum 4000 mah 4S smart battery
Spektrum smart AR630 6 ch receiver.
Price: $400.00 firm.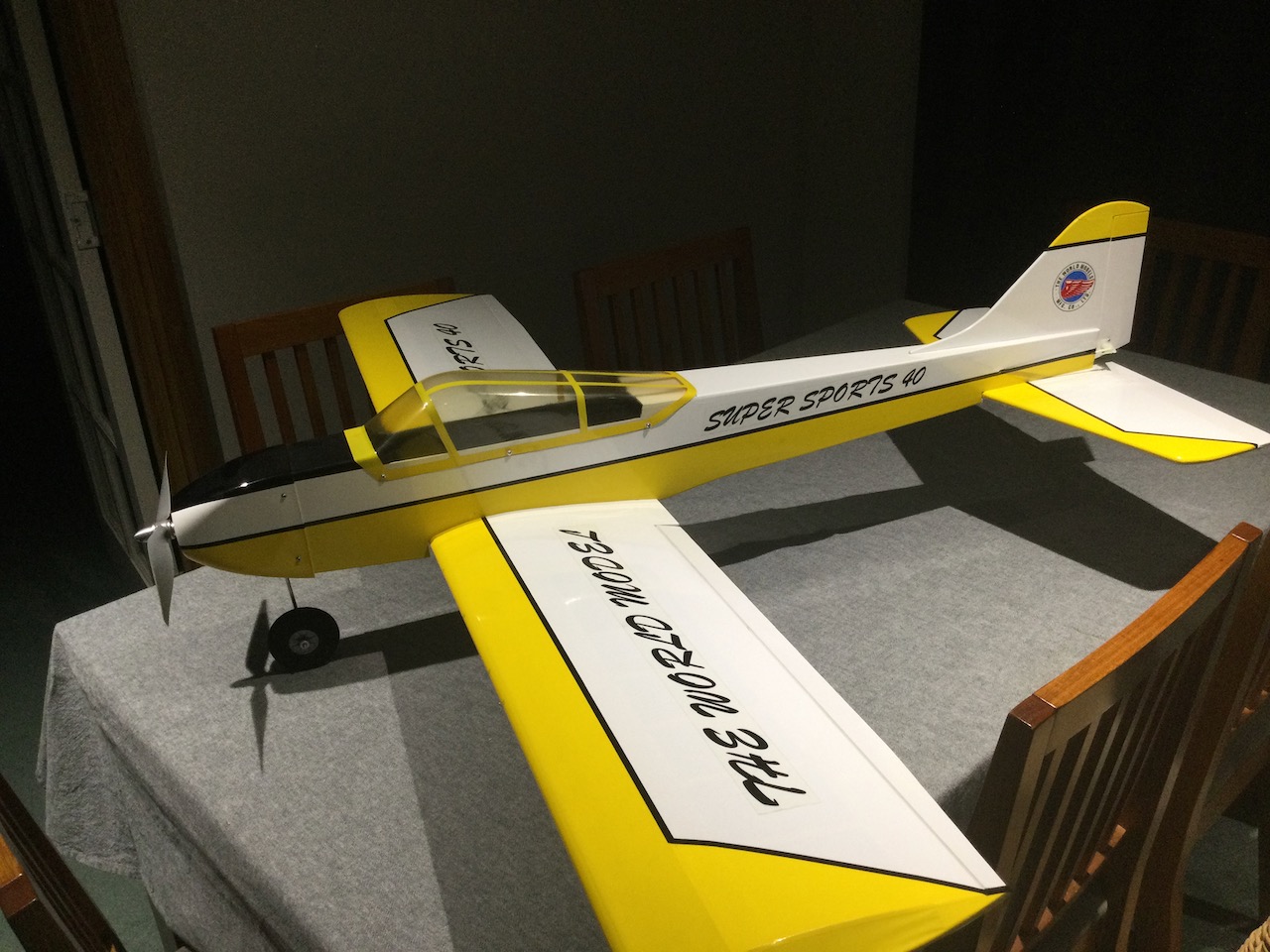 ---
Multiplex Magister – SOLD
Multiplex Magister – R/C trainer moulded from durable ELAPOR foam (more resilient than the usual styrofoam). The Magister is an RTF (Ready to Fly) electric powered package and a great trainer model that looks a bit like a Cessna – if you stand far enough away!.
The Magister is big, simple to fly, and, great for beginner or intermediate pilots. The plane is stable and solid in the air and slows down to a crawl for nice controlled landings. The Magister can handle moderate winds because of its size and weight.
Contact George on 0418 134 672
Wingspan: 1630 mm (64″)
Weight: 5lbs (2.3kgs) (incl battery)
Hyperion HP-Z3019-12 motor
Hyperion 50A ESC
Hyperion Lightstorm 3S 3700mAh battery
Price: Sold
---
A Call to Mid-week flyers – Answered!
Last month's call from one of our newer members, Adrian Hurkmans was answered. Peter Daniel invited Adrian to join the "Relbia Rebels", a group of our members who fly at "Dalness", usually on a Wednesday. Adrian was very happy to join them.
---
Path Project – Completed!
Those that have been to the field would have seen that the path and starting block project has been completed and grass has been sown around all the areas adjacent to the new concrete. The total cost of the project was $5,130. This would have been significantly higher but for the extraordinary contribution of Mark Holman, who spent many days excavating and preparing the site as well as constructing the boxing etc. ready for the concrete finishers to pour and finish the concrete. Max provided regular support to Mark during this time. We were able to lower the cost down to $3780 thanks to a successful application for TMAA funding of $750 and I felt that the concrete pad next to where I park was of little use to anyone other than me, so I contributed $600 towards the project. The path has made access to the flight line much easier. I suspect the path will also get plenty of use during the wetter winter months and not just by me.
Unfortunately we were not able to apply for any funding from the MAAA as the current Club Assistance Scheme (CAS) only applied to projects being constructed in the 2023/24 financial year. We have however applied for CAS funding for the provision of shading for members and their models. We will hear whether we are successful or not in July this year.
With the installation of the pathways, I've personally been reinvigorated to get down to the field again. I'm not sure if my enthusiasm will match my ageing talent, but I've spent the past few weeks converting some of my models to 2.4gHz and the new ETHOS operating system on FRSky radios. I'm excited by the ETHOS operating system. I've watched it grow from its beginnings developed by Bertrand Songis who was one of the lead developers on the OpenTx system. I had the first OpenTx system at LMAC with my Taranis radio back in February 2014. Due to the flexibility of OpenTx, this was the perfect replacement for the no longer supported Multiplex mc4000 Profi radio that I was using since I left the JR camp. I've since moved on from the Taranis (that I still have) to the Frsky "Horus X12S". Frsky are offering high quality radios at a fraction of the cost of the big name brands. My 16ch mc4000 radio cost over $2500 and now my X12S has 16/24 channels for <$500. A great radio (in my opinion), especially as last year I upgraded the RF board in it by installing the latest ISRM board that now runs all the latest ACCESS receivers from Frsky. ACCESS receivers also allow OTA (over the air) wireless ability to bind or upgrade the firmware in the receiver without having to touch the Rx that otherwise might be difficult to access inside a model. I might get enthused and buy the latest Frsky X20Pro (due for release later this year) that will be an upgrade from the current X20S (2.4gHz & 900mHz) Tandem Tx but I'll need to be flying a lot more to justify that.
---
Defibrillator
Still waiting for the defibrillator…….
---
May/June Events – Don't forget to mark your diary!
May 6 – Club Day (Weather permitting)
June 3 – Club Day (Weather permitting)
June 5 – AGM @ Kings Meadows Health Centre. Positions up for re-election

Vice President- currently held by MeiLin Ho
Secretary – currently held by Mick Green
Treasurer – currently held by George Carnie
Committee position – currently held by Max Wiggins
---
From the WWW..
For those that love the sound of the engines on model aircraft, here is a compilation of models for you to admire!
---
BEGINNERS TIPS
I have come across some tips for beginners and with a few new members in the club, I thought I'd share these links with you. When I can, I'll create a special post and series covering all these training videos, which I think are very well done.
BEGINNER SERIES – Launching & Landing
Next Month – Episode 5 Flying your plane
---
Well that's it for another month. Don't forget to send in some pictures of your latest project or what you have stored in your hangar.
Don't Forget – Put a Spark in your life and fly electric!
George