Thank goodness the weather was so good! This was a day that exceeded all expectations with a fabulous turnout for the days festivities. 47 people attended the day; clearly our best turnout in recent memory. Many thanks to all those that attended and a particular thank you to Tony, Will, Peter and Mike from HMAC who risked the weather and came up for the day. A very special thank you to all the LMAC members that were able to attend. The club values your membership and contribution. The numbers will help to fill the coffers to assist in funding our relocation in 2012.
As always, the "Tomboy" event attracted a lot of interest and formed the basis of a great days flying. I counted 14 participants in the event. Not bad for a model that was designed by Vic Smeed and first published in Aeromodeller magazine in November 1950! It is a great sight to see these models all launched at once and not one mid-air as a result. In keeping with the tradition of "Tomboy" events, a couple of minor oversights – Tony Gray switched his Tx on and set the correct model and off he went. Was that the end of it? No – he forgot to "bind" the Rx to the Tx – A trap for these 2.4 users. Next was Dave Jacobs who had everything prepared with his new Pageboy and off it flew – no control?? One of the legacies of the Free Flight days – he forgot to switch it on and being diesel with no throttle control, you don't realize until you let it go and by then it is too late!!
Eagle eyes watched the model sail off into seeming oblivion. Hang on, it's on its way back but just as we thought it was nearing us overhead, the model took another turn south. We watched as it drifted further and further south heading towards the Symmons Plains race track. Fortunately some sink prevailed and the model started to descend – "It's gone it's going to land in the poppies" was the cry. (Obviously the poppy paddocks are STRICTLY off limits so a retrieval was impossible). Then another glimmer of hope as it appeared to be getting closer to the last stand of pine trees in the south near the race track. (Never thought we would be glad to see a model heading towards trees!) The descent became faster and the model appeared to land in front of the pine trees. Dave in the meantime was starting the long trek towards the area in which it landed – at 81 that would not be easy. "Come back Dave" was the echo around the pits as everyone saw it was too heavy going. Then Doug Colbeck and Max Wiggins jumped in Doug's vehicle and headed down the road. 20 minutes later they returned with the model unscathed. A testament to the Pageboy's free flight heritage! Unfortunately Doug missed out on the final electric Tomboy as a result. The price you pay for being chivalrous Doug! At least Doug gets the prize for most considerate pilot of the day!·
Following the "Tomboys" was the Old Timers. Kevin Hay and his Powerhouse, Owen Cameron and the Baby Buzzard, Greg Robertson and his electric powered rocket (masquerading as a Senior 60) and Jacques at the other end of the scale with his electric Tomboy. Fred Willis decided not to fly his Senior 60 due to some fuel feed issues that caused some concern. I think Greg won the Old Timer but I'm not sure of the other scores. John Moody will no doubt post in his report.
Next Kevin Hay readied the T240 for the traditional "lolly drop". Loaded up, the T240 took to the skies however the "bombardier" may have indulged in too much Christmas cheer as the bomb drops were a bit off target. One drop leaving it's impression in Merv Cameron's Jabberwocky! Nevertheless the young ones enjoyed the chase and with Fred "Santa" Willis handing out prizes a good time was had.
The Christmas feast was a feed worth the money. Faye Hellinga added a nice touch donating savouries of cheese, cabana and biscuits that were passed around before lunch (I missed the glass of wine though!) . Thank you Faye. A thank you also to the ladies for their donations of salads and sweets – Gloria Willis, Leanne Hays, Tanya Pearson, Anita Gray and to Alice Robertson for the bread sticks and fruit cake. A big thank you to Kerry Carnie for coordinating the feast and donating various foods also. There were 45 people that stayed for the BBQ and this will help enormously towards our relocation. Thank you to you all! Then came the big event of the day, the drawing of the monster raffle – The size of the raffle had many people eager to buy tickets and this was reflected in the sales. Thank you to all that bought tickets. It would not have been as successful had Kerry not canvassed various businesses for donations and this helped to ensure the raffle was a financial success. The people who donated were –
D'Wayne – Tiger Models
Diane Porteous – Perth Pharmacy
Petrach's Bookshop
Kamelion Hairdressers – Kings Meadows
IGA Perth
Josef Chromy Wines
John & Melanie Van Asperen
Merv Cameron
Fred & Gloria Willis
Greg & Alice Robertson
Bill & Faye Hellinga
George & Kerry Carnie
To cap it off the raffle was won by Chris Klimeck and a more deserving recipient would be difficult to find. As most would know Chris has had a battle with cancer this year and has endured many weeks in hospital, followed up by radiotherapy and chemotherapy. Chris was even delayed getting to the BBQ because of an appointment with his specialist. Let's all wish Chris a speedy recovery in 2012 and hopefully this win was the first in his change of fortune for the better. Second prize went to friends of Bill & Faye Hellinga and third prize went to "Dave the Builder". For those who don't know David, he is a friend of George & Kerry's and every year we have had a raffle he buys a book of tickets no less! "All for a good cause" he says.
With everyone fed and watered, pits cleared of people and models, it was time for the Control Liners to have their fun. Some spectacular flying showing the art of CL is alive and well. Demonstrations by Peter Allen, Tony Gray and Owen Cameron to name a few. A little birdie tells me that after I left Owen C's model met with Mother Earth and has been returned to the workshop for repair. One last mention was Gerry de Groot flying his DLG (Discus Launch Glider). Gerry admits he is still practising the art of DLG but it was evident that as the launches progressed, so did his technique.
With all that variety, it again demonstrates that LMAC is the club that caters for all types of fixed wing flying. If you weren't there you missed a great day. So watch out for next year. However, sadly that was the last Christmas at the site we have occupied for some 24 years so let us hope we can get the same years of enjoyment out of new location when we relocate in 2012.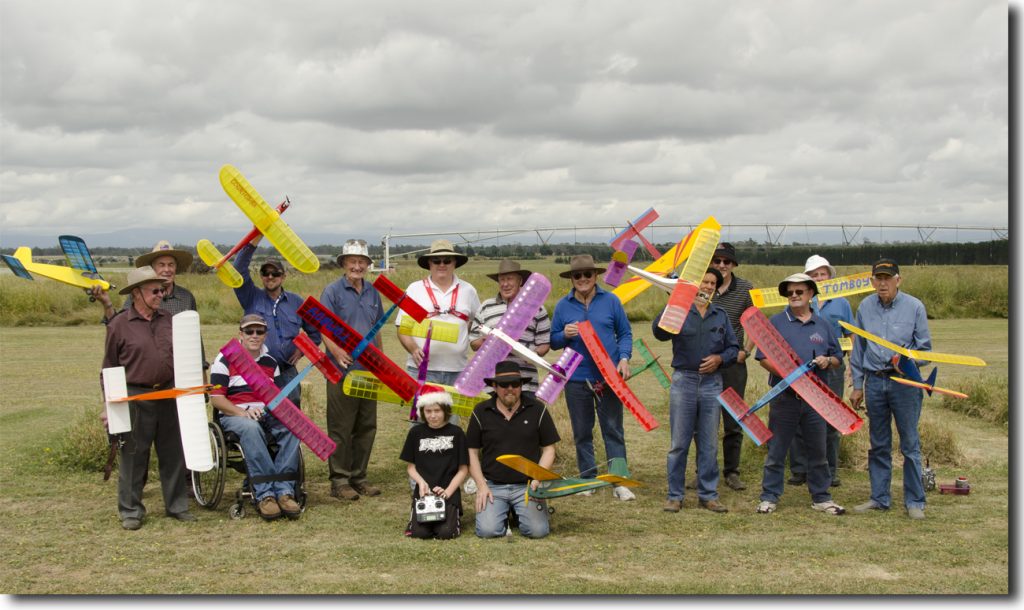 Some more pictures can be found here