Saturday, August 7, 2010
The popularity of the "Tomboy" class has taken many by surprise and to encourage participation, it was suggested that we hold a "Tomboy" event every club day. This was not meant to be a full blown contest but simply a nominated day to ensure members had their "Tomboys" with them and a couple of group flights would be the order of the day. The first of these was to be Club Day in August and accordingly the web site advertised "don't forget your Tomboy".
The week before Club Day I received a call from our friends from HMAC (Tony Gray) and he was keen to join in and we, as always, were very pleased to have their support. As is customary, Tony rang me the night before for a weather analysis and everything pointed to favourable weather for a change! It was hoped Gavin Hallam and his jet would arrive also. Saturday morning and the weather was perfect – let's hope we get a few for Club Day we thought! We were overwhelmed by the turnout – 35 people attended the day! As well as our own members we had HMAC members, including Gavin and his jet who made the trip all the way from Nubeena! We also had visitors from Devonport – word had got around that there was some real fun to be had at LMAC! The turnout was so good that our normal "Club Day" had to give way to a "Tomboy" competition.
Will Deal did a great job of coordinating the "Tomboy" event ably assisted by Peter Groombridge who assisted with the timing and held up the countdown boards. Will has written a report on the event, here is what Will had to say –
Sensational weather, lots of friendly modellers and a record entry of 17
models for the Tomboy event was the ingredient for far too much fun. Models
consisted of Tomboys, Sportsters and Cardinals with many of these finemodels from
the workshop of Greg R. Most were powered by the excellent MPJ
0.6cc diesel, however others included a variety of Mills 0.75cc plus a McCoy
0.8cc and not forgetting the electric Tomboys of Greg R and George C. Merv
Cameron's Sportster was powered by DC Merlin 0.75cc and although a little
hard to start at first put in an excellent flight in the 3rd round.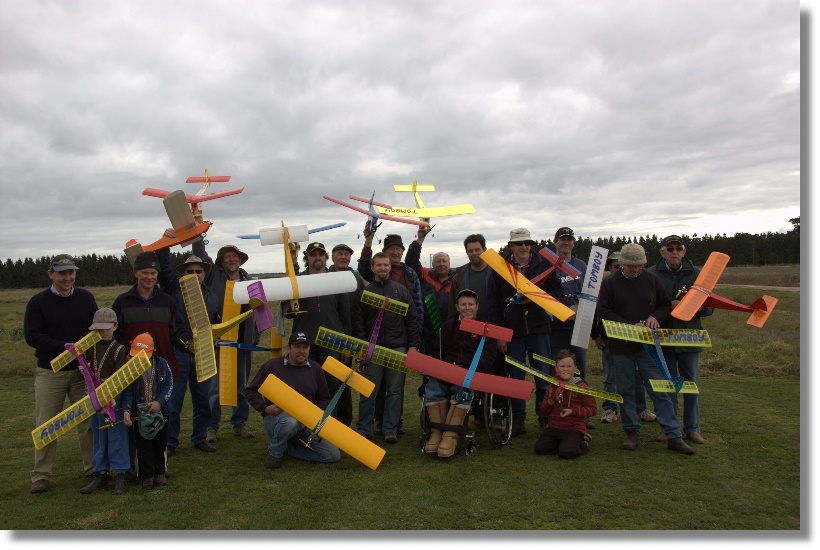 The most pleasing aspect of the day was the fact that all models flew very
well indeed and most recorded excellent times. Only a few had hard luck
stories; Scott Webberley had gear failure in the first round and had to
retire his model for the day, Dave Jacobs had an engine crankshaft fail after the 1st round
and George Carnie had overheating problems with the electric motor in the 2nd round.
After the first round we decided to have an 8.00min max apply to speed up
proceedings. Three rounds were flown with some really excellent
performances. Apologies to Chris & Darren who I failed to call up for their
third round. Top spot for the day was shared by Tony Gray and his son
Anthony Gray, both scoring 3 x 8.00min max, followed very closely by Greg
Robertson and Peter Allen who both had 2 x 8.00min max's.
The superb landings of Owen Cameron and Anthony Gray during the competition
were definitely worth a mention. Perhaps we should allocate extra points
here!
Sportsmanship award to John Jongbloed (JJ) who lent Dave Jacobs his spare
MPJ engine after Dave broke his crankshaft. Unfortunately this MPJ developed
a problem with a loose cylinder head and Dave had to retire for the day.
After the comp JJ set off for the lakes in his new motor home for a spot of
fishing – talk about a good weekend!
Many thanks to Alice, Kerry and Faye for the excellent lunch, you look after
us so well.
Thanks also to Peter Groombridge who travelled up with Gavin Hallam and helped
all day with the Tomboy timing.I understand Peter now has a Tomboy
model which will add to the ranks for the future.

It looks like Tomboy concept is here to stay – serious fun for all!
Stand by for the next Tomboy event – news soon
Regards and thanks for a really top day
Will
The score sheet is here
After the Tomboy events, general sport flying took place however the truth was that most were anxiously waiting to see if the jet would take to the skies. Why not you might ask, given it was a perfect day, calm weather although grey skies? The reason – Gavin was waiting for some wind! Whilst the calm day is always great for general sport flying and especially for the "Tomboy's", it was not ideal for the jet. We had a "heavy track", little or no wind and a very heavy model.Gavin decided to wait a while longer and hope for some wind.
In the meantime we took a trip down memory lane and out came the control line models. I was warned of the likelihood of Peter Allen bringing a control line so a Friday evening call to Merv Cameron and Dave Jacobs was in order to ensure LMAC was represented. Peter Allen put on a spectacular display and demonstrated just what skill is involved in piloting these with amazing aerobatics and speed runs. There is no escaping from this once the model is off and running you are committed until the model runs out of fuel! If you get dizzy turning around a bit – forget control line as we were getting dizzy just watching it.Tony Gray also put on a very capable demo. Dave Jacobs and Owen Cameron brought their control liners along but after watching the skills of Peter A and Tony G, gladly handed their models to Peter to fly. There were cries of laughter and amazement at the display put on.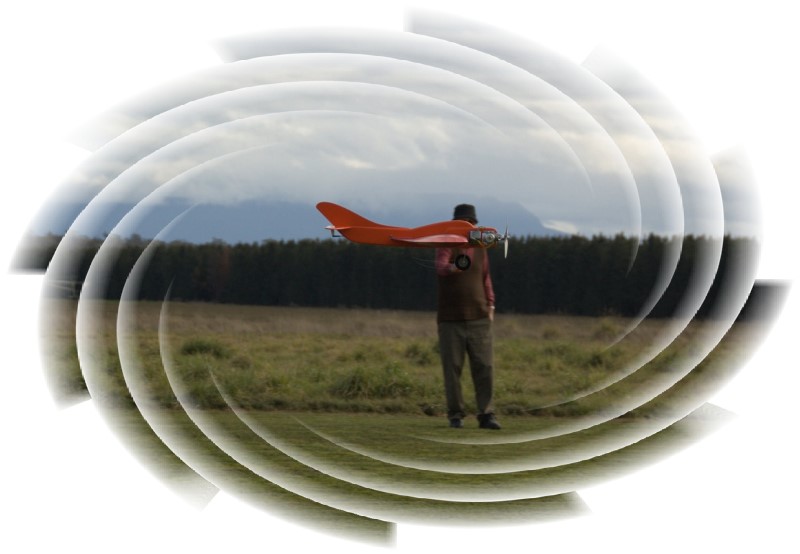 At the conclusion of the control line, we were all still hoping to see the jet. Gavin did a survey of the strip, stepping out the length and thought "let's give it a go!". The air of excitement permeated through the pits. Gavin had hoped to visit a few times but unpredictable weather and a long trip from Nubeena (2.5hrs?) had prevented a revisit in recent months. He was here now and determined not to disappoint.
The aircraft was prepped and brought to the flight line. All the necessary precautions were taken including fire extinguisher at the ready. This is serious stuff! There was a pause and then Gavin was walking back to the pits. A no start we thought? "I accidentally let the air out of the retracts" Gavin responded with a smile. A recharge and all was ready. Gavin was concerned that the wet strip combined with no wind and the heavy model would see the model run out of runway before take off. Not a worry – the jet was airborne and screaming into the air having used up less than half of our 130m strip! What a shame I can't post the sound here – it was exhilarating to say the least. There were young lads with their fingers in their ears but smiles as wide as the runway on their faces. It was beautiful to watch a real miniature aircraft in action. Gavin had the stopwatch going so he could time his runs and allow enough remaining fuel for a safe landing. After a few blistering passes and some fast but also at less than full throttle, the undercarriage was lowered and an approach was made. Everything looked great as the jet lined up the runway and landed right on the edge of the runway and came to a sudden halt. Some minor damage to the struts but repairable..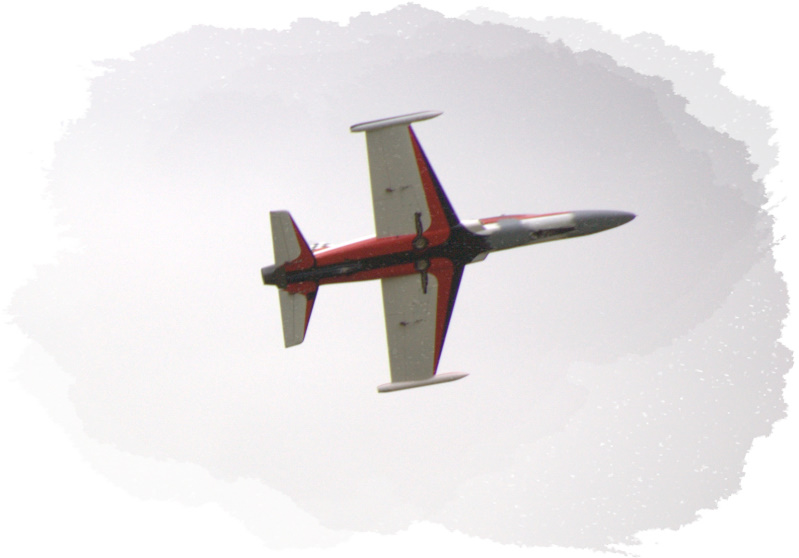 The HMAC fliers then put on a pylon wing race in which LMAC members were happy to man the flags – the pilots again proved how indestructable these wings are!
It really was a treat to see such a variety of models, from old time "Tomboys" to control liners, pylon wings and a turbine jet display, the day had something for everyone. It again proved you don't need the biggest and the best to have a great day in aeromodelling.
To those that may have been concerned about the usurping of our traditional Club Day and there were not many, rest assured this was a one off but we had to seize the opportunity to cater for the majority of those who attended. If you did miss out on a flight, take up the challenge and build a Tomboy, Sportster, Cardinal or similar – you won't regret it!
Just a reminder, HMAC will be holding a "Tomboy" event on August 28. It would be great to see LMAC members reciprocate the support by visiting Kelly Field. A flyer giving details is here. PLEASE NOTE: There will also be a separate Control Line area so bring your C/L models too!!
George
(Photos by G&K Carnie)