The popularity of the "Tomboy" event has not waned at all with new competitors joining the ranks for the February contest. The unpredictable weather kept a few of the usual Hobart attendees at home but Tony Gray, Peter Allen and Will Deal made the journey North. We live at Perth just 10kms from the field and it was "blowing a gale" and I was not confident that the event would get a start – at least not the "Tomboy's". However as we got within 5kms of the field, the wind was dropping.
Thanks again to Will Deal for CD'ing the days activities. Dave Jacobs is normally active in these events and his absence was missed. I called him the following day to make sure his health was okay but it turned out the windy weather kept him at home and he was surprised that the event went ahead. It just goes to show how variable our island weather can be with just a separation of 20-30kms!· Fred Willis is another regular attendee who was missing but the weather and a visit from his brother Wayne kept Fred on the East Coast (I hope the fishing was good Fred and the health is improving). The day was well attended by spectators as well as non competing members. Richard Cooper came and brought along Peter Riall. It was nice to see Peter about after a bout of ill health had him grounded for most of 2010. Let's hope 2011 brings you some good health Peter!
A big welcome to our new members who also attended on the day (yes 4 more new members which is very encouraging!); Doug Colbeck was a spectator for the day (a bit worried Doug that you already have RC gear for sale!) Also one time member Don Gray who has relocated back from the mainland. Next our newest Junior member, George Gray, grandson to Tony Gray had a couple of flights under the expert tuition of "Pop". Lastly, Max Wiggins has rejoined as an Associate, indicating he is looking to rejoin as a Full Member in July. After a bit of persuasion, Max entered his first competition in a long while with his electric Sportster and given the result it may not be his last comp. Terry Pearson is more than happy to take a back seat for day and be the assistant for his grandson and "young gun" Jackson Oliver. With most LMAC members competing Will Deal again carried out the CD duties. Will's report is below. Will reports "a gentle breeze" but if my memory serves me correctly that soon changed with the wind spending all day coming from every direction and finishing the day very strongly from the north. I'll let Will report on the day's competition. (More photos from the day can be found here)
Tomboy
A cloudless sky, gentle breeze, a bunch of "Tomboys", what more could you ask on a February morning! Another excellent turn out with 5 starters in electric plus 8 in IC class. Three full competition rounds were flown plus an all in "last model down" fun fly to finish off the day. Good to have Max Wiggins join the regular flyers with his electric Sportster.
As usual with the Tomboys all models flew well, however the day was filled with rather a lot of "drama". A rather large bird, probably a hawk decided to take an interest in the models of Greg R & Max W. The hawk had a good look at Greg's model then decided he liked Max's Sportster better and decided to attack. After several attacks and some very neat evasive work by Max the hawk finally flew away defeated and Max continued his flight. That was close! Those "powerful" 0.6cc diesels also dished out some knuckle rash to the IC crew with no less than three pilots making a trip to the band aid box. Unfortunately Jackson Oliver missed his final two flights after running out of helpers! Owen C decided to start one of his electric Tomster flights with a 3D display of maneuvers not seen before. Very impressive Owen, but no extra points.
The recently included landing points proved to be the difference in the results in both electric and IC. In Electric Max W missed his final landing points to give Greg R a well deserved 1st place for the day. Similarly Kevin H also missed the final landing to hand 1st place to Peter A's MPJ Tomboy in IC class. As you will see from the results below the results were very close and it is apparent that even with a variety of different models, the difference in performance is in the preparation and flying on the day.
Scores below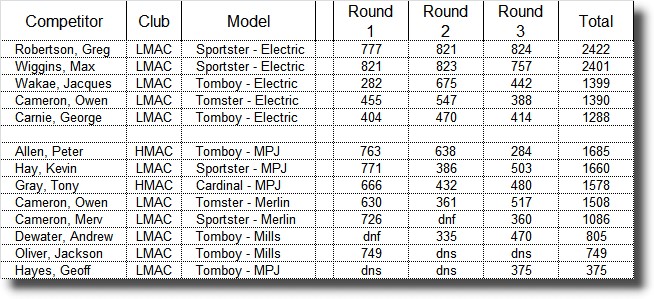 Electric "Tomboy" 1st Greg Robertson 2nd Max Wiggins 3rd Jacques Wakae
IC "Tomboy" 1st Peter Allen 2nd Kevin Hay 3rd Tony Gray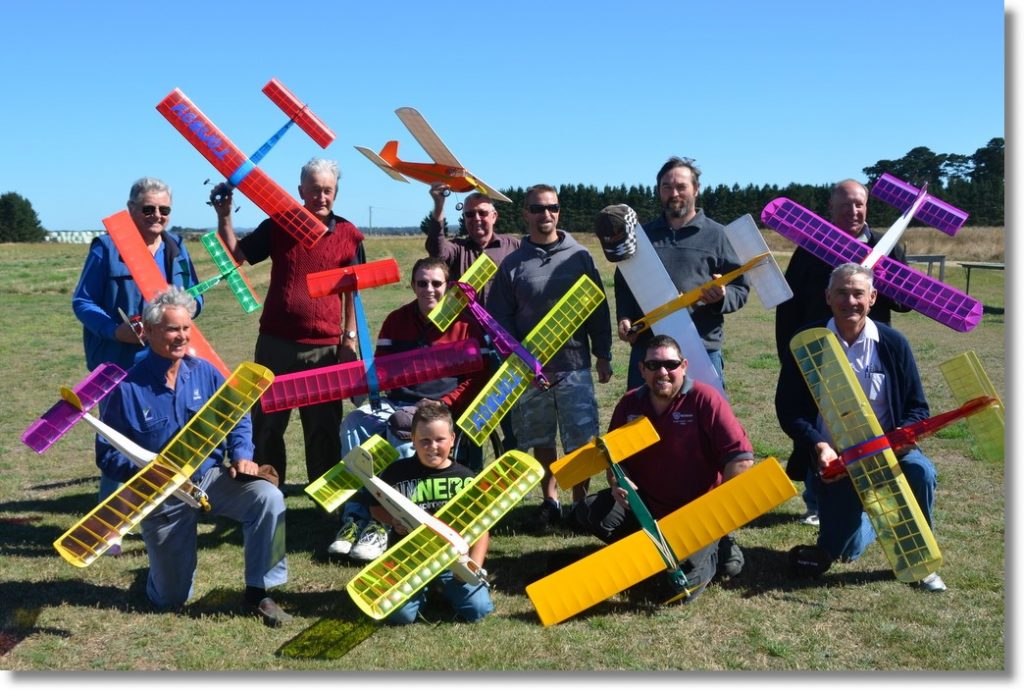 F-Row Tony Gray, Jackson Oliver, Owen Cameron, Max Wiggins B-Row – Jacques Wakae, Peter Allen, George Carnie, Merv Cameron, Andrew Dewater, Kevin Hay, Greg Robertson

With the breeze picking up we decided to finish off the Tomboy's with an all in duration "last down wins" After his duel with the large feathered bird it was fitting that Max W had a win for the day. Final time 9 min 30 secs just edging out Greg R with 9 min 15 secs – well done Max!
Old Timer Duration
The Old Timer event followed the Tomboys with 3 rounds of duration flown. Regular competitors Jacques W (Buzzard Bombshell), Kevin H (Powerhouse), George C (Kavan Phoenix), Tony G (Lanzo Bomber) were joined by Merv C's new model, a superb Baby Buzzard powered by an unused 60 year old ED Comp special diesel. I have to say "drama" as the order of the day with a rather bizarre 1st Round. Merv's unflown BB also decided to settle into some rather eratic 3D maneuvers after take off, missing destruction by "that much" a couple of times before lots of transmitter tweaking enabled a settled flight. Tony G's Lanzo climbed away very nicely, gaining nice height and distance when Tony decided to adjust his sunglasses then somehow proceeded to fly "another model" with the inevitable result – Lanzo down. Wait there's more! Anxious to retrieve the Lanzo from the top paddock Tony decided to drive his car to retrieve the model. Unfortunately when reversing out a very nasty crunching sound echoed across the field. Tony's favorite Cardinal had met a sad end under the rear wheel of the Gray station wagon! After all that the rest of the competition ran quite smoothly. A tight contest emerged between George C and Jacques W after the first two rounds so it was game on for the final round. Unfortunately Jacques had a short battery run in the final leaving the consistent George C the winner for the day.
Scores below

1st Place: George Carnie 2nd Place: Jacques Wakae 3rd Place Kevin Hay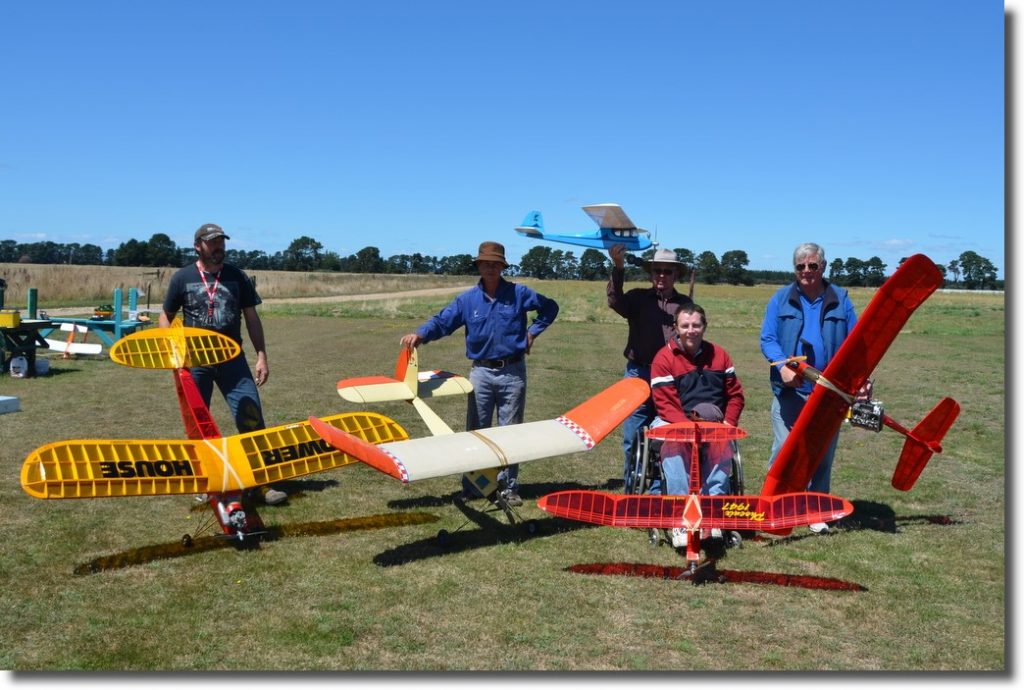 L-R Kevin Hay "Powerhouse", Tony Gray "Lanzo Bomber", Merv Cameron "Baby Buzzard Bombshell", George Carnie "Phoenix", Jacques Wakae "Buzzard Bombshell"

A super fun day enjoyed by all – well perhaps not by Tony! As usual Alice, Kerry and Faye provided us with a most enjoyable lunch, thank you so much. Thanks also to John Moody for helping with CD duties
Next Tomboy event HMAC at Richmond after Easter, date to be advised
Will Deal