I have been asked a few times about a report on the Tomboy and Old Timer event that was held on Saturday, March 17. Many other projects have kept me occupied during the period since then but if I don't put pen to paper (or is that fingers to keyboard?) then another event will be upon us and all will be forgotten, so here goes.
The usual LMAC stalwarts attended complemented by the addition of our friends from HMAC. Our CD John Moody (who would normally write this report), could not attend due to illness and he had deputised Will Deal from HMAC to do the honours as CD for the day. Will managed to second Ross Blackwell as an assistant with Ross relishing the chance to wave a few timing flags and keep everyone on their toes. The weather was a bit variable with winds changing direction regularly but the real challenge was landing on the strip, Recent farm work at Symmons Plains has seen the area surrounding the strip ploughed over and any landing off the strip risked some potential damage. Less so for the lighter "Tomboys" but a real risk for the Old Timer event.
"TOMBOY's"
Due to the absence of my wife and chief organizer (Kerry, who was visiting family in WA), I was a late arrival at the field and missed the first two rounds of the Tomboy. Thanks to Bill and Faye Hellinga for helping me load the canteen food and my flying gear. When I did get a flight in, it was evident that there were plenty of booming thermals around and this saw some of the little Tomboys disappearing into the distance – good eyesight is an essential component of flying Tomboys as is the need to focus on your own model at all times as once up there they all look the same and it is quite easy to "fly" the wrong model! The thermals had me challenged and at one time the other competitors thought I had entered into an aerobatics event with loops, rolls etc the norm for my flight. This resulted in some over-stressing of the fragile wing and a cracked leading edge ended my day after one flight.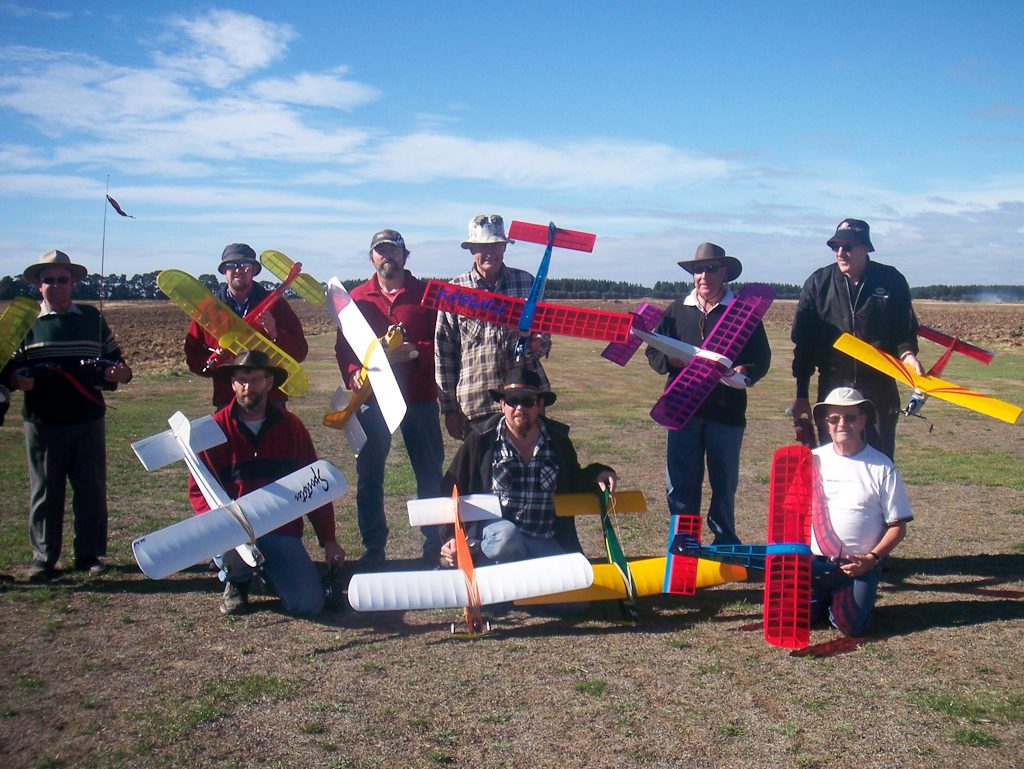 The "Tomboy" entrants. (click to enlarge)
Photo: W. Deal
As can be seen from the table below, I'm not sure we can call this a "Tomboy" event anymore because as you can see of the 11 entrants only 3 were actually Tomboys! However, as always there was plenty of banter and ribbing between competitors and spectators alike. The inter-club camaraderie is always a highlight and we can thank this very low key event for achieving this. Unlike the last few Tomboy events, there were no fly aways that I can recall – it seems the message is getting through to all the free flighters to switch on! CD Will Deal also made it very clear before the launch with a stern reminder "Is everybody switched on?". At times we wondered if that was in reference to the radio or a challenge as to the pilot's mental state! Anyway, four rounds were flown, all before lunch and the clear winner of the "Diesel Tomboy's" was Terry Pearson with an aggregate score of 27.99 followed by a trifecta of HMAC entries; second Peter Allen (23.25) who narrowly pipped third place getter Tony Gray (23.12) and then there was a fair gap to fourth placed Mike Rutledge (15.16). Scoring was based on climb and glide (approx 2m motor time) with a maximum duration of eight minutes. The scoring table is below.
Whilst electrics and diesels all flew in the same rounds, it is only fair to keep them separate from a competition point of view. The Electric's was a no contest with Greg Robertson's "rocket" blitzing the rest of the field (me) scoring the maximum in all rounds except the third round. Not many electrics around with Jacques, Geoff and Doug away. So effectively the "Electric" Tomboys was a non-event.
It was now time for lunch and in Kerry's absence, Faye Hellinga stepped up to the (bbq) plate (pardon the pun) and did the honours by cooking the barbecue. Faye also made sure yours truly was fed and watered. Thank you Faye. Alice also assisted with canteen duties.
OLD TIMERS
After all had eaten and exchanged some wise words during the lunch break, it was now time for the Old Timer event. The wind had picked up a bit but still flyable for all the models, even my lightweight "Phoenix". Six competitors in total, 4 IC and 2 electric. Scoring was based on a climb and glide with a maximum ten minute duration. Only three rounds would be flown in the OT event. Unfortunately in the first round Chris Klimeck's new 85% Lanzo Bomber succumbed to the dreaded spiral dive from which there is no recovery no matter how hard you wiggle the sticks!! This seems to be a known trait of the Lanzo Bomber (just ask Tony Gray!). That was the end of Chris' day. Kevin Hay and his "Powerhouse" took out the honours in the IC Old Timer with an aggregate time of 20.11 followed by Merv Cameron's "Jack Hearn Sporte" (18.76) closely followed by Tony Gray in third with his well worn "Lanzo Bomber" (18.18)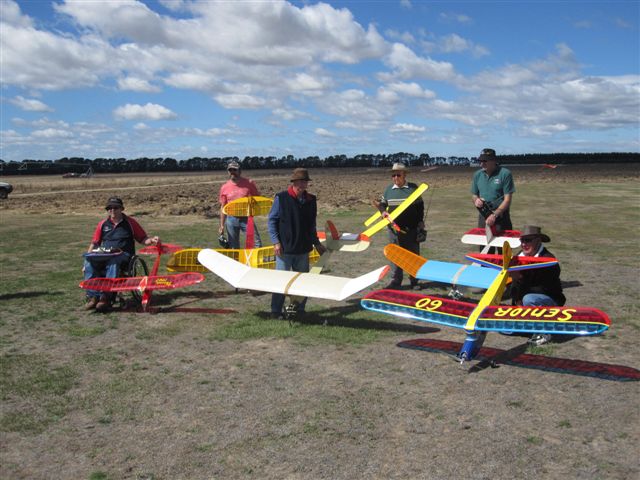 The Old Timer Entrants
Photo: Max Wiggins
Only two electrics in the O/T event. Greg Robertson with his "Senior 60" rocket and myself with my Kavan Phoenix. Greg again left me in his wake with a blistering climb rate and a lovely glide. Greg achieved the maximum 10 mintues on all rounds. (It's not like we can "nobble" his fuel so if there any ideas to get Greg back in the pack, send me an email!). I did not fly in the third round as I was pressed for space in my car and did not bring my charging gear so I decided not to risk a flame out in an awkward place. Scores below.
Some more shots below courtesy of Max Wiggins (thanks Max).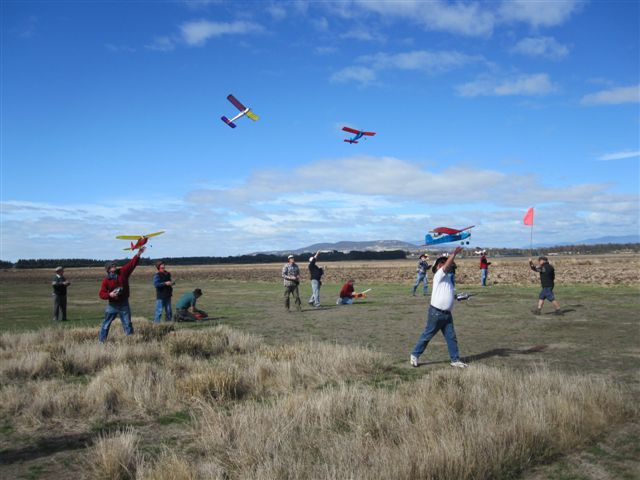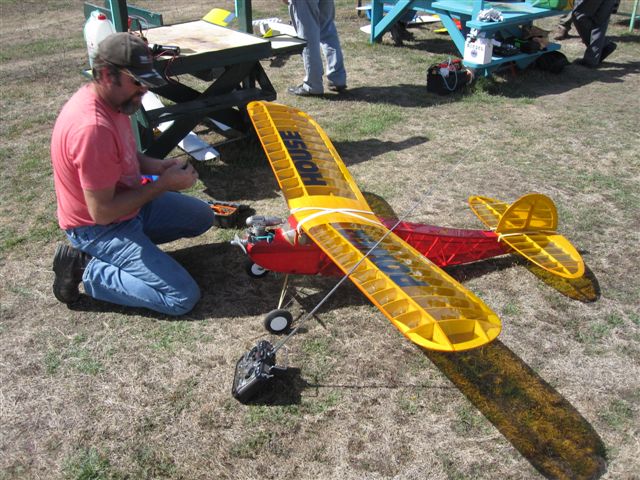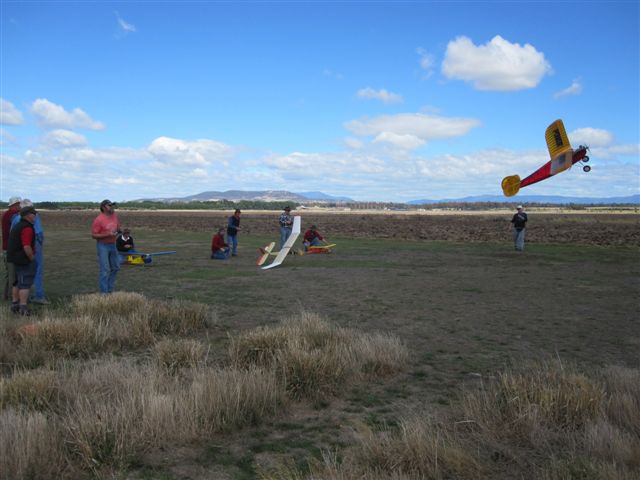 A REAL AEROMODELLER!
I can't finish this report without a little write up about one of our newest members, Jason George (nice surname). Jason has really taken to the hobby and whilst work commitments does not allow him to attend as regularly as he would like, he doesn't waste his time whilst at home. He has shown some great skills in scratch building a few models. Encoraged and assisted by Merv and Owen Cameron, Jason brought out his latest creation for its maiden flight. It was a nicely built and well finished model (Jason's first attempt at covering and a very nice job!). We see many an ARF's at the field and whilst we must accept this as a fact of life in our ever changing hobby, the ability to build a model is still a necessity unless you have very deep pockets because whether we like it or not ARF's can crash and if you've never built a model, then your abliity to repair that ARF properly is significantly impaired. So good on Jason for not only having a go but making a damn good job of it too. Here are some pictures of Jason and his model (Merv, Owen or Jason will tell me the details after they read this). I have now been advised by Merv that the model is a Picolo built from Airborne plans and the motor is an ASP 36. (Photos by George) UPDATE: Jason gained his Bronze wings the following week flying the same model!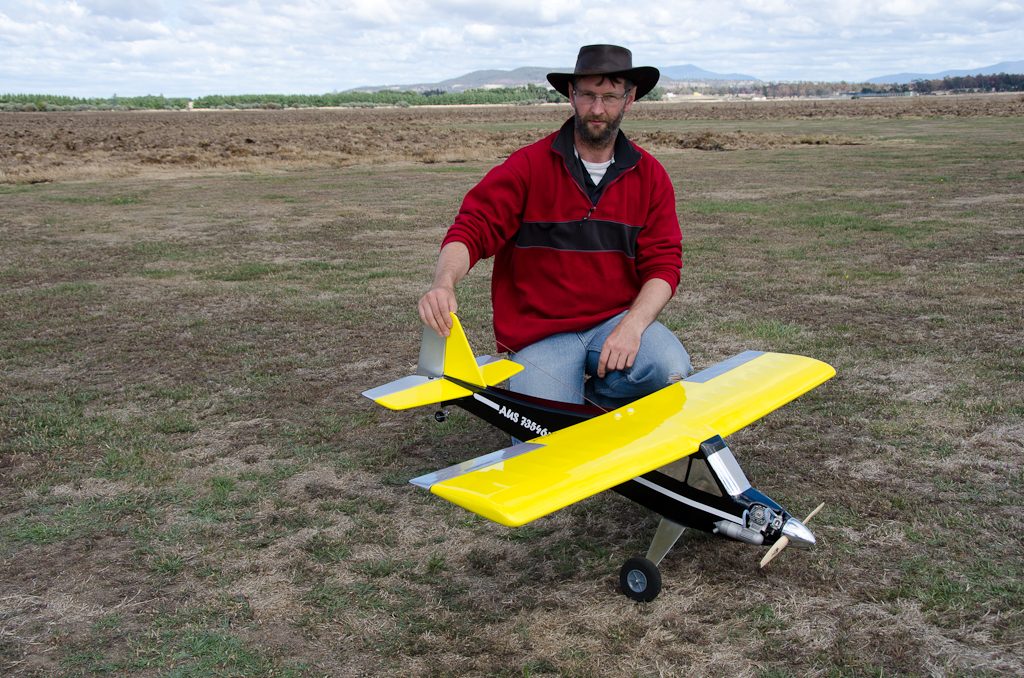 A proud "scratch builder" Jason George
A very striking "Picolo" – Jason likes "bling"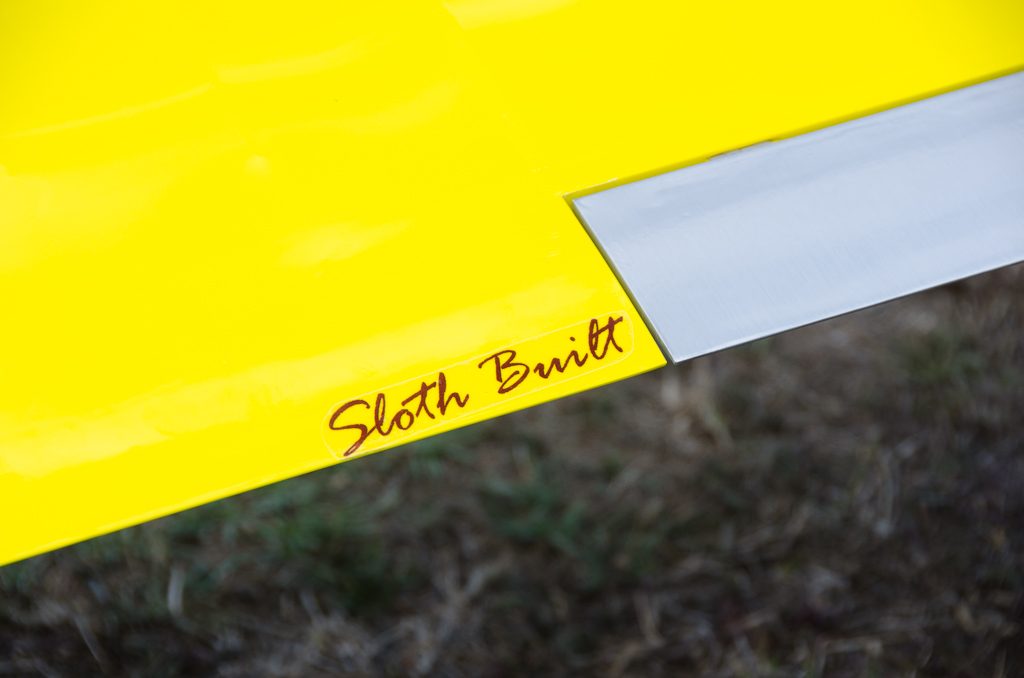 Not sure what "Sloth Built" means Jason?