As I was contemplating writing this report I said to myself "don't preface this with any mention of the weather" because all of our reports seem to start with a tale of the wind, rain or whatever. However the wind was so strong and conditions so difficult, I have no choice but mention it up front. Were it not to be the State Championships, the consensus was that no one would fly but being either foolish or brave we went ahead. The winds throughout the day varied from around 20kph to over 40kph!!
For those not familiar with the rules, the objective is to fly for 5 minutes exactly, maximizing the glide time and land as close as possible to the "spot". Points are awarded as follows – 1 pont for each second of flight time (maximum 300pts) LESS any time over the five minutes, LESS any motor run time (1 point for each full second) PLUS points for proximity to the spot (25 points if <= 3 metres down to 5 points if <= 15 metres. A theoretical maximum points is 325.
Sadly only six entries were received, in part due to the fact that some had written off models whilst practicing in earlier weeks (hello Geoff), one had an hospital appointment for an operation (get well soon Terry), Hobart held a Model Exhibition at the Derwent Entertainment Centre (how inconsiderate) and others found any excuse not to fly. Dave Jacobs did a remarkable job to rebuild his Excel glider after what looked like a total write off a fortnight earlier. Once the model was rebuilt he spent a few hours with me as we tweaked the motor set up and Dave was quick to recognize the benefit of a LiPo upgrade when I demonstrated the power difference. He was using a Hyperion 2220-10 outrunner with a 13×8 folder. His model went from 4850rpm to 6800rpm just by going from a 7 cell NiMh (8.4v nominal) to a 2S LiPo (7.4v nominal). The reason being that the LiPo can hold a higher voltage at a given current level. He was so impressed he took the pack off my hands. Unfortunately when Dave got to the field he found the new wing had a significant warp. He then decided conditions were so bad he wouldn't risk it and brought out the trusty Spirit which was still powered by a brushed motor.
Next casualty was Kevin Hay. I had prepared one of my gliders so he could compete – the Lowatt. He had tried it in the March 6 competition but in an effort to "find the spot" there was some damage to the v-tail and control rods. During the past week I repowered with a Hacker B20-15L and 4:1 gearbox, repaired the v-tail and recovered, repaired the control rod and thought all was ready. Only to find when about to set up the model, the carbon wing tube was missing. and a search could not locate it. We were now down to five competitors.
Greg Robertson: Own design Excel 9, Hacker B40-5L 4.4:1, Hyperion GX3300 2s LiPo
Jacques Wakae: Excel 9 with modified wing, Hacker B40-5L 4.4:1, Hyperion GX3300 2s LiPo
George Carnie: Organic, Hacker B40-5L carbon 4.4:1, Hyperion GX3300 2s LiPo
Dave Jacobs:Spirit, Leisure Gold brushed 3:1, 7 x NiMh
Ian Campbell: Excel 9, Hyperion G3025-06 outrunner, Hyperion 3300 2s LiPo
ROUND 1: Greg R got the event underway and we were all happy for him to test out the atrocious conditions! Greg gave us an insight into how difficult flying would be; No lift, a howling gale and turbulence coupled with ground effect that made finding the strip difficult let alone the spot! Nonetheless, Greg managed 5.04 (5 min 4 secs), 11s motor and 9.6m from the spot. It was going to be a hard day at the office! Next was Jacques Wakae and his result suggested he was flying in different conditions – 5.00min, 13s motor and 2m from the spot! The gauntlet had been thrown down. I was next and by virtue of an overrun of the spot I did another quick circuit (no need for any motor as the wind was blowing enough). Time 5.12, motor 6s and 3.9m from the spot. Dave Jacobs then braved the conditions however the brushed motor proved to be well under-powered for the conditions and Dave wisely retired and saved his model for another day. Well done for turning up and having a go Dave! Ian Campbell was the last competitor of the round and the first with am outrunner configuration. Ian used the now redundant Hyperion G3025-06. This was coupled with a 2s x 3300mAh LiPo, probably a Hyperion but I'm not sure. Ian quickly demonstrated he would be a strong contender with a time of exactly 5 minutes, motor run of 13 seconds and 4 metres from the spot. Winner of Round 1 was Jacques with 312pts followed by Ian Campbell on 307pts.
ROUND 2: Conditions were not improving and with Dave now retired, the remaining four had to battle the conditions. Winner of Round 2 was Greg R with 317pts again followed by Ian Campbell on 312pts.
ROUND 3: The wind was not easy to contend with however it did provide some lift if you cajoled your model into the wind with a bit of up elevator. Not easy with a stall resulting if you got it wrong! Winner of Round 3 was Greg R with 310pts followed by George on 304pts.
A break for lunch was next and it didn't take long for pilots, timers and spectators to make a quick break for the warmth of the clubhouse and a nice barbecue! Thanks to Kerry and Alice for preparing the welcome nourishment. As we all sat in the clubhouse contemplating the next rounds, ears were pricked listening to the howling gale outside. Were we silly enough to go and fly in this – of course we were!
ROUND 4:Everyone was fed and watered and we ventured outside again to fly the remaining rounds. The increased wind, a few spits of rain and it was confirmed; we were all mad! However the round was completed and the winner of Round 4 was George with 309pts, followed by Ian Campbell on 299pts.
ROUND 5: The penultimate round (or so we thought). Winds were now gusting in excess of 40kph! The pilots were getting a bit anxious as no-one wanted to go home with a damaged model. Will we fly – of course we will! Ian Campbell defied the conditions when his landing was right on the "spot"!! Somehow he managed to organize the wind to drop to almost dead calm as he made his landing approach. Well done Ian! However it wasn't enough to win him the round as his motor run was 21secs. Winner of Round 5 was Greg R with 309pts, followed by George on 307pts.
ROUND 6: The pilots were getting uneasy, the wind was howling and very turbulent at ground level (as it was for most of the day). A quick vote and it was decided to proceed. Greg R launched and was nearly completing his flight when on approach the model was being thrown around like a cork in the surf. Greg tried to get his model back on track with a quick burst of motor but that proved to be fatal with the wind combined with power throwing his model back downwind and straight into the ground. The model was a write off. It was then decided to abandon the round.
Best score of the day was Greg R with 317pts. Best time was shared by Jacques and Ian with 5 minutes exactly. Shortest motor run was George with 6 seconds and best landing was Ian C "on the spot"!
The event would not happen without, the sponsors, organizers, timekeepers and canteen ladies. A big thank you to all of you. Last but not least, the spectators that braved the weather at least by turning up you contribute to the club cameraderie and make it all the more wortwhile for the competitors. Ian Campbell summed it up in an email to me where he said –
"Must say I really enjoyed myself at the L.E.G on Saturday with the chaps, in a very cordial environment. All the best, Ian"
Hope to see more of you turn up for our next event. If you don't want to compete at least show some club support by being a spectator or better still a helper, timer or whatever.
The scores round by round are below.
| | | | | | | | | |
| --- | --- | --- | --- | --- | --- | --- | --- | --- |
| Place | Entrant | 1 | 2 | 3 | 4 | 5 | TotalBest4 | Normalized |
| 1 | Greg Robertson | 295 | 317 | 310 | 295 | 309 | 1231 | 3955 |
| 2 | George Carnie | 302 | 286 | 304 | 309 | 307 | 1222 | 3943 |
| 3 | Ian Campbell | 307 | 312 | 293 | 299 | 299 | 1217 | 3907 |
| 4 | Jacques Wakae | 312 | 307 | 293 | 287 | 298 | 1210 | 3877 |
| 5 | Dave Jacobs | | | | | | DNF | |
| 6 | Kevin Hay | | | | | | DNS | |
Here is a photo of the placegetters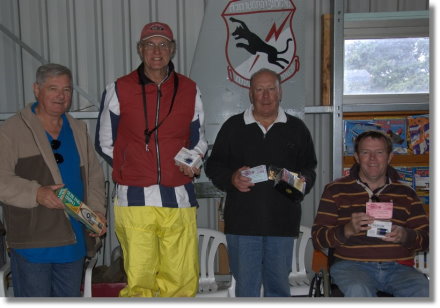 (L-R) Jacques Wakae, Ian Campbell, Greg Robertson, George Carnie
First Place – Greg Robertson – Prize of a Scorpion Motor and a Scorpion ESC kindly donated by Electric Flight in Australia
Second Place – George Carnie – Prize of a Hyperion G3025-06 motor kindly donated by Air Craft World
Third Place – Ian Campbell – Prize of a Hyperion G3025-06 motor kindly donated by Air Craft World
Fourth Place – Jacques Wakae – Prize of a Sealing Iron kindly donated by IC Electronics