I have been very quiet for the past few months and a recent trip to Queensland (Cairns and Hamilton Island) meant that on our return, there was plenty to do, including writing up a few articles on Kevin Hay's magnificent Pitts Special for the RCM News. Only now have I been able to find a few hours to write my HT column! Some of this will obviously be dated but I think it is important to maintain the record of events and include any photographs taken at the time so let's start with July!
(PS: What should have taken a few hours to put together has taken all day (it's now 8:30pm) due to the horrible upload speeds on ADSL My upload has oscillated between 0.1Mbps and 0.8Mbps. The minimum is supposed to be 1Mbps but on cable I could get from 1-40Mbps depending on how much I wish to pay. (Not likey to be available it the Perth village for some years I suspect). If you don't do much uploading to the internet or Skype/Facetime, you probably don't realise how frustrating our archaic internet network in Australia is). Okay, I'll get off my soapbox.
---
CLUB DAY – July 5
The weather gods were frowning on us on Friday night with plenty of rain during the evening and into the wee hours of Saturday. The early forecast was "Clearing showers, chance of a storm". The consolation was that the wind was forecast at no more than 15kph. However with the promised visit from our Hobart friends, Club Day was "on" no matter what the weather threw at us.
The usual SMS's went out on the Friday and we were pleasantly surprised with the number of "Yes" responses, despite the poor forecast.
Kerry and I arrived a bit before 10am and half the Hobart entourage were already there! Fortunately, Ross Blackwell was there to open the clubhouse for them although he couldn't light the fire as the matches had succumbed to the damp air. We soon found him the gas BBQ lighter.
The Hobart crew were our old friends under a new name – The Roaring Forties Aeromodellers" (RFAM). I thought, "I know some of them have been around a while but the 40's?"
A new visitor from Hobart was Tony Shepherd. Tony is the secretary of the RFA and brought along an impressive "Pilot" Extra 330C (if my memory serves me correctly?). Tony had no problems giving Kevin Hay the sticks for Kevin to get a "feel" for the model. Tony welcomed input from Kevin, who has had a lot of experience with this type of model and it was evident that the conversations were going to continue in the future. Tony expressed his appreciation at the support given by LMAC members.
Merv, Fred, Tony Shepherd (RFAM) and Kevin H.
Later in the day they demonstrated that the Roaring Forties was appropriate when they pulled out some pretty slick "pylon like" racers called "Rare Bear Funfighter". They soon caught the eye of a few of our guys who were lining up to find out where they came from. They are almost indestructible, however Mike R had a major out landing (aka crash) and it came back with the motor hanging out of the nose! These "Rare Bears" are from Hobbyking (where else?) and in various configurations from "funfighter" to "pylon racer". For a cost of about $US100 for the top end "Pylon" model, you get the following –
Wing Span: 620mm
Length: 535mm
Flying weight: 345g
Prop: 5.5×4.5 (3pc Included)
Motor: 2825-1950kv Brushless outrunner motor (Included)
ESC: Hobbyking® ™ Blue series 30A (Included)
Servo: 3 x Hobbyking® ™ 8g /1.2kg / 0.12s (Included)
Lipoly: Turnigy nano-tech 850mAh 4s 45c Lipoly Battery (Included)
Not bad for around $100!
Just add your own Rx and you have a 120mph rocket!! More details of the various options are here.··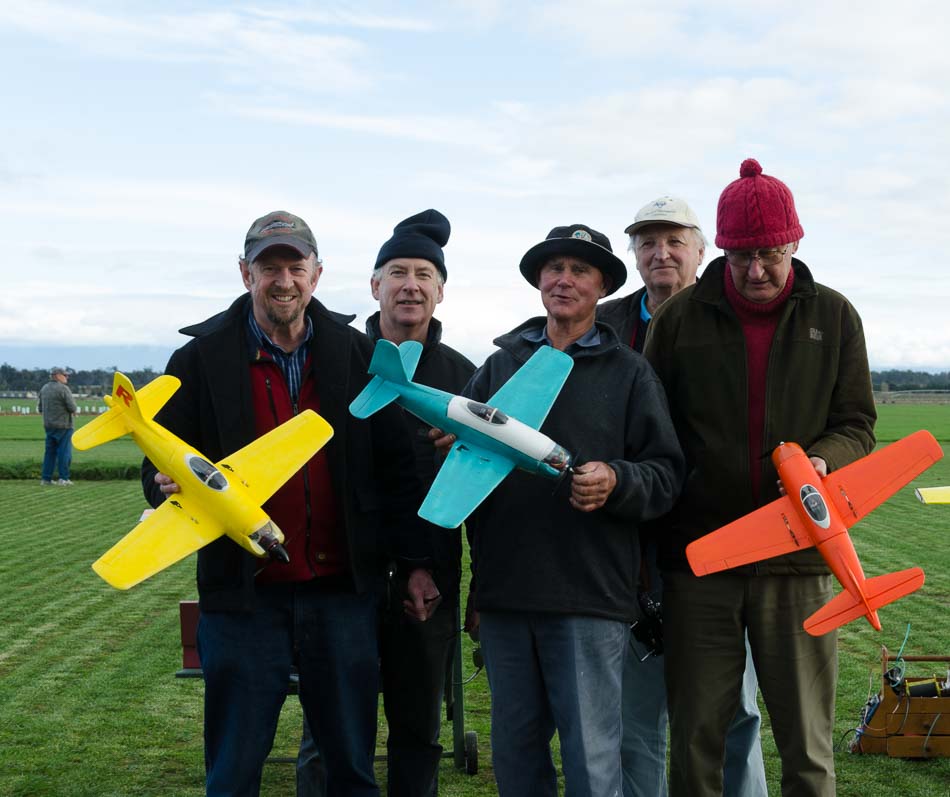 The "Roaring Forties" and their "Funbear" models from Hobbyking
Other RFA members joining Tony Shepherd were, Tony Grey, Will Deal, Mike Rutledge and Peter Allen. It was great to see the camaraderie enjoyed over past years, reinvigorated under the new club.
Ross Blackwell brought along a new model, a "Top RC Hobby" Sky Cruise electric glider. This is a 2.4m glider powered by and electric "pod mounted" motor. The model flew well but certainly wasn't "over-powered" and climbed quite sedately. Ross had fitted a video camera to the nose of the fuselage and has promised to share some of the video. More details can be found here.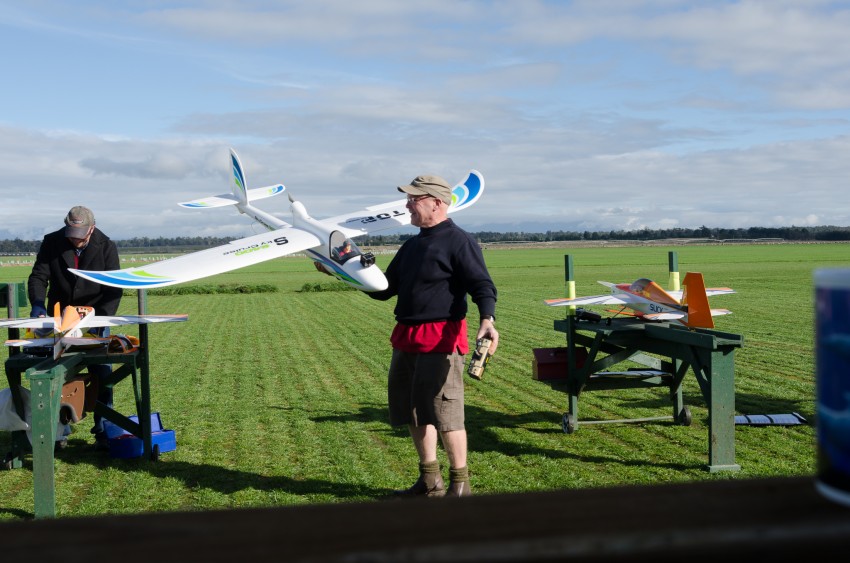 Ross Blackwell proudly displays his "Sky Cruise" glider c/with camera.
Geoff Hays brought out his Piper Cub but I can't recall seeing it take to the skies. Dave Jacobs brought his IC pod mounted glider and the ever-helpful Terry Pearson got it in the air.
Will Deal sent this email after they arrived back in Hobart –
Hello George,
A really top day on Saturday, we were lucky with the weather – it rained non stop after we arrived home till lunch time Sunday. A few photos –· note Tony G,· Wind S with glow igniter still attached at the end of the flight! (I think we advised all about that). Tony S had a great day and was really impressed with the help offered and also the camaraderie between the troops. Regards, Will
As I said before, great to have the Hobart boys join us and we enjoyed their company and banter!
---
CLUB DAY – September 6
This was another great turnout with picture perfect flying conditions. Since July we have had the pleasure of welcoming 4 new members, Peter Miller, Rodney Kreutzer and the Barrenger twins, Henry and William. We welcome all of them and what a pleasure to have two juniors join our ranks! Without the injection of youth the hobby has no future so we welcome William and Henry and we hope they are here for many years to come.
Whilst they had been around the club for a little while, I had the pleasure of meeting three of our new members, Rodney, William and Henry for the first time on Saturday. We have had a few juniors join over the years and we have welcomed them all but I cannot recall such praise from the members who have met these boys. Words like "so polite", "their enthusiasm is infectious" and "they are so well spoken" are just small examples of the anecdotes we hear. (Maybe because they came in two's?) However the classic was when there was a suggestion from their Mum that now that they were flying the club trainer that an upgrade of their own models (the foamies) might be in order and their reply? "Oh I think we're fine with the foamies and the club trainer will do us for a while yet". You don't hear that very often from young teenagers. Clearly a credit to their parents.
Add to their impeccable manners, they are very quick learners too! They arrived with foamies and are now relishing the new club trainer, the Boomerang 60 (in part sponsored through funds we secured through the TMAA). They have taken to this like "ducks to water".·
Our instructors are also very enthusiastic, Terry P who has mentored the boys from the get go and Kevin H who occasionally gives Terry a break and joins in the tutoring. Well done to Terry and Kevin. The boys are like sponges, soaking up every bit of knowledge they can from every conversation they engage in.·However I did detect an element of disappointment in the boy's voices when they informed me that they would soon be involved in Launceston Grammer rowing because it occurs on a Saturday. Never mind lads, your education comes first and hopefully the absence will make you all the more eager to return on whatever free days you have. Here is a picture of William and Henry alongside the club trainer.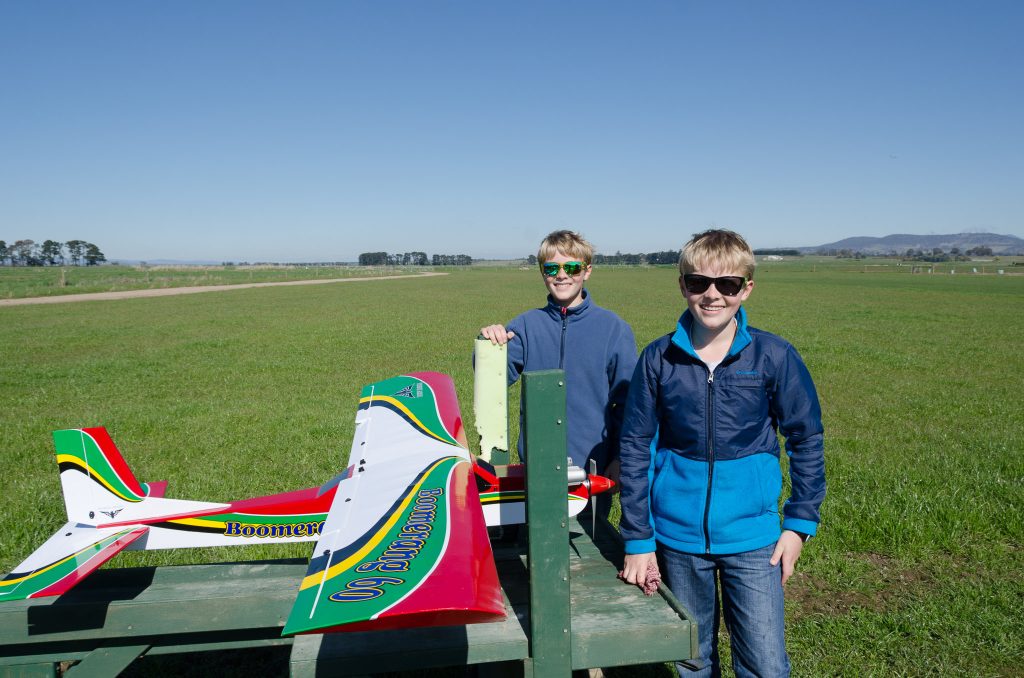 Our new "Recruits" Henry & Will. A couple of smart young lads we're very pleased to have on board.
Rodney Kreutzer, our other new member, brought along a couple of models, the second of which was a very impressive P51 Mustang. I'll let Rodney tell us about it in his own words.
"The model is manufactured by Phoenix Models. I've fitted it out with Hitec servos and Rx, air operated retracts on mains and the tailwheel. It has a DLE 55-RA·with rear exhaust (makes a tidy cowl setup with the exhausts coming out underneath Ed.). I have fitted a Biela 4 bladed prop." "The four bladed prop adds that scale realism and it's great to see it used rather that just for static", I added. Rodney agreed, "Yes, I'm not really into swapping out props for display and flying and not only does the four bladed prop look the real thing but it flies well with it too. I get about 10 minutes flying with a little in reserve. The model weighs in at around 10kgs."
Welcome Rodney and it is great to have new members and nice to see some new models in the pits too. I'm sure you'll all agree that Rodney's P51 shown below is a nice looking warbird!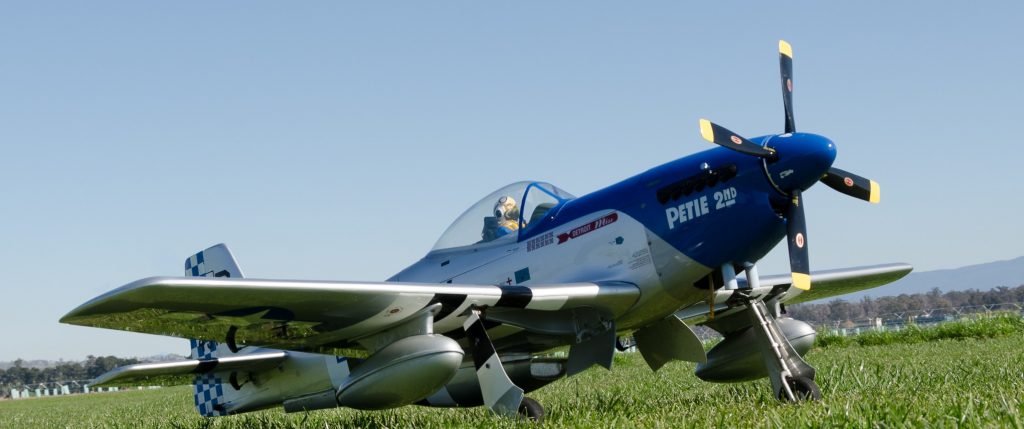 Rodney Kreutzer's impressive Phoenix Models P51 Mustang
Other models flown were Dave Jacobs' Auster (Terry Pearson again doing the honours). Merv Cameron brought along his Lazy Ace but the only shot I got was the two of them resting on his flight table (Lazy Aces maybe?).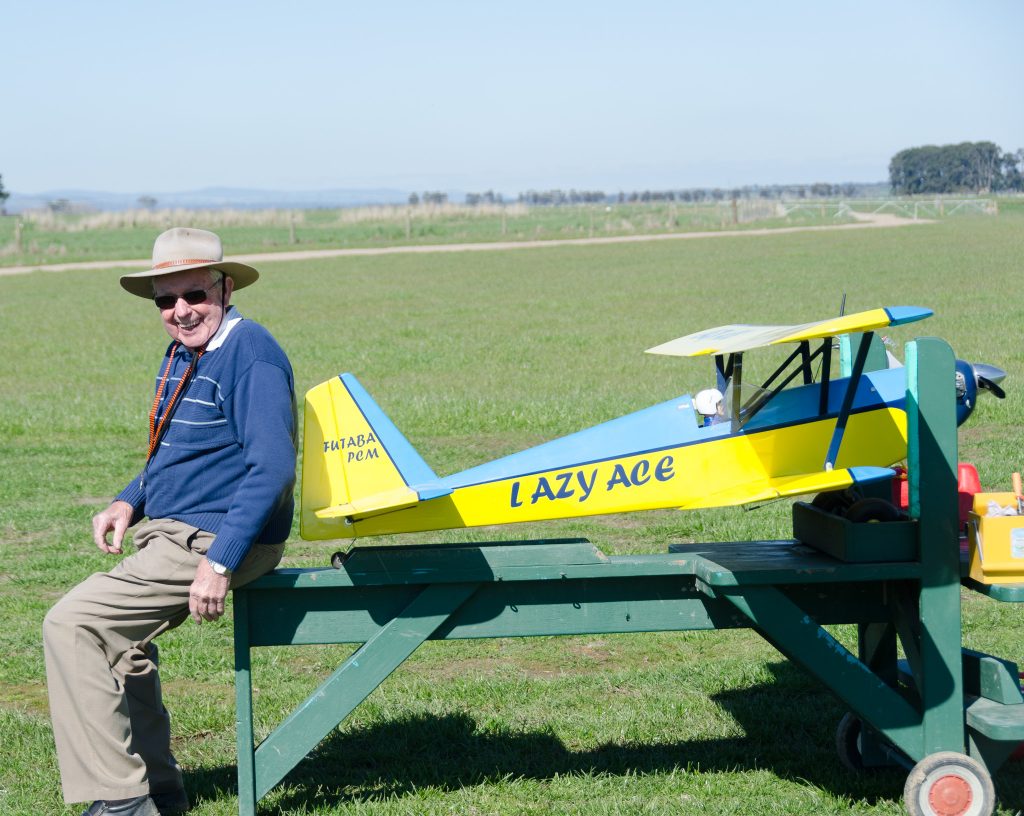 Merv Cameron and the "Lazy Ace" – Looks like neither is going anywhere in a hurry!

Kevin Hay brought along his big Cessna for another run as he did some more tweaking of the set up. Kerry noticed the pilot and took a close up. I see he has a ZZ hat on but he looks more like a deposed prime minister (K Rudd).
The K Rudd lookalike in Kevin Hay's Cessna Aerobat
Fred had a few issues with his Duster and at last glance he and Kevin H were replacing a servo but I understand it eventually took to the skies with Kevin throwing it around and having some fun.
Richard Cooper, another member who regularly supports Club Day, brought along a few models, one of which is his favourite foamie biplane from Hobbyking a Durafly™ HyperBipe 900mm EPO (PNF) pictured below.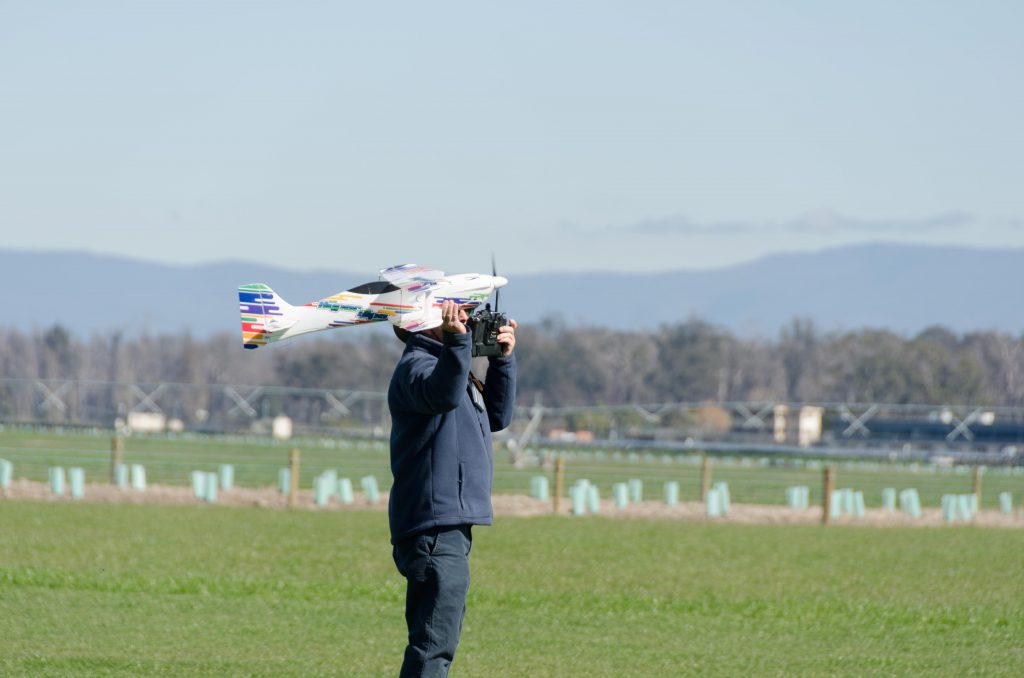 Richard has reported a recent mishap at home with his biplane –
I have just (accidentally) landed at the top of a 25 Metre tree with my favourite Biplane, which is a bit frustrating, as it is an old bushy wattle. ·It will have to wait for the next gale to blow the plane out of the branches.·Hopefully the electronics will survive. ·The only bits that floated down were a wing strut, the battery and servo covers all are from the under surface, and the motor is still working. ·The sound of the prop cutting twigs was how I eventually located the plane because the canopy of the tree is quite thick. ·Pilot error is very irritating, I find. ·Strangely this is only the third tree in that area that I have landed in: the last time was 4 years ago.·Fortunately the safety cut off feature was working, so turning off the transmitter has not resulted in further motor or servo running. – Richard
I received another email from Richard Cooper and it read –
After everyone had gone home, following active instructing with the club trainer and many flights by a good turn up of members, two of the instructors were flying an L shaped course together, to demonstrate some precision turns. ·A careful slicing of said tail plane in an attempt to remove the rudder and part of the fin resulted in no apparent change to the skilful completion of the demonstration pursuit by the victim, with a good landing by both pilots! ·All in all it was an excellent day. This shows the shredding cuts better, in their inevitable progression across the left tailplane surface toward the fin. As said earlier, a very accurate shredding operation, and all above ground so to speak. A very skilled flying demonstration by both pilots. The parts were recovered by Max from the immaculate flying field after very smooth greaser landings by both pilots.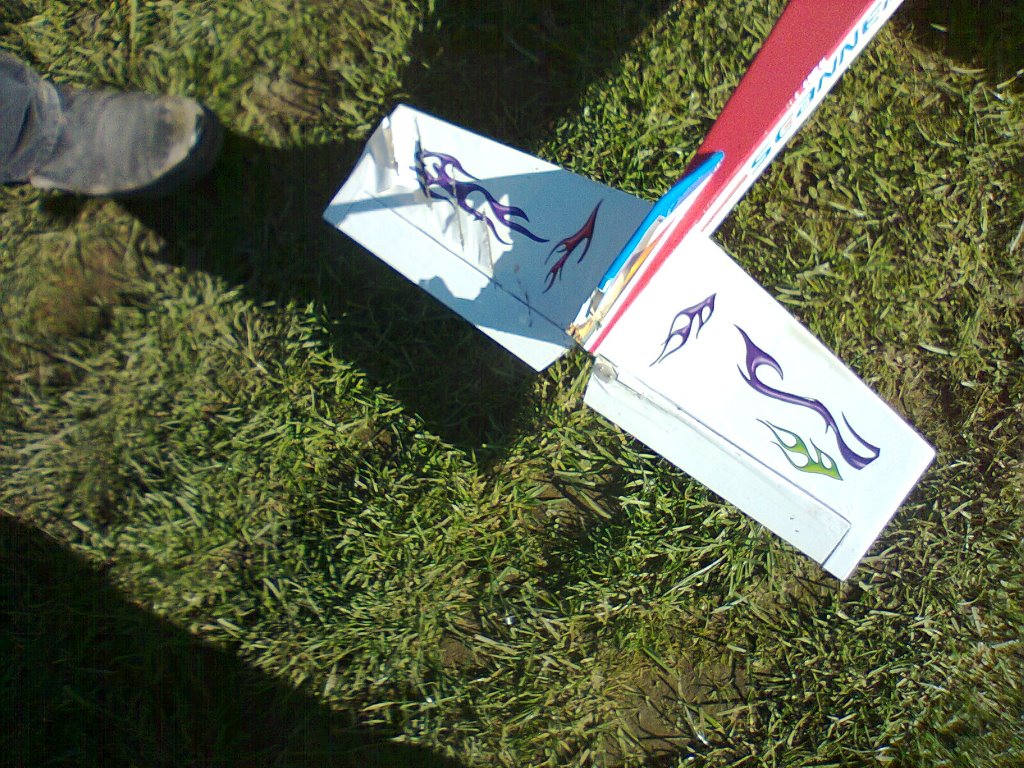 Take note of the prop slash marks across the stabilizer and the missing rudder!!
A big thanks to Kerry for putting on a BBQ "with the lot". The fare included home made hamburgers, sausages, chicken kebabs and salads, Not to mention the servings of cakes afterwards, Thanks to Faye and Alice for their assistance on the day too. Hopefully it won't be so long between editions of Hangar Talk.
Until next time…. Put a spark in your life and fly electric!
George