Emails Received
Every month I get a few emails from members showing their latest projects. Here are a few received this month. (Keep sending them in!)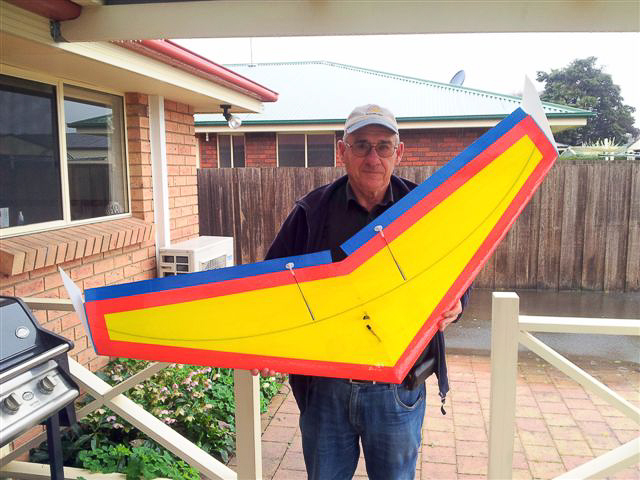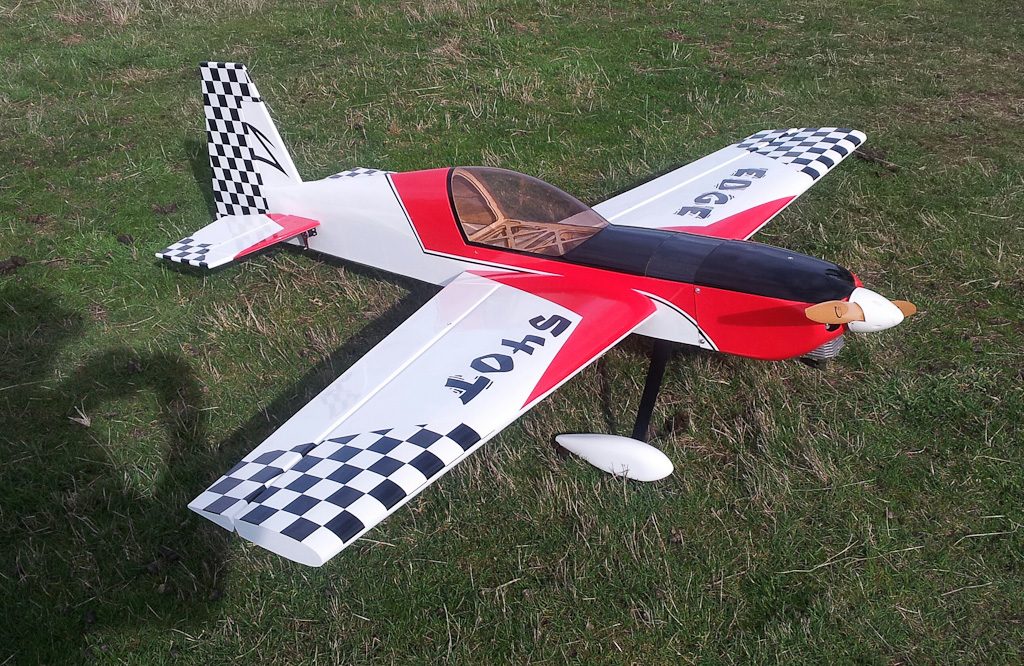 Lastly there is Vince Burling's latest "model" Vince has to get the award for the most scale like aircraft in the club as this is a full size "Light Wing". The Light Wing is an Australian made aircraft. I think this is the GR 912 version. It has a wingspan of 9.5m, a cruise speed of 85knts and a range of over 3 hours on 2 x 30L tanks. This is an aerial shot of Vince flying it!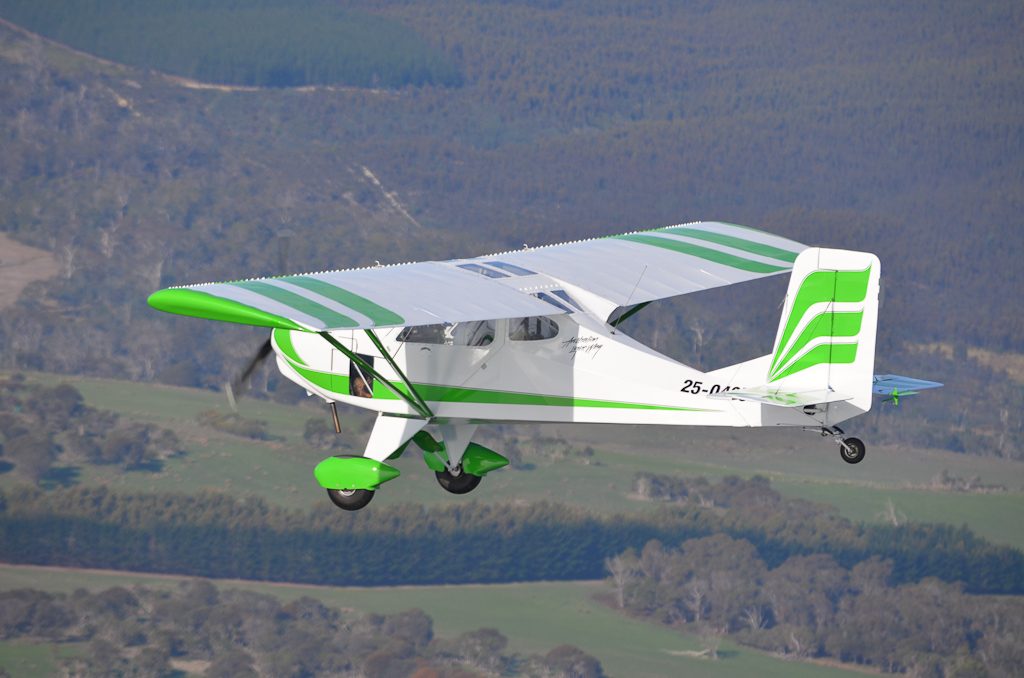 Rain and more rain!!!
I know many will be disappointed with the constant interruption to our flying hobby but spare a thought for those who's livelihood depends on milder conditions. The property owners inform me that this extreme rainfall has prevented many crops from being planted. Poppies had been scheduled but could not be sown due to the excessive rainfall. I have kept records of rainfall since I moved to Perth and August 2013 was the wettest I have on record at 223mm (almost 9"). Add to this another 2.5" in September (so far) and you can see why it is a bit wet under foot. Fortunately the new site drains pretty quickly and with a bit of wind and sun should be fine.
However the view is that the strip refurbishment planned for late winter early spring will now have to wait until autumn 2014 as the surrounding wheat paddock is still very soft and trucks will not be able to access the strip for some time. When it does become accessible, the likelihood is that we would be trying to nurture the new grass in the summer. Not to mention this would adversely impact on our already depleted contest calendar. The landowners, who are the experts in growing things, agree that an autumn sowing is a better idea.
September 25
The AOP9 Auster sale concluded with the successful bidder being John Keep who is the president of the Tasmanian Aeromodelling  Academy. John had the best offer at $505 and all of these funds go to the club due to the generosity of the model donor, Mick Green. These funds will be used to purchase the equipment required for the IC starting stations and tables.
September 23
Geoff Hays and Terry P erected the fence around the front of the clubhouse. This will keep any sheep off the veranda but more importantly serves as a boundary line for visitors and prevents access to the pits etc.
September 20
The new ride on lawnmower has certainly made light work of the expansive areas we now have to mow however the problem with all new mowers is that they are designed not to cut too low. Originally we thought we would follow another club's lead (who have the same mower) and modify the standard blades to cut lower. Kevin Hay who's expertise is in all things mechanical, suggested this was fraught with problems and had another idea – add a lowering block to the existing mount. The result – less moving parts (lower wear) and we can continue to use standard blades. Excellent idea Kev!
Kevin organised KR Machinery to make the blocks and Terry Pearson took charge of the fitting. So on Friday, September 20 with the new blocks and assistant Bill Hellinga, the new blocks were fitted and now we can mow the strip with the new mower just like a No1 haircut!
September 14 – Club Day at last!!
It is often debated whether to defer Club Day due to prevailing circumstances, e.g. weather, public holidays or in this case voting day, can pay off. Well the decision to defer was proved to be the right one. Outstanding weather, almost picture perfect conditions and a very good turnout of members. Again I decided to use the SMS method of contacting members telling them club day was on and asking for their confirmation of attendance or otherwise. 99% of those contacted responded – so thank you. Feedback has been 100% positive with most citing the welcome "reminder" and the ease of reply. From a catering point of view it is a big help.
Twenty-two in attendance which was a reflection of the SMS reminder, the great weather and no doubt the biggest driver of them all – "I just want to have a fly"!
There was a wide selection of models present on the day. The most unusual and amusing was Doug Colbeck's "Little Bug" from Hobby King. Doug wanted to build his first model and so he bought this kit with interlocking parts. The wing presented a few issues with unintended wing warping built in so it was back to Greg R for a re-cover. There was much amusement as the model was about to do its maiden flight. Doug tried a runway take off. Ground handling proved a challenge, as did keeping the model out of no fly zones. "Keep the power on Doug!" were the cries from the gallery. Back to earth and another shot; this time with a hand launch by Greg R. Eventually the model flew quite well, however most observers decided it would not be on their shopping list.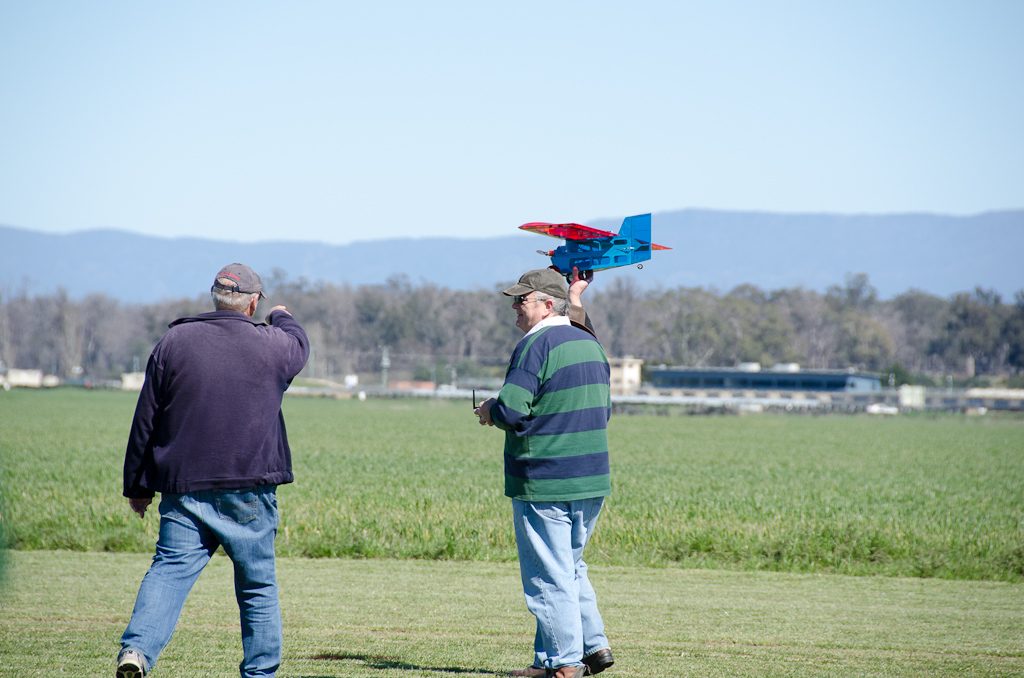 Mal Watson brought out a couple of gliders; a Parkzone "Radian", which has proved so popular on the mainland that the AEFA (Australian Electric Flight Association) has created a postal competition that runs for most of the year. The other model was a Multiplex "Easy Star". Malcolm has used an unusual set up for the ESC, mounting it on the top of the fuselage. No problems with air cooling there Malcolm!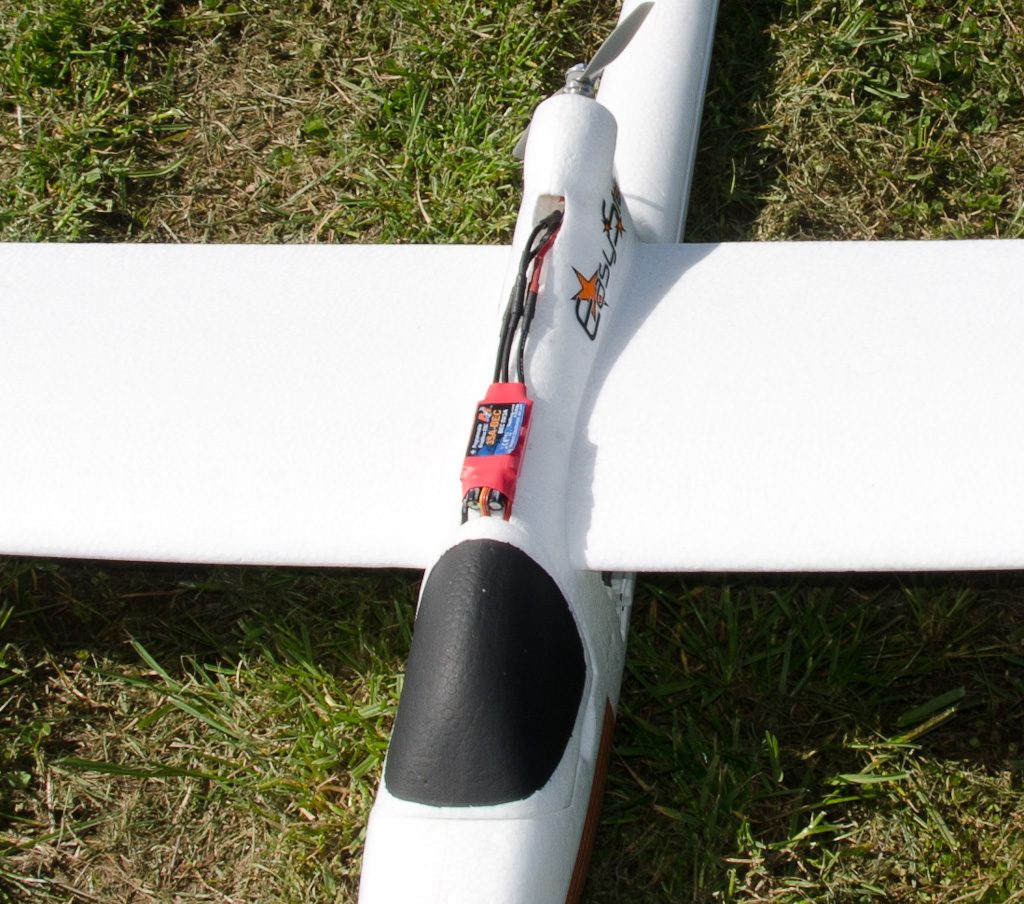 Vince Burling brought along a couple of models and demonstrated some nice 3D skills. He is also spending some time training May Lin who is progressing well. Vince is using the new Assan wireless buddy box system and it appears to work very well. It is nice to see the opposite sex being represented although Kerry, Alice and Faye showed no desire to follow. "We'll stick to making lunch" said Kerry.
Talking about lunch, Kerry has decided to go back to homemade burgers and those that tried them welcomed this. The butcher shop burgers were initially okay and reduced the workload but in the end you can't beat homemade. To cater for other tastes, freshly made sandwiches were also added to the menu. Some were obviously hungry as they bought these before lunch and included the barbecue fare as well. As a result the canteen funds were given a boost on the day.
The day finished at about 3pm as the crop dusting pilot paid us a visit to inform us of his schedule and we advised him we would naturally cease flying for the day.
Some more shots from the day.
September 12 –  Charging Station gets its first test and passes with flying colours.
Max Wiggins and Kevin Swiggs tried out the new electric charging station and they both gave big thumbs up! Both Max and Kevin were able to observe that whilst there batteries were on charge, the solar panels were keeping up with the demands of their chargers and there was no drain on the storage batteries. Max commented that it was a first class set up and acknowledged that the club had ensured that the equipment installed was top of the line equipment. The equipment finally installed includes the following –
•    215W Solar panels 1 x 65 + 1 x 150W
•    2 x 6v 225Ah Industrial Deep Cycle batteries
•    1 x OC-SR30 : 12 Volt – 30 Amp Solar Controller
•    1 x 50A and 2 x 30A fuses.
This set up, allowing for losses, should deliver around 15A. Max and Kevin noted that despite having a few batteries on charge, the controller was showing only 0.1A. This means that the solar panel was delivering the demand to their chargers without drawing from the batteries.
The total cost of the system was a little under $1000 (if we had paid retail for the panel, batteries and controller the price would have been well over $1300). However the cost to the club was significantly reduced due to the generous donations (totalling almost  $800) from the following people (in no particular order);
•    Rob Dale (donation of models organised by Greg Robertson)
•    Max Wiggins
•    Kevin Swiggs
•    Jacques Wakae
•    Ross Blackwell
•    Peter Steer
•    Danny Nelson
•    Ian Campbell
•    Fred Willis
•    George Carnie
•    Not to mention those that gave freely of their time to construct the charging station (Geoff and Terry) and those that participated in the frenzied bidding for the models that were auctioned. The auctions have been such a success that I'm sure we will use this method again as a fundraiser.
Max is smiling as he tests the new charging station.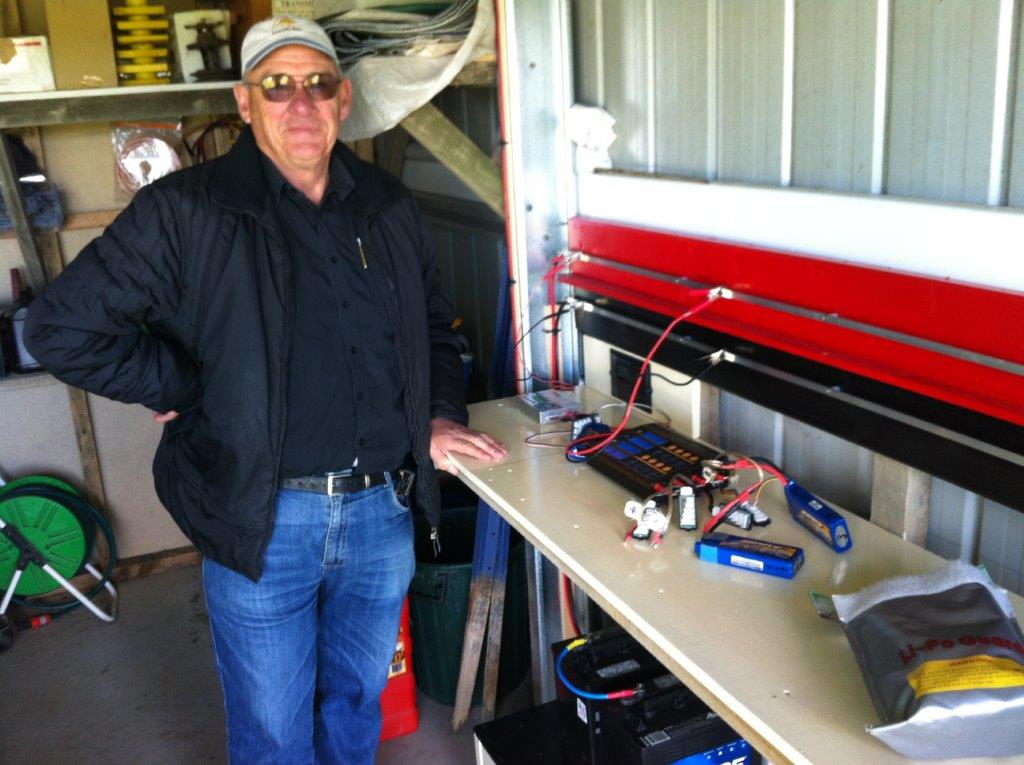 September 2
For a long time I've been calling out for more material from members on their build projects. In the last Presidents' report, Fred asked for more material for the web site too. We all know Greg Robertson is a prolific builder and he was telling me recetly about his latest project. Following the trend of his last model shown in the July "Hangar Talk", the "Fairchild" Greg has built a semi-scale Luton Minor. With Greg "not connected" it is often difficult to get to see any of Greg's models until they arrive at the field. Well Doug Colbeck had camera in hand and whilst not a "build" log, it is at least a picture of Greg's latest. Greg is defying the trend where, as we spend a bit more time in the hobby, our models tend to get bigger than when we started. Greg's are getting smaller!
The specifications for the Luton Minor are –
Wingspan = 560mm

Weight = 160grams

Servos = Turnigy 4.3g / .5kg / .10sec Micro Servo x2

Receiver = Hitec Minima 2.4GHz 5 Channel (2 Grams)

Motor = Turnigy 1811 Outrunner (11 Grams) 1500kv

ESC = Turnigy Plush 10amp 9gram Speed Controller

Battery = Turnigy Nanotech 370mah 2s

Propeller = 6"x3"
Some pictures including the master builder himself. (Next time some pictures of the actual build Greg)