(This article and photos written and provided by Taylor Hay)
Hi "Uncle George"
I've put together an article for the website on Dad's new Christen Eagle. I have included pictures too.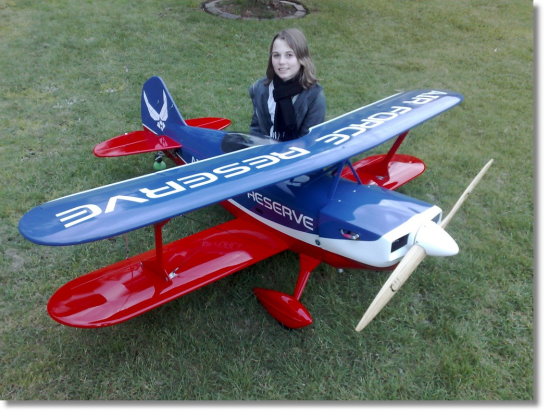 Here is the story behind the Christen Eagle
About 4 years ago Dad and uncle Merv went to Bendigo for a flying competition. While there dad arranged for  a man to meet him there with a whole heap of bits and pieces belonging to a Christen Eagle Bi-Plane someone had already started building. Some parts were okay but a lot weren't. Dads good old mate Uncle Merv felt sorry for the old eagle and offered his assistances in the rebuild of the Christen Eagle. I think Uncle Merv became very busy.
Here are some specifications on the plane.
Aircraft scratch built from Mike Smart plans.
Wing span:80 inches
Motor:Desert aircraft 150cc
Prop 30×12 XOAR
Servos (9 in total), 1 throttle, 1 choke, 2 elev, 1 rudder and 4 aileron.
Rhino electronic kill switch.
Futaba 9 channel PCM rx, twin rx batteries.
Boomer rc maxi packs LiFe 2700mAh x 2sx2p,
Ignition: 1700 LiFe x 2s
Exhaust—mtw canisters.
Aircraft colour Jones Air Beach Pitts Special.
Paint job—Spies Hecker 2 pack cob (clear over base coat)
Panoramic Signs cut the decals.
Blue & white Solartex covering
Prop 30 x 12 prop .
Weighs about 34 pounds
Look at more pictures below –