October 4, 2013
There has been much reported about the lack of flying due to the inclement weather we have experienced for the past 3 months. As a result there has been limited opportunity for everyone to get together and talk about their latest projects or just generally chat about their day to day activities. Well what better way to overcome this hiatus that to have a night out with our partners and friends!
Again the Queens Head Inn at Perth was our choice of dinner venue and we had an outstanding turnout with 33 in attendance, including our valued friends from HMAC; president Tony Gray and his wife Elaine and our unofficial "Tomboy" CD and treasurer of HMAC, Will Deal. It is extraordinary that they take the time to drive up North on a Friday evening and return home again that night. Elaine said she enjoyed the trip up and the trip home would be quick because she has the blanket organised and will occupy the back seat and be asleep by the time they crossed the Perth bridge on their way south! We must make sure that we reciprocate and attend their next function which is their Christmas Dinner on December 1.
President Fred Wilis was the emcee for the night and he opened proceedings with the following address.
"I'd like to extend a very warm welcome to everyone tonight, and especially to our wives/partners, our special guests, Deanna Klimeck and her friend Millie, Ron and Christine Davidson, our Southern neighbours, Tony and Elaine Gray and William Deal.
It is a real pleasure to have Ron and Christine here tonight.  For those of you who don't know, Ron is the operations manager of Symmons Plains and has been so helpful and obliging in the setting up of our new site.  We would not be in such a great place without his help.  Thank you Ron.
Sadly three of our members, Peter Riall, Chris Klimeck and Royce Close have passed on since our last Dinner but in our hearts are still fond memories of them.
Apologies tonight are from Merv Cameron who is slowly recuperating from his recent serious illness having had two stints in hospital.  Danny Nelson also is not able to attend because of his wife's illness.  We wish them all a speedy recovery.
Much has been achieved during the past twelve months with us moving to our new site.  Dismantling and re-assembling the clubhouse was a huge task and members who helped are to be congratulated for their fine efforts.  Fitting out the clubhouse and new machinery shed were next plus the building of a new toilet facility. There are too many to thank but I would like to say a special thank you to Geoff Hay and Terry Pearson for their extra effort which has continued right up til now. (Fence, Charging Station) Donation of materials…….
Quite an achievement don't you think?   We haven't had much luck with the weather lately so little flying but, rest assured, we will make up for it when conditions improve.
During the dinner we shall have several interruptions to draw our lucky door prizes and to present a few awards so please be prepared.
I hope you really enjoy this evening with plenty of banter and frivolity between mouthfuls of great food.
As you know we have had few or no competitions these past two years so there are no trophies to present to members.  However, with the much valued help of George and Kerry, we have a few awards to present tonight."
Award
Winner
The Best "Rekitter"
Mike Hope
Mike is almost at the bronze wing stage but the relocation and the new strip has presented some orientation challenges for new pilots. Mike has rekitted a few but by no means was the most prolific for the year but on the night he had the "honour" of receiving this award.
Most Prolific Builder
Greg Robertson
It could be argued that Greg actually runs an ARF shop at home but there is no doubt he builds more models than anyone.
"It Shouldn't Fly"
Doug Colbeck
Doug got this award for his HobbyKing "Little Bug". To witness the model in the flesh and its initial attempts to fly, garnered the view that the Little Bug "should not fly" and so the award was determined.
Female Cadet of The Year
Mei Lin
Mei Lin is Vince Burling's partner and has been under Vince's wing learning to fly. It is a long time since we had anyone of the fairer sex learning to fly so this award was created to try and encourage more to have a go.
Best Free Flight
Tony Gray
It is quite a while since we had a free flight event (it's a long time since we had any competition!) but this is a belated award for when Tony flew in one of our RC Tomboy events and he forgot to switch his model on, hence the award for best "free flight". The truth is this award should have gone to his HMAC counterpart, Peter Allen who is a repeat offender but Peter wasn't there on the night.
"Infringement Notice"
Will Deal
This was for "breach of copyright" Will continually helps us all with some plan printing and this was an "in jest" award to Will. Keep the plans coming Will!
Long Suffering Aeromodellers Wife
Pat Jacobs
Fred said it all in his remarks.

This is an easy award to present seeing that Pat has been behind Dave in his aeromodelling pursuits for more than 65 years.  She must be a very patient and brave woman.  I shall read an excerpt from Dave's stories where he recounts the adventures with Pat and his motor bike.

"My wife was a good passenger and at times I was able to give her a smooth ride by giving the machine a lurch to get the sidecar wheels off the ground and carry it for some distance.  When the wheel again met the ground the bump was such that I was forbidden to continue with this behaviour if I wanted to persevere with our marriage."

Is the old adage true that "behind every good aeromodeller lies an even better woman?"
The next award deserves special mention. The award was for "Outstanding Support" and the winner was Ron Davidson, the farm manager at Symmons Plains. The support from Stephen Creese, Ron and the rest of the team at Symmons Plains has been extremely generous during our relocation within the property. Ron also deserves special mention because quite often his support is given on the weekends in his own time. Furthermore, Ron has offered materials and his time in support for our refurbishment of the strip. A very deserving winner I'm sure all will agree.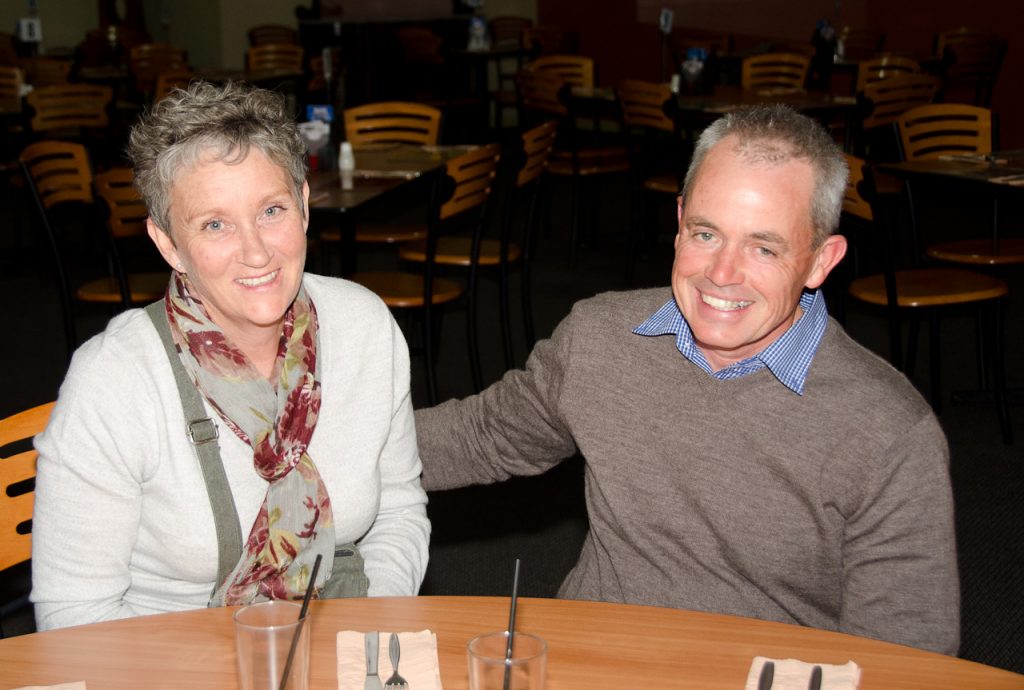 The last award for the evening was another very special award. This being the annual President's Award. This year's recipient was Dave Jacobs –
"In recognition of his contribution as a founding member of the club, attending his first meeting in 1945 and still a member today".
Dave made comment after Fred's speech that he didn't hear a word that was said. Well this is what Fred had to say and Dave can now read it at his liesure.
"Last year  I gave my award to a worthy recipient, that being Chris Klimeck.  This year I wanted to give it to a member who has been on the aeromodelling scene for a considerable length of time. One who has contributed greatly, but quietly to our club. One who has always offered advice, showed concerns for the well-being of other club members and one who is a genuine all-round good guy.
This member has been areomodelling for nearly seven decades and, in fact was one of the  pioneering fathers of aeromodelling in Tasmania.  I think he is a legend of our times and, even though his body now is not doing as much as he would like it to do, still manages to make a valuable contribution to our club.  Even in times of adversity he has maintained a somewhat dry sense of humour which we all appreciate.
If you would like to learn more about this man's exploits and adventures in the early days just go to our website and in the about us column  read  one of his stories and you will soon have a smile on your face whilst feeling a sense of admiration of our dear friend. Just ask Merv Cameron about the hi-jinks that the two of them used to get up to and about the hair-raising motorbike rides.
By now you may have realized that I am talking about Dave Jacobs and it is my privilege and honour to present my annual award to him tonight.  Well done Dave.  We all love you."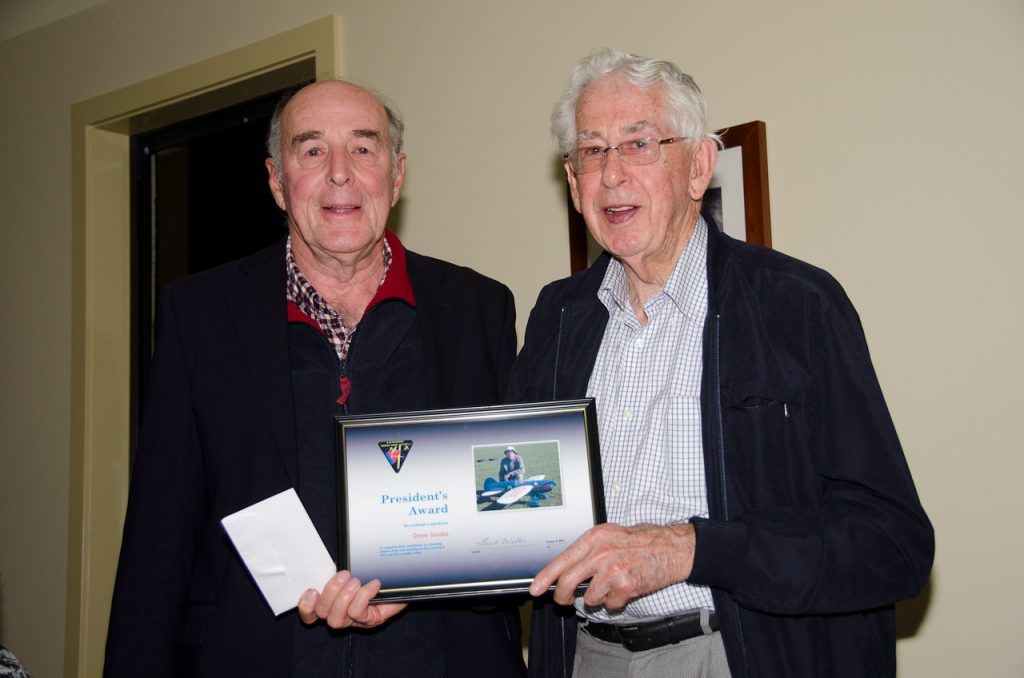 It appeared all had a great night and the feedback on the food was very positive. Below are more images from the night (click [Start] for a slideshow). A big thank you to Kerry who took the shots. She did such a good job that she has now become the official photographer to add to her many tasks. Next she'll be flying my models and I'll have nothing to do! (If anyone wants a full frame picture, let me know and I'll email it to them).

Thanks to the following for their donations: Tiger Models, Kevin Hay, Queens Head Inn, George & Kerry Carnie and "Willis Enterprises"